My SEO Journey: Jigar Agrawal from esparkinfo.com – Content is King and Backlink is the Queen!
My SEO Journey is a series where entrepreneurs and Indie makers share their honest SEO Journey filled with failure and success, and most importantly, proven results. Episode #94 features Jigar Agrawal from eSparkBiz.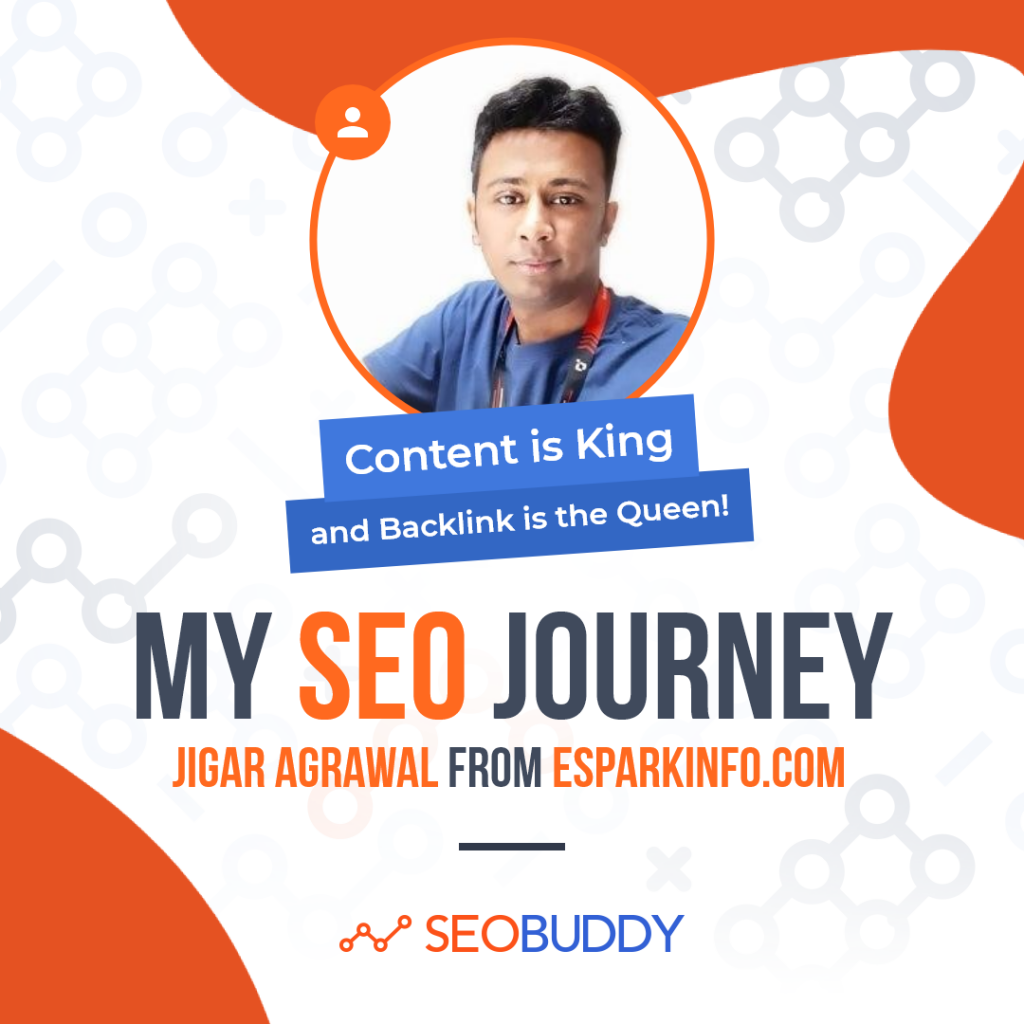 I am Jigar Agrawal, Digital Marketing Manager at eSparkBiz Technologies Pvt Ltd. eSparkBiz is a dedicated Software Development Company helping enterprises, businesses, and SaaS companies with innovative, out-of-the-box, and highly-scalable IT solutions to address their pain points.
Since our inception, we have carved a niche by offering our clients high-quality, comprehensive, and robust IT and digital marketing services.
We are a service-oriented company offering services in the domain of IT, such as Custom software development services, web application development, mobile app development, and SaaS product development.
We cater to enterprises and businesses from around the globe, including the US, Australia, Europe, Canada, the UK, and the Middle East.
Our Mission statement is to help SaaS businesses to write their business growth stories. Our sheer expertise has helped us assist our clients with unique IT solutions to serve their business purposes. We aim to become a global IT service provider with unparalleled and results-driven IT services and solutions.
What's your backstory, and how did you come up with the idea?
I am a B.Tech (Computer Science) graduate and have completed a professional Digital Marketing Course. I started my career as a Digital Marketer in 2015 and joined eSparkBiz in 2016.
During the initial days, my clients used outbound marketing approaches for SaaS businesses.
However, that idea did not click as it was very costly, and at the same time, it did not produce any good results. Outbound marketing takes too much time to give results and even the lead converting ratios are very time-consuming.
Then, we analyzed our competitors and what they were doing. We learned that most of our competitors used inbound marketing approaches such as SEO, PPC, SMM, Influencer Marketing, Email Marketing, etc.
We just realized that the inbound marketing approach is the one that will work for our clients. We then established a team of SEO professionals to offer full-fledged SEO and other digital marketing services for our in-house projects and SaaS clients.
We are a bunch of digital marketing professionals who are highly passionate and thrive on practicing white-hat SEO techniques to help our clients rank at the top of SERPs.
From developing an SEO strategy for our clients to delivering excellent outcomes, we ensure only genuine SEO practices per Google SEO guidelines.
Since launch, what has worked to attract more organic traffic?

If I had to answer just one thing that has helped us attract organic traffic, the answer is CONTENT MARKETING.
As they say, Content is King; I can't agree more.
I add another statement to this: Content is King and Backlink is the Queen!
If you want to see good results in the long run, content marketing is the key that can unlock the doors of success. Even statistics on content marketing states the same.
When you keep consistently providing valuable content to your target audience, Google will surely take note of it and rank you accordingly. I have noticed it personally.
Also, it will give you an authoritative position in the industry.
As soon as we realized this, we hired a team of expert subject-matter content writers and started producing high-quality, original, valuable, and highly engaging articles, blogs, PRs, and other types of content.
Getting organic traffic to your website is tough but not impossible. All you need to do is to have some patience. You will surely get genuine organic leads when you consistently practice white-hat SEO.
When it comes to link building, our approach was to get a few high-quality backlinks.
Most digital marketers focus on a large number of backlinks, but they forget that Google favors quality over quantity.
Ensure that you approach only websites with high domain authority. Try to build relationships rather than building links.
In the link-building approach, the main challenging task is to offer value to your audience. If your content does not add value to the website, it will serve no purpose.
Once your content is published, share the link with the industry influencers and ask them their opinions. Also, you can request them to mention your brand in their tweets or posts.
One recommendation I would like to give to digital marketers is to avoid spamming at any cost. You will not get anything good out of it.
Google is smart and will catch you instantly if you try to do spamming or any other black-hat SEO techniques. If unlucky, Google might penalize your website as well. Save yourself from such situations.
When you write content for link-building purposes, ensure that you write for humans, not search engines.
It is the biggest mistake people make. While writing content, they take care of all SEO guidelines but miss the most important thing: READERS.
Google crawlers will not read your content; your target audience will. So, make sure your content has an emotional, human appeal to lure them. Offer them value, and they will reciprocate.
Choose industry-relevant and latest topics, and offer valuable information to the readers. Write in-depth articles and blogs to cover a particular topic's aspects.
Make sure that there are no grammatical errors. Edit and proofread by an experienced writer to address all grammatical and punctuation errors.
Many high DA websites offer paid guest-posting opportunities. However, if you are providing really valuable content, you will not need to pay websites to publish your GPs.
Also, never lose sight of your competitors. Keep a sharp eye on them to know what they are doing. You can also implement it if they get good results from a particular SEO activity.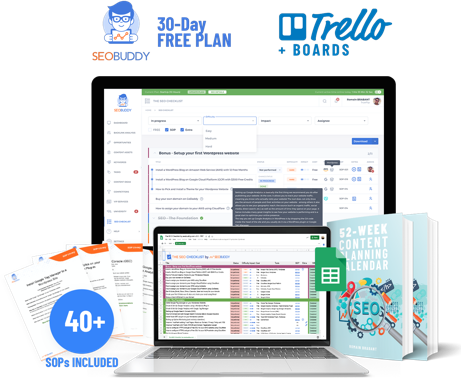 There's more…
Now it's time to discover the other 102 steps that will get more organic traffic flowing to your website. Get the SEO Checklist here.
Want to get a sneak peek of what it looks like?
Enter your email and get a free demo version of the SEO Checklist.
What SEO tools do you use for your business?
Thanks to technology and innovations, there are some amazing SEO tools at our disposal. Without them, I cannot think of conducting any SEO activities.
SEMrush
SEMrush is another important SEO tool that can make your SEO journey smoother. It is a more advanced SEO tool with some remarkable features. Some of the benefits of SEMrush are:
You can easily monitor and manage your organic rankings
You can create compelling PPC campaigns
You can also create a results-driven content marketing strategy
You can analyze and track your social media effectiveness
You can conduct advanced keyword research and competitor analysis
Ahrefs
Ahrefs is the most preferred SEO tool by digital marketers. It also has some amazing benefits, such as:
You can find relevant keywords for websites such as Google, Bing, YouTube, and Yahoo.
You can check website content effortlessly
You can check your competitor's backlinks
You can identify and remove broken links
You can perform site audits easily
You can explore your site and check almost all aspects of it
With the Rank Tracker feature, you can check where your website ranks when a particular user submits a search query
These SEO tools, combined, make your SEO efforts easier and effortless.

Link Building is one of the most important SEO activities to get backlinks. The process is simple:
You reach out to high-DA industry-relevant websites and request them to post an article or blog on their websites. If they agree, you submit a valuable, information-rich article to them and get a backlink in return.
Link-building efforts don't just help in rankings, but also establish you as an influencer in the industry. When you consistently publish valuable content to high-DA websites, your target audience will notice it and turn to you when looking for industry information.
The link-building approach that I follow is discussed in brief here:
Identify industry-relevant high-DA websites.
First, I try to find high-quality, industry-relevant websites that accept guest posts. I mostly search on Google with specific Google Search Operators with keywords and use other techniques to find such websites.
For example, blog commenting on other influencers' blogs has helped me find some guest posting opportunities.
Finalize the website
I need to finalize one website that accepts guest posts for my industry.
I make sure that the website fulfills certain criteria such as:
It has a genuine authoritative link profile
It is relevant to my industry
It only posts high-quality content
My target audience visits the website
Then I pitch for a guest post.
Once I have finalized the website, I will send them my pitch.
There are many things I take care of while writing a pitch for a website. Some tips I would like to share:
Be direct
Talk about how their website helps the industry
Discuss how your post will add some value to their readers
Keep an emotional tone of the pitch
Don't send a generic pitch
Keep the pitch short, sweet, and personal
Follow up if you don't get a reply within a week
Create my Guest Post
Once I have a list of websites that accept guest posts, I will work on my post.
I will write high-quality, relevant, and valuable content.
When writing for an authority website, you cannot send valueless content. They are authority websites because they are authorities in the industry.
I ensure the content is well-written, specific, and without any grammatical errors. And that has resulted in guest posting on some of the top-rated websites like Entrepreneur, Social Pilot, JeffBullas, and ReadWrite.
Also, most guest-posting websites have their own set of writing guidelines. You need to follow them to maximize your chances of publishing.
One of my guest posts that I have written back in 2019, still ranks in Google's featured snippets as you can see below.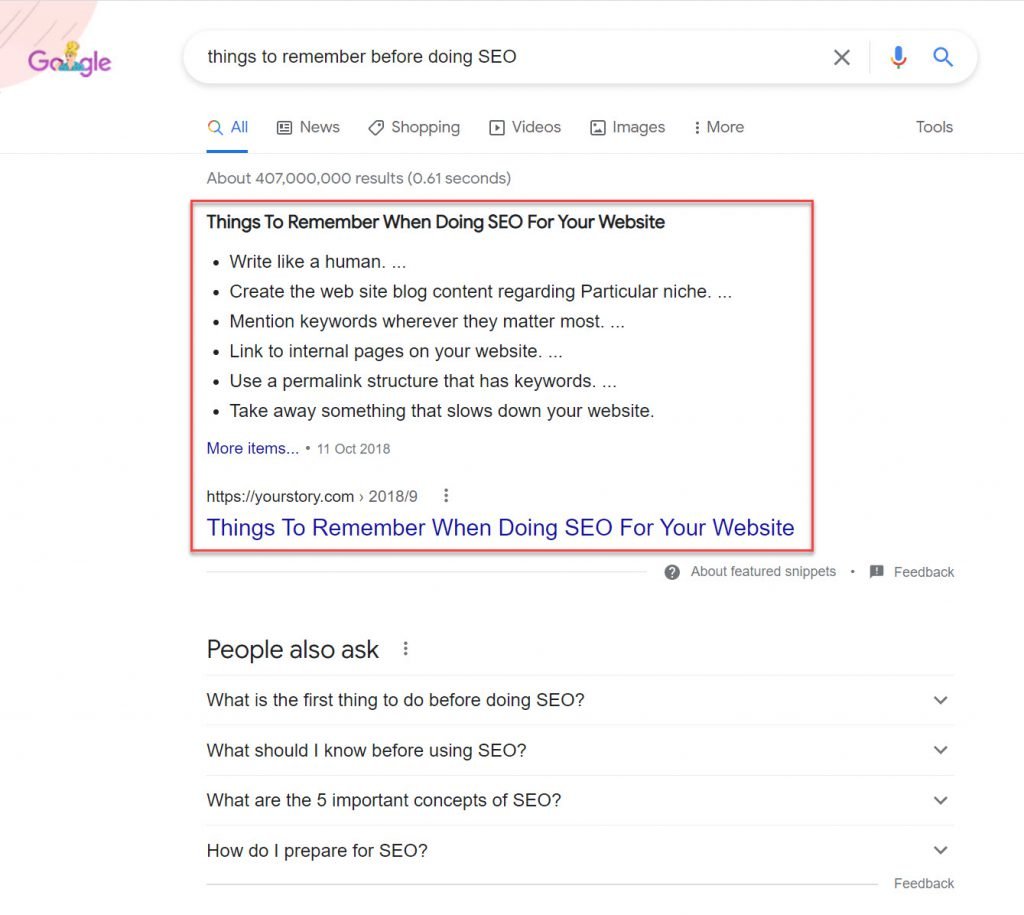 Although there are numerous other ways and off-page activities to earn instant backlinks, you should never greed for more and use those tactics. Those activities sometimes result in spamming, and your website rank is affected to a large extent.
What have been the most influential books, podcasts, or other resources?
To be relevant, I strongly believe in staying updated with the latest news, information, and updates.
I keep updating my knowledge by reading blogs, articles, and newsletters from industry influencers.
Neil Patel is one of the most read SEO professionals worldwide. The way he writes blogs and covers all the aspects of a topic is outstanding.
He is my idol, and I don't miss his blogs and podcasts. He is the best to follow for SEO and other digital marketing approaches.
You can read his blogs at https://neilpatel.com/
For SEO updates and news, I follow various websites such as
Searchenginejournal – https://www.searchenginejournal.com/
Searchenginewatch – https://www.searchenginewatch.com/
What's the next step in your SEO Journey?
You just cannot be the master at the game, especially when it comes to digital marketing.
Continuous updates from Google and other search engines make you amend your strategies and campaigns.
I strongly believe that SEO is a long-term game, and you need to be patient.
Keeping myself updated with the latest news and updates is the only thing I do to stay relevant.
If your efforts are genuine and authentic, you will get results in the long run.
SEO is quite different from other digital marketing approaches such as PPC. it is a long-term strategy that establishes you as a brand in the industry.
Keep pushing boundaries and always choose authentic SEO practices to succeed.
Don't take shortcuts to get instant results.
I will keep exploring the SEO universe and enhance my knowledge to help my clients to increase their ROI.
Where can we go to learn more?
INSTAGRAM
esparkbiz
agrawal_jigar
LINKEDIN
https://www.linkedin.com/company/esparkinfo
https://www.linkedin.com/in/jigar-agrawal-seo-expert/
TWITTER
https://twitter.com/esparkbiz
https://twitter.com/agrawaljigar1