My SEO Journey: David Buchanan from chefs-resources.com – Sharing my SEO Experience (Tactics & Mistakes) with Agencies & Freelancers
My SEO Journey is a series where entrepreneurs and Indie makers share their honest SEO Journey filled with failure and success, and most importantly, proven results. Episode #98 features David Buchanan from Chefs-Resources.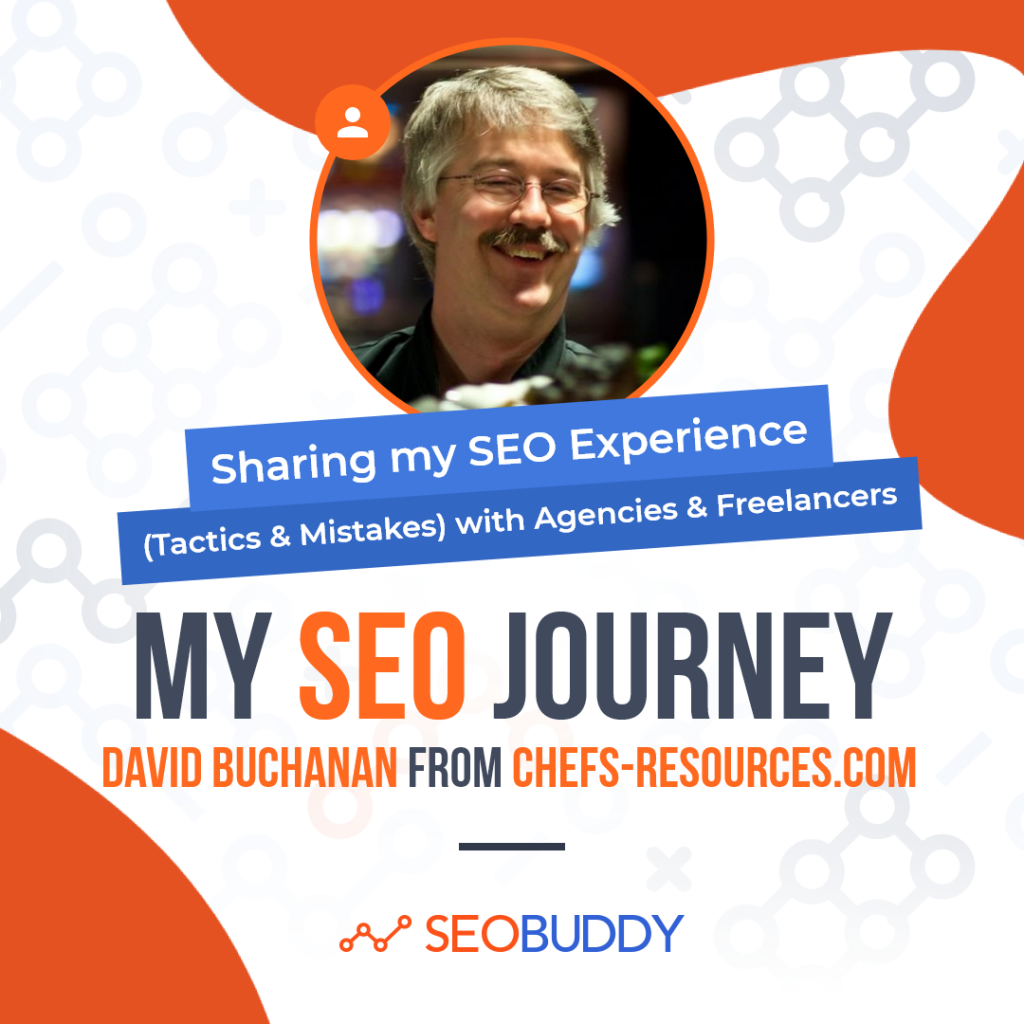 Chefs Resources is the brainchild of Chef David Buchanan, a professional chef of 35+ years. I began working on the website in September 2009 simply as a way to keep track of and easily access content that helped me do my job as a chef, such as knowing the flavor profiles for different oysters, or the fishing season and culinary profile for fresh Sockeye Salmon.
From that simple start, the site has grown to over 500 pages of content for chefs! Today I have over 150 pages of different oysters listed, along with their flavor profiles, and I have culinary profiles for over 60 species of fresh fish.
Along the way, I started writing articles about food cost control as well as many other kitchen management topics, and began using some of that content to train new sous chefs in my kitchen. Then I started adding kitchen forms such as prep sheets and recipe templates.
At first these forms were available as free downloads, but in January 2020 I changed that model so that visitors could still read the kitchen management articles and how useful various forms can be, but if they wanted the actual forms they had to become paid subscribers in order to access that content for download. That is when I finally started to generate some good income from the website.
My SEO Learning
For about 2 – 3 years I read everything I could about SEO, took free online courses, and used free online tools to practice SEO analysis of new pages I was working on. Some of my favorite sources include:
SEOMoz Learning Center for more in depth study
SEOMoz Videos – Rand Fishkin has fabulous training videos
I read a lot of Matt Cutt's articles, but he resigned from Google at the end of 2016
Using Google Analytics and Google Search Console Tools is an absolute must to help improve your SEO and to keep track of changes happening to your traffic, as well as updates to Googles SEO protocols and algorithms. There are tons of videos showing how to use both of these tools to gain insights into your website and traffic.
SEO Experience with Agencies & Freelancers

When I first started the website, I hired an SEO guy to help build my brand. Basically, all he did was post my website in a bunch of directories and charged me for it. I have no idea what he did or where he posted my website. Learning curve…always require a detailed account of everything an SEO company does, including all links that they have gotten for you (with the URL so you can verify them). Or better yet, require that you approve all links before they actually post them (more on that later).
I have used UpWork a few times to find freelancers for website related work. UpWork has a good system for hiring people. You can view potential freelancers' work history and customer rating. You can create very specific jobs with specific qualifications and even require answers to interview questions that you think will help screen applicants.
I would recommend 2 things when hiring anyone who you give access to your website's backend or code.
1) Keep track of your Google Analytics during the time the job is in process, and for several months afterwards. Specifically, you are looking for spikes in traffic, either up or down. Not just turns in traffic, but dramatic spikes. This could be an indication of a problem and you will need to understand why the spike happened.
2) When the job is complete, be sure to change all your passwords and cancel all access that you gave to the person/company doing the work! This is extremely important.
Because I was not following these 2 rules, someone that I hired (or someone in their company) was able to get into my deep code and add some malicious code that redirected 50% of my organic Google traffic to other websites, presumably so the hacker could make money. I didn't discover this (didn't even know it was possible) until many months after the fact, and I had no way of determining who had done it. It cost me $700 to hire a security team to remove the bad code and it took over a year to regain my lost traffic.
In September 2021 I hired Intellitonic, a local SEO company, for a one year term to help me with SEO and it has been a rewarding experience. It is also expensive! Here are some of the things that they have done for me, and therefore I view these are good practices for a quality SEO company to follow.
Every month they sent me a PDF of my website's SEO changes and we had an SEO virtual meeting where they covered the following each month:
They gave me a list of 404 link errors. I chose to fix these myself rather than pay them to fix.
They gave me metadata and SEO title changes for pages they researched. My on-page SEO was pretty good, but these small changes did help boost traffic. The metadata is what appears as a description in Google search when it displays your page. The SEO title is a way to optimize your keywords for the page SEO title and we used the Yoast plugin to edit both the metadata and the SEO title. I did see ranking improvements for some of the pages we did this work on.
They compared last year and last month to the current month's changes.
They helped me define goals and then tracked those goals.
Gave me ideas for potential link building outreach
Google Analytics Overview of basics such as number of Users, New Users, Sessions, Pageviews, Avg. Session Duration, and Bounce Rate
Top Referral sites
Top Landing Pages
Best keywords for the month, Google position, volume, and percentage of traffic
Helped fix small technical problems (large coding problems cost extra, but small ones they just wrapped into the monthly SEO work
I also hired an SEO company to help fix my page speed, which is one of the important factors Google uses for page rank. I had a page speed rating of C- and paid to have it brought up to an A-. This requires someone with coding skills and is a little different than your normal SEO type of work but still considered an SEO requirement as far as website rankings go.
Over time, I believe this has helped improve my rankings, especially for keywords where I was in position 4 – 10, it helped move me up a few spots if page speed was the primary difference between me and another site.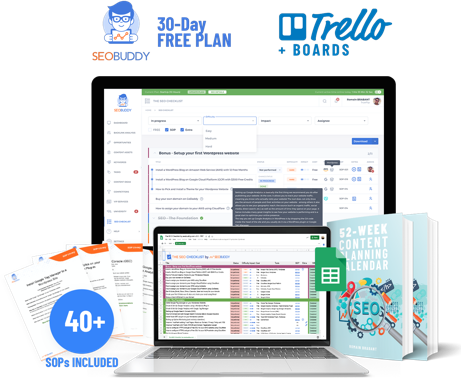 There's more…
Now it's time to discover the other 102 steps that will get more organic traffic flowing to your website. Get the SEO Checklist here.
Want to get a sneak peek of what it looks like?
Enter your email and get a free demo version of the SEO Checklist.
My SEO Mistakes
I have made a number of SEO mistakes along the way. One was hiring SEO companies to help me get links and all they did was post my website in a bunch of internet directories with a link back to Chefs Resources. A few of these website directories are useful, many are of little to no value, and some actually ended up hurting my site because they were toxic directories that made a dozen or more variations of the same site but with different names.
Today, if a company helps me get links, I make sure to verify the links first to be sure that they come from a legitimate, quality site. And if someone contacts you saying that they can get you into position 1 on Google, don't do business with them! They are either lying, or will use black hat techniques to get you to rank better…but at some point Google will figure it out and your site will be penalized.
Only work with someone you trust, and do some research to ask them very specific questions such as:
What exactly will you do to help me rank better?
What specific links will you try to get? (from which websites?)
What is the Domain Authority of sites you will try to get links from?
What specific on-page SEO will you work on?
What keywords will you target?
What pages on my website will you try to get links to?
Can you increase my page-speed? Can you test the code changes before making it go live? (This is a must! If they cannot test it in a virtual setting then don't hire them for code changes.) If so, what is the cost?
My biggest SEO mistake was not following Google's link building rules and using "gray area" SEO techniques in 2011 – 2012. I had found a company that you could write brief 300-word articles using any keywords you wanted to rank for and they would post the articles on a series of websites that they owned and give links back to the page on my site I wanted a link to.
This worked great at building links to specific pages and my traffic increased because my chosen keywords were now ranking in positions 1 -3 on Google search. Then the Penguin and Panda Google algorithm changes rolled out. In the chart below you can see (notice the red arrows) how my traffic was cut in half as Google penalized websites for essentially "cheating the system". Moral of the story…do not play in the SEO gray areas! If it is gray today, it's only a matter of time before Google updates the algorithms and gray becomes black.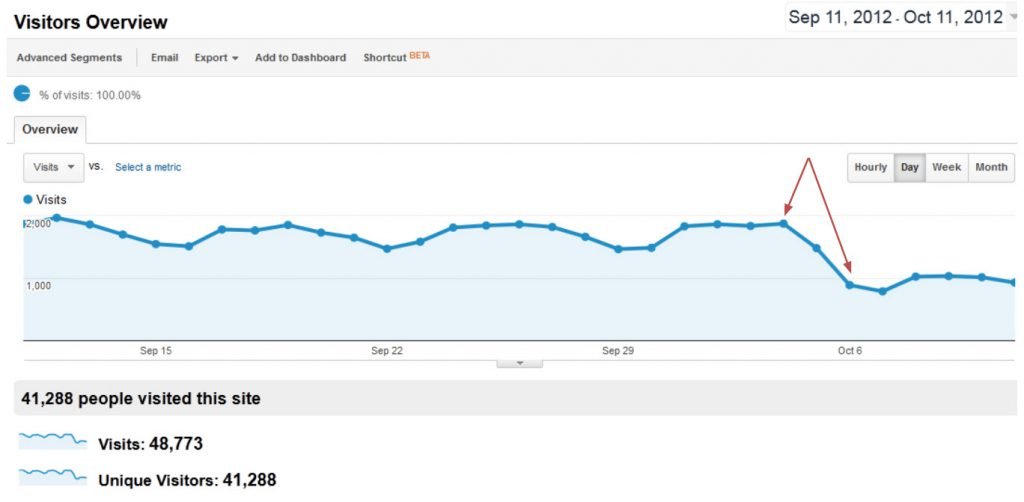 My Current SEO Status
Here is our monthly growth trend from September 1, 2020 – September 1, 2022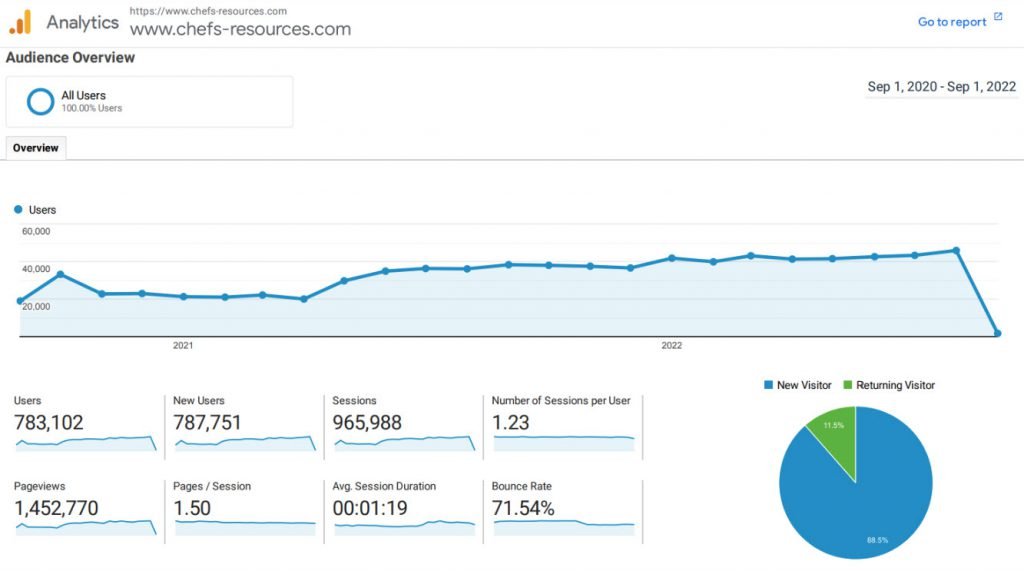 For August 2022 here are our keyword ranking results from my SEO monthly report. Notice the nice numbers in red!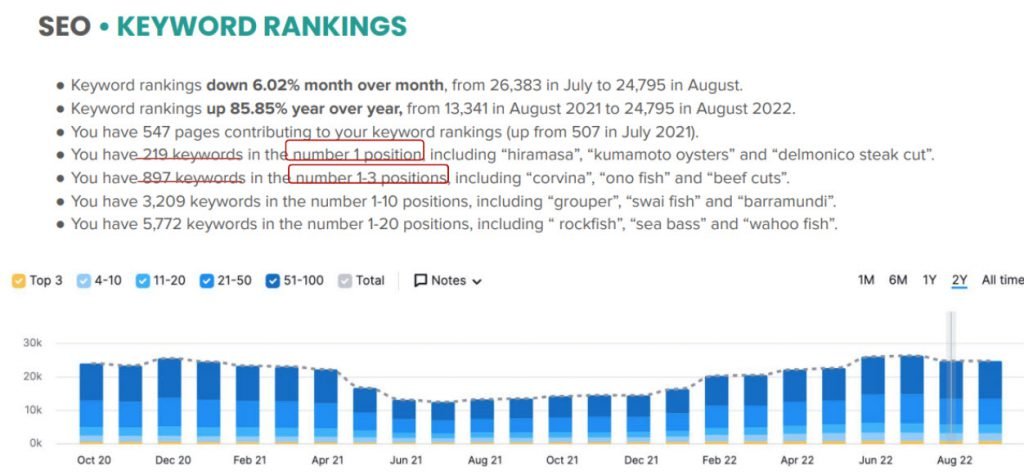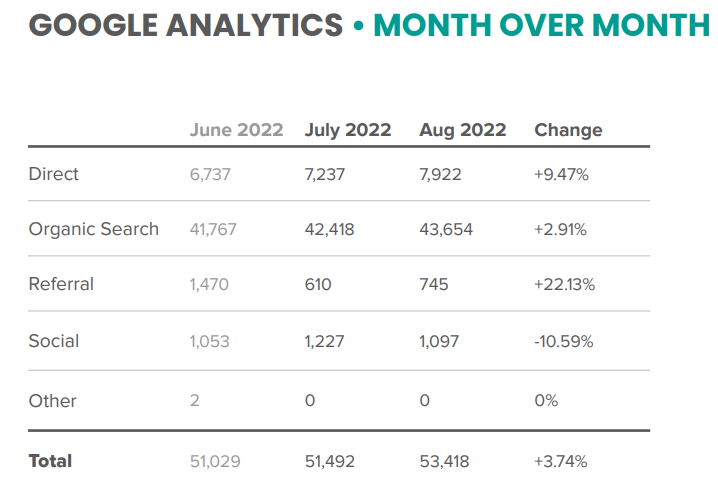 My On-Page SEO "Template" or "Formula"
There are 2 key elements needed for good SEO…good content and targeted content. Having a great article which is an awesome read isn't worth much if people can't find it on the internet. That's why you need to work a content target into your article, a keyword phrase that people would likely use if they were going to search not for your specific article, but for the information/content presented in your article.
Use Google itself and try a variety of search phrases to see how many searches are done for that phrase.
For example, let's say I have a page about the hierarchy of a professional kitchen. I'll open multiple tabs in my browser and then search for each phrase in a separate tab. For instance, search Google for "hierarchy of a professional kitchen", "kitchen brigade", "modern kitchen brigade", "professional kitchen brigade" and any other phrases that I think people will search for.
Then on each tab I'll look at how many searches are done, what the keyword difficulty is, and how many ads appear at the top of the page.
Note: I use the SEOquake extension for Chrome which shows the keyword difficulty percentage.

Then I'll choose the keyword phrase that has a high number of searches coupled with the least ads and the lowest keyword difficulty. Then I'll work that phrase into the content of the article based on an appropriate keyword density (Yoast has a great plugin to help with this).
Following is a list of priorities for every article, starting with the most important.
The most important part of SEO is the URL name of the post/article. It should contain your targeted key words for the content you are writing about.
Your title should contain your key words
A meta description is what Google will display in search results. If your page editor asks for a meta description of the page, then write your own summary of the article and include your key words near the beginning of the sentence. The Yoast plugin makes this easy.
Many editors will automatically use the page title as the H1 header. If not, then make sure to a) include an H1 header and b) use your key words in it.
You should always use at least an H1 and some other H_ header. They don't need to be sequential, just use at least two of them. H class headers indicate importance to the search engines and help define the content to Google.
Include at least one photo and for the "alt" tag include your key words. Be sure that your images are free from copyright protection, or that you have permission to use them!
Try to highlight your key words once in the article (but only if the article is at least 300 words…don't make it look tacky with too many headers and bold items if it's a short article)
Shoot for writing articles that are at least 350 – 400 words in length and use variations on your key words if possible. Longer articles are better than short ones.
Always make your links open in a New Window! Otherwise, when the visitor clicks on the link they have just left your site. When people link to you, try to get them to give you a "dofollow" link. This means that Google will follow that link…it gives you more "juice" or credibility to Google.
You want to use your key words several times throughout the article (including in a few headers as mentioned). But you don't want to overuse the phrase either because then you could be penalized (this is called keyword stuffing). There are free SEO websites which will tell you your keyword density, or if you use WordPress get the Yoast SEO plugin…it will help w/ everything on this list.
My Off-Page SEO Tactics

In order to get some links for new articles I found sites that allowed a "dofollow" link and posted an image, link, or paragraph with a link on those sites pointing back to the new article I had just posted. For my niche these included:
Facebook Chefs Resources Page
Digg
Delicious
Flickr
My YouTube Channel (if I create an article with a video in it, I put a link in the YouTube video description back to the article page on the website)
LinkedIn Groups (be careful not to spam them. I actually created my own Chefs Resources Group on LinkedIn so I could always post new content there)
Reddit
Quora