SEO Link Building: Reciprocal Link vs 3-Way Link Exchange
Facing the reciprocal link vs 3-way link exchange dilemma? Which one is better? Which one should you use?
Like many SEO-related topics, the right way to do a link exchange draws many opinions from different webmasters.
Their concerns are unsurprising given that Google's policy on excessive link exchanges means the tactic isn't as effective as it used to be.
But whether Google likes it or not, thousands of webmasters are still looking to get quality backlinks from reputable blogs and website owners through a link exchange.
This means that both 2-way and 3-way link exchanges remain popular methods for building backlinks in today's SEO landscape.
And if you are going to use this technique, you might as well do it right.
In this post, you will learn:
The difference between reciprocal link vs 3-way link exchange
The pros and cons of each
Their purpose for SEO
Best practices for doing a link exchange
Let's get started.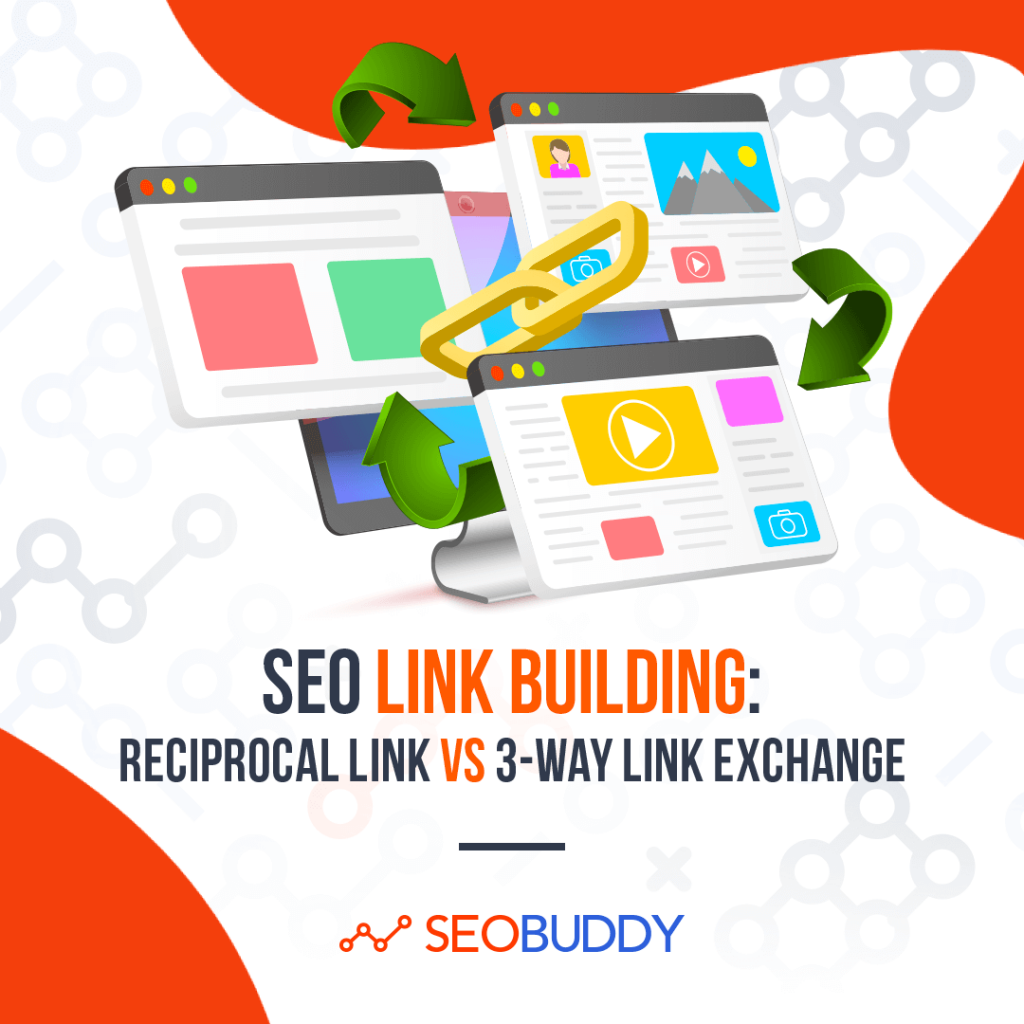 Reciprocal Link vs 3-Way Link Exchange: What are These Techniques?
Today, for your SEO marketing strategy to work, one of the crucial things to consider is quality link-building. And while there are many ways of doing this, link exchange is among the most commonly used tactics.
Link exchange is an agreement between marketers or webmasters to put each other's links on their respective websites for mutual benefit. Each website owner picks an anchor text for the other website to link to.
Although link exchange is mainly done for SEO link-building purposes, it's also used to cross-promote products, services, and other resources online. The process can be a white hat or black hat practice, depending on how it is conducted.
Black hat SEO techniques are tactics used by marketers that go against search engine policies. They include excessive link exchanges or link schemes, guest posting networks, article spinning, and others as shown by the image below: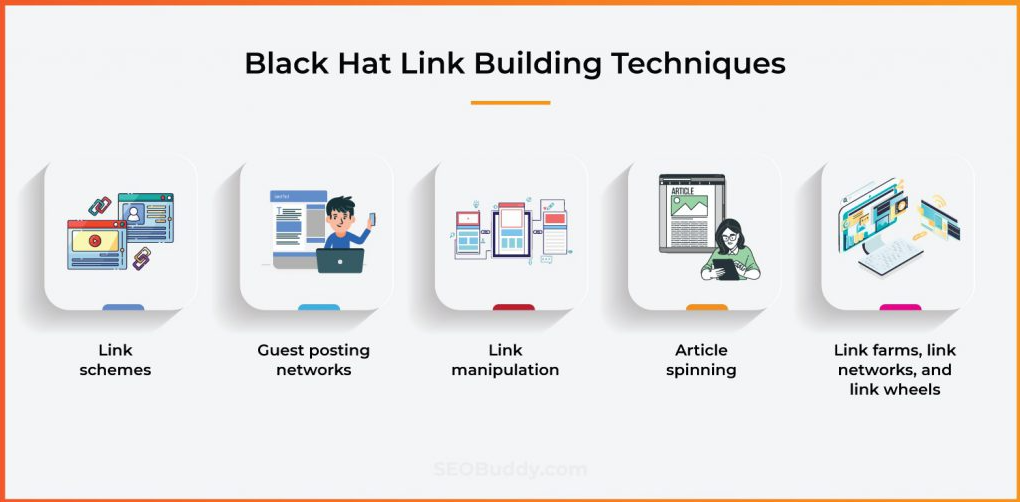 Link exchanges can be considered black hat if done excessively and generated from low-quality or spammy websites, or link farms. 
If the link exchanges occur naturally, search engines consider them white hat link-building practices. These links do not violate webmaster guidelines.
Link exchanges have become popular as a method to improve Google search rankings. The logic is that receiving quality backlinks creates trust signals that give a website an advantage over the competition.
This is why marketers reach out to others in their industry for link trading. And when two website owners agree to link to each other's content, they engage in a reciprocal link building strategy. 
However, link exchange goes beyond two websites directly linking to each other. There's also another tactic known as a 3-way link exchange.
The two, reciprocal links and 3-way links, are examples of link exchange strategies. 
To help you understand reciprocal link vs 3-way link exchange better, let's look at each in detail.
What is Reciprocal Link Building?
There's an old idiom that goes, "One hand washes the other". 
Have you ever heard of it? No?
Well, the phrase summarizes what reciprocal linking is all about. It is a link-building strategy that follows a simple mantra–I link to your website, and you link to mine.
For example, if website A links to website B, then website B will link back to website A. This is often referred to as a direct link exchange or a direct link swap. 
Here's an illustration showing how reciprocal links work: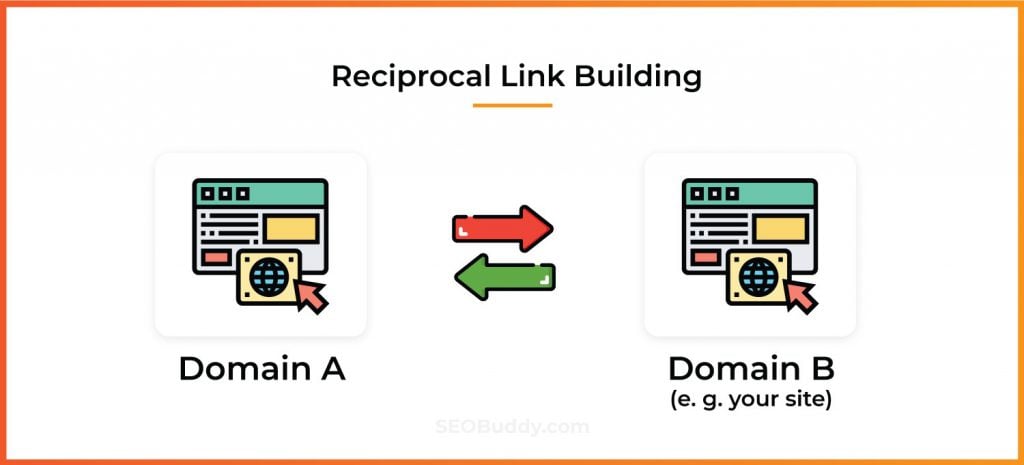 At its core, direct link swapping (reciprocal link building) helps improve a website's rankings on search engines. When it's done between two high-quality websites, it can be beneficial for both parties involved.
This is because it can help improve the link popularity of both websites, a ranking factor that search engines consider when determining a website's position on SERPs. 
In other words, the more high-quality reciprocal links you receive, the higher your website will rank on SERPs.
It's a pretty straightforward concept, and it's been around for a long time. This form of direct link exchanges was once considered one of the most effective link-building methods to increase traffic and build backlink profiles.
Nowadays, some search engines might consider it a "link scheme" if used excessively.
Here's what Google thinks about reciprocal links: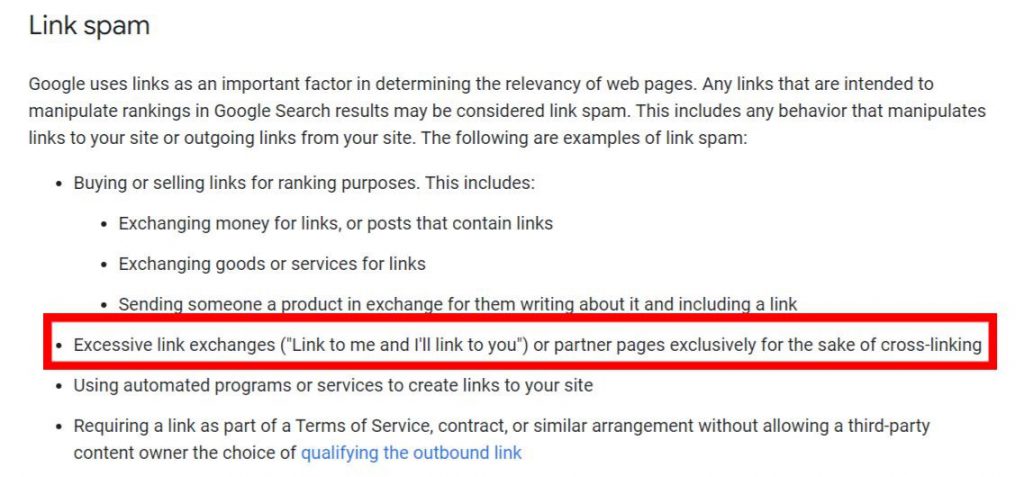 Despite this black hat warning, webmasters and marketers still use reciprocal links in their marketing strategies.
What gives?
Well, if done properly, reciprocal links appear and occur naturally. It happens because many website owners have developed relationships with other sites through authentic outreach.
Others also link to resources on different websites, not expecting them to link back, but they often get a link back in return.
That said, can direct link swaps benefit your SEO strategy?
Well, it's generally considered a bad practice, but can appear authentic if done naturally and once in a while. If you use it a couple of times to build contextual links with an authoritative website, then Google won't consider it as link spam.
Let's check out some of its pros and cons to get more details.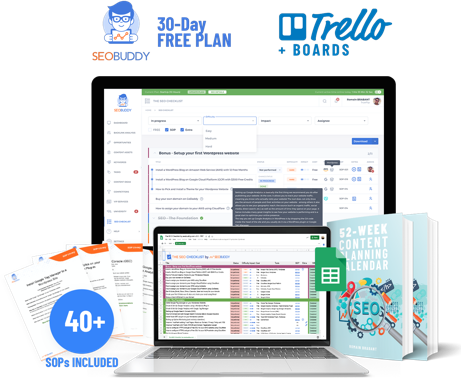 There's more…
Now it's time to discover the other 102 steps that will get more organic traffic flowing to your website. Get the SEO Checklist here.
Want to get a sneak peek of what it looks like?
Enter your email and get a free demo version of the SEO Checklist.
Pros and Cons of Reciprocal Link Building
Now that we know what reciprocal linking is, let's look at some of the pros and cons of this link-building method.
Pros 
Helps Build Link Popularity: Reciprocal link building improves your website's link popularity. This is a ranking factor that search engines consider when determining a website's position on SERPs. As hinted earlier, the more high-quality websites link to your website, the higher it will rank on SERPs. 
Drives Traffic to Your Website: When other websites link to you, it helps increase your brand's visibility online. Search engines locate new pages by checking popular web pages to find new links. In addition, receiving backlinks from well-known websites of bloggers exposes your content to these sites' readers. It increases referral traffic to your site.
Improves Relationships with Other Websites: When you link to another website, they're more likely to link back. Over time, this helps create a relationship between the two websites. Such relationships open up opportunities for partnership marketing and other collaborations that'll consistently improve your SEO.
Helps Build Trust and Credibility: Reciprocal links show that your website is credible and trustworthy. When other websites link to you, it's a sign that they find your content valuable and worth recommending to their audience. 
Cons 
Link Exchanges Can Be Time-Consuming: Where they don't occur naturally, direct link swaps can be time-consuming. This is because you need to manually look for websites willing to link to your website. You also need to contact the webmasters and negotiate terms. 
May Go Against Google Policies: According to Google, excessive link exchanges done for the sake of link building are considered link spamming. The same goes for using automated programs or services to build links on your website.
Links May Not Be as Relevant: Reciprocal links may not be as relevant as other types of links. This is often the case if you only link to websites willing to link back to you. There's no guarantee that these websites will be related to your industry or niche.
Reciprocal Links Can Be Difficult to Maintain: Over time, website owners may change their minds about the reciprocal link exchange or simply forget to keep their links updated. This can result in broken links on your website, negatively impacting your search engine rankings.
A broken link will give you the 404 error, such as the one shown below by Google: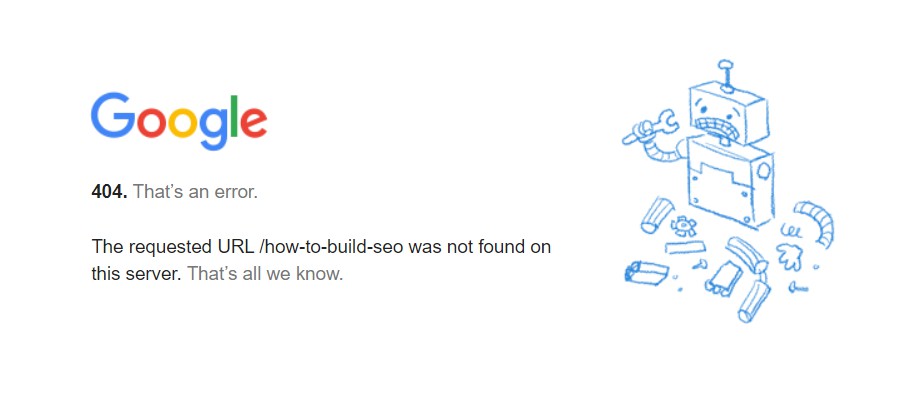 What is a 3-Way Link Exchange?
A three-way link exchange is also known as an ABC link exchange. It's a triangular link-building strategy that marketers use to improve SEO and increase traffic. 
3-way link building is similar to reciprocal link building, except it involves three websites instead of two. Here's how it looks: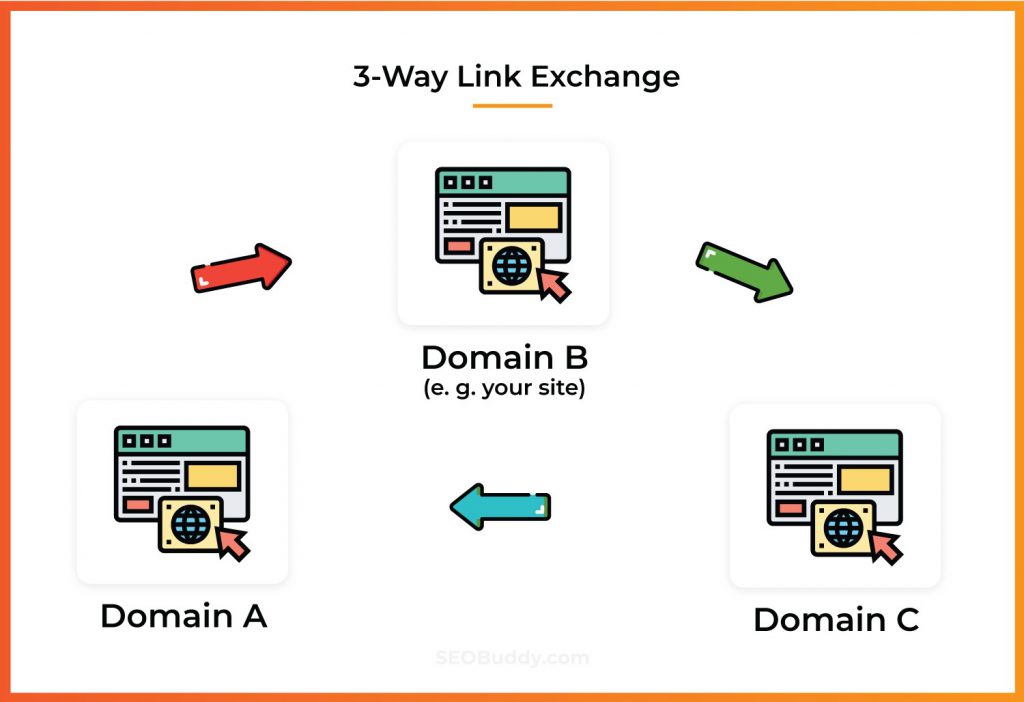 The above image simply explains how a 3-way link exchange works. Domain A links to Domain B, which in turn links to Domain C. Then, Domain C links back to Domain A creating a complete 3-way link exchange.
The key to success when doing a 3-way link exchange is having access to multiple websites with high domain authority.
This concept is why "the rich get richer" regarding SEO. When authoritative websites use the 3-way link-building strategy to exchange links with other influential sites, it makes these sites stronger.
3-way linking is mainly used by website owners as a workaround to direct link exchanges.
As hinted, Google considers reciprocal links that do not naturally occur as spammy. Any behavior manipulating links to your website may be categorized as "link schemes," violating Google's webmaster guidelines. 
The beauty of 3-way link building is that it's inconspicuous. 3-way links don't result in reciprocal linking, so the search engine's algorithm can't detect the exchange.
Since this triangular form of link-building doesn't look solicited, Google is less likely to detect link exchanges between publishers.
Pros and Cons of a 3-Way Link Exchange
Being a link exchange strategy, 3-way link building has its pros and cons. Let's take a look at each:
Pros
It's a Better Alternative to Reciprocal Linking: One advantage of 3-way linking is that it avoids conspicuous reciprocal linking, which can get your website penalized by Google. When done correctly, 3-way link exchange can help improve your website's SEO without the risk of being penalized. 
Increased Rankings & Traffic: The primary purpose of a 3-way link exchange is to improve SEO through increased link popularity. More links pointing to your website signal to Google that your site is relevant and trustworthy. Thoughtfully placed, 3-way links can help your website rank higher for specific keywords and improve your click-through rate (CTR). 
Greater Relevance: When you receive a link from a relevant website, it tells Google that your site is also relevant to the topic at hand and that the link isn't solicited. This increases the chance that your website will be ranked higher in search results for related keywords.
Improved Referral Traffic: Linking to websites in the same or similar niche as yours helps improve your referral traffic. Not only will you get more visitors from these links, but you'll also get more targeted visitors. These types of visitors are most likely to convert into customers.
Better Relationships: 3-way link exchange is also great for building relationships with other website owners in your industry. These relationships can be beneficial down the road, whether you need help promoting content or are looking for guest post opportunities. 
Cons
It is Time-Consuming: 3-way link exchanges can be time-consuming, especially if you're trying to set up multiple link trades simultaneously. Plus, there is no guarantee you will get the best website for your needs.
Requires Reciprocity: For a 3-way link exchange to be effective, all three parties involved must agree to link to each others' websites. This can be difficult to coordinate, especially if you're working with a large number of websites.
Can Be Spammy: If not done correctly, a 3-way link exchange can appear spammy to Google and other search engines. If you have too many links coming from the same website, it may appear suspicious to the search engine. This can lead to your website being penalized, which can hurt your rankings and traffic. 
Quality of Links May Vary: When participating in a 3-way link exchange, you have no control over the quality of the links you receive. The website you're linking to may have a low domain authority (DA) or Google may consider it spam. This could hurt your website's SEO.
Reciprocal Link vs 3-Way Link Exchange: Which Is Better?
There is no inherently "good" or "bad" link-building practice in the reciprocal link vs 3-way link exchange debate. Both serve a genuine purpose, but only if done the right way.
And yes, they generate some excellent results. In fact, a 2020 study conducted by Ahrefs on reciprocal links provides good evidence. 
In a randomized sample of over 140,592 domains, each with over 10,000 monthly traffic, Ahrefs found that 73.6% used reciprocal links. 
Furthermore, 27.4% of the domains had about 15% of all their inbound links generated from link exchanges. Here's the evidence: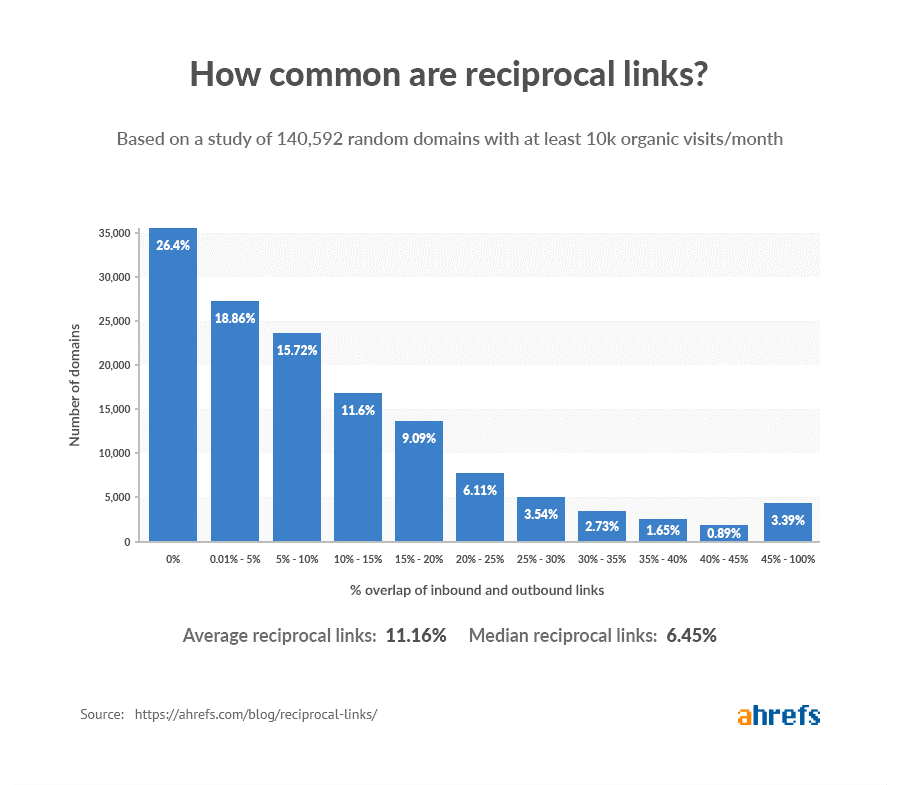 What is the significance of these statistics?
Simple. They show that link exchanges work. But what's the catch?
Well, you must do them right. Ensure that you only exchange links with authoritative and relevant sites.
Links created only to meet the requirements of an exchange program often look forced. And since it is easy for Google to determine whether a direct link swap is solicited or not, a 3-way link exchange is safer.
Because no two websites directly exchange links in a 3-way link exchange, the method doesn't create a footprint and appears more natural. 
So, in the debate about which link-building strategy is better between reciprocal link vs 3-way link exchange, the latter wins.
But if you want to implement both, there are some considerations to make as explained below.
Link Exchange Best Practices
When it comes to employing link exchanges on your website, the best practices are more important than your choice of strategy. We've mentioned linking to high-quality websites, but is that enough?
No.
Here are more tips.
1. Evaluate the Link Quality
When you receive a link request, don't automatically add the link to your website. Instead, take some time to visit the website and determine if it's a good fit for your site.
If it is, then you can manually add the link to your website. Also, try getting backlinks from authoritative sites and avoid links from sites with low domain authority and domain ratings.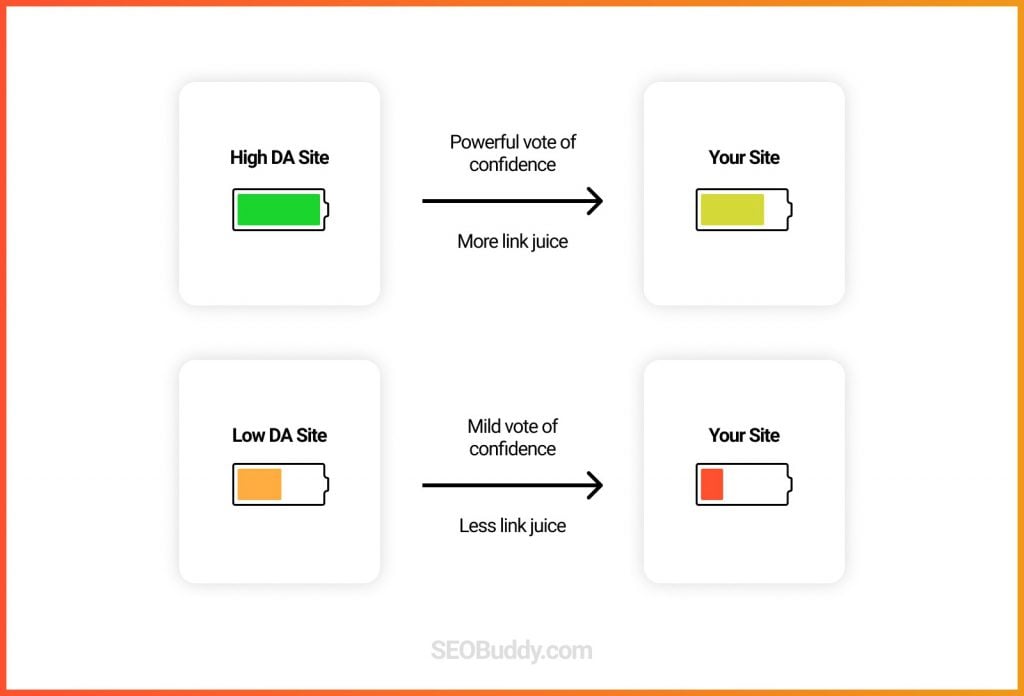 2. Add the Link to a Relevant Page on Your Website
When adding a link to your website, ensure it's added to a relevant page. 
For instance, if you have a blog post about "SEO checklist," it would make sense to add a link to a page that offers more information on the topic. 
3. Use Anchor Texts Sparingly
One of the best practices for using anchor texts for your link exchange is to use them sparingly and naturally.
So, make sure that your anchor text doesn't appear forced, spammy, or generic. 
An example of a generic anchor text is "click here". It doesn't give any context as to what the link is about and users will doubt whether it'll be of any value if they clicked on it.
On the other hand, if you have an anchor text such as "Check out these SEO tips", a reader automatically knows what the link is about, and will be tempted to click on it.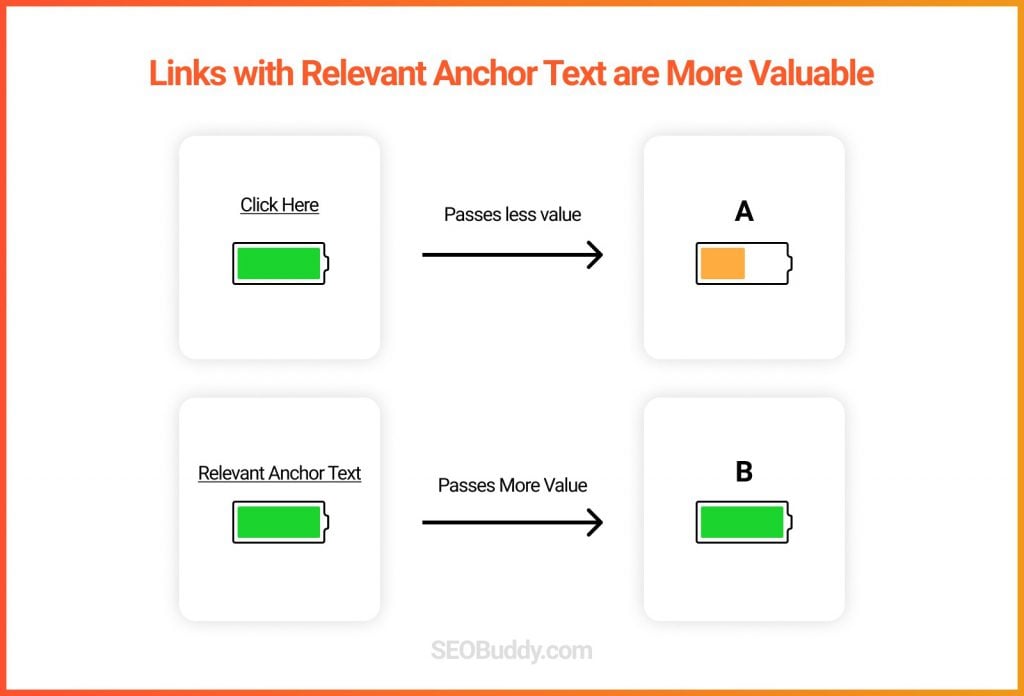 Now, why does this matter? 
Well, making your anchor text as relevant as possible can improve your site's ranking on SERPs. That's because search engines use the anchor text to determine what the link is about.
Be careful, however, with the number of times you use your anchor texts. If you consistently link to the same anchor text throughout the article, Google may view it as keyword stuffing, which can negatively affect your SEO.
A mix of different anchor texts looks more natural.
4. Add Links to Your Website Gradually
When adding links to your website, whether through reciprocal link vs 3-way link exchange, do it gradually. 
Adding too many links at once can be a red flag for Google. The search engine may view your website as spammy.
A good rule of thumb is to add no more than two weekly links.
5. Keep Track of Your Linking Activities
It's important to keep track of the links you add to your website. This way, you can monitor which links are working and which ones aren't.
You can use a tool like SEO Buddy's Link Chest to acquire backlinks from high-quality websites.
You can also use it to monitor your backlinks. With this tool, you can see the link's anchor text, URL, and the website's PageRank.
Here's a video showing how the Link Chest works:
6. Disavow Spammy Links
There will be times when you get links from low-quality websites, even if you follow link exchange best practices. Some of these may even be toxic backlinks.
When this happens, you can use Google's Disavow Tool to disavow those links.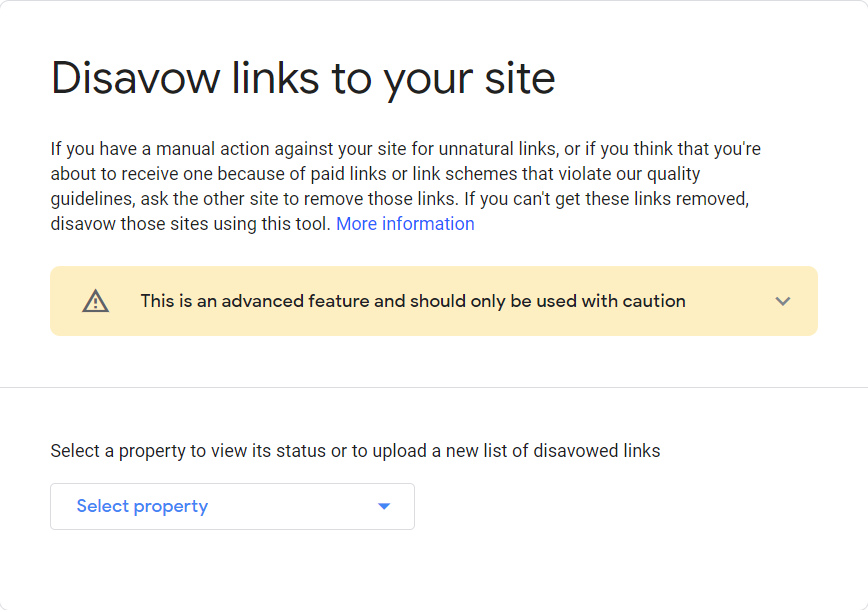 The process will tell Google that you don't want those links to be associated with your website.
7. Use Natural Ways of Link Building
Build your links naturally through networking and white hat methods such as guest posting. You will get high-quality links that will improve your website's SEO. 
And, if you do a 2-way or 3-way link exchange, ensure that you do it in a natural and relevant manner, not just for the sake of link-building. Using networking to build links is one thing, but participating in link schemes is something else entirely.
Many people think they avoid getting detected by search engines by waiting for a few weeks before adding reciprocal links. However, that's not necessarily true.
If you participate in regular link exchange, Google will likely detect the pattern. But if you do it occasionally and with considerable gaps in adding reciprocal links, it may go undetected.
While there's no guarantee that adding a reciprocal link after a few weeks will not be detected as reciprocal link building, it may work if done right. So, if you want you can try the strategy and see if it works for you.
FAQs
1. What is a 3-way link exchange?
A 3-way link exchange is a triangular SEO link-building strategy where Domain A links to domain B, domain B then links to domain C, and domain C links back to domain A.
2. What is a reciprocal link?
A reciprocal link is a link exchange strategy where two webmasters agree to link to each other's websites. For example, if website A links to website B, then website B will link back to website A.
3. Are reciprocal links good?
Yes. Reciprocal links are good if you make them look natural and unsolicited. This involves using reciprocal links sparingly and only exchanging links with high-quality websites.
4. What are the three types of links?
The three types of links in SEO include:
Internal links, which redirect from one web page to another within a website; 
External links or outgoing links, which link to a different website 
Backlinks, which are incoming links your website receives from a different site 
5. What is a 2-way link exchange?
A 2-way link exchange is when two websites agree to link to each other. This is also called a reciprocal link.
Reciprocal Link vs 3-Way Link Exchanges: Final Thoughts 
Now that you understand the differences between reciprocal link vs 3-way link exchange, the decision on which one to use lies with you.
Both are effective and work for SEO if done in moderation. If you adhere to the best practices discussed in this article, you'll have a better shot at ranking better on search engines.And since link-building can be time-consuming, SEO Buddy can help! Save yourself days of work and unlock your link chest to get access to thousands of quality links for your SEO.