My SEO Journey: Daniel Anderson from themoneymaniac.com – From DR0 to DR34 in less than 4 months
My SEO Journey is a series where entrepreneurs and Indie makers share their honest SEO Journey filled with failure and success, and most importantly, proven results. Episode #101 features Daniel Anderson from The Money Maniac.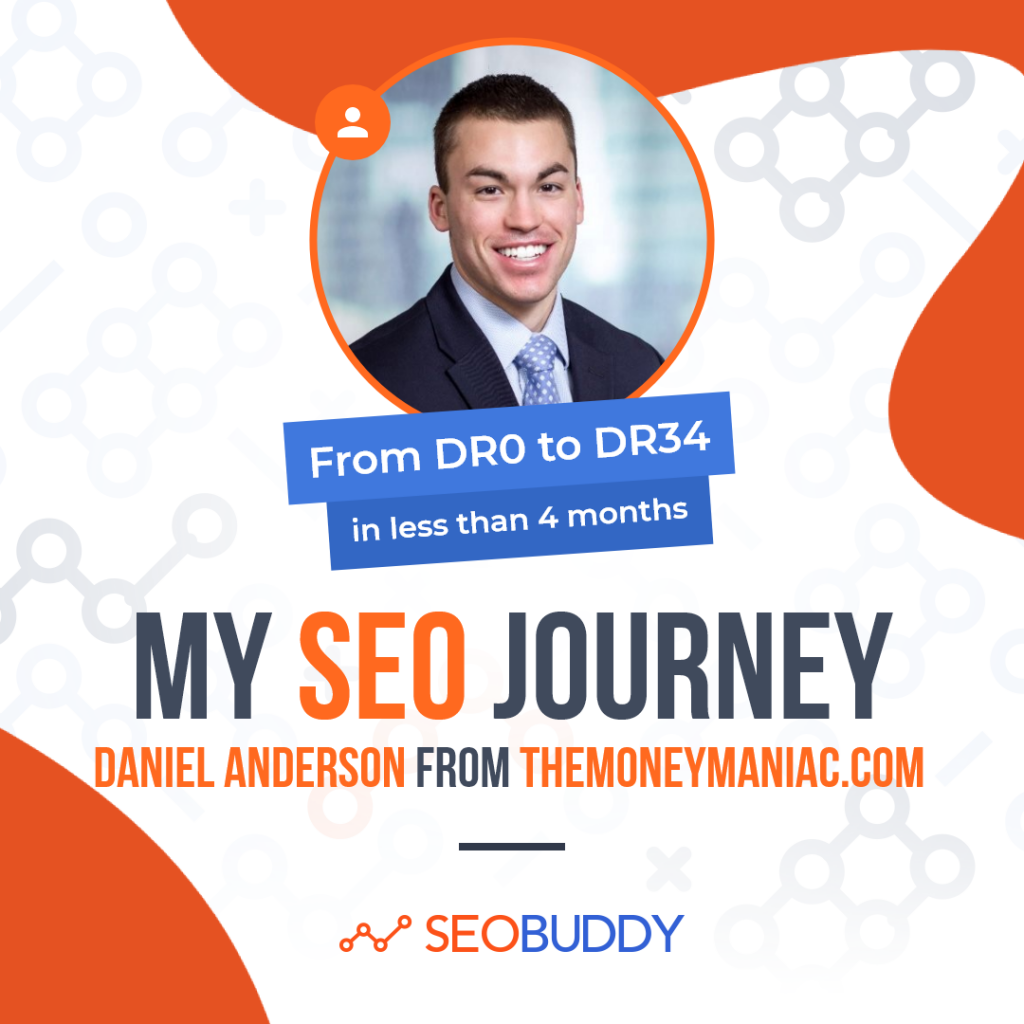 I'm Daniel Anderson, the editor at The Money Maniac. Before writing full-time, I was an investment banker on Wall Street and then an ecommerce brand owner. I now cover business, entrepreneurship, and personal finance with the help of a small team.
Our mission is to empower people to reach financial freedom. We strive to provide actionable advice on how to make more money, build income streams, and invest for the future.
How did you come up with the idea?
I was originally inspired to start blogging after helping a family member overcome their growing credit card debt. Last Christmas, we sat down determined to turn the situation around and sketched out a 12-month game plan.
First, we analyzed past spending by pulling credit card and debit card transactions into a Google Sheet. Then, we reviewed and categorized it all to create a more sustainable budget. Lastly, we refinanced the debt with a 0% APR promotional balance transfer offer and cut up the old credit cards.
It was during this process that I realized how empowering financial education can be. Budgeting, investing, debt, and taxes are critical life skills that too few people learn in school. As both an entrepreneur and a total personal finance geek, the lightbulb went off in my head and less than 4 months later The Money Maniac was born.
What's your backstory?
Although I have years of experience in digital marketing and brand building, I was a complete beginner in all things SEO, blogging, and WordPress at the start of 2022. As an ecommerce business owner, I was well-versed in PPC and social media marketing but I never quite understood the organic side of things.
On multiple occasions, I have hired backlinking agencies, SEO consultants, and content writers but I was never satisfied with the results. Each time I felt unable to properly vet their work product, which left me feeling frustrated and no closer to my goals.
When the idea of starting a blog first struck me, I knew that even if things didn't work out I would at least have a deeper understanding of how to hire for SEO. That didn't sound like a terrible worst-case scenario, so I decided to take my shot.
Since launch, what has worked best for you?
To be honest, I still have quite a long way to go in terms of reaching my traffic goals and making money from the website. My focus thus far has been on taking a long-term view, creating quality content, and building my authority. I plan to continue guest posting, conducting interviews, and partnering with other blogs to find a lane for myself.
In terms of SEO strategies, I use a combination of on-page optimization and link building. For on-page, I use Ahrefs for keyword research and SurferSEO for content optimization.
That being said, I believe that Google will continue to prioritize valuable content over-optimized content.
So I don't worry too much about keyword stuffing, exact keyword matches, or any other metrics like that. This could be slightly detrimental in the short term, but I hope that the website will be rewarded in time.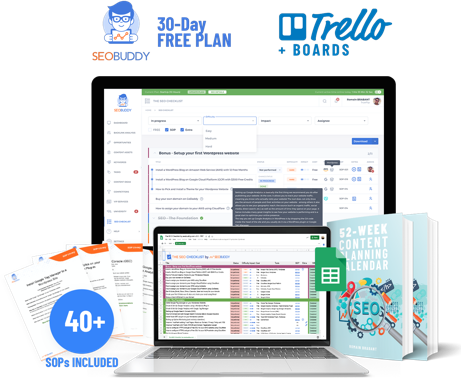 There's more…
Now it's time to discover the other 102 steps that will get more organic traffic flowing to your website. Get the SEO Checklist here.
Want to get a sneak peek of what it looks like?
Enter your email and get a free demo version of the SEO Checklist.
As an all-new blogger, I have approached link-building like networking. Initially, I had no connections, no experience, and no idea what I was doing. But I made an effort to put myself out there and connect with other bloggers and editors.
After pitching probably twenty blogs, I landed my first feature on a software blog of DR 80+. I was beyond excited about the opportunity. To make absolutely certain that the article would be published, I was meticulous about following their guidelines, looking at recent posts on their blog, and making sure my article would be a good fit. I designed images in Canva, added internal links, and edited the article until it was perfect.
It took a lot of time, but the process was well worth it in the end. With that first feature, I was able to start leveraging their brand recognition to land other guest posts. Now, I've been published on Forbes, Zapier, Jotform, and many more. These guest posts enabled me to boost my DR from 0 to 34 in less than 4 months.
Initially, I had to point to my past accolades and accomplishments to prove that I was a worthy candidate to write for their blog. But now that I've been able to land a few impressive placements, the process has become a bit easier. However, I still try to provide value and go above and beyond with each guest post. By standing out as a contributor, I aim to keep the door open for future guest posts whether on The Money Maniac or other projects.
Have you learned anything particularly helpful in your SEO Journey?
I have learned many, many lessons in my short SEO journey.
My first major realization was about how I would have approached my content strategy differently if I were starting over. In my rush to take action and learn through doing, I threw a lot of ideas against the wall to see what would stick. This resulted in many one-off articles that have no internal links and probably no chance to rank.
In retrospect, I should have taken the time to create content clusters or a content map. With more thorough keyword research upfront, I could have created a keystone article for several topics. Then, future supporting articles could all link to the longer, more detailed, and more valuable article. I believe this would have improved my traffic generation as well as my ability to squeeze maximal link juice out of each guest post.
Next, I learned that link building is a lot like sales. You have to be constantly pitching, following up, and tracking your progress. It can be time-consuming, but it's a volume game so the more pitches you make the better your chances of success. Automation can help with this to some extent, but there's no replacement for a personal touch.
After weeks of dealing with a chaotic inbox, I eventually created a Google Sheet to help me keep track of names, email addresses, dates, and the status of each pitch. This simple system helped me to be more organized, efficient, and successful in my outreach efforts. It took me an embarrassingly long time to begin sending follow-ups. But once I did, my success rate increased noticeably.
Third, and on a less tactical note, I realized that like any other business, you can not build a blog on your own. At least not quickly. To perform keyword research, connect with fellow bloggers, write guest posts, and contribute quality content to your own website, you need support. I have not cracked this code just yet, but I am slowly building a team of talented individuals to help make our mission a reality.
What have been the most influential books, podcasts, or other resources?
Since I was starting at ground zero, I decided to kick off my SEO education with a course.
Around the time I was getting started (April 2022), I came across Adam Enfroy's Blog Growth Engine. His story of building a blog from $0 to $90,000 per month in just two years was all over my Instagram and YouTube feeds.
I decided to take the jump. Even at nearly $2,000, I figured the lessons could save me months of experimentation.
After enrolling, I found that the course was pretty comprehensive. He covered keyword research, link building, content assembly, and monetization. The only topic I didn't feel I learned much about was technical SEO. At any rate, after just one week of watching videos, I was off to the races. And given my progress so far, I believe that the investment was more than worthwhile.
Since then, I get most of my ideas and inspiration from Twitter. I have curated a feed of "niche site" experts who post threads about their latest strategies, experiments, and results. I often find myself liking a tweet while on the go, and then testing it out the next time I sit down at my computer.
What's the next step in your SEO Journey?
The next step for me is to systematize my approach at The Money Maniac. Now that I have a solid understanding of how to drive the blog forward from a traffic generation point of view, I need to scale production.
To do this, I want to hire more self-sufficient writers, add lead capture forms to popular articles, and begin to build out a social media presence. Eventually, I would like to offer my own products and services as a means of monetization. But for now, I am focused on growing my domain authority and organic traffic.
Six months from now, just after the one-year mark from my launch, I hope to hit DR 60 and 10,000 monthly visitors. Around that time, I intend to shift my strategy to concentrate on monetization and creating a self-sustaining business.
Where can we go to learn more?
To follow our journey at The Money Maniac, visit our website and sign up for the newsletter. To connect with me for link building, to trade strategies, or just to shoot the breeze, find me on Twitter here.
In the meantime, happy site building!