My SEO Journey: Mins Savela from 10Adventures.com – Over 715k free organic traffic visitors in 2020
My SEO Journey is a new series where entrepreneurs and Indie makers will share their honest SEO Journey filled with failure and success, and most importantly proven results. Episode #5 features Mins Savela from 10Adventures.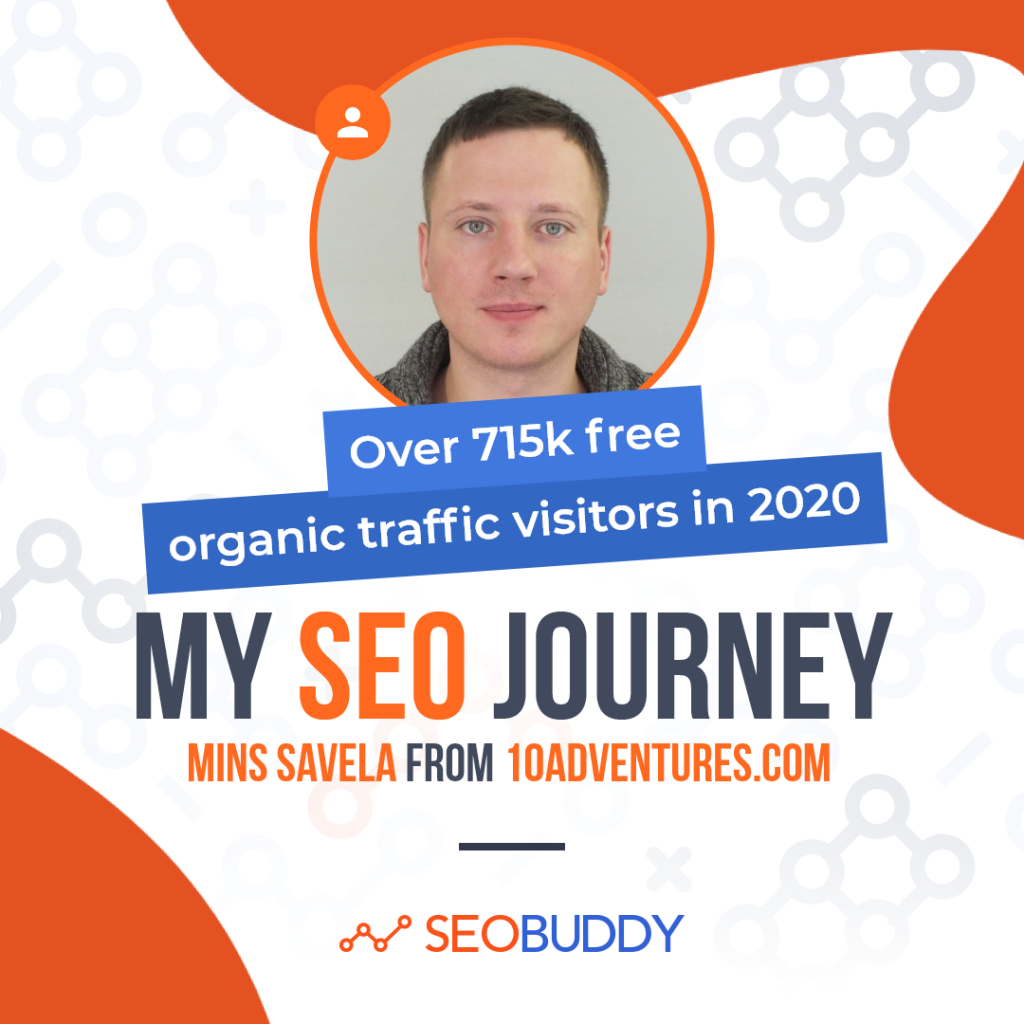 My name is Mindaugas Savela, a.k.a. Mins, and I am the digital marketing manager at 10Adventures.com.
10Adventures is your one-stop source for everything you need to plan or book your next trip. From sharing high-quality route guides for free to offering a comprehensive adventure tour marketplace, our mission is to help you get outside, creating a memorable experience when you do.
Our business is seasonal, so most users come in for summer activities, but our traffic goes down during the winter and autumn, as fewer people hit the trails.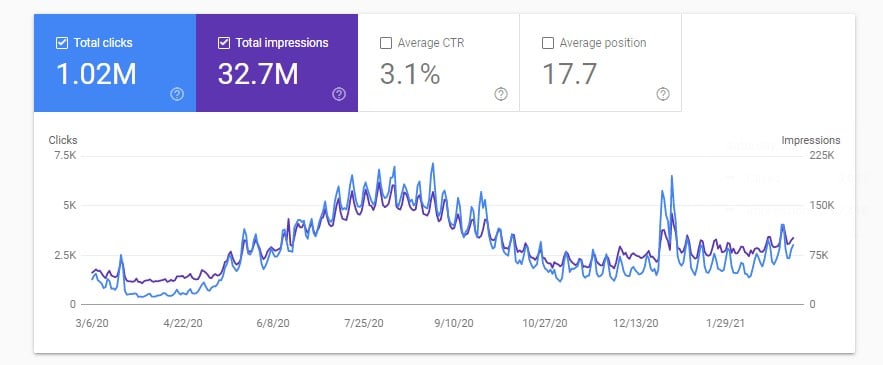 We've reached a 76% growth on our organic traffic year-on-year, which comprises 70% of our total traffic.

What is your experience (bad or good) working with agencies, freelancers, or building your own in-house SEO Team?
My experience working with agencies is very limited.
This is mainly because SEO is one of my own main responsibilities at 10Adventures. So I try to cover as much as I can myself. As 10Adventures is still a start-up, we're using the resources that we have in-house, and so far it seems to work pretty well.
When it comes to freelancers, we do use a couple of great people to help us out with simpler tasks like web research, email checks, and administrative tasks.
All of our more in-depth SEO work is carried out in-house.
Currently, we mostly rely on our own team with a little help from freelancers.
So far, it has been working great. I believe we owe a lot of our SEO-related success to our great content team and developers, who are 100% on board at making sure the website is both user and SEO-friendly.
I think when everyone involved has some SEO knowledge, it makes it a lot easier to achieve your goals.
Any tips on hiring an SEO Specialist, or outsourcing to a Virtual Assistant?
As we haven't hired any SEO specialists, I can't tell you exactly what would be the best thing to look for. I can only give general advice. Before hiring an SEO specialist, I would advise you to at least go through the SEO basics to see what it's all about.
I would probably want to hire someone who would get me the full scope of where my website is and where we need to get to. And that would entitle technical SEO, on-page SEO, outreach, link-building, content strategy, and all the other things.
But really, it depends on where you are with your website and how much you need to cover. For example, if you only need help with link-building, you may just need someone who can do the outreach for you.
But when it comes to a virtual assistant, I would not expect one to be fully aware of all the bits and pieces and would hope that they are following the latest updates from the SEO world.
If I needed someone to help with research or emails, I would not look for a virtual assistant, who is an SEO expert. I would look for someone who is great at doing web-research, knows their way around the web, and has a high attention to detail.
I'd look for someone who's got the skills to do the exact tasks I need them to do.
I think this is the biggest difference. You either get someone who is a specialist, or you get someone who's good at doing some specific tasks on the to-do list.
Some people may think that SEO is easy and quick to learn. I believe it's not.
It's something you work on and update your knowledge on continually. Some things I learned 1.5 years ago no longer apply today. I mean, I still meet people who think it's just about stuffing the keyword in as many times as possible and wait for the results to come in.
What are your favorite resource, blog, and influencer, to learn new SEO Tips?
My favourite resource is probably Ahrefs Blog and their video tutorials on Ahrefs YouTube channel.
They cover a lot of topics from the beginner level to some really in-depth practical guides. And that practical part is something I really value.
There's so much theory out there, and I agree, it's important to know your stuff. But for me, it's even more important to be able to use that knowledge, and I think they do very well with their step-by-step guides.
As for an influencer, I have to mention Evaldas Mockus, who's the director of SEO at Omnisend.
He was the person who introduced me to SEO when I was looking for a more concrete field in digital marketing that I wanted to pursue. The 1-on-1 SEO lectures with him were really invaluable, and it was probably the best step into the SEO world that I could have taken.
What are your favorite link-building strategies?

I think the link-building strategy depends a lot on how much and what type of content you are doing.
If you're not doing huge volumes of content, your best bet may be concentrated and targeted outreach campaigns and quality guest articles on other domains. And when I say quality, I mean in-depth researched content that would spark a discussion on the publisher's domain.
This strategy, I think, sadly was ruined with people/agencies who provide low-quality articles thinking that it will do. We've had some bad experiences with low-quality guest articles offered to us.
So, in the end, you just stop accepting them entirely.
But if you are doing more content, the best strategy could be a high-volume outreach campaign for quality content. I know it might sound hard to believe, but if you have good and useful content, people are willing to link to your resources without any charge and even thank you for showing it to them.
I had a great experience using this strategy.
It's all about making sure you're content is good and finding the people who would actually find it useful.
Imagine if you have a great food calorie intake calculator with a ton of great functions and settings. I bet a lot of food blogs might want to link to it as it would be a great additional resource they could provide to their users.
I know some may find it hard to believe, but I managed to get amazing results with this strategy.
We only do outreach for the content we think is useful, and surprisingly, people do think it's useful.
It is all about making sure you target the right people.
If you know your content can bring value to the users of those you reach out to, then it's just about getting the right message out. We've experimented a lot with our outreach campaigns and managed to get it to around 65-70% open rate and 20-30% reply rate.
My main goal is to reach the point where I can show the content we've created. And from there, I found that there are a large number of websites that do think it would add value to their readers.
Region guides fall into the slot of top-performing content on our website, such as the Peak District walks.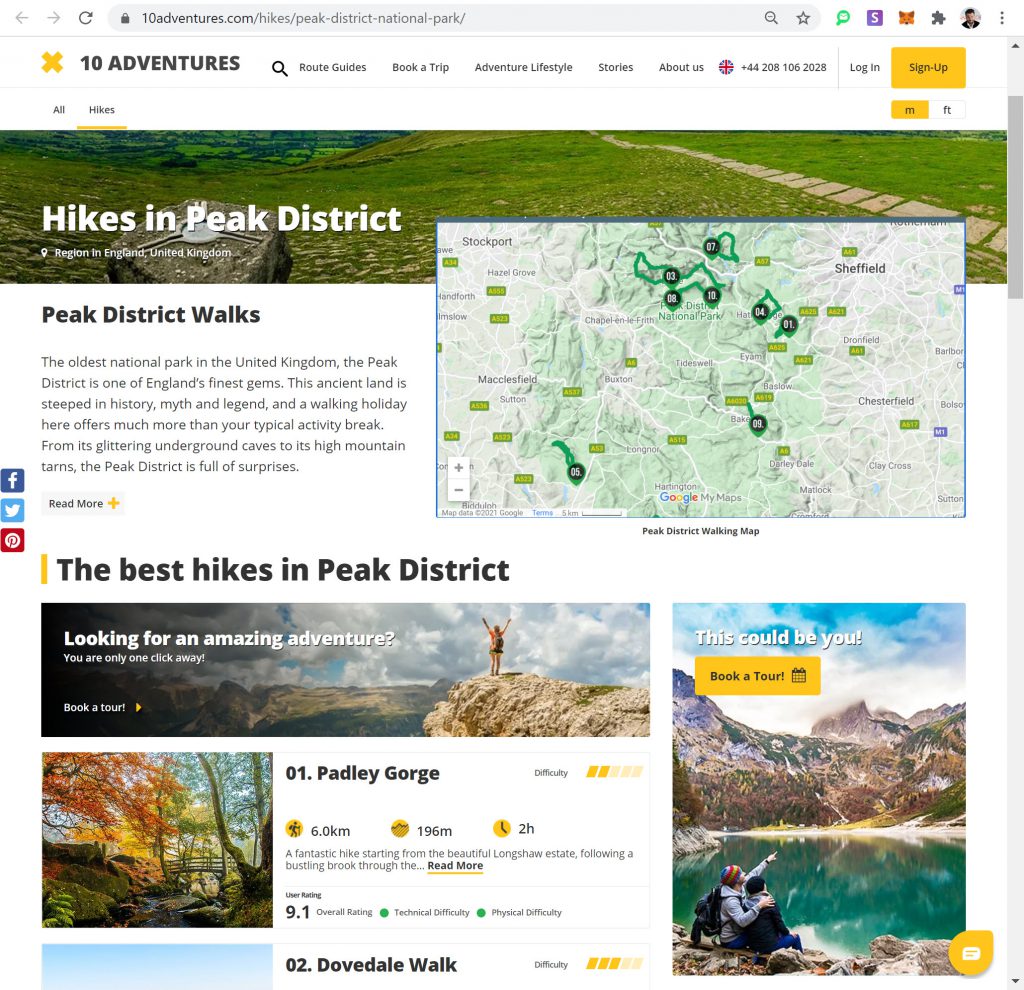 When this particular content didn't meet our performance goals, we compared the write-ups with our competitors, prompting an update on our region pages' write-ups. We included more useful information and used these pages to link to the trails better.
We also made sure to link back from the trails to the region pages.
I've found that the links within text are far more useful than the links within the automated widgets.
After we were happy with the content, we launched outreach campaigns to see if we could get some links to boost them. This combined effort helped us to get the Peaks District guide to the top in the United Kingdom.
I think the best tips for doing good SEO-friendly content are to:
Differentiate between SEO content, sales copy, and general content entirely for users.
Your SEO content's main goal is to get you that traffic. But you have to have a strategy in place to convert that traffic into sales. Sales copy, on the other hand, might not be ideal to get you any traffic. But its main goal is to get that sale you want.
You have to figure out how to get that organic traffic onto your sales content to get conversions.
Sure, some SEO content will get you sales and some sales copy will get organic traffic. I am just saying that trying to balance it out with the same piece of content may either hurt your traffic or conversions. And make sure you have some less-optimized content entirely for the user.
An over-optimized website will look artificial, won't be much use to the user, and might even hurt your rankings. I also found that the stories created without SEO-optimization in mind performed really well on Google News and Google Discover, which got us a high volume of traffic for a brief time.
Put in the work.
If you want to chase after a keyword that covers a difficult topic and you see all of your competitors have extensive and in-depth guides in the first positions on search, aim to do that but better. Don't assume you'll get a short listicle out; throw in some backlinks and push others out of the top positions.
If you do not have the resources to chase that kind of keyword, find something that's a bit more simple for the time being and come back for that one later.
The web is full of thin content already—there's no need to add more to it.
At 10Adventures, we want users to find as much information as they might need.
We know many people try to plan their own journeys, so we always want to have extensive guides for them to help with their trip planning. One of the examples of an article we have spent a lot of time on is the Te Araroa Way guide.
This hike in New Zealand takes you from the North Island to South one, and it takes a person months to complete. The easy way may have been to do a listicle on the best thru-hikes in the world or even in New Zealand. But we thought that a thorough guide with all the information and an itinerary would have much more value to the user.
It took a couple of weeks to research, check what was already out on the web, and put something together that we thought might be more useful.
We also created a GPS route for people to download and follow.
It's not performing the way we want it yet, but there's still a lot of work to be done.
The challenge here as well is that the highest search volume for this trail is in New Zealand.
So, it's not just about creating good content but also making sure the outreach is focused on New Zealand as well. Landing links in the US won't get your content rank well in New Zealand.
Think a few steps ahead.
Create content that falls into the whole content strategy just like a piece of a puzzle.
In the past, we had done some articles that we eventually had to get rid of and redirect, simply because we just covered the same topics in different words. Eventually, it just started competing with our main pages.
Also, it's always good to think if the topic you are creating could be something better, more in-depth, or more useful. If you think you'll end up having to create a full guide on a topic in the near future, do you really need to create a listicle on that topic to cover it for the time being?
Keep in mind that 91% of all pages don't receive any traffic at all.
So perhaps it's better to put 100% effort in the future instead of creating content no one will find today.
Update your content and optimize it.
If you have an article that might be a bit thin or think that you could cover more topics on a similar subject, don't just create more articles covering fractions of a whole subject. Update the article that you already have, including more angles, more subtopics, and take out any unnecessary or unrelated information.
Even if you create something you are sure is better than that of your competitors, there's no guarantee that it will work. But it does not mean it can't work.
Just make sure to return, check and tweak it until it starts to get some results.
As we have hundreds and soon will have thousands of trails, we do not concentrate yet on updating one or two specific pieces. We are trying to update our trails that do not perform well but have good traffic potential.
Every week we try to optimize a number of articles, trails, and region pages, to try and give them a push.
We have so much content that we haven't even gone through it once, so I do not think it would be the time for us to do a strict yearly update on a specific piece. But sure, if we'd see a page that is high-value started performing worse, we'd definitely prioritize it to other pages.
Do not be afraid to delete content.
If there's no traffic, the content is thin and there's not much you can squeeze out of it, don't be afraid to shut it down. Getting rid of bad quality pages will only help your website as a whole.
How do you tackle long tail keywords before aiming for the kingmaker keyword?
There have been quite a lot of cases on long-tail keywords in general, stating that search engines will eventually figure out that "best homemade panini bread recipe" is the same as "panini bread recipe".
While I still think it's quite beneficial, I do not concentrate entirely on tackling the long-tail keywords before I'd go for the main one. I simply pick my battles.
If I need to target a kingmaker keyword, I will, and I will create the content I would believe would rank for it. With patience and work, eventually, I believe it will get there.
But in general, I pick my battles. There are numerous similar topics out there that are different in their competition levels. It's just about making sure you find those opportunities until you get to the level you can compete for the big ones.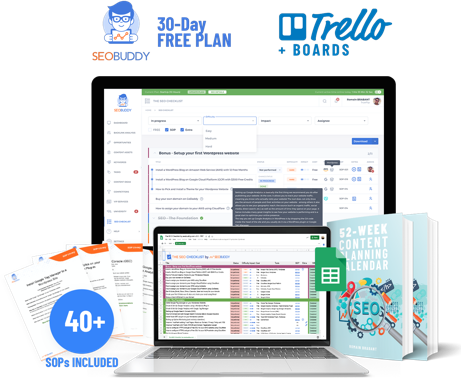 There's more…
Now it's time to discover the other 102 steps that will get more organic traffic flowing to your website. Get the SEO Checklist here.
Want to get a sneak peek of what it looks like?
Enter your email and get a free demo version of the SEO Checklist.
Any challenges you're still facing today?
Like many other websites, we're working on getting set for the core web vitals and just making sure our site is fast and user-friendly. So far, it's been a bit of a challenge to get good performance without sacrificing crawlability.
You can do many things to increase your site's performance significantly, but a lot of these tactics might also have a huge effect on your SEO.
But we are working on a new website design that is being built with best SEO practices (to our knowledge) in mind.
So we have high hopes for the outcome.
Your favorite tools in your SEO Tech Stack?
Ahrefs – a great resource and a wonderful tool. Tech SEO, outreach, content – it covers a LOT.
And probably Screaming Frog – a great tool for technical SEO.