My SEO Journey: Jeff Stripp from zogics.com – Be intentional with what you create and how you share it
My SEO Journey is a series where entrepreneurs and Indie makers share their honest SEO Journey filled with failure and success, and most importantly proven results. Episode #71 features Jeff Stripp from Zogics.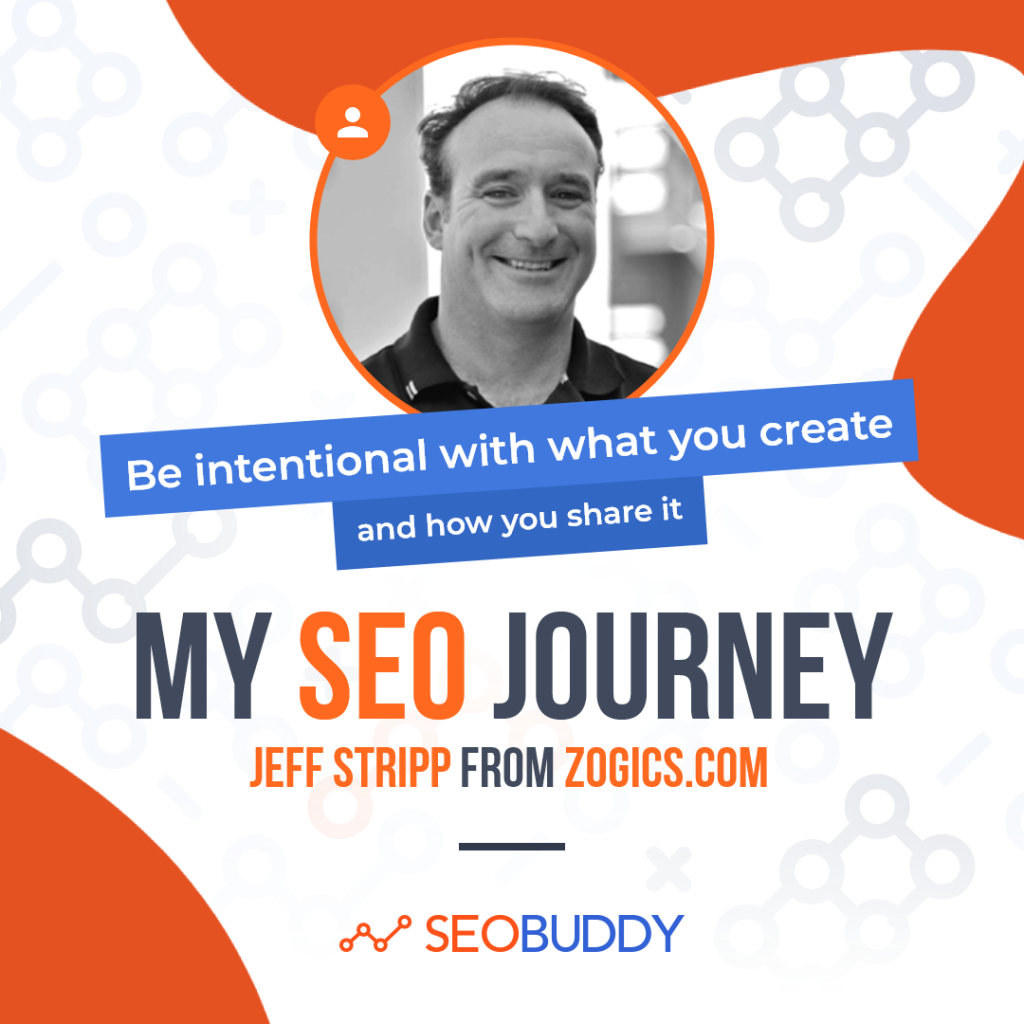 Zogics is a B2B and B2C e-commerce company that supplies businesses worldwide with items that keep them operating at their best. Customers across diverse industries rely on Zogics for products in a wide range of categories such as cleaning and disinfecting, indoor air quality, safety, and facility, along with services like personalized procurement, franchise vendor support, and inventory storage and management.
Our flagship products are our cleaning and antibacterial wipes, which were first designed and manufactured by our founder Paul LeBlanc.
The idea came to him when fixing his bike and discovering he had nothing particularly good to clean his hands and bike itself.
Fast forward several years (and several dozen new products added to the catalog), our annual revenue is over $20M per year. It shows how a viable solution to a simple problem can evolve into a successful business model.
I'm currently the Chief Revenue Officer at Zogics, overseeing our e-commerce department, and making sure our efforts across all departments are aligned: exceeding customer expectations and growing our brand.
Before joining Zogics, I ran a digital marketing firm called i3. It was a full-service agency that consulted e-commerce businesses on web development, content marketing, and email nurturing. After running i3 for several years, I decided that leading an in-house marketing team and devoting all my time to growing a brand was the best path for my career.
As a marketing agency, we only see small pieces of our clients' businesses and very rarely get to drive comprehensive marketing strategies. With Zogics, I wanted to have the autonomy to develop a strategic plan and build a team that could put the plan into action.
SEO and Content is About Helping and Teaching
As an e-commerce business, it is crucial for our customers and potential customers to find our website online. As a startup without much brand recognition, we learned that having a nice, well-designed website wasn't nearly enough to compete with major e-commerce players.
To create a real online presence, we knew we had to make considerable investments in digital channels like content marketing, SEO, social media, and email.
Our approach to SEO is based on the same principles as our entire business: serve the customer and their needs.
We write articles that inform prospective and returning customers about the nuances of our products. For example, our disinfectant sprayer products are surprisingly technical so we publish detailed guides to help our clients clean and disinfect their facilities and write about news about new regulations and standards.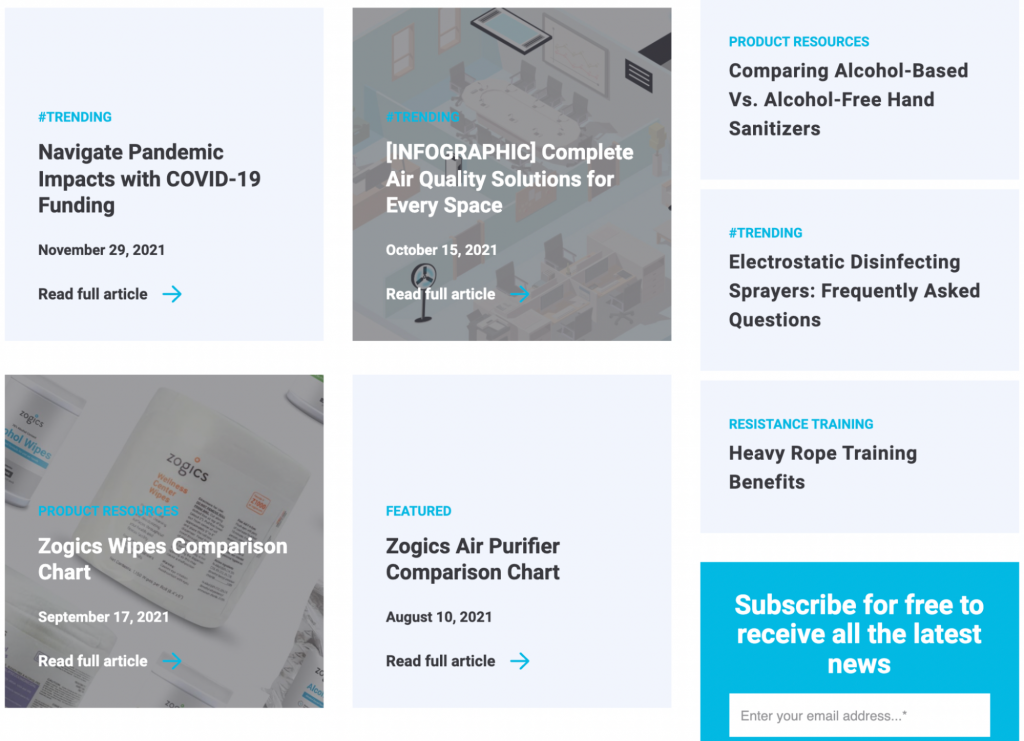 We also actively seek feedback from our customers to find pain points, product ideas, and questions we can address in our content about our products, cleaning standards, and more.
Since we started creating content for our blog, our organic traffic has steadily grown. When the COVID-19 pandemic began in March 2020, our traffic grew by nearly 600% overnight as people and businesses rushed to get any and all hygiene products.
Our traffic growth was largely a result of a market trend that nobody could have imagined in their wildest dreams. Search volume for queries like bulk towels, wholesale hand sanitizer, and wipe dispensers increased exponentially.
As demand for cleaning products increased, page 1 real estate on Google for previously niche keywords became cut-throat. We were able to maintain our organic rankings because our product listings were clear, concise, and informative and our blog content provided mid and top funnel support for our high revenue, low funnel pages.
Diversify Your Rankings
Most successful e-commerce businesses have one thing in common when it comes to search: they diversify their traffic source on a granular keyword level.
A strong brand means that users will use your company's name and as a result, you'll be getting new rankings and increased traffic for branded queries.
Branded queries are great, but it's a slippery slope when a company relies too heavily on searches that include their brand name. Only people who already know your brand will search for your brand name. This is fine for retaining customers but limits the opportunity to grow and bring new prospective customers into your conversion funnel through organic search.
Zogics ranks for a wide range of branded and non-branded keywords which positions us to attract new potential customers to our website, even if they've never heard of our brand before.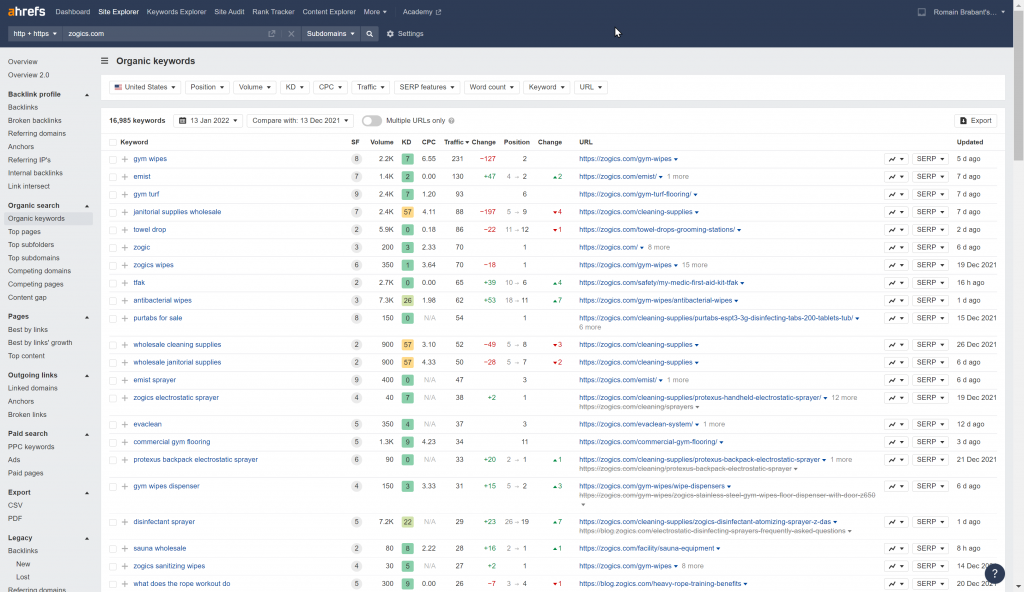 Our strategy to diversify ranking priorities paid off in 2020. We boxed out Amazon, Walmart, and other megacorporations and maintained page 1 rankings for non-branded search terms for cleaning and hygiene products in March 2020. If we hadn't put in years of work diversifying our keyword strategy prior to the pandemic, we would have been pushed out of relevant search rankings by the heavy hitters with unlimited budgets.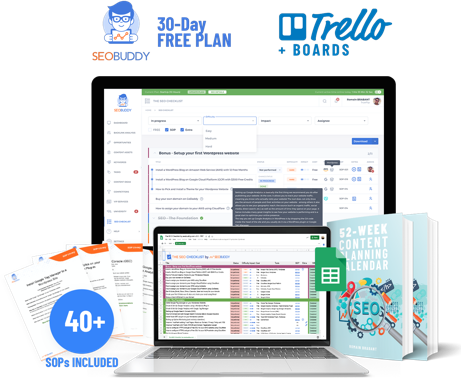 There's more…
Now it's time to discover the other 102 steps that will get more organic traffic flowing to your website. Get the SEO Checklist here.
Want to get a sneak peek of what it looks like?
Enter your email and get a free demo version of the SEO Checklist.
Promotion is Crucial for Content

Content promotion doesn't get nearly the amount of attention that it deserves. Page optimization is obviously critical, but the difference between being a middling e-commerce brand and growing rapidly is often in running an effective off-page SEO campaign.
Link building doesn't sound nearly as sexy as hot new SEO techniques, but without a solid white-hat promotion strategy, e-commerce brands face growth limitations.
Every time we create a piece of content, we make sure to share it on social media, join conversations in groups and niche sites and share it with industry-specific influencers who have broad followings.
We do everything we can to get our content in front of eyeballs that may become our customers in the future.
Part of this also means building relationships with websites that write about cleaning, lifestyle, wellbeing, health, and other adjacent industries. As we build relationships with them, we contribute articles for free and try to do things that genuinely help each other.

Hitting share isn't enough for increasing your domain rating or gaining high-quality backlinks. When you're active in your industry's communities and create thoughtful content that people find valuable, links, mentions, and social shares will come naturally. The key is to be intentional with what you create and how you share it.
Make a list of the communities that would benefit from your content, read the rules and culture in the community (how they share, when they share, and which questions are being asked), and become an active member who contributes information that other participants will find valuable.
What's Zogics' Next SEO Challenge?
Back when Zogics was starting to carve an online presence, our products and services were heavily focused on gyms and training facilities. Everything from our messaging to our content itself was aimed at very particular audiences.
As a result, the majority of our qualified traffic came primarily from gym-oriented queries.
It helped us gain the initial traction we needed to get our business off the ground, but it also restricted our growth opportunities and we missed out on opportunities to sell our products to other types of businesses such as airports, hotels, schools, and hospitals that needed similar cleaning supplies in bulk.
In recent years, we've successfully pivoted our brand strategy to target keywords in these adjacent industries.
We have feature pages on our site about the importance of buying towels in bulk and wholesale shampoo and conditioner for hotels and hospitality industry businesses. Developing a content strategy that enabled us to crack onto page 1 in industries outside our original niche significantly broadened the range of our target customers.

We're creating new articles and resources around these industries, and refreshing the messaging of our category and product pages right now.
We have also identified several more adjacent markets and are implementing our content strategy for them over the next year. Building out content designed for new audiences takes time and sometimes doesn't feel like you're making progress, but as we've seen with airports, hotels, schools, and hospitals, it's critical to expanding our business. We intend to enter more industries and make our facility supplies available to a wider swath of businesses in the coming years.
Essential SEO Tools We Use
When managing a site as large as ours, it's important to keep things tight and organized. We use Google Analytics and Google Search Console for setting page-specific goals and tracking user behavior. SEMrush is our go-to tool for tracking keyword rankings and brand mentions when looking for link-building opportunities.
For keyword research and content optimization, we use CanIRank, which is an AI-based SEO tool that automates large parts of the strategic content development process.
Finally, to stay on top of technical issues we use Ahrefs – which has diversified its audit functions in the last few years.