My SEO Journey [Pro Edition]: Jacob Dazzeo from watsondigital.co – My tips for hiring an SEO Expert
My SEO Journey [PRO Edition] is a series where professionals of the SEO Industry, Digital Marketing, or Web Design, share their honest SEO Journey filled with failure and success, and most importantly proven results. Episode #81 features Jacob Dazzeo from Watson Digital.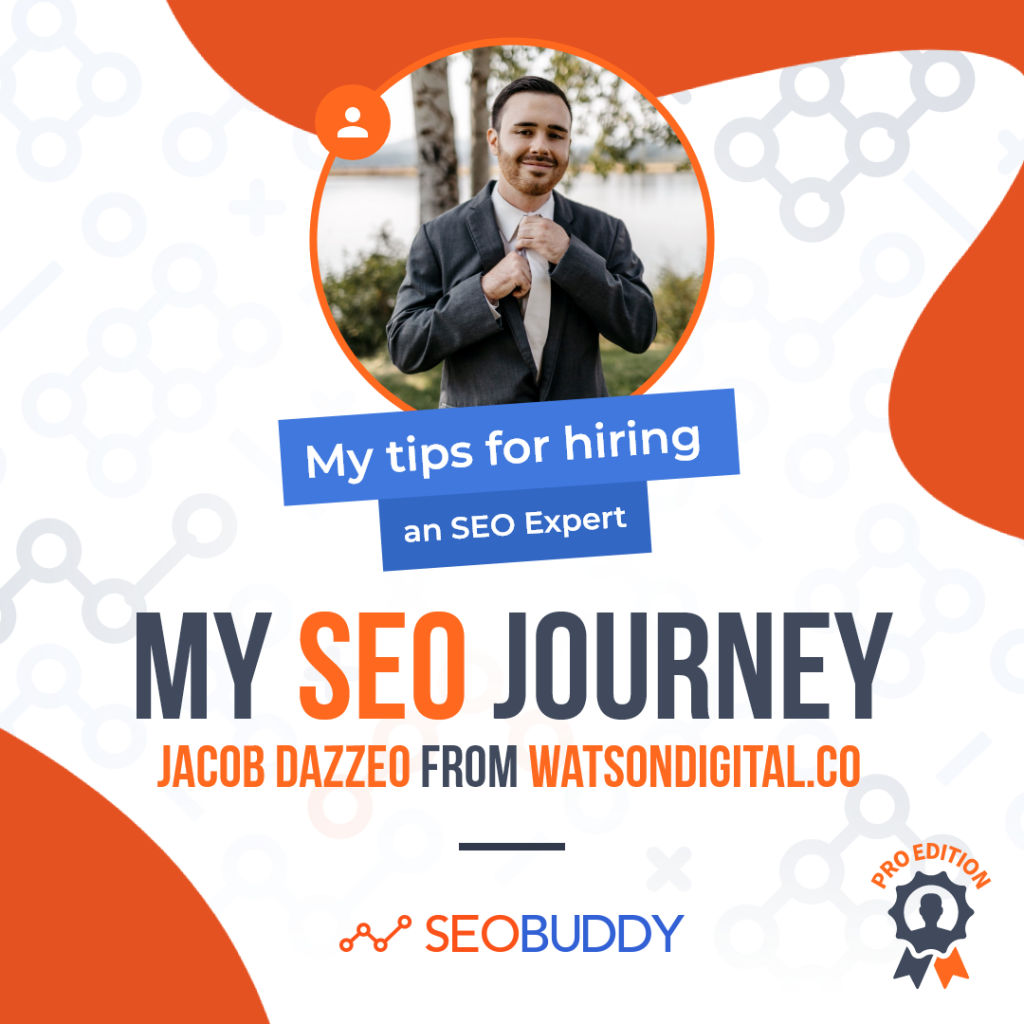 My name is Jacob Dazzeo, and I go by Jake From Marketing 🍎 in some marketing circles. I am the founder of SEO and PPC agency Watson Digital and a vital member of the Small Business Owners United leadership team.
As my agency has grown, I have focused more and more on SEO since it has the best long-term impact on a business's online presence and revenue. I am now delving into building my brand around the concept of SEO for small businesses.
Through working with small business owners, I have found that there are hundreds of questions and a lot of confusion around the topic of SEO. Small business owners want to know where to invest their time and money and how to hire an "SEO expert."
I've worked with many small to large-sized businesses on their digital marketing through the years. As an individual, I consult my clients on the most impactful places to invest their time and money. When it comes to SEO, I field the same questions repeatedly.
"What is the difference between a $400 per month SEO service and a $3,500 per month SEO service?"
"What are some of the key things I should be considering when hiring an SEO expert?"
"What should I expect when hiring an SEO expert?"
To best answer those questions, I usually provide my clients with a few tips to help them vet anyone they intend to hire to handle their SEO. These tips apply to vetting freelancers, agencies (even mine), and in-house staff.
So, what are your tips for hiring an SEO expert?
Tip 1 – Ask your network for referrals
The best way to find a reliable SEO expert is to talk to your trusted network. Other website owners that you know have likely hired someone to handle their SEO. If they have someone that they recommend, start there.
Tip 2 – Know your SEO goals
Many entrepreneurs and marketing employees know that SEO is important but don't have tangible goals. Setting the right goals will help you vet a potential SEO hire based on their ability to achieve those goals.
Some common goals include getting on the first page of Google for specific keywords, outranking a competitor, generating X amount of traffic from organic searches, and generating X amount of revenue from organic traffic.
Set aside some time to consider your goals to know what you want going into any calls you have with potential hires.
Tip 3 – Find someone with experience on your type of site
There are many ways to approach SEO on any given website. If you find someone with experience with your type of site, you can be confident that they will know which strategies will have the most impact.
Think beyond just local, national, and e-commerce. Let's say you own a multi-location local business. Has the SEO expert you vetted worked with multi-location companies or just single location businesses?
Tip 4 – Ask the right questions
Once you get on a call with someone, make sure you know what to ask. Too often, I speak with a potential agency client, and they don't know what to ask me. I typically give them the answers to questions they didn't know to ask.
Calls like that always end with the prospect being thankful that I told them XYZ because no one else has shared that information with them. If you don't know what to ask, you likely won't be told vital information that should be part of your hiring decision.
Here are five questions I recommend you ask every potential SEO hire.
"How will you improve my search engine rankings?"
"Will you share with me all changes you make to my site and your work off-site?"
"How do you measure the success of your SEO campaigns?"
"How will we communicate, and how often?"
"How do you bill for your service, and do you have a minimum contract length?"
Those five questions will help you vet just about anyone you consider hiring. I recommend that you only enter short-term contracts. SEO is a long-term investment, but factors such as communication and reporting may have you ready to leave the relationship quickly. My agency only enters month-to-month contracts with our clients to protect both sides if the relationship sours for any reason.
Tip 5 – Ask for a site audit
Any SEO expert worth hiring should come to the table with a plan of attack to improve your organic rankings. To form a plan, we run a site audit. In that audit, we check your website's current keyword rankings, your site's performance from a technical SEO standpoint, your backlink profile, and more. If you're deciding between a few SEO experts, the one that provides you with the most upfront value is likely to be the one that goes above and beyond as your work with them progresses.
Tip 6 – Ask for case studies and references
Not everyone will have permission to share their client information with you, but in general, an SEO expert with multiple clients is likely to have at least one that they can share with you to show their efforts.
In my case, I often share my work with Max Options Trading. I have been working on their business for two years now and can show clients the progression of their organic rankings, our article features in major publications, our weekly blog, our strong video channels, and more.
When I began working with Max Options Trading, their website was brand new. It wasn't optimized for SEO or ranking for any relevant keywords. I was given a relatively low budget to work with, but I decided to buy into the company by becoming their CMO and work for profit share.
Using free and affordable methods, we're now ranking for 180 organic keywords and have over 450 backlinks in just over a year of work. I spent many hours fixing their on-page SEO, writing public relations releases, doing online interviews, writing blogs, and helping our CEO create social media content.
Working with Max Options Trading is a rare case where I was plugged directly into the heart of the business, and quality SEO combined with social media presence and paid ads has fueled insane growth.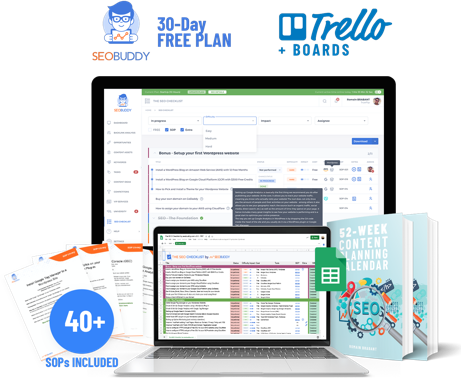 There's more…
Now it's time to discover the other 102 steps that will get more organic traffic flowing to your website. Get the SEO Checklist here.
Want to get a sneak peek of what it looks like?
Enter your email and get a free demo version of the SEO Checklist.
What SEO tools do you use for your business?
Like most SEOs, I like SEMrush, Majestic, and AHrefs for SEO data. I like AgencyAnalytics for SEO reporting.
What's the next step in your SEO Journey?
As I build out my brand, I intend to start publishing loads of SEO-related content for small business owners. Small business owners are underserved in this space, and there are many things they can do to set a strong SEO foundation for their businesses.
In the coming months, I will have been on my first few podcasts, my site will be updated to be more education-forward, I will launch my coaching product, and launch my YouTube channel.
Where can we go to learn more?
Please give me a follow on LinkedIn – https://www.linkedin.com/in/jacobdazzeo/
You can also check out my blog and personal site – https://jacobdazzeo.com/
My agency's website is – https://watsondigital.co/