My SEO Journey [Pro Edition]: Scott Bishop from upandsocial.com – B2B Networking & Reviews is the main driver for new business
My SEO Journey [PRO Edition] is a series where professionals of the SEO Industry, Digital Marketing, or Web Design, share their honest SEO Journey filled with failure and success, and most importantly proven results. Episode #57 features Scott Bishop from Up And Social.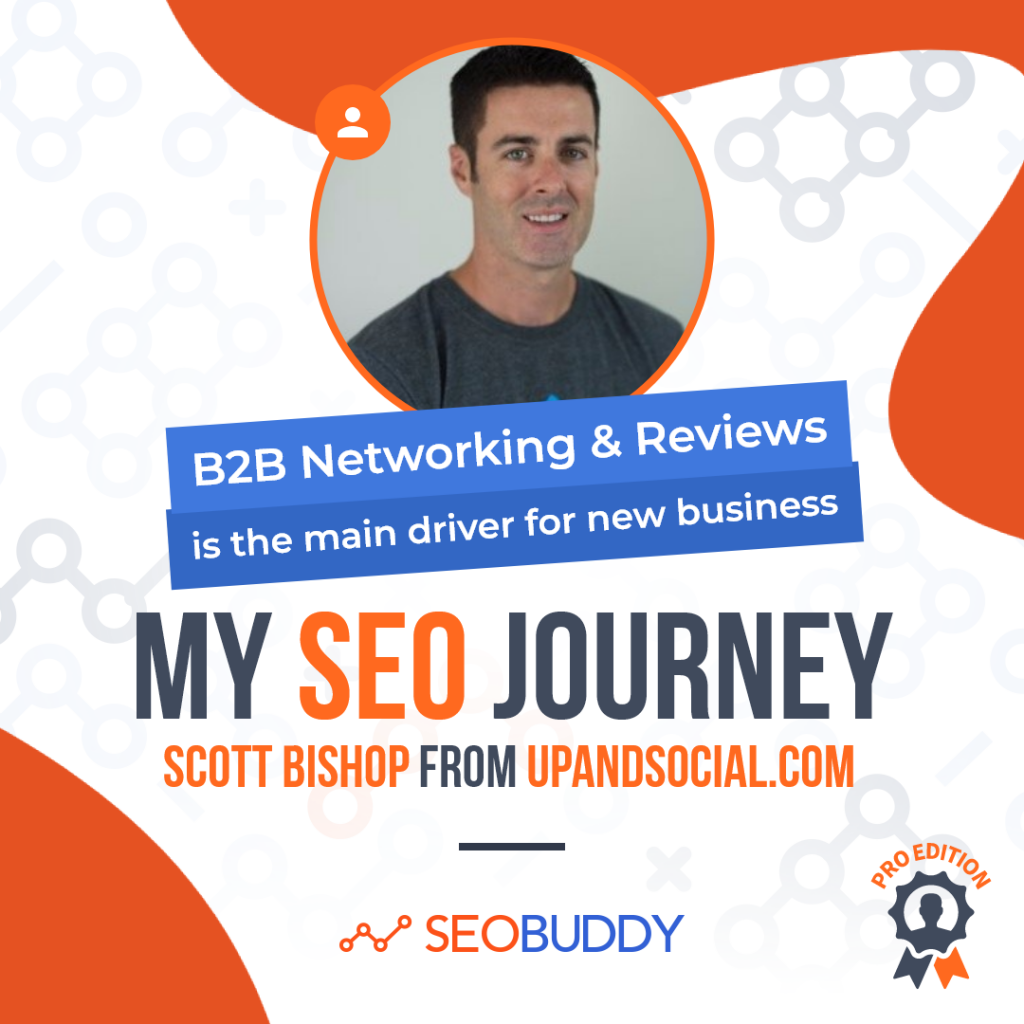 Hello, my name is Scott, and I'm the founder of Up And Social, a Boston-based web design and SEO firm that focuses on assisting small businesses.
The major services we provide are Web Design and local search engine optimization.
These services together generate more than 80% of our cash flow.
Our website packages start at $8,000, and our SEO packages start at $1500 per month. These charges allow us to be very picky about who we work with. It was a different scenario initially; I would take on everything remotely associated with web design.
What's your backstory, and how did you come up with the idea?
In the 1990s, I started my professional career with C.A. Courtesy, my family's in-store sampling company, even while attending Johnson and Wales University to pursue a degree in Web Management and Internet Commerce.
I've always been interested in marketing and technology, and I was Vice President of Marketing and Technology when I left C.A. Courtesy.
I developed a strong appreciation for small enterprises, specifically the family owner/operator model, due to my early years devoted to the family business environment.
When I eventually became well-versed in the business sector, I was driven to reach out to similar small business owners.
Because of this mindset, I founded Up And Social, a Boston web design company that caters to the same industry. The decision to quit the security of my full-time career and dive headfirst into something different was the hardest.
I desired a place that I could call my own. I wanted to leave my mark on the world, to have autonomy and control over my life and profession. In general, putting time into someone else's business will only get you so far.
Since launch, what has worked to attract more organic traffic?
We've learned a lot about our clients and prospects since the launch!
For example, we've seen that small firms that don't have the financial means to pursue costly, overdone marketing methods see this as a significant roadblock. They need to know that we can assist them in reaching their objectives while staying within their budget.
As a result, we've developed campaigns that present Up And Social as a natural extension of the client's company, assisting them in meeting their marketing goals on a budget.
We've had the most success in B2B networking since establishing Up And Social. Attending local networking events, personally reaching out to firms who appear to require a website makeover, and giving excellent information and education to entrepreneurs and small business leaders are all examples of this.
We've also experienced remarkable outcomes from online projects. Getting excellent reviews on Google, Social Media, and our website is one of the major projects we've focused on to gain more visibility.
Another thing we do is contribute our knowledge in digital marketing to online blogs, boards, and forums like HARO and Fit Small Business. We've positioned ourselves as a resource for entrepreneurs looking to achieve their objectives.
To illustrate our experience of digital marketing and deliver value, we offer free resources and assistance. Our goal is to add value somehow, whether it's through collaborating with us or not.
This type of prospecting has consistently brought us new clients.
I would like to share one of my recent works.
Local Motion of Boston's website, (www.localmotionofboston.com), was recently redesigned by Up And Social. Local Motion of Boston's goal was to present a modern and basic feel while still disseminating important information to various consumers. The site prioritized providing detailed information for many types of demands while also delivering a fun and interactive experience for website users to meet the needs of potential clients looking for various modes of transportation.
Apart from that, we have worked on their on-Page SEO, and now the website is ranking well for many keywords and performing well on Google.

Have you learned anything particularly helpful in your SEO Journey?
The most important lesson I learned from the launch and the whole development of the company was to take things gently and focus on one issue at a time. I wasn't as effective or productive when I tried to focus on too many tasks at once. Large amounts of time were lost, and I ended up postponing a lot. Trying to focus my energies on attaining one goal at a time, on the other hand, helped me prioritize my efforts and complete the assignment.
We've also had a lot of success with SEO techniques like content marketing, keyword targeting, and digital marketing.
These are the strategies we employ to achieve similar results for our clients.
We also target specific demographics in our sectors, such as fitness trainers, gym entrepreneurs, dentists, construction businesses, lawyers, and other essential small company decision-makers, with Facebook ads.
We spend somewhere between $500 and $1,000 every month on digital marketing campaigns.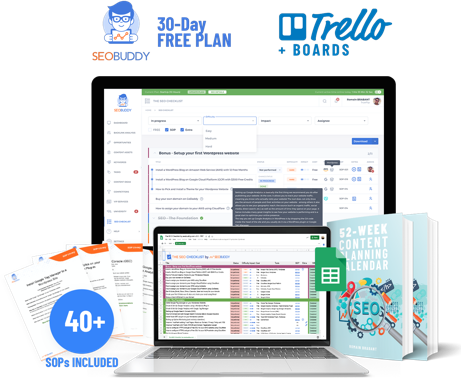 There's more…
Now it's time to discover the other 102 steps that will get more organic traffic flowing to your website. Get the SEO Checklist here.
Want to get a sneak peek of what it looks like?
Enter your email and get a free demo version of the SEO Checklist.
Link building is one of the most important elements that search engines use when determining who receives the first-page search result. Search engines are very particular about the backlinks and their quality. We always follow white-hat SEO practices and ensure that all backlinks come from High authority sites with the least spam score.
Many public websites, such as Yelp, Zomato, Trip Advisor, Facebook, and Yellow Pages, provide opportunities for link building.
Even if these backlinks are nofollow, it's one of the most straightforward techniques to boost your online profile.
Adding a backlink to local directories like Google My Business, Yahoo Local, and Bing Places for Business will optimize local SEO.
Quora is also an important platform. Because Quora has a high domain authority score, adding a backlink to discover more information will help you raise traffic, trustworthiness, and SEO score.
What platform/tools do you use for your business?
WordPress, in my opinion, is a must-have. I use the technology for my website and recommend it to my clients. Since the platform is an open-source project, it offers greater security, availability, and performance than almost any other option.
I'm regularly asked to share the SEO tools I use daily. Here is my go-to-go SEO Tech Stack that I use for SEO purposes.
● Ubersuggest: enables you to obtain insight into the techniques that are working for others in your industry. So, you may adopt, develop, and gain a competitive advantage.
● AgencyAnalytics: PPC keyword tracking, SEO audits, backlink management, social analytics, automatic reporting, numerous third-party analytics connections, custom branded dashboards and mobile applications, and more are all available with AgencyAnalytics, an all-in-one SEO reporting solution. I prefer this tool because it has many features to offer, all in one place.
● Rank Math SEO: Rank Math is a WordPress SEO plugin that makes it simple for anyone to improve their content using built-in recommendations based on generally recognized best practices.
● Yoast: Yoast SEO is a WordPress plugin that helps you optimize your website's content and keywords to boost its ranking in search engines.
We also use productivity tools like Basecamp, Hubspot, Zapier, and Canva to help us organize, manage, and automate work to continue growing our business and helping our clients.
I also have to add Social Pilot when it comes to productivity. Services like Social Pilot and Buffer allow us to schedule Facebook posts and other social media content to interact with our online audience at all hours of the day and night. It simplifies and improves the efficiency of social media campaign planning.
When it comes to putting together a team, Upwork has a lot of good freelancers. The website is highly user-friendly, and they assist you in finding the ideal solution for your needs and budget.
When it comes to connecting with different team members, monitoring shared papers, and coordinating on projects, and Google Drive has been a lifesaver.
What have been the most influential books, podcasts, or other resources?
The TED Talks for entrepreneurs have been a lot of fun for me. Hearing other people's stories and how thinking outside the box may lead to cutting-edge innovation is always inspiring.
I strongly advise everyone who wants to create a business and accumulate wealth to do so.
Jen Sincero's book You Are a Badass at Making Money: Master the Mindset of Wealth is a must-read. Sincero's core message in this book is that wealth begins with an attitude. This notion can be used to materialize everything you want in your life. It all starts with your mindset.
Where can we go to learn more?
My website, Up and Social, is where you can find me. I'm also on Instagram (@bostonwebdesign), Facebook (@UpAndSocial), and Twitter (@UpAndSocial).