My SEO Journey: Dee Barizo from sicerts.com – Limited Time for SEO? No Problem!
My SEO Journey is a series where entrepreneurs and Indie makers share their honest SEO Journey filled with failure and success, and most importantly proven results. Episode #60 features Dee Barizo from SI Certs.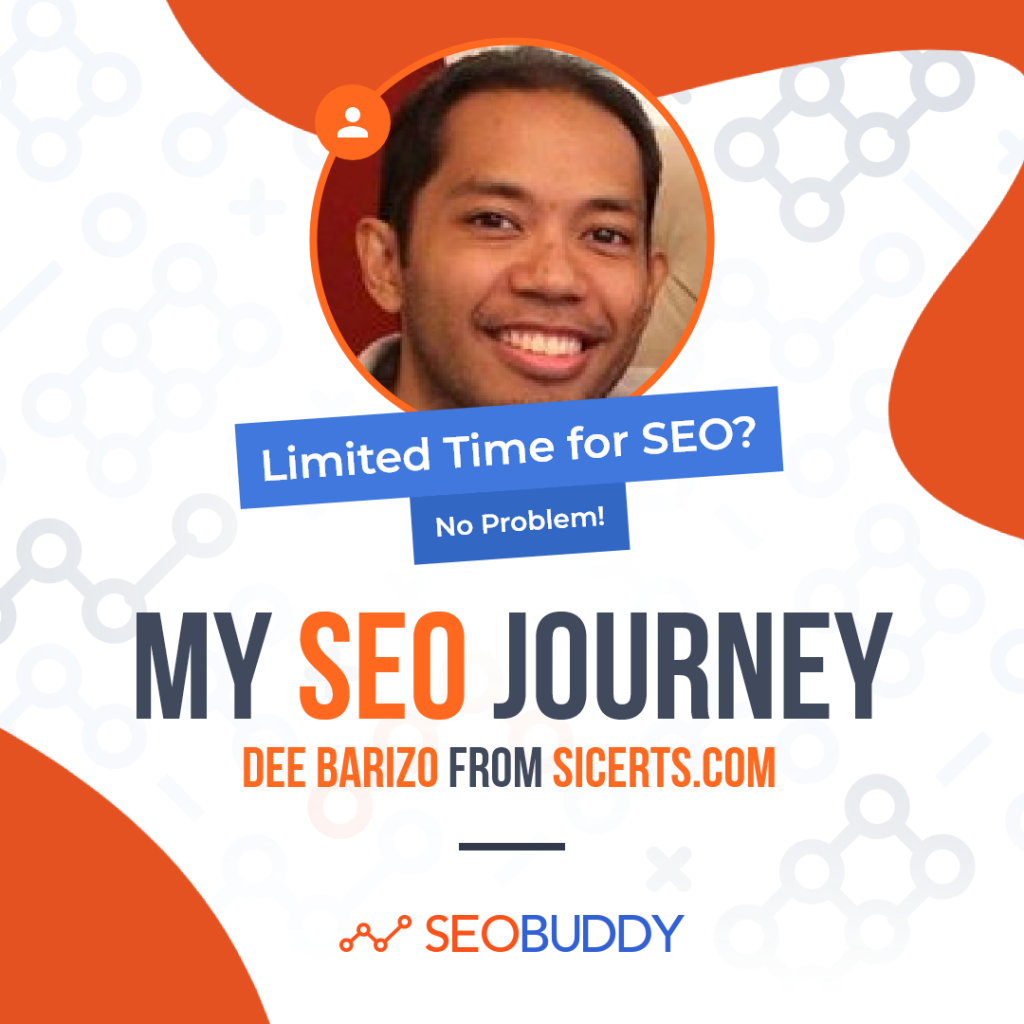 Hi, I'm Dee. I work at sicerts.com as an SEO specialist. However, SEO is not my top responsibility.
Due to our business circumstances, I spend more time writing code as a web developer and managing our Google Ads account as a paid search manager. We prioritize those two tasks above SEO. Yet in the past 4 years, we've increased our organic traffic by over 500% even though we only do SEO part-time.
In this article, I'll tell you the 3 things we did to create a successful SEO campaign with limited time. I think our experience will be helpful because many businesses don't have the time or money to devote full-time resources to SEO. Fortunately, you don't need to work 40 hours a week on SEO to see great results.
We started our SEO campaign in October 2017. Then, we started tracking our organic traffic in December 2017 with Google Analytics. We were so busy with other things that we forgot to do this important step.
We had about 1,000 visitors in December 2017. Today, we average around 6,500 visitors per month.

Here are the 3 things we did to achieve these results.
Build Links with HARO (Help A Reporter)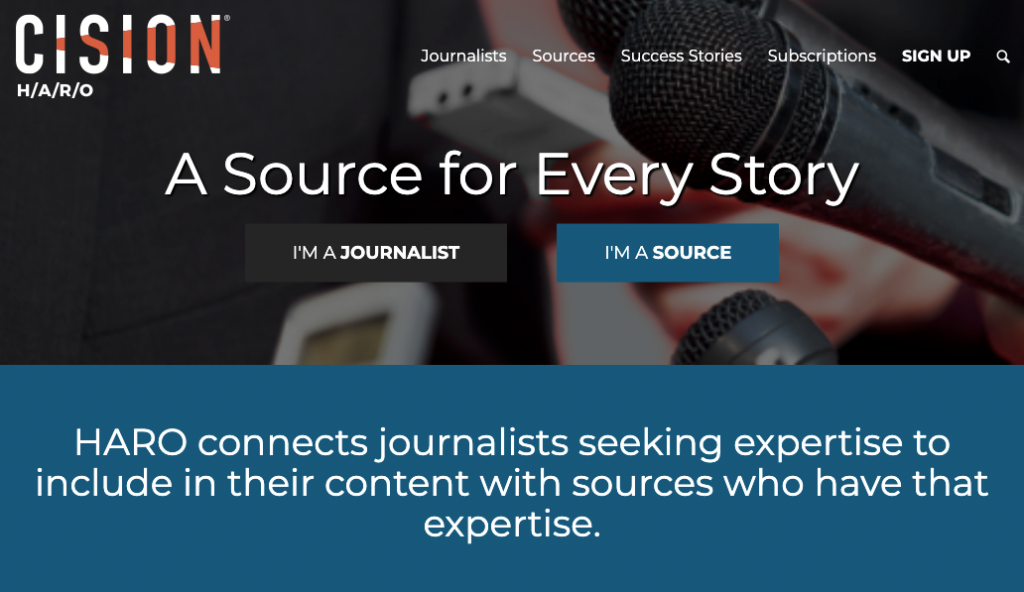 HARO (Help A Reporter) is a free email newsletter that helps content creators find interesting content to share with their audience. The website says "journalist" instead of "content creator" but I think "content creator" is the more accurate term. For example, you could use HARO to ask for interesting content to publish on your site. You don't have to work as a journalist for a traditional media company.
Every weekday, with HARO, you receive a list of media requests. A media request is a request for useful information or interesting stories. The requester then takes the best replies to the request and shares it with his audience.
Here's a real-life example by a writer on AmericanExpress.com:
Summary: Online marketing strategies
Name: Geoff Williams American Express OPEN Forum
Category: Business and Finance
Email: [email protected]
Media Outlet: American Express OPEN Forum
Deadline: 3:00 PM EST – 5 January
Query:
I'm writing an article for "American Express OPEN Forum" about
online marketing strategies. If you're a marketing guru, and
this is your wheelhouse, please feel free to drop me a line.
Looking for general information – why is this particular
strategy a good idea for attracting new customers or keeping
existing ones, how much does it cost, any drawbacks to going
with that route? That sort of thing. I'm also interested hearing
from any business owners who want to comment on any online
marketing strategies that they've employed that have been
especially useful. I'm looking to do a roundup of online
marketing strategies that fall in the "money's no object"
category all the way down to the "I have virtually no budget"
category. So I'm looking for a wide assortment of online
marketing strategies. Thanks.
We actually replied to the request above by talking about our positive experience with YouTube marketing as an online marketing strategy. The requester liked our reply so he linked to our site in his article, 5 Types of Online Marketing Strategies Businesses of All Sizes Can Use.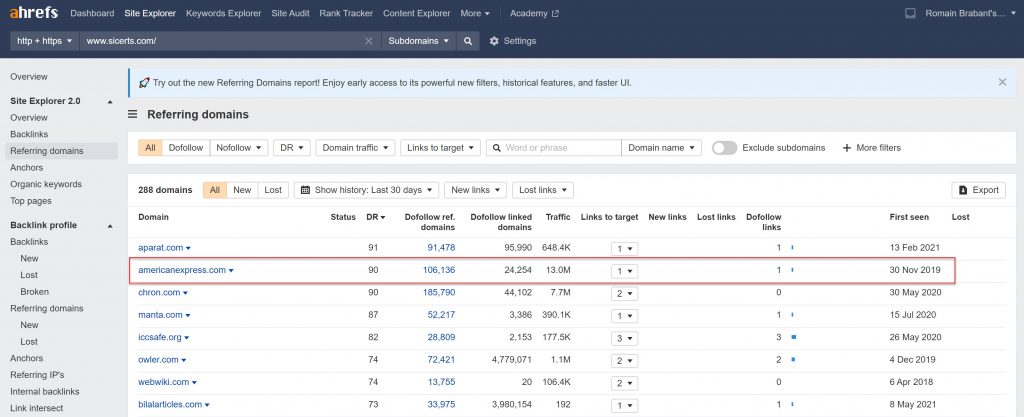 All we had to do to get this link was check the HARO newsletter on a regular basis and then reply to the media requests that were relevant to our business.
Our reply to the above request was an email message of only 157 words. We simply shared a summary of our experience doing online marketing through YouTube. Imagine getting a link on the americanexpress.com domain by sending a short email.
That's the power of HARO.
Not every media request on HARO comes from a site with high domain authority, but many of the sites are worth your link-building efforts.
Indirectly, HARO gave us the opportunity to write this article for SEO Buddy.
Here's how that process went.
First, we replied to a media request, which resulted in getting featured on Side Hustle School. Next, Starter Story found out about us through that piece of content and they featured our company, too. Then, SEO Buddy discovered our company through Starter Story and asked us to write about our SEO journey.
Finally, you're reading about it right now in this article. 😀
Create Great Content with Multimedia
For us, since we have limited time, we can't create content on a regular basis. Instead, we focus on creating a few pieces of great content that have multimedia like video, images, and colorful icons.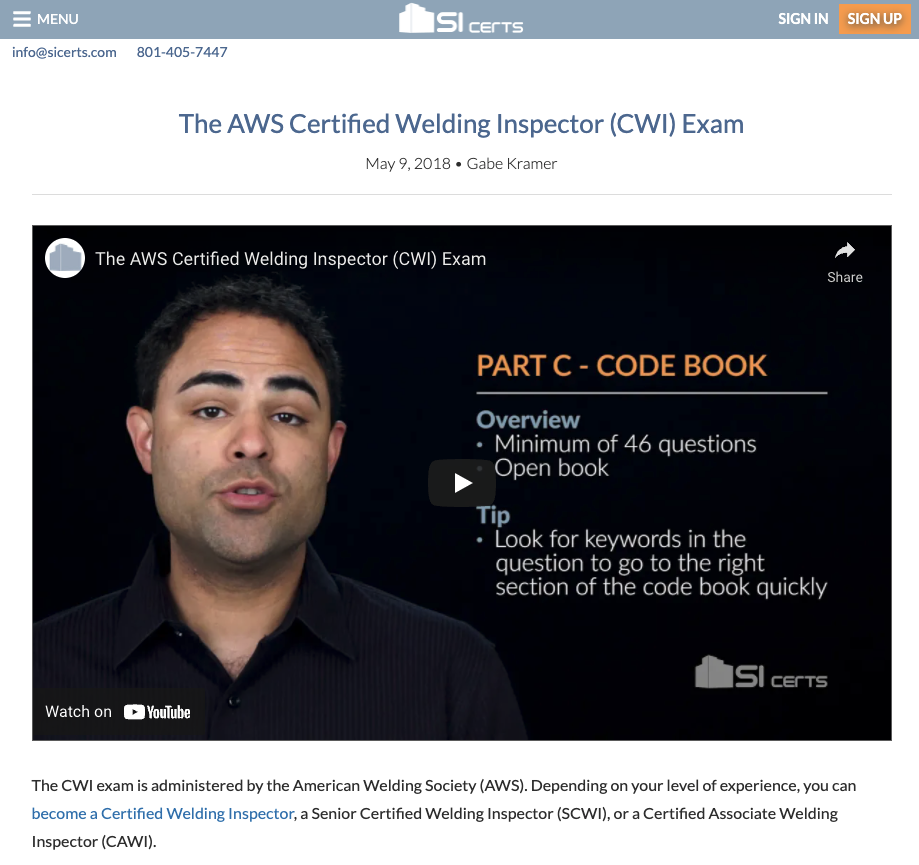 Multimedia is very powerful because it increases the perceived quality of your content. For instance, everyone intuitively understands that it takes more work to create a great video than a text article.
Therefore, people are more likely to link to content with video because they want to reward the effort.
We spend just as much time on the video as the article text. This means spending a lot of time creating a good video script. Plus, we shoot our videos with high-resolution cameras so that the video quality is high.
Here's an example of a piece of content that has done well for us: 5 Steps to Become a Certified Welding Inspector. It was linked to by The Houston Chronicle in this article: How to Become a Certified Welding Inspector. To see the link, click "References" at the bottom of the page.

The Houston Chronicle is the newspaper with the highest circulation in Texas. As I write this, it has an Alexa Rank of 655 so it receives a massive amount of traffic.
We did no outreach to acquire the link. Plus, as you can see above, our link is in close proximity to links to these high authority sites: American Welding Society, U.S. Bureau of Labor Statistics, and PayScale.
This is great for SEO because it is a signal to the Google algorithm that our site is related to reputable sites.
By using multimedia, top sites will be more likely to give you a backlink without any outreach on your part and because of your hard work, they may even group your site with high authority sites.
In our article above, notice the header section with a video link and colorful icons for each step of the process. If you click "Learn More", you will be taken to our CWI Roadmap, which also has many visual elements.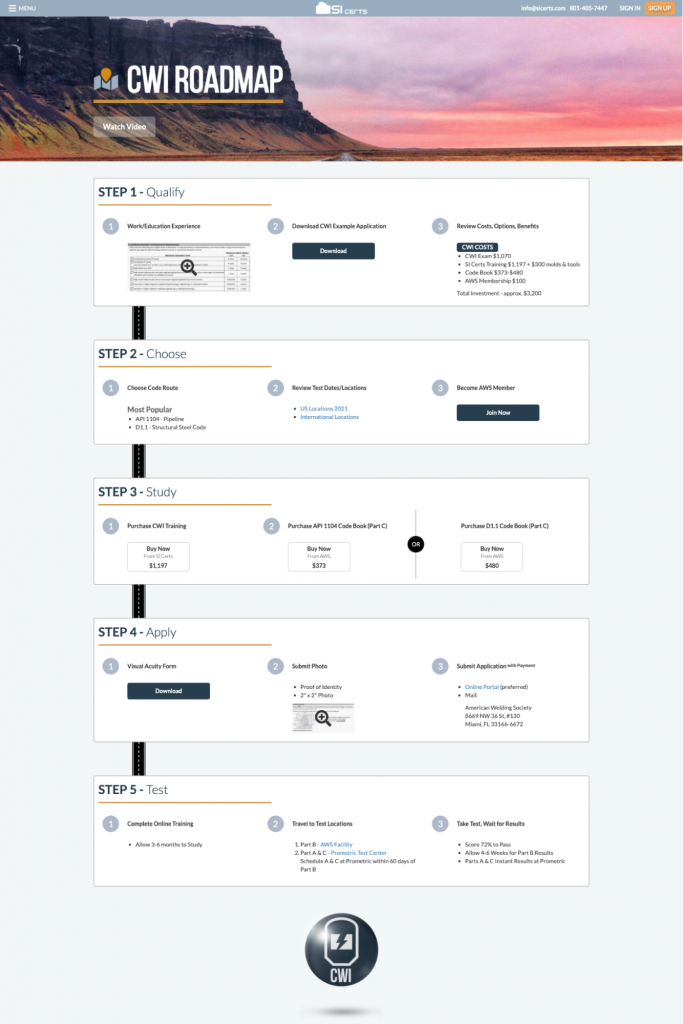 Fortunately, one of our founders is a web designer. He creates custom layouts and icons for us to make the content pleasing to the eye. If you don't have the design skillset among your team, I highly recommend finding a good web designer.
Great design goes a long way in raising the quality of your website, which makes it more link-worthy.
Along with design, video is a great way to attract attention to your site.
One of our competitors linked to an article of ours. If you compare that article to other articles on the SERP (search engine result page), the main difference is our article has a relevant high-quality video while the others do not. We believe the video was a big reason why we got the link.
Plus, videos show up on many SERPs because YouTube is owned by Google. This business relationship incentivizes Google to promote YouTube videos.
In the image below, notice how much space our YouTube video takes up in the SERP.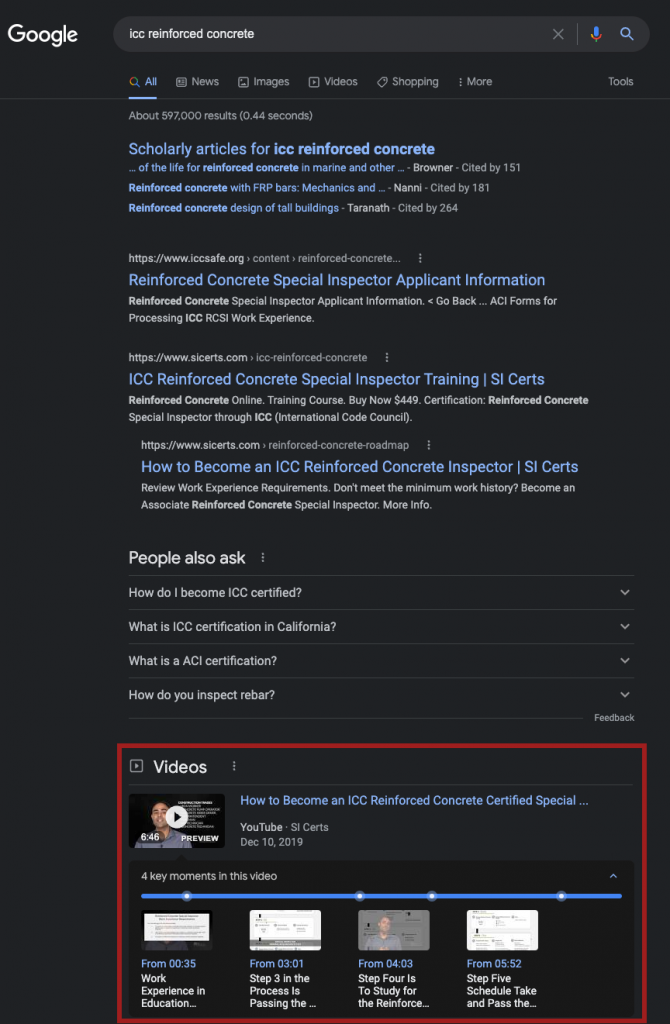 Complement Our SEO Efforts with Paid Search
If you think about it, there are a lot of similarities between paid search (sometimes referred to as PPC, which stands for pay per click) and SEO. Both involve the skillful use of keyword research. Plus, with the increasing signal that user behavior plays in organic rankings, SEO specialists are learning how to improve metrics such as click-through rate, which is a major part of PPC optimization.

With these things in mind, we can see that paid search and SEO can build upon each other in a positive way.
Let's first look at keyword data.
I've been doing SEO for many years so I remember when Google Analytics gave us a lot more search terms than it currently does. Back then, all that keyword data was very useful for running a successful SEO campaign.
Today, Google doesn't allow us to see that data so we do the next best thing. We run paid search campaigns on Google Ads to gather similar data. Then, we simply take the keywords from PPC that drive sales and traffic and we include them in strategic areas of our site like title tags and headlines.
Most of our competitors do not have active PPC campaigns so we are getting much better keyword data. That gives us a huge advantage in SEO.
Also, having a lot of paid search ads improves our branding. If you've been keeping up with SEO over the years, you've probably realized how important building a brand has become for success. With paid search, you improve your brand by increasing the number of eyeballs that see your site.
In this way, we're using PPC similar to how Coke used mass media like TV and radio for many years to build brand awareness. Of course, PPC is much better because we can target certain audiences by running our ads with keywords related to our business offerings.
How does brand building lead to better SEO results? Here are some ideas to think about.
The extra traffic you receive from PPC could increase the number of branded searches to your site. There is evidence that this metric leads to better rankings.
Also, paid traffic could put your site in front of content creators that would otherwise have missed it. For example, we don't know how The Houston Chronicle discovered our article. Based on the SERP, they could easily have found us through one of our PPC ads. Those ads take up much of the area above the fold and our Google Ads dashboard shows that we have high click-through rates.
Speaking of click-through rates, we have evidence that Google uses this data as a ranking signal. One way to improve this metric is to make sure your site is seen by more people. In our experience, PPC is a quick way of getting traffic at a relatively low cost.
Now I understand, many of you are probably disagreeing with me right now. You object to PPC because you believe the cost will be too high. While I do agree that paid search is too expensive for some industries, for others, PPC is going to be a great marketing channel.
My recommendation is just to give it a try.
You can create a campaign on Google Ads and run ads at a low price to see if PPC is right for you. You get to decide what price you're willing to pay. That's really powerful.
You can select a cost per click (CPC) that's affordable for your business. We have campaigns with average CPC lower than 25 cents. Who knows? Maybe paid search works for your business but you won't find out unless you try. It doesn't really hurt to try.
It only takes a small budget and a few hours learning how to do it.
If you have an SEO background, you're halfway there in the learning process because you already know about keyword research. That is a major part of doing PPC well so you have a head start compared to others. If you're interested in exploring more, this Udemy course was instrumental in helping me create successful campaigns on Google Ads.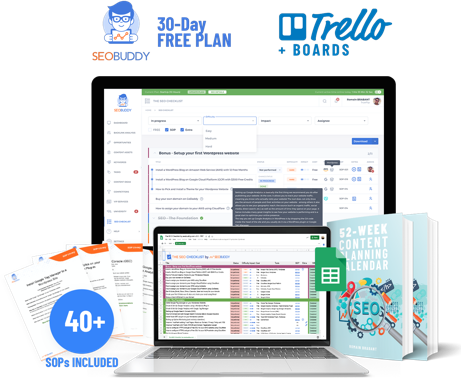 There's more…
Now it's time to discover the other 102 steps that will get more organic traffic flowing to your website. Get the SEO Checklist here.
Want to get a sneak peek of what it looks like?
Enter your email and get a free demo version of the SEO Checklist.
Wrap Up
I hope this article has shone a light on SEO strategies that you have not considered before. SEO does not have to be time-consuming to be successful. With a little bit of creativity and planning, you can craft an SEO campaign that improves your rankings and increases your traffic without spending a lot of time.

The keys for us have been:
Using HARO to get in front of content creators who are hungry for content
Focusing on quality instead of quantity when creating content by using multimedia
Creating a positive symbiotic relationship between our PPC and SEO campaigns.
Just remember to be patient. SEO should be thought of as a long-term play. It generally takes a while to get going but once it does, you'll have a powerful marketing channel.
Let me know what you think about our SEO journey. I would love to continue the conversation in the comments below.