My SEO Journey: Usman Butt from repairdesk.co – Talking to users to create content that matter
My SEO Journey is a series where entrepreneurs and Indie makers share their honest SEO Journey filled with failure and success, and most importantly proven results. Episode #37 features Usman Butt from RepairDesk.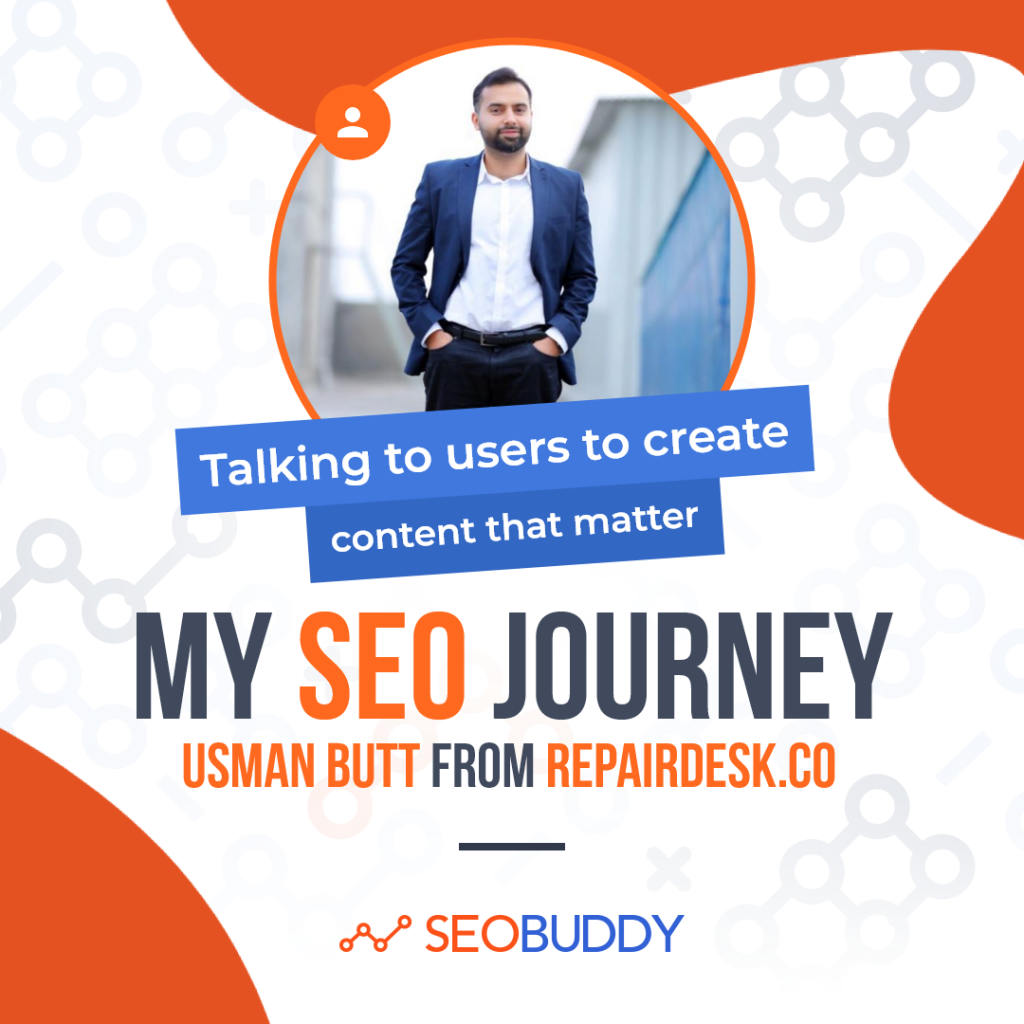 Hello, my name is Usman Butt, and I am the Founder and CEO of RepairDesk, a cellphone and computer repair shop management software. We created RepairDesk to provide a tool that takes care of the daily workings of a repair shop and cuts down on the repetitive tasks they have to perform.
Our software is an all-in-one system that combines a POS, ticketing and ordering, CRM, inventory management, integrated ordering, process automation, employee management, and much more.
What's your backstory and how did you come up with the idea?
RepairDesk was born out of necessity, a very personal necessity at that.
After graduating from college, I worked a couple of jobs before joining my brother at his repair shop and working with him there. While I was working there, we ran into a lot of troubles – customer tickets kept getting misplaced, inventory management was a mess, scheduling was always in conflict, and it all felt very frustrating.
Being a Business and IT graduate, I always believed in having computers make life easier, and so I set out to find a system that would solve our troubles. The only problem was, there wasn't one! No software in the market at the time had the solutions we needed, so I did the only thing I could do – I built one myself.
I gathered a team of colleagues who had previously been doing web designing and chalked out a plan to make a cell phone repair shop management software.
A few months later, we came out with our first version of RepairDesk and it was a really helpful system.
During the creation process, we enrolled in an incubation program and got in touch with a couple of repair shop owners and businessmen, and they loved how the system worked. Before we knew it, we had customers who were willing to pay to use RepairDesk, and well, the rest is history.
We had a successful repair shop system and began working on improving and expanding on it full-time.
We haven't looked back since and it's been an amazing ride so far.
Since launch, what has worked to attract more organic traffic?
At first, we followed the usual sales approach – we talked to people and got them interested in our software. As time grew on, however, we needed something more to boost our traffic and get more leads.
That's when I started building my marketing team, putting in more content writers and SEO professionals to build our following. The process took its time, but soon we started seeing some very good organic traffic.
My SEO expert followed the general practice of studying Google's algorithms and modeling our efforts accordingly. We sent our staff for SEO training (Udemy, Coursera, and Digiskills and as well as having online sessions with professionals from vFairs) to get certifications, and they learned a lot as a result.
We started producing quality content with specially targeted keywords relating to our industry and putting them on our blog and other places. Creating backlinks to our content and website, placing guest articles on high-ranking websites, and posting press releases helped bring in more traffic week after week. We also began creating generic and evergreen content, since we figured that would give us the most visibility, and it worked for us.
In the span of just a few weeks, our traffic grew five-fold.
The thing that works for us is that we have a firm understanding of what our core audience wants. We know their needs, their worries, their aspirations, and the lessons that they need to learn. It's then all a matter of building content around those areas and putting them in the right places.
Our team is now quite proficient at it all thanks to the training and learnings they've experienced.
Of course, we eventually started doing paid ads and placement for our business online. It helped us understand what our audience was interested in on another level, what really made them click.
We used some of our learnings from paid marketing and began structuring our organic content differently, and it showed some more promising results.
So now, we run a combination of organic and paid content to get the word of our business out.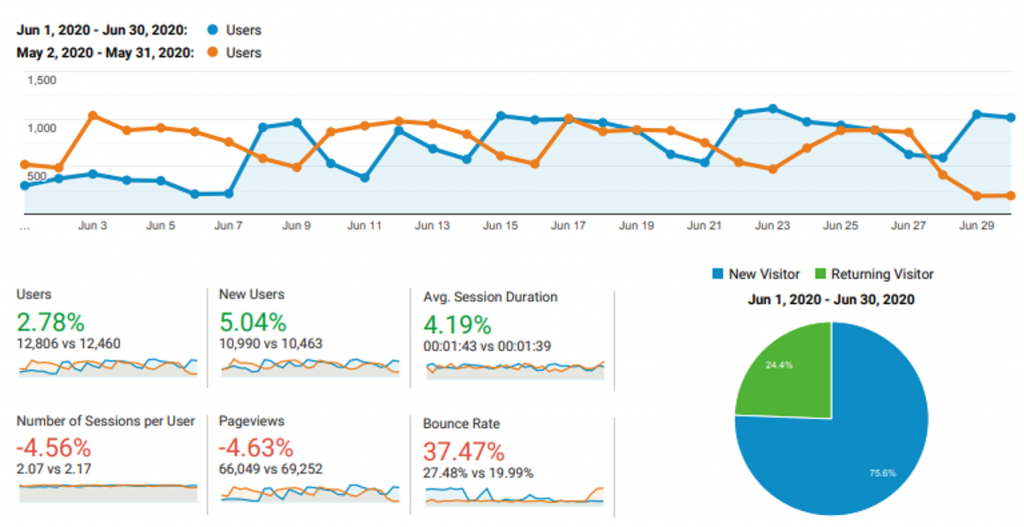 80 percent of our efforts are organic and here's the breakdown of what we tried and succeeded with;
Launch of RepairDesk Payments – a payment platform with the lowest processing rates;
Introduction of a new Enterprise Version for large repair stores;
Updated quality blog content with COVID resources;
Sent out monthly newsletters (targeted for new, old, and churned customers);
Email marketing – sent cold email blasts;
Developed landing pages for important and unique features;
Submitted guest posts and press releases at multiple guest blogging websites;
Improved onsite/offsite SEO of our website;
Created product comparison charts and submitted to different marketplaces like Capterra, Software Advice, g2, Software Suggest, etc.
Have you learned anything particularly helpful during your SEO Journey?
When we were building our business, a major part of it relied on making connections with our customers.
It's a natural thing to do – your customers pay for your business, therefore they're the most important part of it. RepairDesk began with those ideals and our sales and support team have been excellent at keeping that link with our customers in real-time.
In a similar fashion, our content is structured to help customers as well and establish a link with them.
What we create and share in terms of content is designed on consumer interest. We see what people want to read about, to learn about, and what addresses their pain points, and we structure our content accordingly.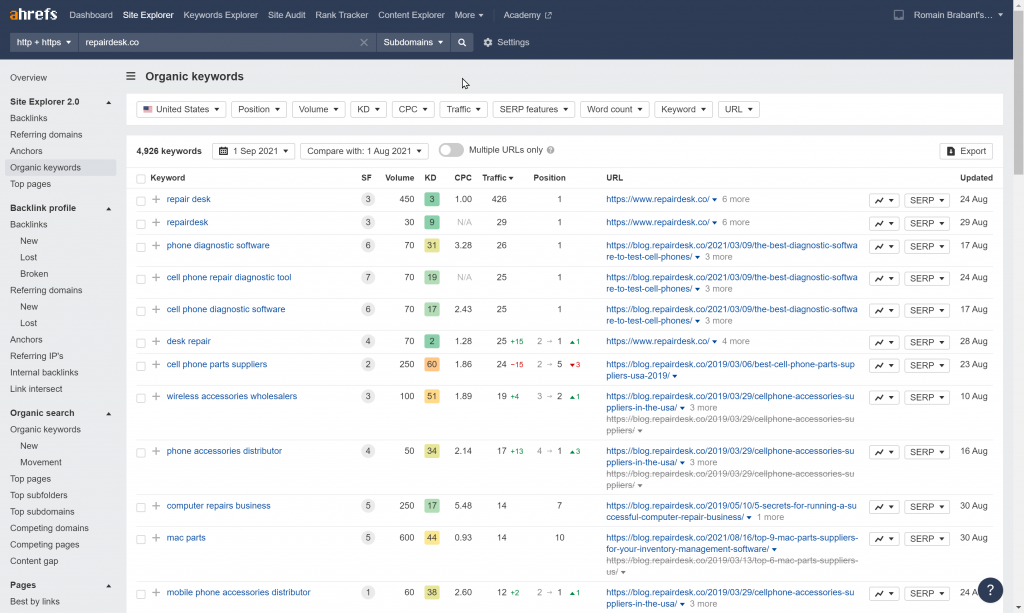 The algorithm is helpful in putting our content in front of people, but for them to actually act on it and enter our sales funnel, it needs to be value-driven, helpful, and actionable.
I think a lot of us focus too much on pleasing the algorithm, and that's the wrong approach.
If your content is great, people will come to it.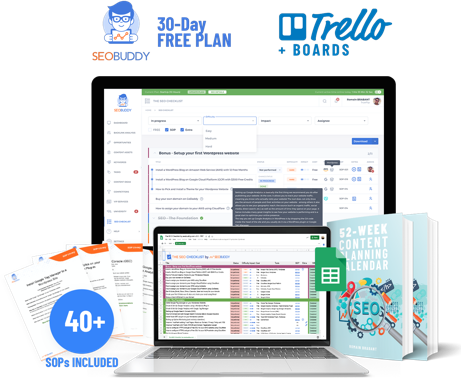 There's more…
Now it's time to discover the other 102 steps that will get more organic traffic flowing to your website. Get the SEO Checklist here.
Want to get a sneak peek of what it looks like?
Enter your email and get a free demo version of the SEO Checklist.
What's your SEO Tech Stack?
In terms of platforms and tools, we generally try to keep it simple.
The Google Search Console is the backbone of our entire SEO operation. It helps our team learn how our keywords are performing, what website pages need optimization, which ones have issues with indexing, etc. I really don't think our SEO team can survive a day without Google's toolkit.
Other third-party solutions that we use are Ahrefs, MOZ, and SEMRush.
Ahrefs gives us great material to work it, helping us identify which spaces we need to occupy. Ahrefs has an excellent keyword and content explorer that our team is very fond of. It helps them plan for their next article or content piece that can get them some great visibility.

We worked on link-building in a slow and steady fashion, but it scaled up to be very helpful for us.
Our team at RepairDesk creates pieces of content that integrate with one another very well, whether they be onsite or offsite. We then interlink those articles with one another to create a web of sorts that houses all our content. So if a web crawler or potential customer were to read one of our articles, they would naturally be guided to other content just like it all under our domain.
We also experimented with pillar articles and content clusters.
This basically meant that we took an overarching topic such as computer security or Black Friday sales guides and created individual articles for it, all feeding into this one major pillar article that operated on that keyword. This way, we had a strong repository of content on particular keywords and topics, which naturally pulled in more viewers.
Another practice that we employ is going on to Reddit or Quora and talking to people in general.
We search for questions that people put forward and try to answer them as best we can, sometimes leaving a link to the material we are referencing on our blog.
This not only helps us with our link-building exercises but also involves us with the community and makes us aware of their needs, which in turn fuels ideas for more content.
It's techniques like these that have given us the success we enjoy today.

What have been the most influential books, podcasts, or other resources?
Our team produces some great content on our YouTube channel and Podcast, and I like to go through what they have to say from time to time.
Apart from that, I love listening to the Masters of Scale podcast by Reid Hoffman. It's an amazing dive into successful businesses and the sort of mindset you need to have if you want to scale.
In terms of books, I've read The Hard Thing About Hard Things by Ben Horowitz, No Rules Rules: Netflix and the Culture of Reinvention by Erin Meyer and Reed Hastings, and From Impossible to Inevitable: How SaaS and Other Hyper-Growth Companies Create Predictable Revenue by Aaron Ross and Jason Lemkin.
These have been really inspirational for me and have opened my eyes to how I would like to run my company.
Where can we go to learn more?
We have our main RepairDesk website at www.repairdesk.co. That's where we live on the web.
Our Blog has all of our onsite content that we publish on a regular basis. It includes helpful articles, interviews, case studies, company updates, and general information that helps our specific market.
Our social media pages Facebook, Twitter, LinkedIn, Instagram, YouTube, and Pinterest also provide active updates on a daily basis.
We also run a podcast called The State of Repairs where we talk at length with industry veterans on how they grew their business and took themselves to the next level. Check it out, it's on all major platforms now.