My SEO Journey: Misha Krunic from price2spy.com – Building a Multimillion-Dollar SaaS on a Good SEO Strategy
My SEO Journey is a series where entrepreneurs and Indie makers share their honest SEO Journey filled with failure and success, and most importantly proven results. Episode #35 features Misha Krunic from Price2Spy.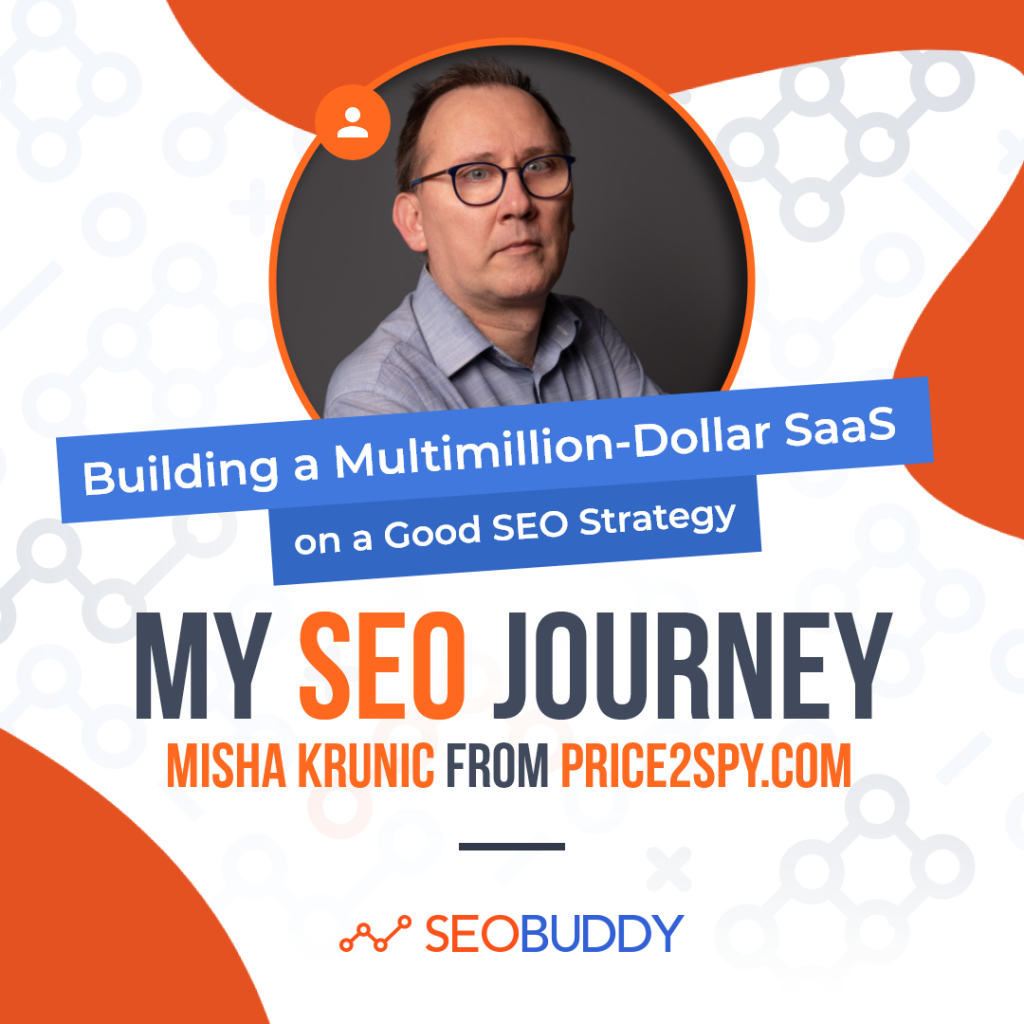 Hello, I'm Misha Krunic and I'm the CEO of Price2Spy, a price monitoring tool meant to help eCommerce professionals to become more competitive on the online market.
Price2Spy was developed as one of the products of our company WEBCentric, but over time it has become our biggest success. Today, I can confidently say that we're one of the companies with the biggest experience in price monitoring, but when we started our journey 10 years ago, we were pioneers.
Only 3 other similar tools were present at the time in the worldwide market, so I'm very proud that we managed to maintain continuity over the years, as well as to improve despite the ever-increasing competition.
Since launch, what has worked to attract more organic traffic?

As I said, we started 10 years ago, and to be honest, our beginnings didn't include a lot of organic marketing efforts. This field was much different than it is today – the market was not oversaturated and this gave us a big initial advantage.
We had the luxury of appearing relatively easily on the first search page for the simple reason that there were only a few other competitors present.
Back in 2011, I knew that having a lot of content/pages would help.
So, I have created a script, that for each website we monitored, creates a new page on our website – and soon enough we were monitoring over 5000 websites. Of course, such pages had very little content, but it did help – and please don't forget – this was back in 2011.
A couple of years ago, I noticed that such a multitude of pages does not help any longer, so I have added no-follow tags, but still kept the page structure, because we take pride in the fact that we monitor prices from over 100K websites worldwide.
However, I was aware that such a situation would certainly change and that we had to think ahead.
It would also be one of the useful tips for young entrepreneurs – the situation is always changing – successes and failures are a very changeable category, therefore, hard work and dedication must always be present.
Our first attempts to increase organic traffic were related to improving our website.
The website speed, WordPress improvements, and other technical aspects were the first things to tackle.
Afterward, we proceeded with the content itself – the number, structure, and organization of web pages. Last but not least, we started to invest serious efforts into our blog, and link-building activities.
Blog posts aren't something that can bring overnight success, but if you are consistent with your publishing schedule and are always dealing with hot topics, your efforts can not be in vain.
Today, most of our traffic is organic, and that's thanks to our SEO improvements and our blog section.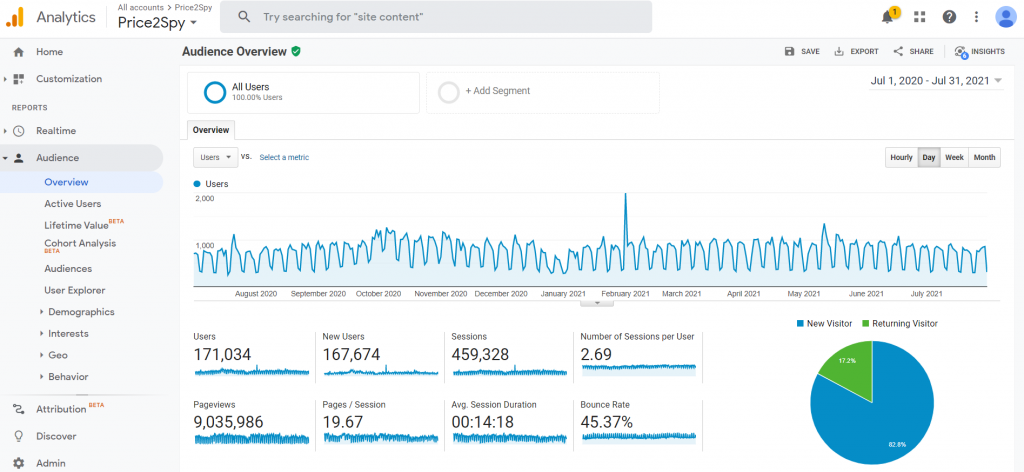 The reason behind it is actually very simple – people like to think that their purchasing decision was completely independent, and not to have the impression that something has been sold to them.
That is why they pay so much attention to the information process.
For this reason, businesses should avoid aggressive offers that aim at selling at first contact, but presenting themselves as an authority in the field that is able to solve a certain problem.
For example, people interested in our tool are actually interested in understanding how eCommerce pricing strategies, dynamic pricing, and competitor analysis actually work.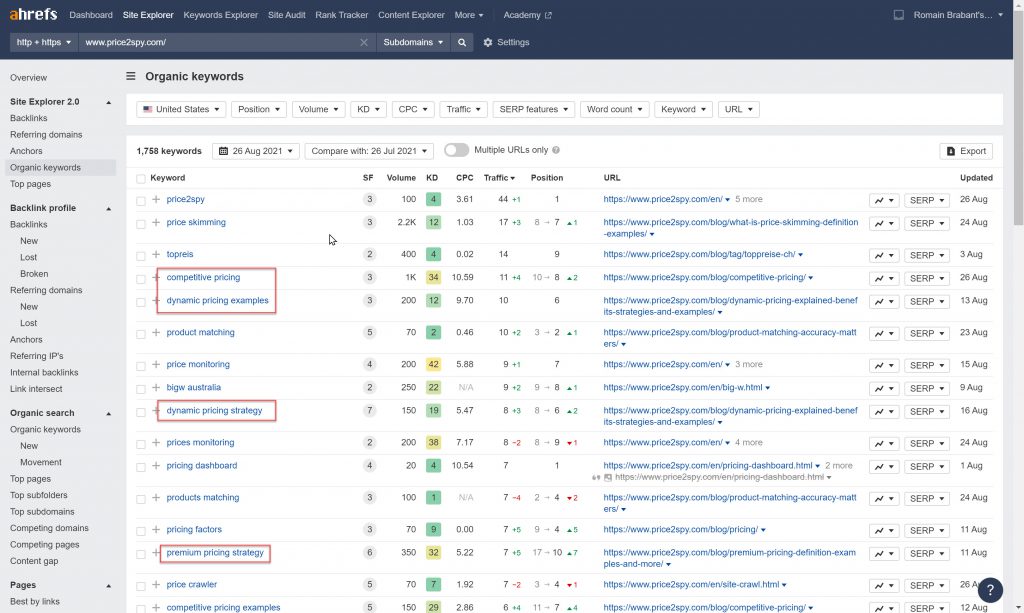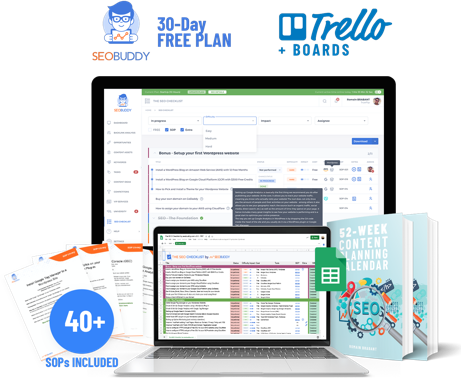 There's more…
Now it's time to discover the other 102 steps that will get more organic traffic flowing to your website. Get the SEO Checklist here.
Want to get a sneak peek of what it looks like?
Enter your email and get a free demo version of the SEO Checklist.
Have you learned anything particularly advantageous during your SEO Journey?
I suppose that some of the things that happened (such as the timing for starting our businesses) can be considered as good timing or just being lucky.
But, I'm also a firm believer that the more you work, the luckier you get. 🙂
As I mentioned, starting a blog was one of our best decisions, and if I had to point out one thing as a form of missed opportunity then it would be link-building activities.
Now, when doing our regular analysis, I can see that some of our main competitors have managed to gain an advantage in this regard only because they have dedicated themselves to these link-building activities long before us. Now that's a lesson we've adopted and we're working on it every day.
Progress is obvious, but we are aware that we still have a long way to go.

What platform/tools do you use for your business?
We use a variety of tools, plugins, and resources in general. Some of them are free and basic, but very useful, such as GTmetrix which helps us to see our site and page loading speed.
The tool that we are using the most at the moment is definitely SEMRush.
It's very detailed, so for beginners, it can seem overwhelming, but it really does make a difference. We use it for many things – website and page analysis, keyword research, Google Ads analysis, Social media channels analysis, investigating backlinks, etc. You can also use it to check how your competitors are doing and if there is room for your improvement.
Yoast is another tool that we are using for SEO purposes, especially in our blog section. It measures different SEO aspects, such as keyword density, readability score, the presence of visual content, internal and external backlinks, headings, meta description. A great thing about these tools is that they offer you recommendations on how to improve certain things. Hence, you get so much more than a simple "you're not doing this right" but also the very precise instructions on how to correct it.
The first step was to properly do all the internal links on our website and blog. We started working on different pillar pages, so all the related content needed to be properly linked.
Besides that, we are now more dedicated to guest post activities.
At first, we were the ones who started approaching different websites and offered to write a guest post for them. Those were the websites with good domain authority and the ones that we also like to read and consider relevant.
After some time, people started to notice our efforts, and now we're receiving offers for guest posts on our blog on a daily basis. That helps us to widen our network and connect to other writers and companies.
What have been the most influential books, podcasts, or other resources?
Since this is a very dynamic field, our team is always trying to keep up with all the trends. Not all the resources are free, but many of them are. Here are some of our suggestions:
HubSpot – they offer a whole rounded approach, from courses to blog sections and downloadable materials.
Yoast – a blog section that covers all the SEO and content-related questions that you might have, and not only about their plugin, but in general
VeryGoodCopy by Eddie Shleyner – a very useful website for marketers and content creators
SmartBlogger – will help you grow your writing skills and their newsletter is also very convenient