My SEO Journey: Diana Royanto from milkwhale.com – Why nurturing relationships with fellow link-builders is crucial
My SEO Journey is a series where entrepreneurs and Indie makers share their honest SEO Journey filled with failure and success, and most importantly proven results. Episode #48 features Diana Royanto from Milkwhale.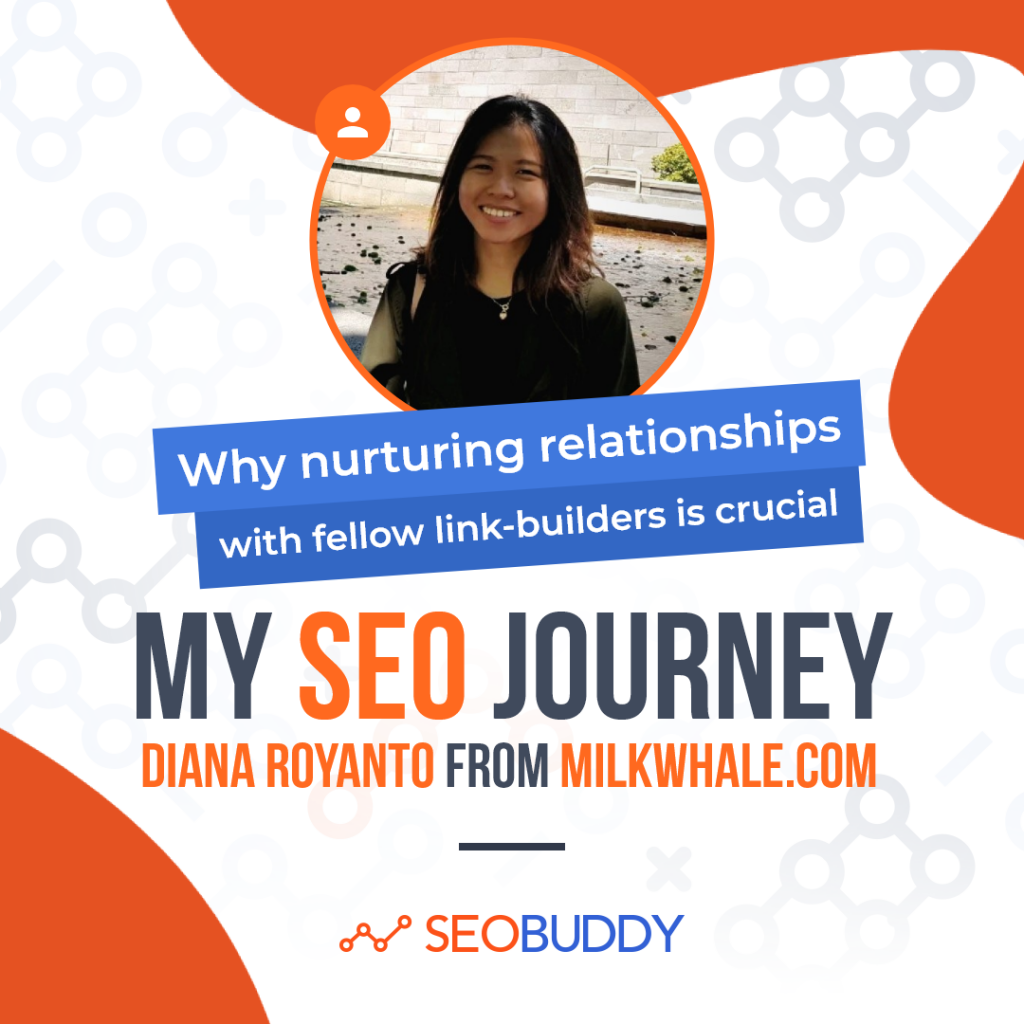 I'm Diana, the creative writer and digital marketing specialist behind the infographic design agency, Milkwhale, where we turn complex data and information into digestible, pretty infographics.
When it comes to SEO, our goal is simple— to increase and improve our online presence so our potential clients can find us easier! To do that, we would need to appear in search results every time someone would type "infographic agency." How we do that is the hard part.
As a small business with only a few people on board in our digital marketing team, improving our online presence is no easy task— which we discovered after trying out different methods and reading endless articles on SEO. We're limited in budget and resources, so we're forced to rely mostly on organic SEO-building techniques that don't get us in trouble in the long run.
With extra effort, many trials and errors, and a few sleepless nights, we've managed to improve our site's DR, get substantial backlinks, and gain the traffic we've been looking for. Although there are several methods that can help us achieve our goal faster, we decided the slow and steady route would be best to build a strong backlink profile and maintain our position.
Our 3 Key Strategies
In two years' time, we managed to raise our domain authority from 44 to 52. After trying so many methods, we've finally found our sweet spot. As a result, we have decided to focus on continuing to nurture our current ranking with consistency with these three strategies, which I will share below.

Guest posting or link insertions
One of the sure ways to raise your site's domain authority is by building a solid backlink profile. You can do this by building backlinks to your site, which is easier said than done. Since we can't rely on sponsored posts or paid ads, the only option was to guest post or link insertions.
Link insertions are easier because you only need to provide a link to the site that wants to do the insertion, but this is a rare opportunity to come across.
Guest posts, on the other hand, are much more common and more accessible opportunities to find. They're beneficial for the sites we reached out to because they get free content, and in exchange, we get a backlink on their site.
For guest posting or link insertions, our process is tedious but straightforward. After years of using this method, we've managed to publish vast amounts of content and build backlinks to our site with zero cost.
We've noticed that it's much easier to gain links to content if it's relevant to the blog's niche or evergreen.
For example, we made an infographic about IGTV when it was released. Since it was recent news, many digital marketing blogs took interest and were willing to let us a guest post on their site. We gained a lot of backlinks from some great sites as a result.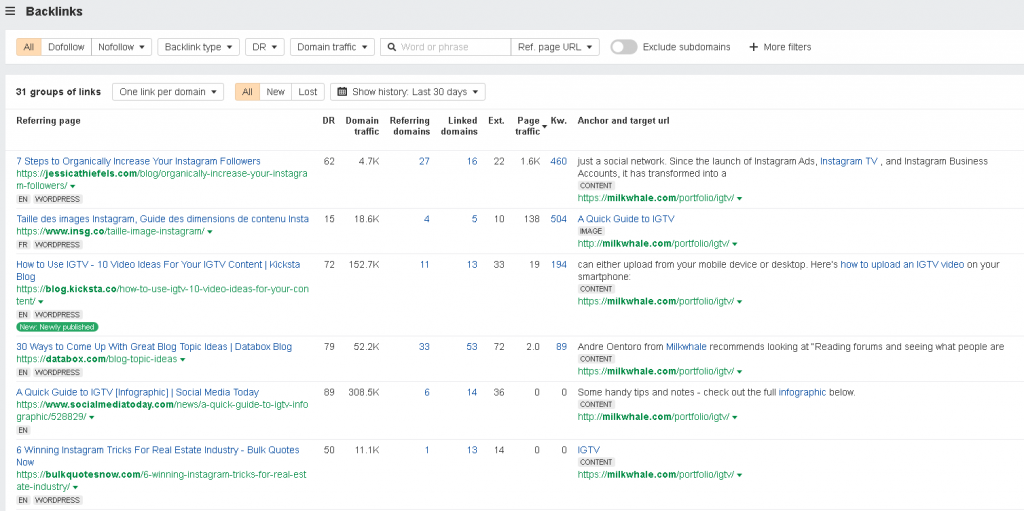 This experience showed us that targeting the right audience and niche is quintessential for link building.
Here are the best practices we follow, up to today, to find guest post opportunities and link insertions.
Do keyword research and narrow down what niche of sites you want to reach out to
Get to know the sites you're pitching to and come up with at least three options for the site to choose from.
Ask for their contributor guidelines and start crafting your article.
Be responsive and always get the draft submitted as soon as you can. Most sites may lose interest if you submit your draft later than the intended deadline.
Follow up regularly with your submissions. 
Don't forget to say thank you. 
Nurturing link-building relationships
Most of our resources and energy go into link-building efforts, such as looking for guest posting opportunities. For us, link-building is a vital part of helping us achieve our SEO goals. For the past couple of years, the journey has been turbulent. Sometimes we get great results from endless amounts of guest posts, and other days, getting a guest post is near impossible.
Most websites don't want to do guest posts and would prefer a link exchange. Offering a collaborative link-building opportunity gives you the chance to get links and gain a link-building partner to help with your SEO efforts.
This method is excellent for those quiet months where everyone is on vacation, and you still need a steady flow of links. However, getting a link from a partner means you also need to do the same in return.
For a small business like us, sponsored posts are not an option. So, in addition to finding free guest post opportunities, we've decided to also focus on nurturing our relationships with fellow link-builders. Doing so helps us get links, build fruitful partnerships with link-builders, and lessens the burden of having to resort to free guest posts all the time.
Today, we have various partners who have continued to help us build quality links. In return, we also make sure to include them anytime a guest post opportunity arises. With years of experience in collaborative link-building, we've had our fair share of unreliable partners who ghosted us after we submitted our articles or after exchanging links. This is a common occurrence and a risk every link-builder should be aware of.
With practice, we have managed to fine-tune our collaborative link-building methods and nurture valuable relationships to build more links to our site further.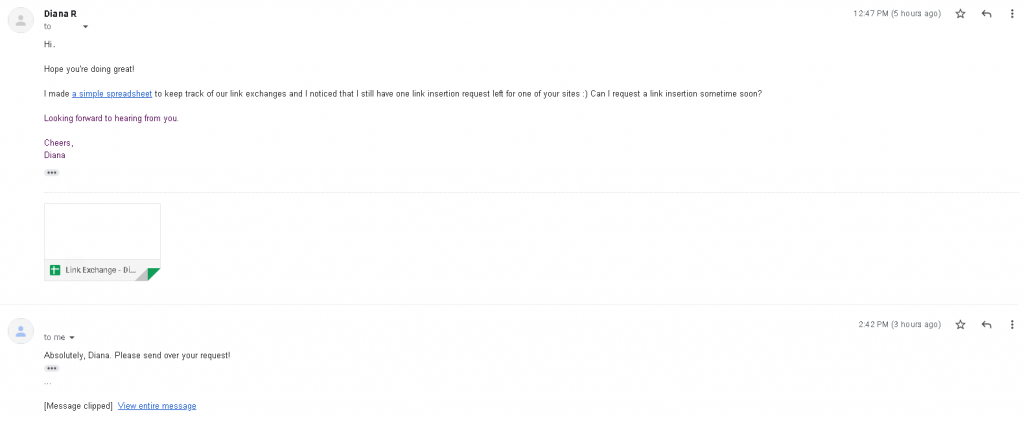 Here are vital things you need to keep in mind when nurturing your collaborative link-building partnerships.
Get to know your link-building partner by researching their company, paying attention to their response times, and analyzing the sites they're offering links for.
Have a spreadsheet to keep track of the link exchanges
Always return the favor. 
Quality content creation
Building links requires other sites to link to our page. Most sites won't link to some irrelevant page. So, before we begin our link-building process, we always start with quality content creation.
When creating content, we like to focus on topics related to our industry, such as infographics, digital marketing, or SEO. Since we've had a lot of experience in these fields, it allows us to create in-depth, detailed, and valuable content.
According to Neil Patel, evergreen long-form content pieces perform better. Long-form content usually consists of 2000+ words in length. This might seem like a lot, but the benefits you reap in the long run are worth the extra effort.
Evergreen content is defined as content that is constantly relevant and stays fresh longer for readers. They're not news articles, pieces about specific dates, or statistical reports that change often. Instead, they are often lists, top tips, or even instructional tutorials.
One way you could create quality content is by using a well-known technique in SEO called the skyscraper technique. The technique is made of 3 core principles— find popular content linked to from other sites, create a better piece of content on the same topic, and promote it to the right audience.
In short, it's adding more value and depth to an existing topic, essentially creating something better than what already exists. We used the skyscraper technique by making this long-form content about tips for creating infographics. As a result, it's one of our top-performing pages and ranks for the keyword we targeted.

We searched for topics that are relevant to our niche— infographics. Then, we narrowed down what long-tail keywords we would like to rank for. Once we found the ideal keyword, "infographic ideas," we began outlining and drafting the copy.
Using the skyscraper technique, we created a better piece of content on a topic based on popular content linked to other sites. What makes ours better is that it's much more extensive, covers a vast amount of subtopics, and added value and depth.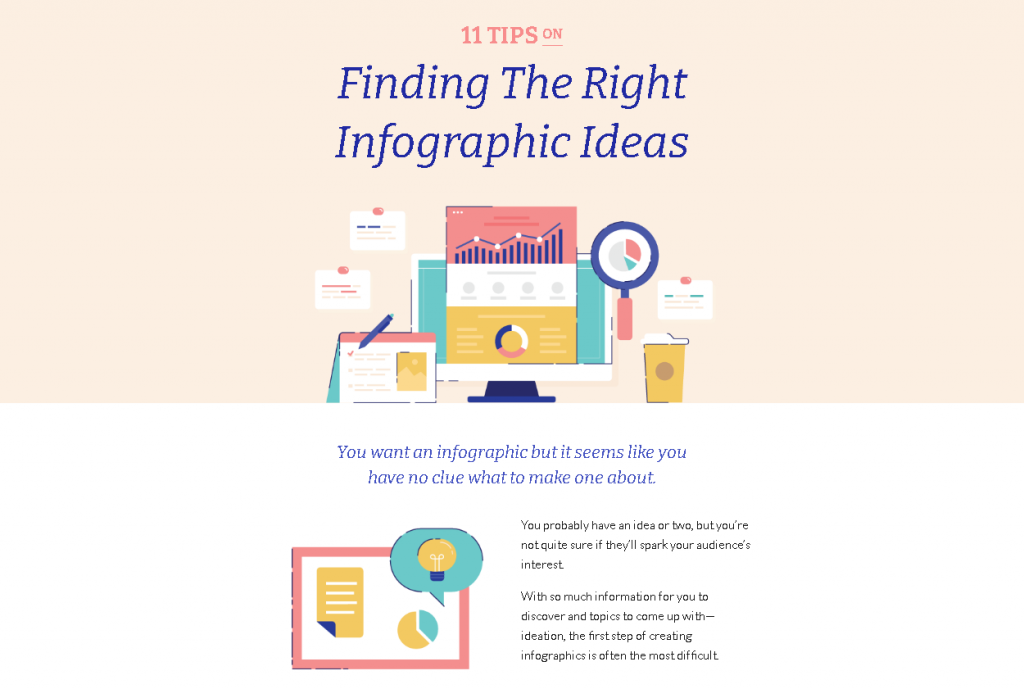 Here are some key things that have helped us craft in-depth content that blogs have linked to::
Identify your target audience. Creating content without a clear audience in mind won't get you anywhere. Readers love in-depth content, so figuring out who your target market is first is essential.
Narrow down and do thorough research. Broad topics won't earn you any traffic since they're easier to find. Your audience wants to learn something new and read valuable content. So, narrow down your topics and do thorough research before writing your first draft.
Draft often, and don't be scared of feedback. Revisions are entirely normal and are encouraged. The first draft is rarely good and will always need extra edits. So, don't be shy and write all your ideas down. Feedback is a crucial part of the drafting process.
Keep it balanced with reliable data and personal perspectives. Having data sprinkled throughout your content is excellent for emphasizing important points. However, don't forget to add extra value and add your perspective to the copy. People often come for the content but stay for the value. Adding your perspective adds that personal touch and makes your content stands out.
Challenges
Our SEO journey doesn't come without obstacles. To this day, our team still faces a lot of challenges and problems. Here are the top three challenges we often encounter:
Finding reliable partners
Finding a reliable partner is like finding a needle in a haystack— it's a rare occurrence. On the Internet, it can be easy to fall victim to scams and miscommunication. We've had bad experiences where our partners stopped replying to our emails or just disappeared into thin air.
When we come across this problem, it gets in the way of our link-building and slows down the progress we've made. That's why we need to have other sources of links, such as guest posts and building good rapports with other sites.
Keeping up with the algorithm
Google's algorithm changes constantly. One day our SERP ranks are doing well, and the next, our domain authority freefalls. Often, we're lost in the dark, wondering what we did wrong. Google's algorithm is a mystery, and no one can quite figure it out completely.
We keep our link-building efforts clean and organic to ensure that we don't fall off Google's good side. Meaning, we don't resort to black-hat SEO and try our best to avoid spammy sites and blogs by putting our analytical hats on when looking for potential sites to collaborate with. 
Keeping our traffic steady
Traffic flows are unpredictable. Sometimes our website gets a steady flow of traffic, and everything seems right. However, there are days where our traffic falls unexpectedly. Keeping our traffic steady is one of the most challenging things we are still dealing with.
Although unexpected traffic drops are normal and happen from time to time, they can be unnerving. To counteract this, we analyze all the reasons why the traffic dropped, which can take up a lot of time and effort.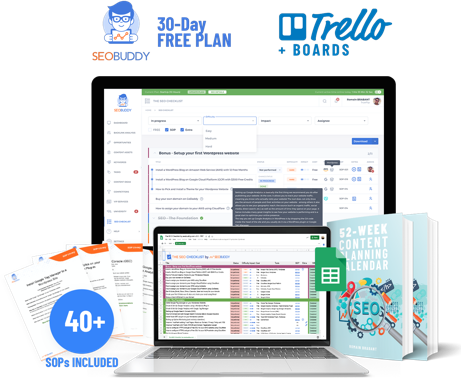 There's more…
Now it's time to discover the other 102 steps that will get more organic traffic flowing to your website. Get the SEO Checklist here.
Want to get a sneak peek of what it looks like?
Enter your email and get a free demo version of the SEO Checklist.
Tools We Recommend
Despite facing the challenges above, a few tools have helped us throughout our SEO journey. Here are three tools we've used religiously and reliably throughout the years:
Ahrefs. We call Ahrefs our holy grail for all our SEO needs. It's an analytical tool and keyword research tool all in one. We use it every day to look at how our site and content are performing, figure out what needs to be fixed or optimized, and help us analyze our competitors.
Grammarly. Writing is no easy task. Typos and grammatical errors are bound to happen— we're human, after all. With Grammarly, writing has been much more manageable, making content creation a less tedious process.
Buzzstream. Building qualified lists for our outreach campaigns is time-consuming. Ever since we've used Buzzstream, we've managed to cut the time in half. Buzzstream also helps us keep our campaigns since it allows us to track activity for each email we send. Overall, it has streamlined our email outreach campaigns and made the process much easier.
That sums up our SEO journey. Improving our site's SEO isn't easy, and it certainly isn't instantaneous. It takes a lot of patience, effort, and consistency. Throughout the process, we've discovered what works and what doesn't.
Don't be discouraged if you don't see results immediately. So, if you stumble across any obstacles along the way, remember that boosting your site's SEO is a long-term commitment. If you need some extra help, this SEO checklist from SEO Buddy is excellent for starters. I hope the tips above will help you in your SEO journey. Good luck!