My SEO Journey [Pro Edition]: Lori Newman from newmanwebsolutions.com – Content marketing has been the most helpful for us and our clients.
My SEO Journey [PRO Edition] is a series where professionals of the SEO Industry, Digital Marketing, or Web Design, share their honest SEO Journey filled with failure and success, and most importantly proven results. Episode #52 features Lori Newman from Newman Web Solutions.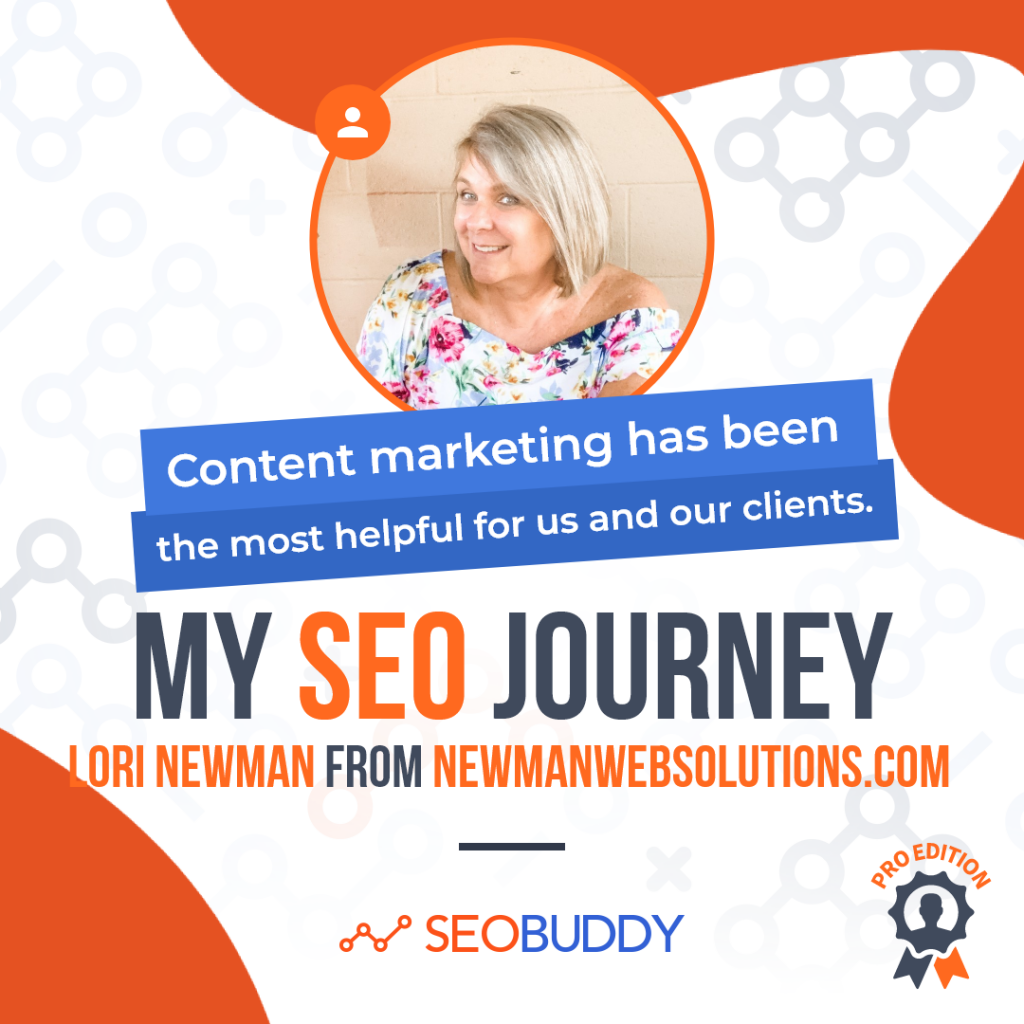 Hello there, my name is Lori Newman and I am co-founder of Newman Web Solutions, a digital marketing agency located in Atlanta. Our digital marketing agency provides web design, SEO, Facebook advertising, WordPress maintenance, and more.
We work with local and service-based businesses nationwide. Using proven internet marketing services that work, our mission is to improve your online presence and grow your business.
What's your backstory and how did you come up with the idea?
I didn't start out learning about SEO. I just sort of fell into it.
My interest in computers and web design began in the '90s. I designed my first website when I opened my first child care business to advertise my services. Starting one's own business is hard work. Creating marketing for it is even harder.
From the beginning of my career, I learned about the Internet, which allowed me to reach a wide range of people to market my services. As time passed, I was contacted by others seeking my help with their online marketing and design needs.
Twenty years ago, I would have never imagined running my own SEO marketing agency.
Back when I first got started I was focused on learning web design. It wasn't long before I realized that HTML was the future though so I bought an HTML book and taught myself to code.
This all took place before CSS had even been created. As technology advanced, so did my skills.
My agency didn't come about until ten years later after countless odd jobs. After being laid off from my front desk job as a receptionist for a construction company, I decided to pursue my passion for designing websites for new businesses.
I returned to college to complete my education in Web Application Development.
My business quickly grew and I delved into the world of search engine optimization.
During this time, I discovered I was really good at it and enjoyed the competitive nature of it. As a result, SEO has become my new passion and the new service I provide to help our clients grow.
After much success and being overwhelmed by growth, I sought help from my husband Sam Newman. Thanks to his extensive programming and technology knowledge, he was able to help.
Together, we founded Newman Web Solutions, which has grown to a team of ten.
What has worked to attract more organic traffic for your client?
Our success in strategies does not come from re-inventing the wheel, but rather from a well-proven methodology, which we like to call "Success Modeling". With this strategy, we utilize our comprehensive research marketing tools (e.g. Semrush, SpyFu, Google Analytics, and more) and conduct in-depth research on our clients' top competitors to identify what's working for them so that we can implement those same strategies for our clients.
As an example of such a strategy, we find out what their top competitors' paid ads are, and if our client offers the same products or services, we leverage organic traffic (such as blogs, social media posts, YouTube videos) to promote the same. This saves our clients money on advertising budgets while allowing them to effectively grow their number of visitors for the same market share as others who are paying for it.
The Story Brand Framework is another example of how we apply success modeling strategies to our clients' websites and content marketing efforts. The advantage of story branding our clients' website and content is that it can supercharge their marketing messaging by explaining not just the features of their services but also their benefits to their targeted audience.
Prospects relate better to online content that emphasizes benefits rather than features. What's in it for me?
In an example of Story Branding in action, one of our plumbing clients' website had a section with "Open 24/7" followed by a call-to-action (CTA) labeled "Call Us Now.". We simply changed the message to "Have an emergency? We're here 24/7, with a CTA button labeled "How can we help?"
This very simple but powerful edit led to a 22% increase in after-hours emergency plumbing calls.
Taking the time to research their competitors and discover their strengths and weaknesses enables us to provide valuable marketing insights to our clients, which can either help us implement the strategies or help our clients avoid the same mistakes. In the end, our clients save both time and money.
Success Modeling is nothing new, but the crucial aspect of modeling after a larger and more successful competitor is to understand how to use the information gained. Obviously, not every strategy of their competitors will work.
Our advantage over other agencies lies in our ability to find the right ones to model after.
Our Result #1
We've had several plumbers who loved the fact they no longer had to invest in PPC since they were getting plenty of leads just from the organic SEO and optimization we implemented for them.
Their phones were ringing and not because of paid ads. One plumbing company came to us with "0" traffic and "0" keywords and is now at nearly 30K with nearly 10K keywords thanks to our content strategy.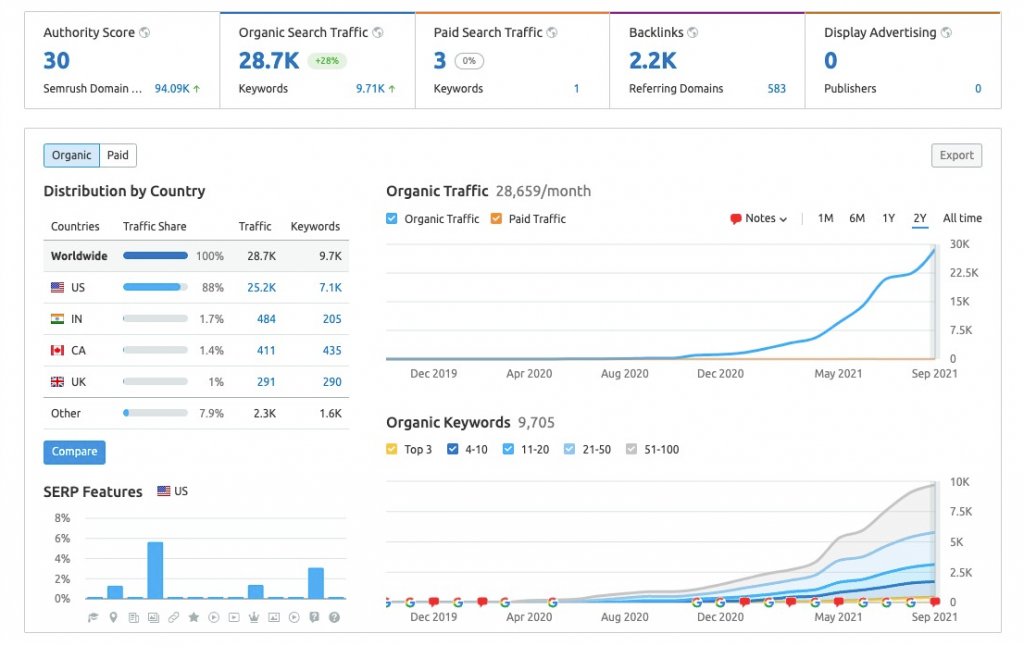 Our Result #2
A local retail store in Atlanta came to us at the end of 2019 for our marketing services to help them grow their business. When they started on the site, they had 3 traffic and 370 keywords, none of which were in the top 3.
Their organic traffic now stands at 65,616 visits/month and 6,457 keywords out of which 421 keywords appear in the top 10. Despite the fact that the business was started in 2012, the business had little success in its first seven years.
None of their traffic comes from paid Google ads (PPC). To grow their brand in the local community, we have only run Facebook ads for them. They have a steady stream of flow into their physical retail location and when asking the customers how they found them, they always say it is from an online Google search.
To date, they are still with us and have even opened a second local business with us. We handle all their content marketing, local SEO, search engine optimization, Facebook advertising, web design, and reputation management.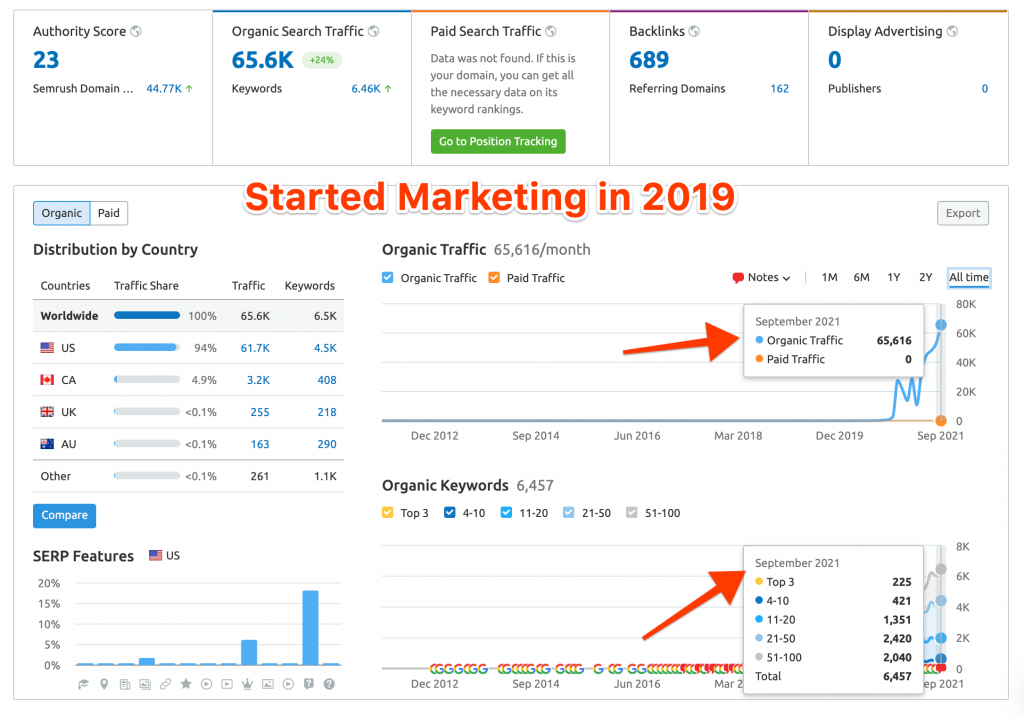 Have you learned anything particularly helpful in your SEO Journey?
Content marketing has been the most helpful for us and our clients.
Promoting content is an important part of content marketing. However, we learned that creating content alone is not enough. You really need to get social! Publishing content on your website and calling it a day is about as effective as not creating content at all.
Social media, email marketing, inbound links, and others are just a few ways you can promote your content. Your content marketing is sure to fail if you don't promote it consistently.
Promoting your content across different social channels should be a part of your marketing strategy.
We work really hard on our client's content marketing strategy as we know that Organic SEO is the gift that keeps giving back. It takes time and work but is worth the effort.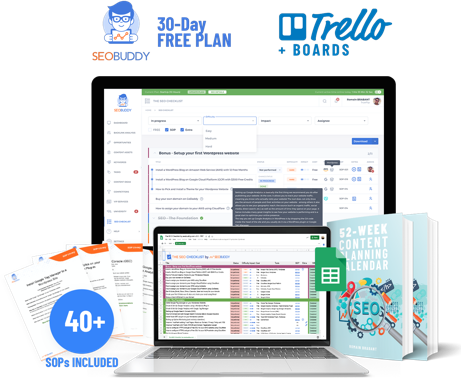 There's more…
Now it's time to discover the other 102 steps that will get more organic traffic flowing to your website. Get the SEO Checklist here.
Want to get a sneak peek of what it looks like?
Enter your email and get a free demo version of the SEO Checklist.
What's your SEO Tech Stack?
We utilize different SEO tools to accomplish our goals, including SE Ranking, MarketMuse, SpyFu, Google Search Console, and Google Analytics. These tools have helped us achieve success with SEO.
One of the best ways that we've found that has worked for us has been using Market Muse to identify potential keywords that can boost our search engine rankings. From there, Search Engine Optimization (SEO) rankings for these terms can be achieved on top of organic ranking positions through initiatives like adding catchy meta descriptions and compelling web content on top of implementing on-page SEO techniques that work.
We implement several different link-building strategies to build links with other people and industries.
One of the most popular methods is HARO which stands for "Help A Reporter Out". This service allows reporters to reach out to professionals in their field for articles they are writing. The reporter will then publish your response to their question or request.
This service is free and is the fastest way to get your business or product covered by a journalist.
However, another one of our favorite strategies that we take advantage of that is quite successful is responding to those spam emails you get requesting a link back in exchange for a blog post.
We take advantage of those and often respond to see if they are willing to do the same for us. It's amazing how many rejections you get from those wanting a link from you but not willing to reciprocate.
But you'd be surprised how often it actually works out to our benefit.
Just remember to exercise caution and investigate the quality of the site the link you get is coming from. That way, you can ensure that your backlink will be able to provide some value to your business.
What have been the most influential books, podcasts, or other resources?
I have many influential resources but I have to say the one that has made the most impact is the SEO Blueprint Training with Ryan Stewart. His course will provide you with training and a framework to really help your agency grow. It has everything you need to scale your SEO agency.
It's all about processes! Once you have your processes in order you are good to go.
Where can we go to learn more?
If you want to learn more about how our SEO marketing agency can grow your business, please visit Newman Web Solutions. We love hearing from our visitors, and we're always happy to answer any questions you may have about SEO!
Thank you for reading, and we hope to hear from you soon!