My SEO Journey: Robert Weiss from multivisiondigital.com – The power of Videos for your SEO efforts
My SEO Journey is a series where entrepreneurs and Indie makers share their honest SEO Journey filled with failure and success, and most importantly, proven results. Episode #110 features Robert Weiss from MultiVision Digital.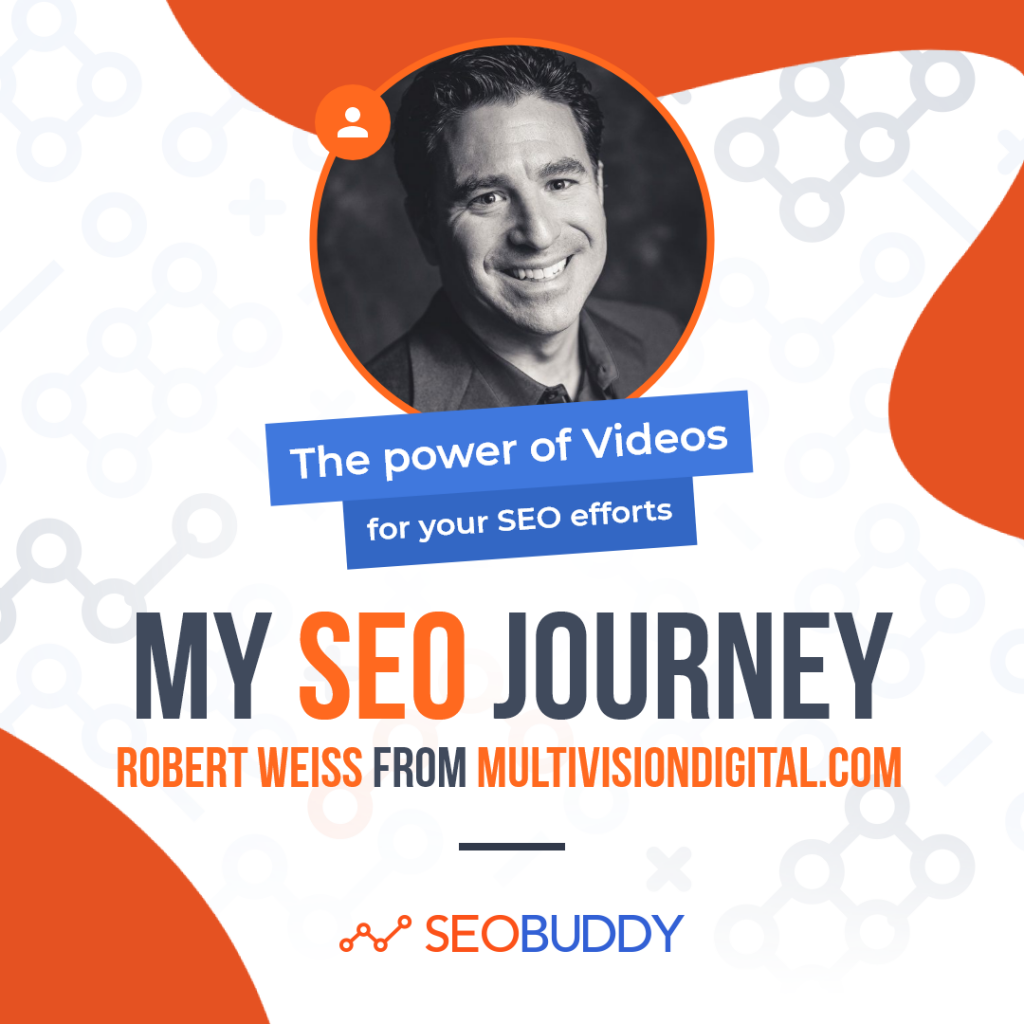 I'm Robert Weiss, President & Founder of MultiVision Digital, a video production agency in NY that has produced over 1,300 videos, across every business objectives, in the past 12 years.
We provide the full spectrum of video strategy, video production and video marketing services that have allowed clients to increase sales, lead generation, improve SEO rankings, increase awareness and client loyalty.
Clients range from solo-entrepreneurs to global Fortune 500 companies across almost every industry.
What's your backstory and how did you come up with the idea?
I started MultiVision Digital without any background in video or video production or video editing, but saw the writing on the wall with how powerful video is to sales and marketing objectives and the value to lead gen and sales goals for a business.
Before I started my company and I was sold and saw the adoption of digital marketing tactics like websites, email marketing, social media and SEO. "Back in the day" these had a very low level of adoption and you really had to sell and prove the value of those investments. Today, you don't need to sell those things. Nobody would dispute that you need those marketing tactics to, to drive business results. And that's where I saw video was going so I set out on a plan to build a business.
12 years into it and we are JUST getting started. On a scale of 1 to 10 I really think we're about a four or maybe a five with the adoption of video. So, if somebody's reading this and they think that they're late to the game in getting video for their business, they're not! They can get started today and really be ahead of their competition because there's many companies, both large and small across every industry that are still dragging their feet…for what reason, I don't know.
Even though there are a ton of statistics on the impact that video marketing makes, we still spend a lot of time and effort educating people on the value of video…. sometime even banging our heads against the wall when people say "Oh, we don't really need video" or "We're not doing video."  Video gives the most amount of information in the shortest amount of time and video can be integrated and achieve all the different business objectives that they're currently working on….but better.  At the end of the day video is just a piece of content….and marketers are constantly pumping out content.
Since launch, what has worked to attract more organic traffic?
Marketers do thought leadership, they blog, content marketing, they go to events, the create product launch brochures and manuals, and other ways to provide information and valuable insights to potential clients. That's what video does, it does all of that. So just like companies adopted websites or email marketing, or search engine optimization or PPC when those first started it is just a matter of time until video will be a given in everyday sales and marketing tactics.
As part of our SEO journey we are lucky that so many people have myths and questions about video and that video production, video marketing and how to create a video strategy are so misunderstood.  We keep a document with all these questions and thus provides us with really good content for our own content marketing objectives.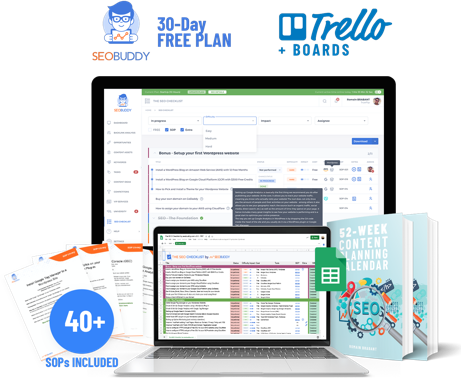 There's more…
Now it's time to discover the other 102 steps that will get more organic traffic flowing to your website. Get the SEO Checklist here.
Want to get a sneak peek of what it looks like?
Enter your email and get a free demo version of the SEO Checklist.
Have you learned anything particularly helpful in your SEO Journey?
We try to lead by example, doing for ourselves and then guiding our clients to do so. So I think citing some examples on how we advised our clients would be most relevant. Many clients have ranking on SEO as part of their marketing budget and lead generation strategy, and to rank they need to constantly pump out relevant content. But when it comes to video they tend to focus on one video.
So I ask them, would you write one blog post? The answer was no.
Do you send one social media post? The answer was no.
Do you make one phone call to follow up a lead? The answer was no.
So why would one video drive SEO results?
So what we do is work with our clients to find ways to create cost effective video that so we can do many videos to support SEO ranking. One of the best types of videos to do this is with FAQ videos. FAQ videos are typically easy to produce and provide tremendous value to a prospective client because these are typically what people are Googling for – answers to their questions. What better way to rank on search engines than to provide the answers to questions that people were Googling?
What SEO tools do you use for your business?
Aside from some of the common SEO software tools that track and monitor keyword rankings, being a video marketing agency, our go to SEO tool is video. We do this via our MultiVision Minutes video marketing program and by executing our Video 1st Marketing Strategy™. MultiVision Minutes are basically educational videos that we produced over time that answer questions that come up while talking with people, social media listening or a more thoughtful strategy to target specific keywords we want to rank for.
Once we have video, we derive text based content via our Video 1st Marketing Strategy™. A Video 1st Marketing Strategy™ basically means you take that video, transcribe it, then create a blog post around it and then put the video on the blog post. When you optimize that page and people visit the dwell time will increase, sending key signals to Google that your page is more relevant and rank you higher next time.
Further, you can take screenshots of that video and use those images for social media posts all driving traffic back to that page on your website.  If that is not enough, you can put all your videos on one page, in addition to the individual blog posts, and maybe even send a press release out saying that you have these educational videos.  Videos last for many years and will give more value to your SEO program than any other digital marketing investment.  We have clients that created videos 5+ years ago and those pages still get better traffic and lead conversions than any other pages on their website.
So, once we have all this great content, we need to get build the network of backlinks to really kick up our SEO program. Since link building has become more complicated over the years, and more competitive, we outsource this part of our program.
Over the course of the year and based upon the competitive nature of the keywords we want to rank for, we will vary the DA links from a spread of 40-80, then from just 70-80 and then 30-50.
This strategy allows us to get the most out of our budget over the course of the year and have a very balanced spread of DA across the web so search engines can spot us in many more places. But again, the pages that we are driving traffic to have videos on them and are contextually optimized so we have a cohesive SEO program across all our content. 
What's the next step in your SEO Journey?
In looking toward the future, the next step in our SEO journey is to move into other cities to generate more leads in those new cites and expand our business. This means more content creation, more back links and more website pages that are targeted to those geographic areas that we want to target.
We will most likely also do some PPC to seed those pages so search engines can more quickly recognize those pages on our website. We have also found that getting review on Google My Business has been helpful to ranking and getting results.
Where can we go to learn more?
To see some examples of our video project, or to learn more about a Video 1st Marketing Strategy™ and watch some of our MultiVision Minutes head over to
www.MultiVisionDigital.com
https://www.youtube.com/user/MVProductionsNYC/videos – PLEASE SUBSCRIBE!
www.VideoForManufacturing.com – our manufacturing specific website
https://www.instagram.com/multivision.digital
https://www.linkedin.com/company/multivision-digital/
https://www.linkedin.com/in/robertweissnyc/
[email protected]