My SEO Journey: Hope Horner from lemonlight.com – Focusing on long-form pillar page content has been a huge win
My SEO Journey is a series where entrepreneurs and Indie makers share their honest SEO Journey filled with failure and success, and most importantly, proven results. Episode #126 features Hope Horner from Lemonlight.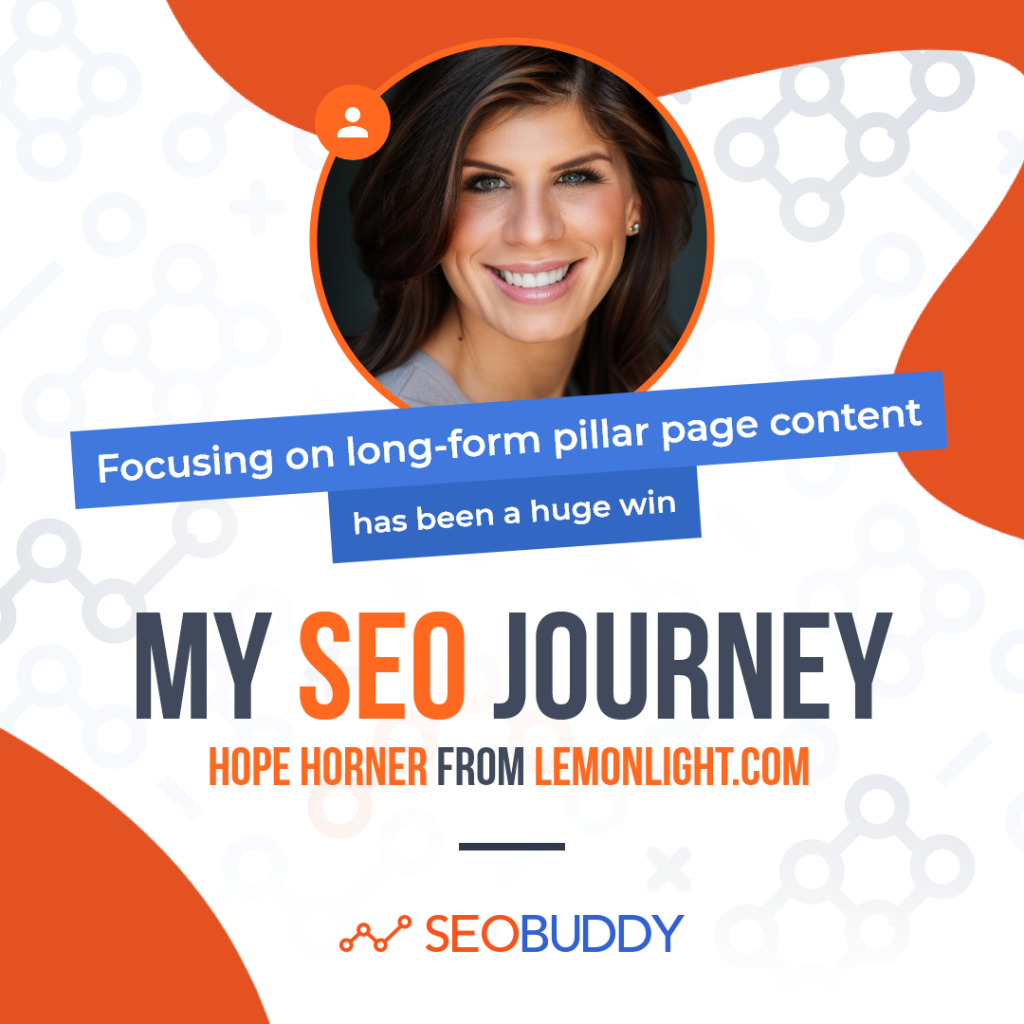 Hello! My name is Hope Horner and I'm the CEO and Co-founder of Lemonlight, a video production marketplace that allows companies to create custom branded content at scale.
Lemonlight's mission is to make content creation easier for every brand on the planet. We do that by empowering brands with innovative tools and connecting them with the world's greatest creators.
Over the past nine years, we've created 20,000+ videos and we've worked with many of the world's top brands and agencies, including Amazon, Facebook, Google, Tesla, GE, Airbnb, and Deloitte.
Our accomplishments have been honored with over 25 prestigious awards, including Inc. 500 for five consecutive years, Entrepreneur 360 for three consecutive years, BuiltIn's Best Places to Work in 2023, as well as numerous creative accolades such as a Viddy Gold and NYX Platinum award.
What's your backstory and how did you come up with the idea?
Growing up in Johnson City, TN, a charming small town in the state's northeast corner, I always dreamt of moving to Los Angeles and starting my own business. At the age of 18, I made the move to LA for college and have stayed there ever since.
In 2008, I embarked on my first entrepreneurial venture when the startup scene in Los Angeles was quite limited. Resources were scarce, and learning to start and run a business without experience was challenging. I persisted through the ups and downs for a few years, gaining some success and many valuable lessons, but it didn't turn out exactly as I had hoped. I spent a few more years working with startups and honing my leadership and entrepreneurial skills.
In April of 2014, I started my third company, Lemonlight, out of a second bedroom with my two co-founders, Daniel Marlow, and Chad Rogers. Lemonlight's mission was to offer small and medium-sized businesses access to high-quality, affordable video content that they could use to advertise their brand online.
At the time, the average cost for a 30-second commercial was $342,000 according to the American Association of Advertising Agencies. It was filled with lengthy creative meetings and customized prices based on the size of the brand. We saw an opportunity to bring transparency to an industry that had long operated in a very opaque world limited to the business elite.
We wanted to validate the market so we built a $12 website on Squarespace, signed up for a free Mailchimp account, and hacked together a rough sales presentation.
We credit that early success to our unique approach of commoditizing video production. We offered a pre-built pricing menu that was affordable to most business owners. After the videos were made, we taught them how to use them as online ads to grow their own business.
Since launch, what has worked to attract more organic traffic?

Our main focus has been to develop a content marketing strategy that focuses on providing informative, engaging, and relevant content to our target audience. We regularly create blog posts, pillar pages, and gated content like webinars and case studies that address the many pain points of video marketing and video production.
Once we established a backlog of valuable content, we started investing more in effective SEO strategies to improve our website's visibility in search engine results. This includes switching our hosting provider to increase our site speed, conducting keyword research to identify our strengths and gaps, and focusing on building high-quality backlinks.
In terms of increasing sales, we have leaned heavily on email marketing efforts. This includes optimizing email lists and nurturing our contacts with valuable content, promotions, and personalized offers. We also use email marketing triggers to send targeted messages to different segments of our audience, often driving traffic back to our website or specific landing pages to increase conversions.
However, we have been increasing our paid advertising spend as of late, focusing mostly on Google and Facebook ads. We've used remarketing campaigns to reach out to users who have previously visited our website, showing them relevant ads to remind them about our services and encouraging them to complete a purchase.
Email marketing has been our main tool for acquiring customer rebuys, as well. We've created personalized and engaging email campaigns to re-engage our existing customers and push them toward starting a membership with us: Lemonlight Pro. As part of these rebuy efforts, we offer exclusive discounts and relevant content that adds value to the customer experience.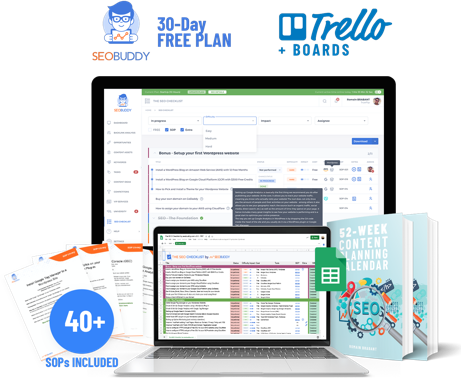 There's more…
Now it's time to discover the other 102 steps that will get more organic traffic flowing to your website. Get the SEO Checklist here.
Want to get a sneak peek of what it looks like?
Enter your email and get a free demo version of the SEO Checklist.
Have you learned anything particularly helpful in your SEO Journey?
Early on, we focused too heavily on organically ranking for the term "video marketing" rather than "video production" We neglected the importance of aligning our content with user search intent. By prioritizing "video marketing" we missed the early opportunity to capture a broader audience looking for content that relates more to our bottom line. Recognizing this, we have shifted our strategy to creating more "video production" content that caters to both educational search intent and the intent to purchase.
As far as good SEO decisions we've made, focusing on long-form pillar page content has been a huge win. By adopting this approach, we've established ourselves as a reliable and authoritative source for people interested in topics around video marketing. We've also done a great job at avoiding spammy keyword-stuffed content. Instead, we focus on producing high-quality, informative content that seamlessly incorporates relevant keywords in a natural manner.

Timing has played a significant role in us achieving success. Sometimes, external factors such as industry trends, algorithm updates, or even viral content have unexpectedly boosted our website visibility and generated substantial organic traffic. While these factors are beyond our control, we've learned to adapt quickly and leverage such opportunities when they arise.
Throughout our SEO journey, we've learned that constantly producing new content isn't always the most effective strategy. Instead, focusing on periodically refreshing and updating existing content can yield significant benefits. By keeping the content we already have updated and relevant, we have been able to further optimize our most engaging content pieces while not overextending our resources to create new, redundant content.
We've also learned the value of quality backlinks over quantity. Rather than pursuing a large number of low-quality backlinks, we've focused on acquiring authoritative and relevant backlinks from reputable sources, which has proven more beneficial in terms of search engine rankings and overall website credibility.
What SEO tools do you use for your business?
SEMRush
We use SEMRush mostly for keyword research and competitive analysis. SEMrush provides extensive keyword data, including search volume, competition level, and keyword variations. This helps us identify relevant keywords to target in our content. In terms of competitive analysis, we're able to identify opportunities for improvement and develop effective SEO tactics based on gaps in our approach versus what our organic competitors are doing.
Surfer SEO
We leverage Surfer SEO by using its content optimization recommendations to create SEO-friendly content, conducting SERP analysis to understand on-page factors contributing to top rankings, and performing website audits to identify and fix on-page issues.
Ahrefs
Ahrefs provides us with extensive data on backlinks, including their quality, anchor text, and referring domains.This helps us analyze our backlink profile, identify link-building opportunities, and monitor our competitors' backlink strategies.

Our website has adopted a thoughtful approach to link-building, primarily focusing on creating insightful and valuable content that naturally attracts links. This approach has proven successful in attracting organic backlinks from other websites, as they recognize the value our content provides to their own audience. In addition to creating compelling content, our link-building strategy includes being open to both submitting guest posts on relevant authoritative sites and accepting guest posts from reputable contributors on our own site. This mutually beneficial approach allows us to expand our reach, tap into new audiences, and build relationships with other industry experts.
More recently, we have implemented a plan of attack that includes identifying competitor gap backlinks and capitalizing on lost backlink opportunities. By analyzing our competitors' backlink profiles, we can discover websites that link to them but not to us, providing valuable insights for outreach and link acquisition. Similarly, monitoring and reclaiming lost backlinks helps us maintain a healthy backlink profile and regain any lost authority. 
What have been the most influential books, podcasts, or other resources?
Hubspot – Content Marketing Lesson: Creating Topic Clusters and Pillar Pages
The course aims to teach learners how to effectively organize and structure their website content to improve search engine visibility and user experience.
The course starts by introducing the concept of topic clusters, which involves creating a network of interlinked content centered around a core topic or pillar. Learners are guided through the process of identifying core topics, conducting keyword research, and developing a content plan that revolves around these topics.
The course then delves into the concept of pillar pages, which act as comprehensive, long-form content assets that cover broad aspects of the core topic. Learners are taught how to create pillar pages that provide in-depth information, addressing various subtopics within the core topic and linking to more specific cluster content.
What's the next step in your SEO Journey?
We will be focusing heavily on our backlink outreach efforts. Also, we will be working diligently to begin organically ranking higher for terms "video production company" and "video production agency." Our strategy will rely heavily on creating definitive, pillar page content around video production as well as our own directory page for the Top Video Production Companies in 2023.
Where can we go to learn more?
https://www.lemonlight.com/
https://www.lemonlight.com/blog/
https://instagram.com/lemonlightmedia
https://www.linkedin.com/company/lemonlight-media