My SEO Journey: Karl Hughes from Draft.dev – How to acquire 5.9k organic visitors and DR37 from scratch in less than 1 year
My SEO Journey is a new series where entrepreneurs and Indie makers will share their honest SEO Journey filled with failure and success, and most importantly proven results. Episode #30 features Karl Hughes from Draft.dev.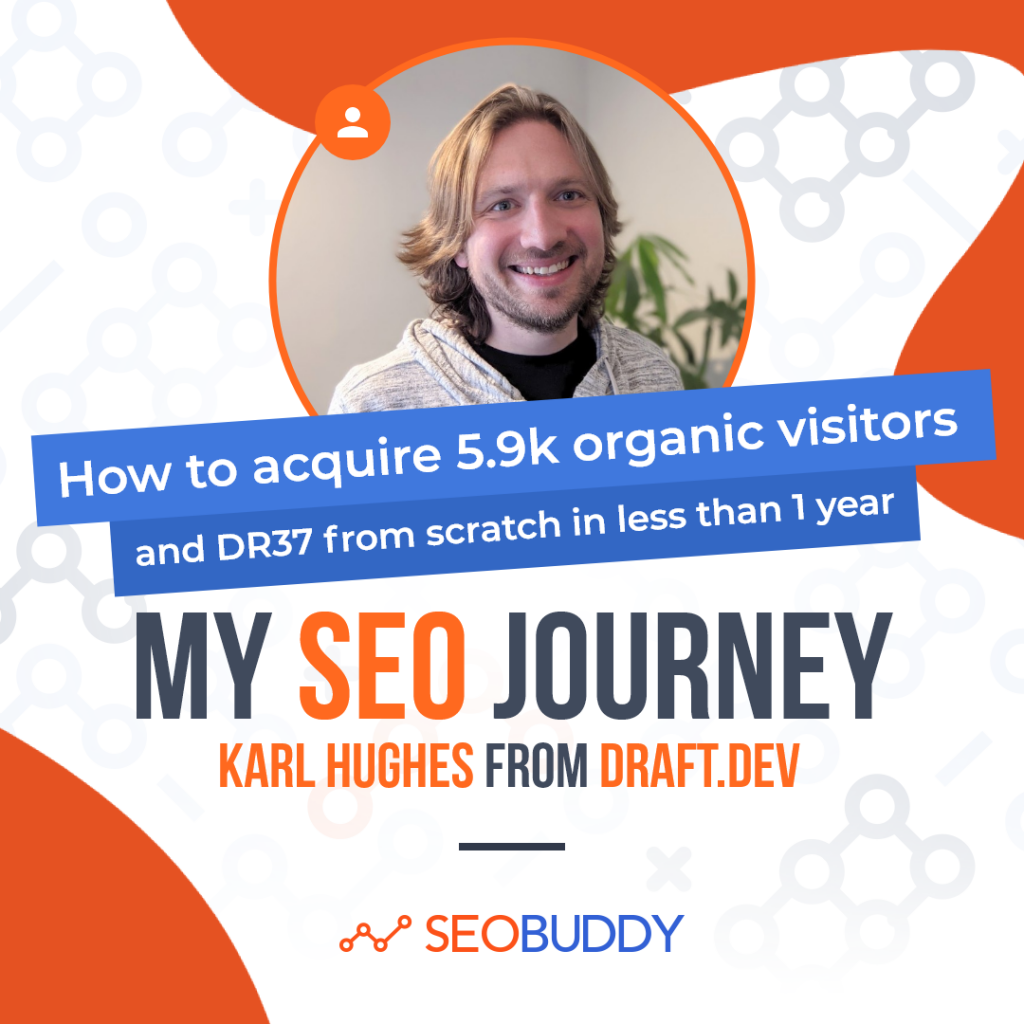 My name is Karl Hughes and I run Draft.dev, a niche content production company focused on producing blog posts and tutorials for companies that want to reach technical experts.
Most of our clients are tech startups who sell a SaaS product to software developers.
Software developers are notoriously hard to market to, but high-quality, educational content works really well. The problem is that most marketing teams don't have the technical expertise to write this kind of content, so that's where we come in.
In order to produce this kind of deep, technical content, all our writers are practicing software engineers. Because they're out in the field doing this kind of work, they can write with a technical authority that typical SEO copywriters just can't.
Our approach has worked really well so far.
We've grown to over 30 clients, 60 writers, and 5 full-time employees in just 12 months.

What's your backstory and how did you come up with the idea?
I spent 10 years as a software developer and eventually Chief Technology Officer, but I always enjoyed writing on the side. The last company I worked for hit a rough spot during Covid, so I decided to transition out and start doing technical writing full-time.
Initially, my plan was to just pick up enough clients to buy some time and figure out what I wanted to do next. I had a few months of savings in the bank, but I have a family to help take care of, so I needed to start making some income soon. Fortunately, within 3 months, I had more work than I could handle, so I started hiring other writers and an editor.
Many of our early clients came from referrals.
I started with my personal network of startup founders, investors, and consultants. They would make introductions and after we did good work for a client, many of them referred us to other similar companies.

I wrote more about how we found our first 30 clients here, but it has almost all been inbound interest.
Since launch, what has worked to attract more organic traffic?
While referrals are fantastic, I wanted to start investing in repeatable, scalable growth channels.
Because we're a content marketing company, it made sense to start investing in content early.
From the beginning, we've used topic clusters to build keyword clusters around topics relevant to our niche. By starting with low-difficulty, moderate-volume keywords in our niche, we started picking up search engine traffic pretty early on.
After a year of publishing one focused piece of content per week, we're just now starting to have sales calls as a result of our content marketing. We're in a very narrow niche, so our traffic isn't incredibly high, but it's been steadily growing over the past year.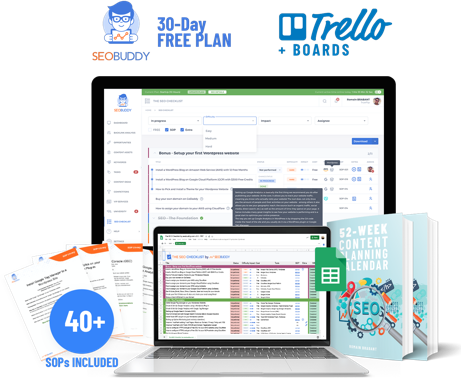 There's more…
Now it's time to discover the other 102 steps that will get more organic traffic flowing to your website. Get the SEO Checklist here.
Want to get a sneak peek of what it looks like?
Enter your email and get a free demo version of the SEO Checklist.
Have you learned anything particularly helpful or advantageous?
We've grown really fast, so the biggest challenge has been hiring fast enough to keep up with demand. I knew this would be a people-dependent business, but I didn't anticipate having 5 full-time employees and over 60 contractors in just a year.
The way I manage this is by tracking my time.
Once a task becomes a 10-20 hour/week job, I start looking to hire someone else to help out. It's a little scary though because sometimes we have to hire before we know we'll have the revenue to make payroll. So far, it's worked and we've been able to save some cash, making hiring in the future a little less scary.
My takeaway from running this business for the past year is that market forces are probably the biggest factor in your company's growth. I didn't know it at the time, but I started this company at a moment when lots of developer tools companies were getting funded and looking to invest in content. I had just the right background and experience to make Draft.dev work, but we were also here at just the right time to serve a lot of market demand.
What platform/tools do you use for your business? (your SEO Tech Stack)
I wrote about this recently on my blog, but to highlight some of my favorite tools for content management and SEO:
In addition to promoting each piece of content on social media and in newsletters and building internal backlinks, we have worked to intentionally build inbound backlinks too.
Our backlink profile has tripled in the past month thanks to three focused tactics.

First, we do guest blogging on high-traffic, relevant blogs.
Our niche is technical content and because technical writers are so hard to find, there are a lot of places that accept (or even pay for) guest posts. These articles also give us good material for social media and our weekly newsletter.
Next, we respond to pitches on Help a Reporter Out.
I have an assistant who helps sort through and respond to them, but this has gotten us a lot of high-quality backlinks to our home page.
Finally, I've been doing some public relations work. I've been on a few good podcasts in our niche and was recently featured in a piece on TechCrunch.
I'm starting to look at PR services to help scale this though because it's really time-consuming.
What have been the most influential books, podcasts, or other resources?
The Ahrefs blog is one of the best resources for learning about SEO and content marketing.
I also subscribe to a lot of the industry-specific blogs and newsletters out there so I can see what topics are being talked about and which companies hold influence in our industry.
I tend to learn best by doing hands-on work, so I don't usually buy courses or books.
Instead, I try things out and write mini case studies about what I've found (like this and this).
Where can we go to learn more about you?