My SEO Journey: Jozua Smit from monetizemore.com – How I use Ahrefs to find low competition long-tail keywords that generate traffic quickly.
My SEO Journey is a new series where entrepreneurs and Indie makers will share their honest SEO Journey filled with failure and success, and most importantly proven results. Episode #12 features Jozua Smit from MonetizeMore.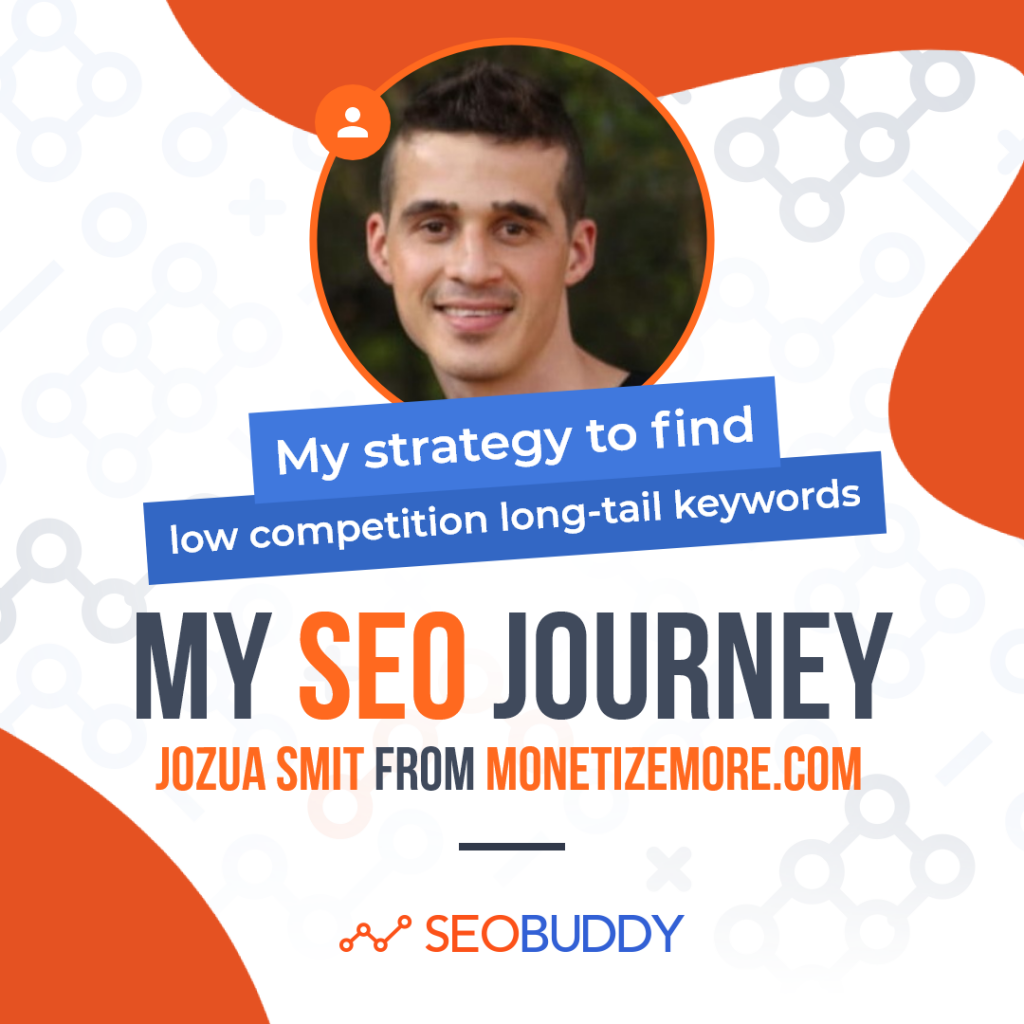 Ahrefs has always been our favorite SEO tool at MonetizeMore. It's great for keyword research, backlink research, analyzing SEO issues, and much more. Here, I'll show you how to find low competition keywords that you can rank for easily in Google.
Important note: The higher your domain authority, the easier it is to rank for any keyword. MonetizeMore has a DR (Ahrefs metric) of around 60+.

Does that mean we can target any keyword no matter the competition and rank for it overnight? No. However, it does give you some advantage as to ranking for low competition long-tail keywords.
The process in a nutshell:
Step #1 – Reverse engineer popular authority websites within your niche and discover keywords they are already ranking for.
Step #2 – Focus on long-tail keywords that cover a specific topic or subtopic. It could be a single word keyword, but more often than not, it contains 2-4 words or even more.
Step #3 – Check keyword competition in Ahrefs using the keyword difficulty (KD) score as a measuring tool and checking competition in the SERPs. Generally, the lower the KD score, the easier it should be to rank for a keyword, but it's not guaranteed. This includes how many backlinks competitors have, their DR, etc.

Step #4 – Create content focused on the long-tail keyword and optimize the page accordingly (on-page SEO). This includes putting your keyword in all the normal SEO-specific locations such as the heading, SEO title, meta description, body, alt text while creating a valuable piece of content that provides value to users.
Following this method, your success will depend on your ability to discover low competition long-tail keywords and the authority behind your own site or lack thereof from competitors. It might take a few tries before you get it right, but it's a relatively quick and easy way to rank in top positions within Google and generate traffic.
What about backlinks?
It all depends on the competition. I would follow steps #1-#4, publish the article, and give it a few days up until 1-2 weeks to see where the keyword ends up ranking. If you have a high enough DR and your targeting is correct with a valuable on-page optimized article, you could even land on page 1 of Google without backlinks.
For an additional boost, you could consider doing some internal linking from relevant blog posts within your site that already have backlinks pointing to them. Outreach for external backlinks will also help.
A live example:
Step #1 – Reverse engineer popular authority websites within your niche and discover keywords they are already ranking for.
For this example, I've used the Google AdSense forum.
Enter the URL and look at all the keywords ranking via the forum.
Go to Ahrefs > enter the URL in the Site Explorer > https://support.google.com/adsense/ > click on Organic Keywords > organize the keywords in terms of volume.
Note: You can use many different kinds of sorting options here. You can even sort or filter out keywords that have a KD of less than 5, for example.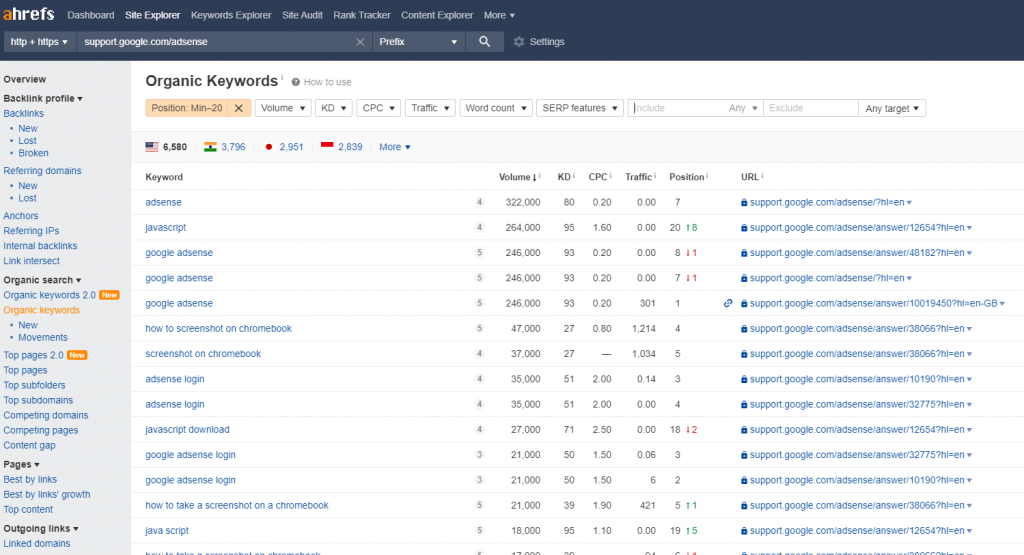 Step #2 – Focus on long-tail keywords which cover a very specific topic or subtopic.
At this point, you'll need to start going through all the keywords the site you are reverse engineering is ranking for.
The keyword I decided to go with was "AdSense rules." The main keyword gets about 100 searches, and there is also a variation of "Google AdSense rules" that I can target within the article that gets about 40 searches.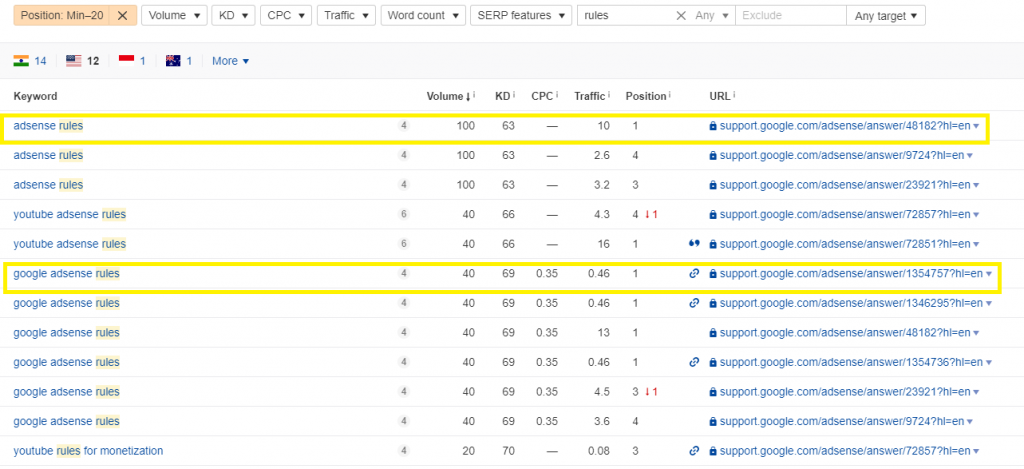 With this method, it's not always about going after huge search volumes. It's about ranking relatively quickly with very little effort and cost while generating targeted traffic as soon as possible.
Step #3 – Check keyword competition in Ahrefs.
To check keyword competition, all you have to do is click the SERP button next to the keyword.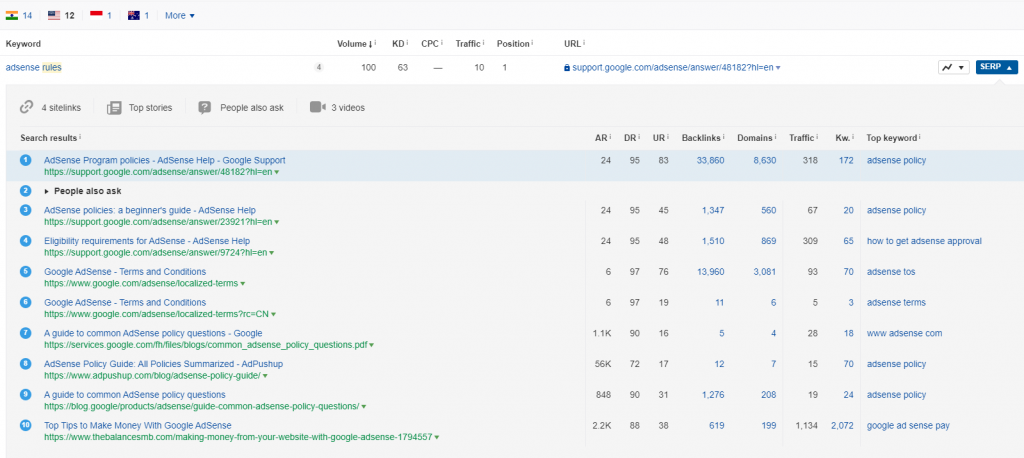 At first glance, the competition is actually very high for this keyword. There are mostly Google properties ranking on page one with a few other competitors with DR ranging 70-90. It's not the best keyword to go after, as I would normally want to see a lot less competition (lower DR, low backlinks, low KD, etc.).
However, I realized that many of the articles ranking weren't covering the topic. They were mostly talking about policies, terms, and conditions, and some were even as generalized as "making money with AdSense". These things are all related, but I still felt if I created an article specifically about AdSense rules, I could stand a chance of ranking.
Step #4 – Create content focused on the long-tail keyword and optimize the page accordingly.
At this point in time, we created an article covering the keyword "AdSense rules" over here, added as much information as possible, optimized it for SEO, and published the article. These kinds of articles don't have to be thousands of words. The article was around 500 words when we published it.
Just as long as you provide real value, you're good to go, in my opinion.
Results
The article was published on 5 March 2021, and at the time of writing this article, and I've seen it ranking on page 1 over the past few weeks. This was all done with no external backlinks and simply covering a specific long-tail keyword that was underrepresented in the SERPs. However, currently, Google is a little confused as there is an older post about AdSense ranking for the keyword "AdSense rules" at #11.
The blog post has generated about 17 visitors for the month of March so far.

To give it some additional power, I've been interlinking to the article within the website over the past few weeks.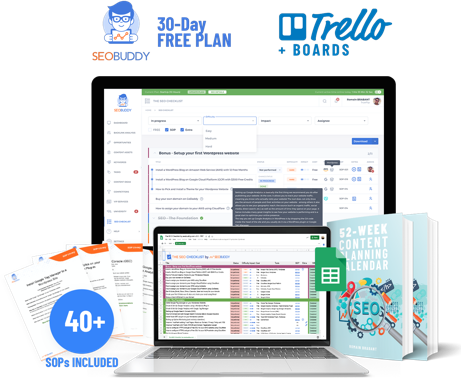 There's more…
Now it's time to discover the other 102 steps that will get more organic traffic flowing to your website. Get the SEO Checklist here.
Want to get a sneak peek of what it looks like?
Enter your email and get a free demo version of the SEO Checklist.
Closing thoughts
You might be thinking that the article only generated 17 visitors, and there are some ranking issues, so what's the point in following the method? The results for this article weren't the best, but things change.
Over some time and with more internal linking, the correct article can just as well rank on page 1 of Google. I can almost guarantee that if we got one backlink pointing to the article, it would show up on page 1 in no time. (That just happened with this Guest Post 😋)
The possibilities with this method are endless.
There are tons of underrepresented, low competition long-tail keywords that you only need to cover in detail and get one or two backlinks for (sometimes none), and you'll get free traffic for months or maybe even years.
Follow this method on a regular basis, and you'll get a lot of free targeted traffic over the long run.