My SEO Journey: James Rose from contentsnare.com – Building Relationship is our best link-building hack
My SEO Journey is a new series where entrepreneurs and Indie makers will share their honest SEO Journey filled with failure and success, and most importantly proven results. Episode #9 features James Rose from Contentsnare.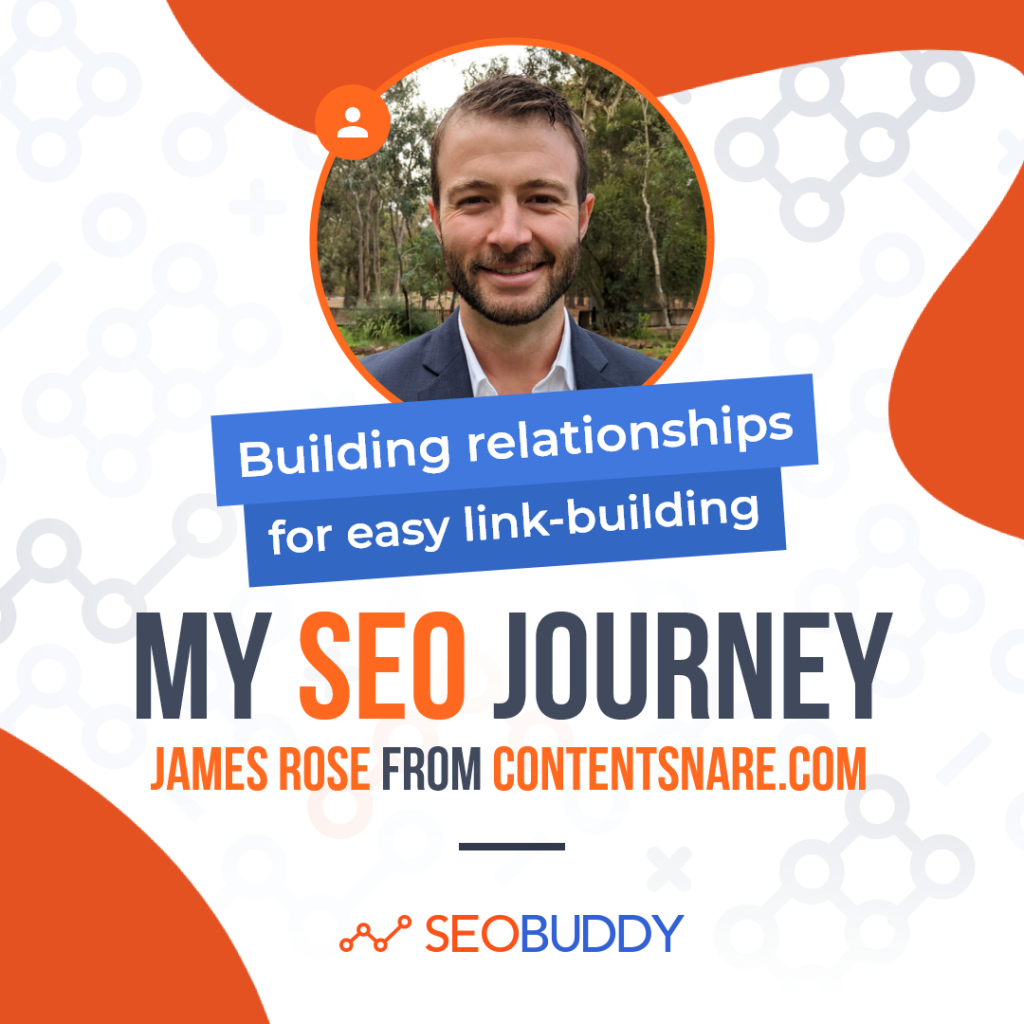 I'm James – but most people call me Jimmy. I'm a founder of Content Snare, a kind of client portal that helps businesses collect content and documents from clients.
SEO and content marketing has always been my favourite marketing channel. My first foray into online business in 2009 was building websites, ranking them in search and making an income from ads.
We have since built 3 software products (Chimp Rewriter, Silver Siphon and Content Snare), and SEO has been the main channel.
It's such a high "bang for your buck" marketing channel. SEO continues to drive traffic long after you've done the work, as long as you continue to build up your domain and pay attention to the right things.
Building a real business
As you probably know, SEO isn't for people who want results quickly.
Our SEO journey has probably been even slower than usual. We're building a business for the long term, not just trying to rank at all costs.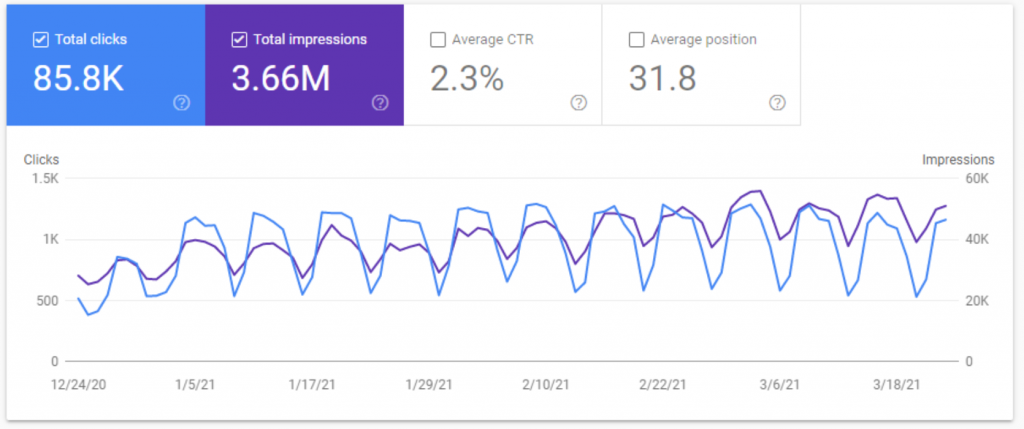 Very little of what we do is scalable, and that's fine. Over time, it's building a domain and website that makes it fairly easy to rank for new terms, because Google likes it.
Out of the box keyword research
We're in a software category that people don't really search for. It's not like a proposal tool, where you know loads of people are searching for "proposal software".
All of our use-cases have little volume. For example, very few people are searching for "get website content from clients." So we've had to look far and wide to find keywords that are worth ranking for.
Even then, most of our traffic comes from the most random, longtail things that people type into Google – they don't even show up in typical keyword tools.

Given that you're here, I assume you know a little about keyword research already, so I'll just briefly go over what has worked for us.
Researching other sites
We created a list of just about every tool, blog, website or community we could find that shared our target audience. I don't mean competitors – I mean sites where their audience are potential customers of yours. So if your target audience are YouTubers, there are plenty of sites out there aimed at helping YouTubers grow their channel etc
Then we ran every single site through Ahrefs to find all their top keywords. Those keyword lists were scoured to find anything that aligned with what we do, so we could write a blog post about it.
Truth be told the effort that went into this didn't turn up as much as we hoped. But it does get you thinking in different ways that can help you come up with new ideas.

When you see what content others are writing about, it jogs ideas.
While it didn't generate a lot of keywords for us, I think this is an amazing first step for many other businesses. It helps you learn about the audience as well as generate keyword lists.
Asking your audience
When people sign up for our product, they get a 14-day trial. We offer to extend it to 21 days if they tell us how they heard about us. If they choose "Google", we ask what they typed into search.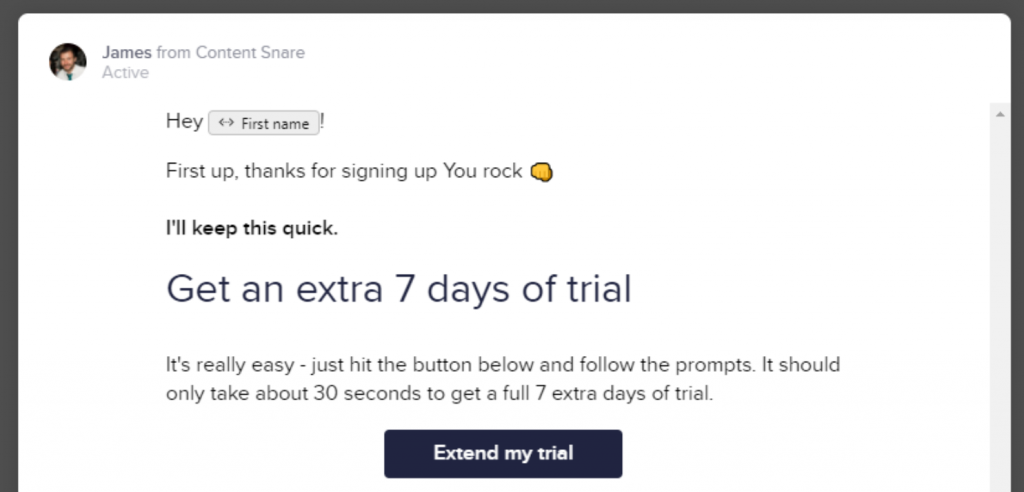 We also regularly talk to our audience on Zoom, and send surveys with open-ended questions, asking them what they use our product for.
Both of these have been a goldmine for the actual words people use to find our product – including many we had not thought of. You'd be surprised how many different ways there are of saying the same thing.
Brainstorms
We also spent some time just listing out tons and tons of things that our audience might be interested in.
I found it best to think about an entire process for something. So with that YouTube example again, start from the very beginning of what someone does on their YouTube journey.
They want to start a channel. They might search "how to start a channel"
The need to record a video. Maybe they'll search for "camera gear for recording videos"
The need to edit the video. They could search for "editing videos for YouTube"
And so on.
Walking through every step of a process can spit out a huge list of ideas.
Then you push every single one of them through a keyword tool to see if it comes up with any related ideas.
Creating content for those keywords
We haven't done anything extraordinary here, other than just writing good content, consistently. You don't need yet another guide on writing content.
But this was the process for getting to where we are today with content production:
Phase 1: I wrote & edited everything myself. Probably for at least 2 years. This isn't difficult if you choose topics that you know a lot about.
Phase 2: We hired freelance writers for some content that needed research, or just to take some of the load away from me.
Phase 3: We hired an internal writer
Phase 4 (now): We have an internal writer, use freelancers occasionally and I write some as well.
We've also done video content where it makes sense. For some keywords you might end up with both your post and video ranking on page 1, taking up a lot of real estate on that page.
Better link building
Of course, any SEO campaign isn't complete without getting some links to your content. 

Unfortunately, this is the least scalable part of this post.
As I mentioned earlier, we are just building a long term business, and doing things that help us build a real, authoritative domain.
Creating relationships
For a long time it has been a part of my weekly routine to:
Keep in contact with people in my network
Add new people to that network
Relationships are everything in our business. They are how we were able to initially launch our product, how we've built most of our links, and how I was able to pre-sell my Zapier course without even having an audience for it.
They have also resulted in some of our best links from some insanely high authority sites – ones that prompted an SEO consultant to say to me "How the F did you get a link from them?"
It's easy to get a guest post on someone's site, get mentioned in their posts, or go on their podcast if you know them personally.
My relationships are built by:
Meeting people at conferences and events (by far the best way)
Getting involved in Facebook groups and communities and helping people
Asking people to come on my podcast – leading with value by putting them in front of our audience
Asking for introductions from people I know
Sometimes buying gifts for people – when it makes sense. This is hard to do well – I learned a lot from reading Giftology and gift guides
Go on podcasts
This is probably my favourite link building method. It:
Only takes maybe an hour of your time
Creates & builds relationships, feeding back into the section above
Puts you in front of a new audience
Gets links from great websites, which are often syndicated in so many places
I interviewed an SEO guy once who said "pretty much all I do these days for SEO is go on podcasts."
It's pretty powerful.
Getting on podcasts is fairly simple if you're already doing part 1 – building relationships.
If you have built a name for yourself in communities like Facebook or Twitter by helping others, then it's easier to get on podcasts. If the host recognises your name because you helped them with something or they've seen your name pop up before, they'll be way more likely to accept your podcast pitch.
On that note – do the pitching yourself. I host a podcast myself and basically every outsourced pitch I get sucks and is immediately deleted. When I receive a message from the founder of a business who has clearly done their research, they are almost always accepted.
Good guest posts
We don't do a lot of this, so we make them count.
I'm not just pitching anyone to write for them. Instead I write guest posts for:
Friends who are building awesome businesses
Software companies that I'm a partner with
Great sites that I think are worth writing for (hello SEO Buddy!)
And guess what… many of these opportunities come from building relationships. You can just go through your contact list and ask a couple of people and if you've done it right they'll almost definitely say yes.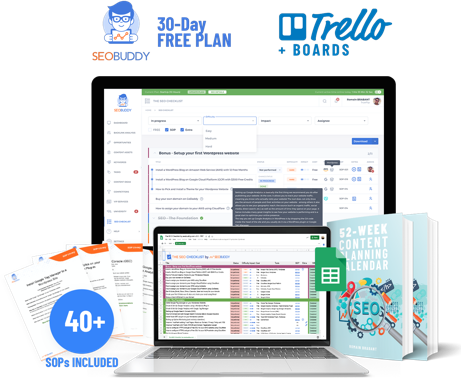 There's more…
Now it's time to discover the other 102 steps that will get more organic traffic flowing to your website. Get the SEO Checklist here.
Want to get a sneak peek of what it looks like?
Enter your email and get a free demo version of the SEO Checklist.
Wrap up
None of the methods above are super scalable or even outsourceable – a lot of my own time has gone into this. But you'll notice that for almost everything mentioned, there are benefits outside SEO.
Keyword research helps us understand our audience better.
Relationships help us get word out about new products, get our content shared and even get advice over random Zoom calls.
Podcasts help build authority and get in front of new audiences.
The SEO is almost a by-product.