My SEO Journey: Jacob Montoya from fitsw.com – The three big things we have learned, start a blog, know on-page SEO, and build links!
My SEO Journey is a series where entrepreneurs and Indie makers share their honest SEO Journey filled with failure and success, and most importantly proven results. Episode #64 features Jacob Montoya from FitSW.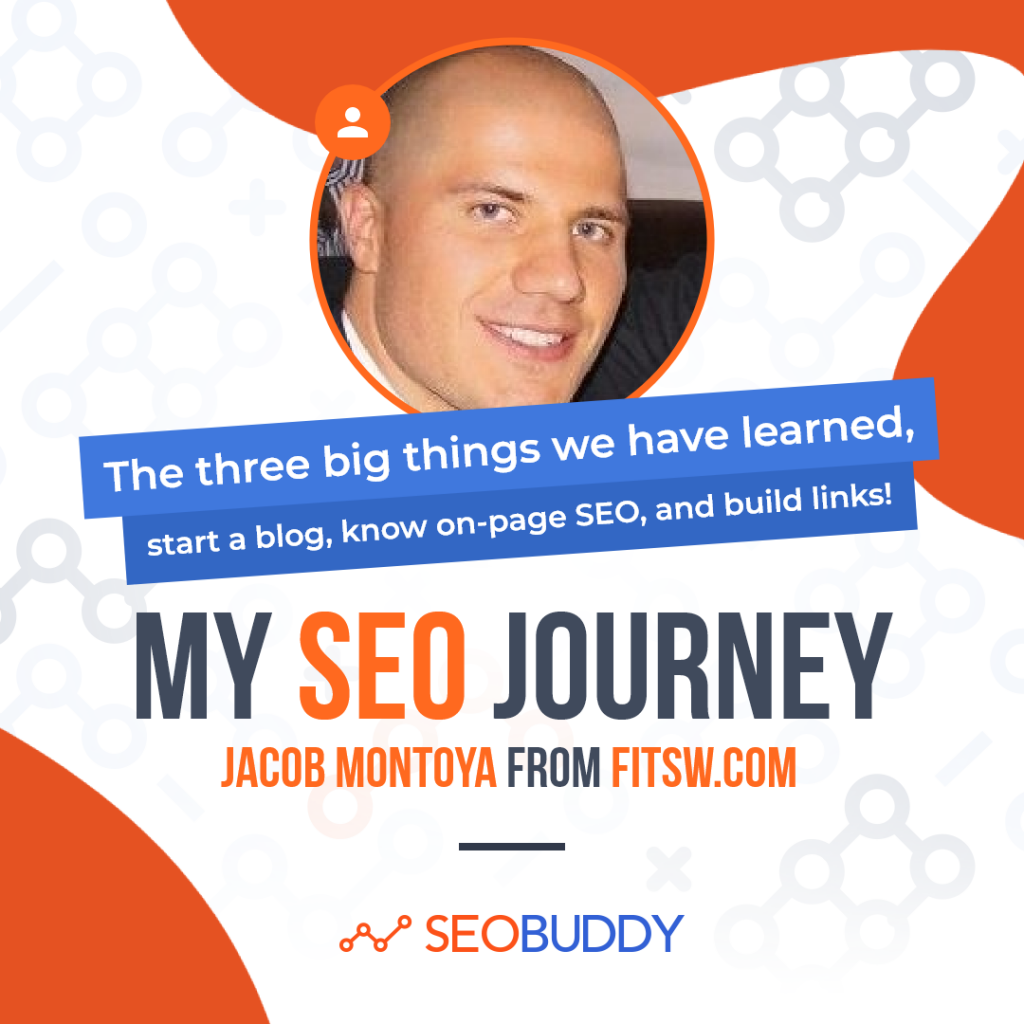 I'm Jacob Montoya and I am the founder of FitSW and related site FindTrainGain.
FitSW is a software platform for personal trainers and gyms. We help them run and grow their fitness businesses. Our software improves efficiency and organization through automation that allows fitness professionals to manage clients, create fitness plans, and track client progress all in one place. We also provide trainers with the opportunity to add new revenue streams as they sell their services on our platform.
We have helped over 30,000 personal trainers, studios, and gyms manage every aspect of their businesses. We enable personal trainers to create workouts, track progress, plan meals, accept payments, manage schedules, and more all through our iOS, Android, and web applications.
The trainer's clients use the app to interact and collaborate with their trainer as they progress through their fitness or nutrition plans. We operate on freemium software as a service model. Our mission is to provide exceptional and simple-to-use software that empowers fitness professionals worldwide to grow their businesses.
FindTrainGain is a new related site that helps people looking for a personal trainer or live online classes.
Clients can search for remote trainers or in-person trainers near them. They can search for any specialty, initiate a conversation, and even purchase subscriptions, training packages, or sessions from the trainer right there on the website.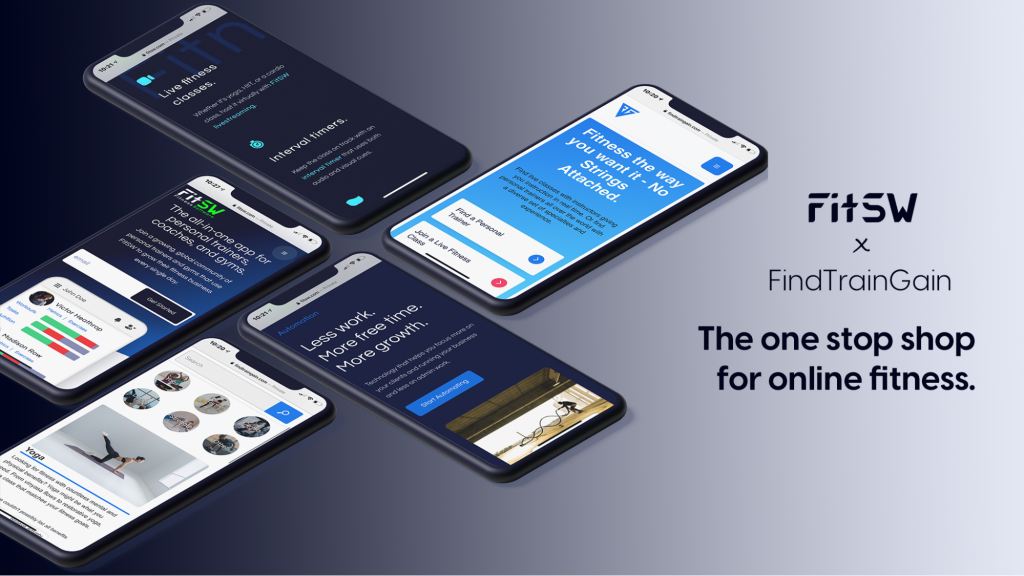 What's your backstory and how did you come up with the idea?
I have always been interested in fitness and technology.
I was a personal trainer during college and saw a need for something to plan workouts and track progress digitally. However, at that time smartphone technology wasn't around to make something like this convenient.
I didn't think about the idea much more until I was doing my MBA.
During my MBA, I took an entrepreneurship class where we were able to work on a project where we would create an MVP and market it.
Since I was still interested in the intersection of fitness and technology and smartphone technology was prevalent at this point, I decided to pursue my original idea. So I built the MVP, mentioned it on a couple of personal trainer forums, and some people actually used this free version.
Since I had a job lined up after my MBA, I didn't work any further on FitSW and just left the MVP out there. After a while, I began to get feature requests and saw that there could actually be something here.
So in 2016, it became a real side project.
I began spending some time on it and developing it into a real product. I started charging a monthly subscription for it – when I had many people quickly sign up for the monthly subscription when I offered it, I decided it was something that I should try full-time.
I launched it as an official business in March 2017.
It wasn't the best time to start a business personally but I felt like I had to give it a shot.
My wife likes to say, "Yea, he decided since we just had our first child and we were living in the most expensive area in the country (SF Bay area), that it was an excellent time to leave a great job to pursue a start-up idea."
Luckily for me, she was really supportive despite the risk.
Since launch, what has worked to attract more organic traffic?

My first initiative to grow organic traffic was to talk about our product on forums.
It's important not to do too much or else you will seem spammy. No one wants to see multiple posts about the same product. Once we had already had a few customers this wasn't worth it because you can only reach so many people this way.
The next thing I made sure to do was to create a blog on our site.
Early on, I didn't have very much time to write since I was busy doing development, but I used the blog as a way to share new features that we had built.
As time went on, we were able to bring on a digital marketer that could write about topics that would be interesting to our user base. That way we don't have a blog just filled with feature updates.
Additionally, we built tools that personal trainers and fitness professionals would find valuable even if they weren't paying subscribers. One example of this is our exercise database which is a filterable, searchable list of ~1000 exercises complete with demonstration videos.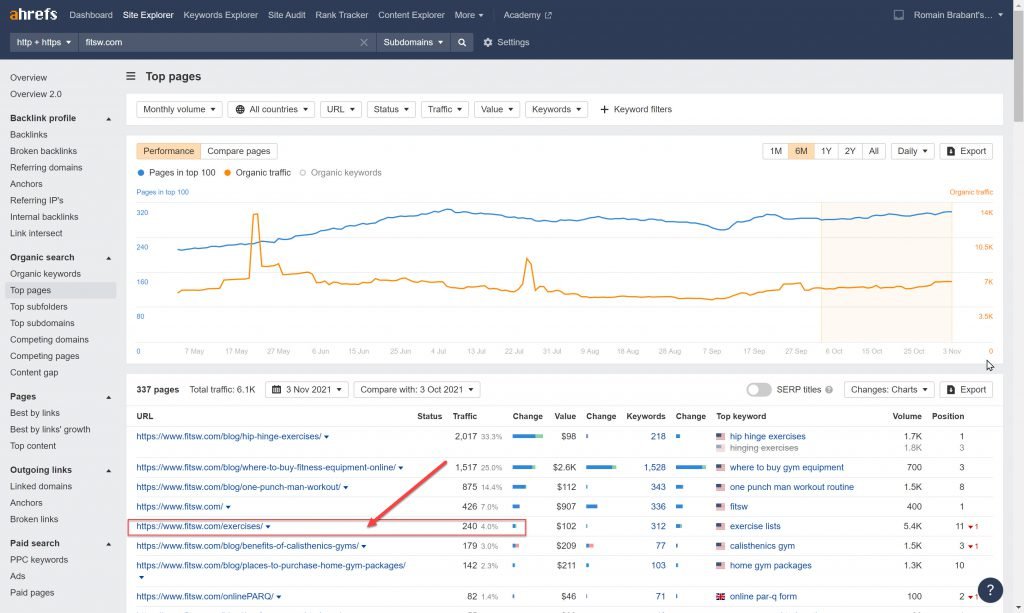 It's a great tool for trainers and anyone interested in fitness and so people often discover us this way.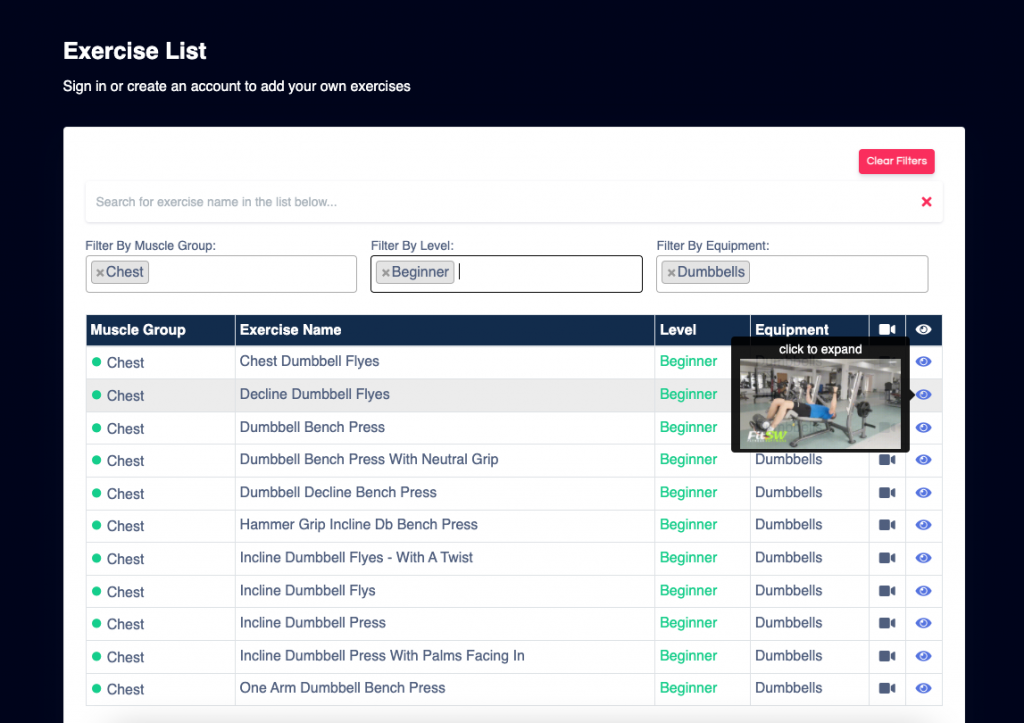 Have you learned anything particularly helpful in your SEO Journey?
The three big things we have learned that have been particularly helpful in our SEO journey happened at very different times. The first thing we learned came early on and it was just about how important generating written content on a blog is.
We were able to get by early on without much other marketing other than posting on our blog about our software features, updates, and some thought-leadership articles. Some good examples of our thought leadership articles are Hip Hinge Exercises and the One Punch Man Workout. Both of these involve topics that are interesting to our target users plus we added our own little twist to add some general appeal.
The next big thing we learned was how much of a difference on-page technical SEO was.
About a year after focusing on content, we also began to focus on on-page technical SEO. It was a lot more work than we expected but once we had it in place, it didn't require much more thought until we did a website redesign.
After we had built up a lot of content and had spent time on on-page technical SEO, it was time for another SEO aspect to focus on. The past few months we have placed focus on link building which we had not done at all previously.
It has been helpful in not only getting our name in front of a more diverse population but it has also helped our SEO significantly.  We've learned how important it is to focus on all three of the above and wish we had had the bandwidth to focus on all from the beginning.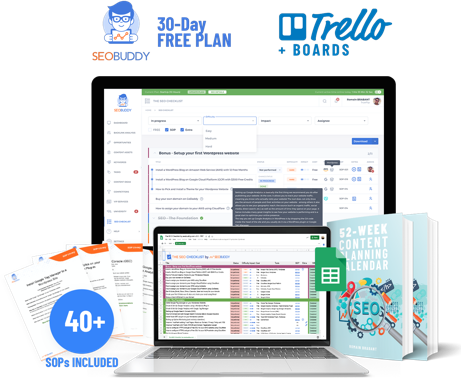 There's more…
Now it's time to discover the other 102 steps that will get more organic traffic flowing to your website. Get the SEO Checklist here.
Want to get a sneak peek of what it looks like?
Enter your email and get a free demo version of the SEO Checklist.
What SEO tools do you use for your business?
Our early digital marketing team was newer to the industry and one tool that was really helpful for us was cobomba. It is an AI-powered content marketing engine that was able to guide our digital marketer with content recommendations that improved content relevance, discoverability, and value.
It really helped our team generate excellent content and improve our SEO.
We also use tools like SpyFu to research competitors and keywords.
Yoast SEO and Ahrefs have also been helpful to us as we write content and research domains. 
As mentioned we really only started focusing our efforts on this in the past few months.
However, we have recently focused heavily on asking to post guest articles on other sites. It is a lot of work to find ideal sites to make these requests to and spend the time to contact them. A lot of the time you won't even get a response.
However, it is a numbers game and if you just spend time on it, you will eventually see results.
We have also reached out to others in our same space in order to form a partnership and the first step in any partnership we initiate is having them mention us or us mentioning them online.
We do try to stay away from too many reciprocal links so instead, we will ask someone to link to us and in exchange, we will give them free access to our software or give them a shout on social media.  
What have been the most influential books, podcasts, or other resources?
We have really gravitated to online resources for our learning. The SEO know-how sites that stand out online must be doing something right to have risen to the top of the online SEO space.
We love neilpatel.com and have also gained many insights from moz.com.
Where can we go to learn more?