My SEO Journey [Pro Edition]: Kshitij Chaudhary from dintellects.com – Create content that addresses the searcher's pain point
My SEO Journey [PRO Edition] is a series where professionals of the SEO Industry, Digital Marketing, or Web Design, share their honest SEO Journey filled with failure and success, and most importantly proven results. Episode #87 features Kshitij Chaudhary from DIntellects.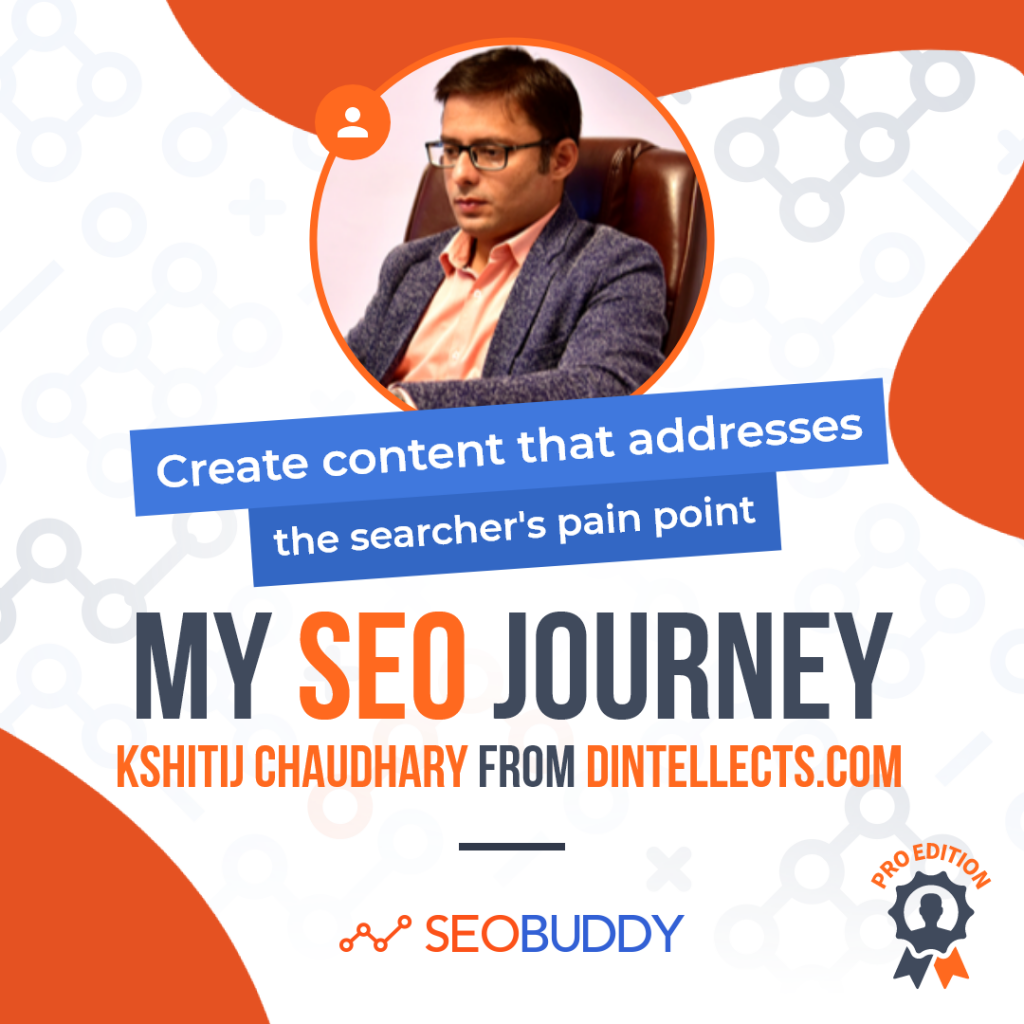 I'm Kshitij Chaudhary or KC to my American clients. I own DIntellects, a digital marketing agency. We provide complete digital marketing solutions to companies all across the United States. Inbound marketing and local SEO are two of our main specializations. We also collaborate with many agencies in the United States as a white label marketing partner. We've had a lot of success providing white label services and establishing long-term relationships with our US client agencies.
What's your backstory and how did you come up with the idea?
In 2009, I started as an SEO in Pune.
Following that, I moved on to digital marketing and learned its various aspects.
In my previous employment in Pune, I worked for a company that was a part of the WSI network, one of the world's largest digital marketing networks. WSI operated multiple franchises across the globe and transacted a significant amount of business internally.
So, if you have a team to work on the projects, you've had ready-made clients in other franchises with clients but no team.
However, the problem with WSI was that their membership fee was too expensive, especially for early birds.
I got the concept for white label services from there.
Dintellects was founded in 2017. Initially, we worked for clients based in the United States who were in various industries. But, like other early-stage business owners, I was compelled to manage a wide range of responsibilities.
Housekeeping, project delivery, quality assurance, team planning, sales, and business development are just a few examples.
Another problem was finding good people to work with.
However, by training the people we already have, we gradually overcame all of the obstacles. We began to expand steadily.
Then, many digital marketing agencies from the United States approached me and requested some resources from our team to work on their clients' projects. Following that, I recalled the WSI process, and we started providing white label digital marketing to marketing agencies in the United States.
Dintellects started offering white label services in 2019. Since then, we've developed great relationships with many agencies in the United States, and we continue to achieve excellent results for their clients on their behalf without revealing our brand.
We optimized our white label engagement process to ensure that we could build long-term relationships with our clients.
I discovered that the issue I was having at the time with handling all of my official duties and not having enough time for business development was a widespread challenge for all early-stage businesses. As a result of our white label services, our agency clients could outsource project work to Dintellects without their clients being aware of our existence.
We allowed our customers to concentrate on their business's growth and sales while taking care of all project deliverables.
Since they began working with us, our clients have been able to focus on their businesses without worrying about hiring, managing teams, or purchasing hardware. We offered them white label services at a reasonable price, allowing them to save time and money that they can now spend on sales and business development.
Since launch, what has worked to attract more organic traffic?
We've primarily relied on SEO and content strategy.
For some white-label digital marketing-related keywords in the United States, we rank in the top three positions. We've focused on creating content tailored to the customer persona (something most Indian businesses don't do; they still rely on keyword-based blogging) and building links through guest blogging and business directories.
We started by building pillar-cluster pages and landing pages for White label digital marketing.

With the help of pillar cluster pages, we were able to produce a substantial amount of on-site content and create solid internal linking. We also designed a service-based landing page for a "White label digital marketing agency."
We gathered all popular content about white label digital marketing from top-ranking competitor's sites before creating pillar cluster pages. The information was then separated into three parts: awareness, consideration, and decision-making.
We defined the content flow into pillar cluster pages once we segmented the material. The basic concept was to create a one-stop source for all things related to 'white label digital marketing.' We uploaded the content to the pillar cluster model and double-checked that most pages were interlinked and that the pillar and its cluster pages had back-and-forth internal links.
Then we started building links. Guest posting and business directories were the mainstays of our marketing strategy.
We did three things in order to get guest bloggers to write for us.
All guest blog connections to key competitors' websites were extracted.
Looked for niche-based websites that accept guest blogs.
Sites having a high website traffic (DA) of 75 or more were chosen as a target.
We also looked at some infographic and web2.0 publishing options.
For web 2.0 promotion, we created profiles on sites like medium.com and livejournal.com, and published regular content on these sites.
The basic concept was to claim all of the major competitors' backlinks and then build more links from niche and high-DA sites.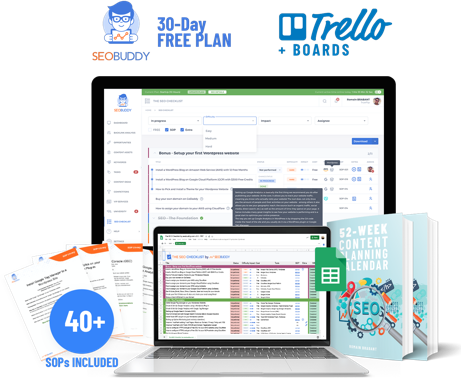 There's more…
Now it's time to discover the other 102 steps that will get more organic traffic flowing to your website. Get the SEO Checklist here.
Want to get a sneak peek of what it looks like?
Enter your email and get a free demo version of the SEO Checklist.
Have you learned anything particularly helpful in your SEO Journey?
Yes, we produced content that addressed our audience's problem areas. After conducting thorough buyer persona research, we created content that addressed the different stages of the buyer's journey and addressed their pain points.
It's important for creating content that addresses the searcher's pain point, as well as to understand the user's buying stage.
For example, if the user is looking for more information and attempting to learn more about white label services, showing him a landing page that discusses how to offer white label services may not be effective. He's not ready to hire an agency yet, but he wants to know how white label services might help him and what to look for before doing so.
This is why it's important to develop content that caters to different stages of the buying stage.
You should aim to generate leads during each stage of the purchase process by tapping into buyers' thoughts.
An eBook, for example, can be quite beneficial to a buyer during his research process. As a result, we created an eBook that serves as a thorough guide to white label digital marketing. We gathered personal information, like email addresses and phone numbers, as part of a free ebook download. We then launched a lead nurturing email automation campaign, which consisted of a series of six emails that guided customers from the research stage to the decision-making stage.
The user was educated on what white label services are and how they benefit an agency owner like him in the first couple of emails. We delivered information like "how to find the proper white label partner for your business" in the next couple of emails, which were targeted consideration stages. The last two emails were promotional emails that highlighted Dintellects' unique selling points, such as client testimonials and our processes.
What SEO tools do you use for your business?
We used several tools for marketing. Here are some of the most widely used tools with their purpose
SERankings – For rank checking and competitor analysis
SEMRush – For backlinks audit and competitor analysis
Agency Analytics – We created a reporting dashboard that enabled us to track the progress easily. Agency Analytics is probably the most efficient reporting tool and easy to use. It offers integrations from various tools that enables you to bring your entire marketing effort and one place and track the performance very easily.
Bright Local – We used it for creating local citations and NAP optimization
Active Campaigns – Used it for lead nurturing and email automation. We replaced our website form with Active Campaigns form and pulled all lead data into Active Campaign and nurtured the leads through a series of a drip campaign
Outranking.io – This is a very handy AI writing tool. This tool helped us to prepare the content at a much faster rate without hampering the quality. Since we mostly relied on guest blogging and web 2.0 content promotions, we needed a lot of content. This tool enabled us to produce content at a faster rate so that we could do more content promotion and build high-quality links.

We mostly used competitor backlink data, guest posting, company listings, and web 2.0 for link building.
We extracted competitors' backlinks and claimed all of the links they possessed. In addition, we created some high-quality connections from nice guest sites with high DA.
We designed link building so that 30% of links came from anchor text containing our targeted keywords, 40% came from brand names, 20% came from naked URLs, and 10% came from generic terms like click here, visit website, and so on.
We also looked at the competitors' anchor text distribution and devised a similar strategy.
Within four months, our home page authority increased from 10 to 38, and our DA increased to 20+.
What have been the most influential books, podcasts, or other resources?
The Elephant Catcher – At the start of my entrepreneurial adventure, this book was handy. It taught me how to find major clients and train my team to do their jobs.
As I previously stated, I was responsible for most of the office work at the outset. I recognized after reading this book that I needed to automate the process and make the team members more productive in their work. Processes are what allow an organization to grow. Following that, I tried to identify a smooth working method that would enable us to work more efficiently.
What's the next step in your SEO Journey?
I want to improve my bench strength as well as my training methods. We need to deliver work that meets the standards of the United States, not India, since we are offering white label services to corporations in the United States.
I also need an experienced team to manage any new tasks our client-agency sends our way. So, to maintain a positive relationship with our clients, we must build bench strength.
To expand and adapt to new trends, a constant training process is also necessary. So I'm hoping to enhance both of these areas by creating a more effective training process.
Where can we go to learn more?
www.dintellects.com
https://dintellects.com/white-label-digital-marketing/
https://dintellects.com/all-you-need-to-know-about-white-label-digital-marketing/
https://dintellects.com/the-ultimate-guide-to-the-white-label-seo/