My SEO Journey: Katie Keith from barn2.com – Eliminating randomness in SEO content is an ongoing journey
My SEO Journey is a series where entrepreneurs and Indie makers share their honest SEO Journey filled with failure and success, and most importantly proven results. Episode #86 features Katie Keith from Barn2 Plugins.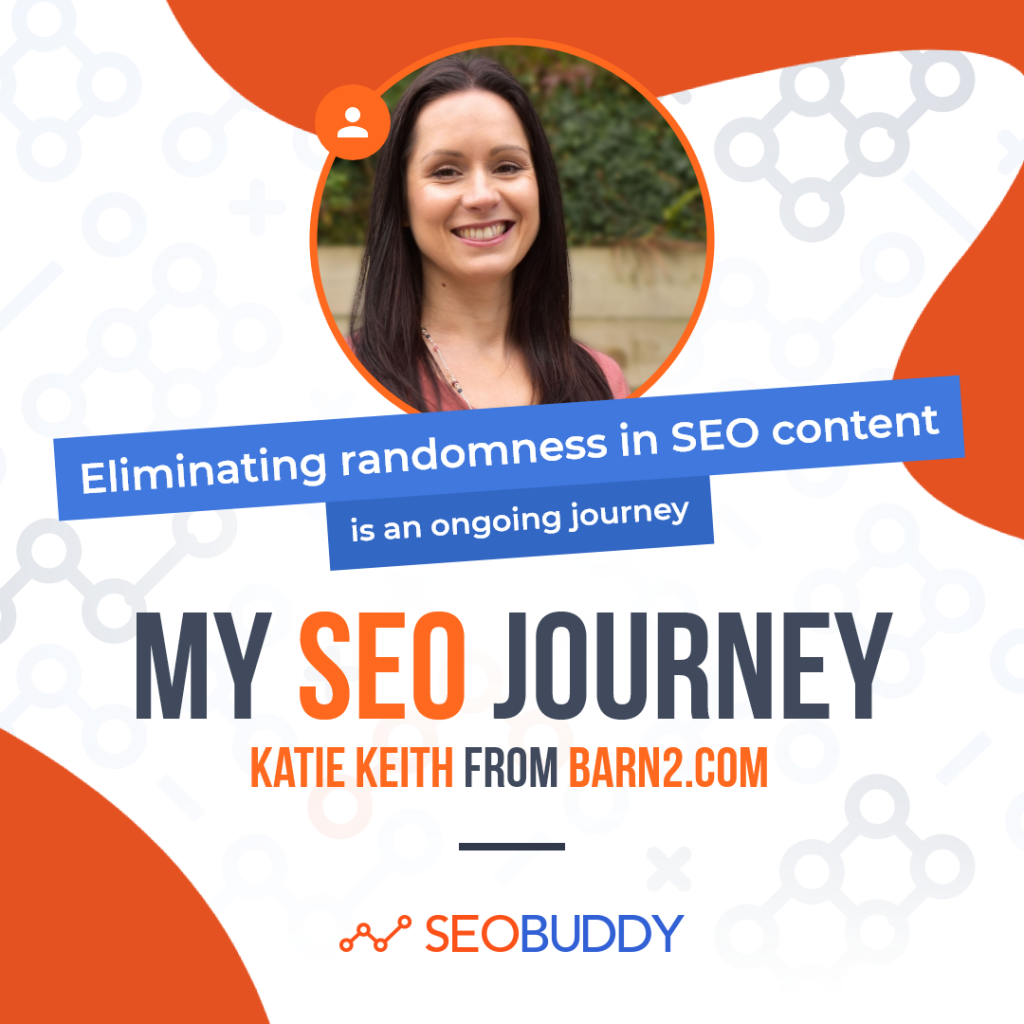 Hi, I'm Katie Keith – Director and Co-Founder at Barn2 Plugins. We sell innovative software products ('plugins') that allow people to add extra features to websites they have built using the WordPress platform. We particularly specialize in building add-ons for the popular WooCommerce plugin, which powers more than 44% of all online e-commerce stores worldwide.
Our mission statement is to create software products that make the internet a more enjoyable and usable place.
We have two flagship products which are used on thousands of websites worldwide:
Document Library Pro – This plugin makes it easy to add a searchable document or resource library to any WordPress website.
WooCommerce Product Table – This plugin takes your WooCommerce products and displays them in a simple order form. Customers can quickly select products and add them to their cart without having to visit a separate page for each product. It's a much faster way to shop, and therefore improves stores' conversion rates.
What's your backstory and how did you come up with the idea?
We never came up with the idea of starting a plugin company. Instead, it evolved from our previous web design business.
My personal journey is that throughout our 20's, my husband Andy and I worked traditional jobs while dreaming of running our own business together. It took us a while to do anything about it, but in 2009, Andy was having problems with his job so we decided that he would quit and start a web design business.
He was a software developer and didn't have much experience of web design, but it felt like a good fit because there was an easy route to market and I could handle the copywriting and marketing side of things.
He started building websites, which I supposed alongside my full-time job. The business grew slowly but surely and after going on maternity leave to have our daughter Sophia in 2011, we could afford for me not to return to my old job. This meant that the business was supporting both of us full-time.
The web design business grew quite suddenly after we started promoting ourselves as WordPress specialists. We built a team of freelancers to increase our capacity on each project. However, we eventually reached a limit of how many projects we could manage at once. We struggled to recruit good project managers who could maintain the quality of the websites we designed.
By building WordPress websites, we inevitably learned a lot about WordPress products such as themes and plugins. We loved the idea of selling products because the business model is more scalable, and you can grow your sales without significantly increasing your workload.
After spending a year building a theme that was never launched, Andy built his first plugin. I marketed it and it started getting sales within a few days! We continued launching plugins and sold so many that we could afford to stop building websites for clients within 6 months. 
Since launch, what has worked to attract more organic traffic?

The reason the plugin business grew so quickly is….. content marketing.
Our first product was a very niche plugin called WooCommerce Protected Categories, which hides areas of an e-commerce store (e.g. to create a wholesale or members-only shop, or to sell different products to different customers). While lots of people have copied the idea now, at the time it was the only plugin on the market which solved that particular problem.
I published some articles on our blog about how to create password-protected categories in WooCommerce, which started ranking very quickly and generated sales.
We have used the same strategy to promote all our products.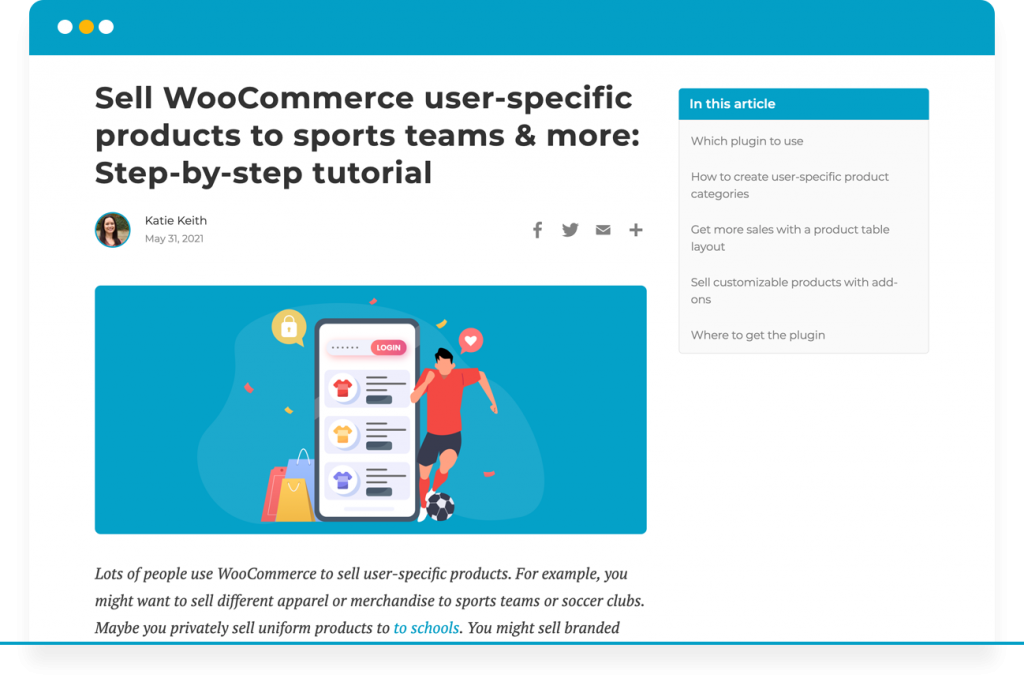 Content marketing works because it provides genuinely useful information for real users, and lots of keyword-rich content for search engines. If you focus on niche keywords that don't have too much competition, then you can rank relatively easily – especially if your website has a reasonable domain authority, which ours did from our days as a web design company.
Our products are sold on an annual subscription (with a more expensive lifetime option), which is excellent for recurring revenue.
It also helps to ensure that we can afford to support our customers long-term, which is a problem for software companies who only take one-off payments. In addition, we bring existing customers back with effective cross-marketing. This includes:
Sending an email to customers 3 days after they purchase, offering 50% off their next purchase. 
An email onboarding sequence which sends regularly at first and then every few months, which provides tips on using their plugin and information about the benefits of our other plugins. 
An email newsletter which tells customers about new products, feature updates, etc.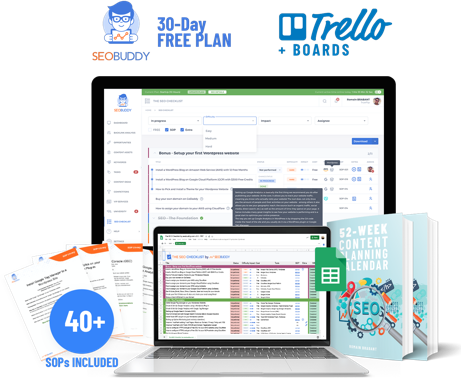 There's more…
Now it's time to discover the other 102 steps that will get more organic traffic flowing to your website. Get the SEO Checklist here.
Want to get a sneak peek of what it looks like?
Enter your email and get a free demo version of the SEO Checklist.
Have you learned anything particularly helpful in your SEO Journey?
The biggest challenge on my SEO journey has been figuring out how to eliminate randomness from the process.
We quickly learned that content sells, but some pieces of content inevitably generated more sales than others. It has been an ongoing process to analyze what makes some content sell so well, why some articles have no effect whatsoever, spot patterns, and predict what will sell in order to make more informed decisions.
For a long time, we produced content with no real idea of whether it would sell.
I always used keyword research to identify search volume, competitiveness etc., but this wasn't enough to predict how well something would sell. A lot more work was needed to add more factors to the analysis.
We now work with a marketing company who have an AI tool which is used to evaluate new content ideas and come up with headlines etc. that are likely to sell. This has helped to speed up the time that it takes for our articles to rank.
What SEO tools do you use for your business?
Our marketing company Ellipsis currently do our keyword research, and they subscribe to just about every SEO tool going!
The most valuable is their FALCON AI which uses data from all their clients to improve the performance of SEO content in the WordPress industry.
We also use Clearscope to ensure that our posts are ranking for a wide range of keywords, and not just the main focus keyword.

When we first started, I put more effort into manual link building such as submitting to directories. This had limited effect, but I think it was better than nothing at that stage!
Now Barn2 is quite well known in the WordPress industry, it's easier to build relevant links which offer genuine value to our potential customers as well as SEO benefit for us. Here are some examples:
We sometimes write guest posts or sponsored reviews to promote our newer products. 
Our affiliates get paid 30% commission for any sales they generate from promoting our products, and we support them in writing about our plugins. 
I often build partnerships with other companies in our industry, for example to educate our customers when their plugin works well with ours. When this happens, I ask them to include our plugins on their website and link to them. This could be through adding information to their own plugin documentation, guest posts, and so on. 
What have been the most influential books, podcasts, or other resources?
My favorite blog is https://getellipsis.com/blog because it is specific to WordPress products. They are very open in sharing what does and doesn't work for companies which are very similar to Barn2. For example, they always publish useful articles around Black Friday to help you to plan the most successful sale ever.
More generally, I also really like https://neilpatel.com/blog because it does a deep dive into topics that aren't widely covered elsewhere. For example, as well as SEO, it talks about conversion rate analysis and subtle topics such as how to choose the right colors for your website.
What's the next step in your SEO Journey?
In 12 months, I want to be further down the road to knowing how to plan new content which will rank quickly and generate sales.
Eliminating randomness in SEO content is an ongoing journey, and I want to continue moving in the right direction with it.
In addition, I want a much better strategy for evaluating and continuing to optimize our existing content to improve the return on investment. We already do this to an extent, but we have a large amount of historical content and now I have recently expanded my marketing team, I want to put more resources into this.
Where can we go to learn more?
The best place to learn about Barn2 is at the Barn2 Plugins website.
There, you can learn about our products, the team, and check out the Barn2 blog.
You can also find us on Twitter, Facebook, and YouTube.