My SEO Journey [Pro Edition]: Gaurav Sharma from attrock.com – Think of SEO as a long game instead of a one-off strategy
My SEO Journey [PRO Edition] is a series where professionals in the SEO Industry, Digital Marketing, or Web Design share their honest SEO Journey filled with failure, success, and most importantly, proven results. Episode #99 features Gaurav Sharma from Attrock.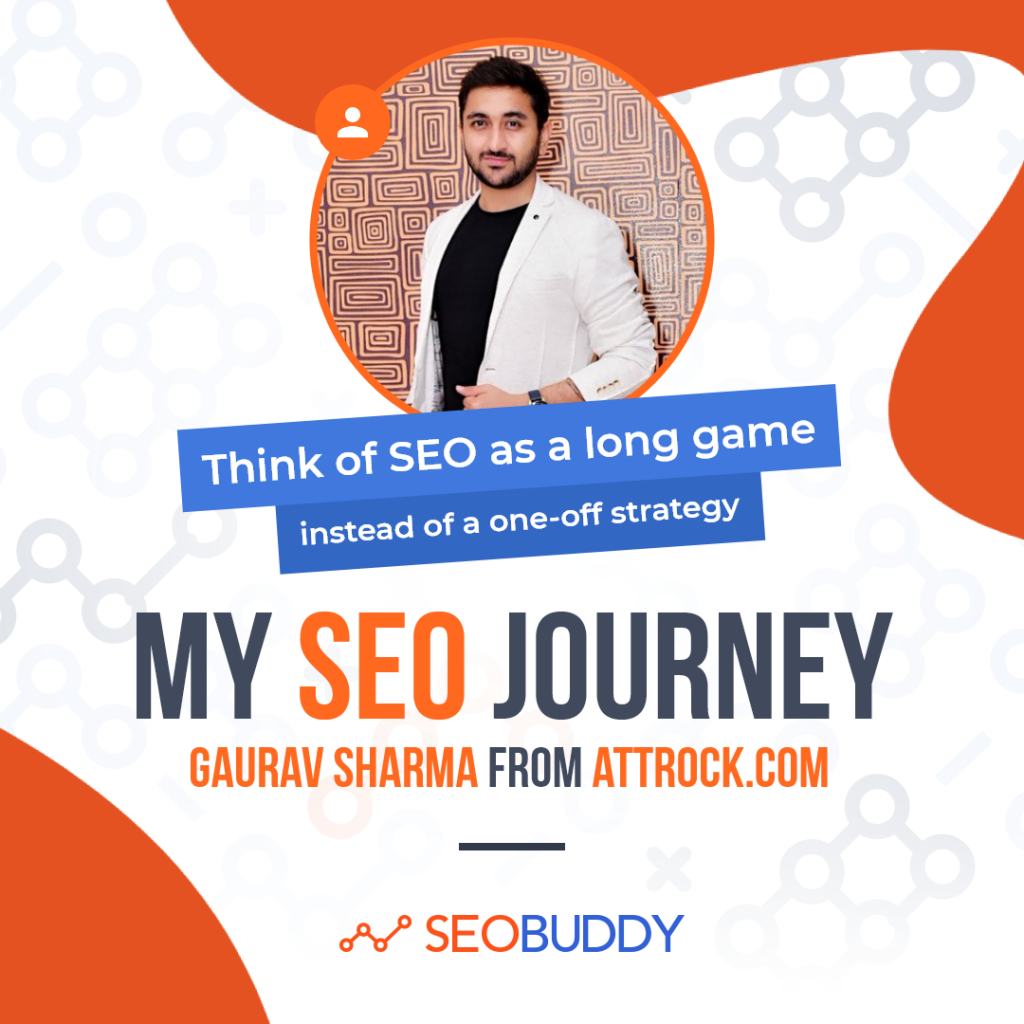 Hi, I am Gaurav, the founder of Attrock. I am an SEO expert and digital marketer with 10+ years of industry experience and 8 years experience in running a business.
I've always been passionate about digital marketing and realized early on that I could make a difference in this field. That's why I founded Attrock, which is a results-driven digital marketing agency that provides custom solutions to help companies hit their unique and specific marketing goals.
We cater to all types of businesses and specialize in attracting, nurturing, and converting leads at different stages of the sales funnel.
With a team of highly-trained specialists, we provide various services such as SEO, Content Marketing, Influencer Marketing, Online PR, Lead Generation, Landing Page Optimization, and Email Marketing.
What's your backstory and how did you come up with the idea?
I started my career as an intern in a digital marketing company. The company had different packages that it offered to clients, namely bronze, silver, and gold.
I felt that packaging marketing services this way was wrong because client needs are unique, and you cannot box them into predefined packages.
As a junior-level employee, there was nothing I could do to change the company's direction. I had to watch as clients complained of not getting the desired results months after paying for their packages.
So, I decided to quit and start my own digital marketing company. That was back in 2014, It was in a tiny 200 sq. ft rented garage that I started Attrock.
Right now, Attrock has grown to become a full-fledged digital marketing company housed in a beautiful 6,000 sq. ft office in the heart of the Pink City–Jaipur.
We have a global talent pool of 30+ members from the US, India, Kenya, and France. We have worked with hundreds of clients from 15 countries.
The secret to my company's success lies in offering customized solutions and strategies tailored to each client's specific needs, goals, and budget.
I realized that brands face specific challenges that limit their growth. That's why custom solutions work much better than packaged deals.
Another strategy that I follow is educating customers and going above and beyond a one-time collaboration. The reason my clients always come back for more work is that I help them get a 360-degree view of their business and how they can grow. It's never as simple as offering a few services, but about helping the clients learn and grow.
With this strategy, Attrock grew to become one of the leading digital marketing companies. Our revenues have also grown exponentially from 5 figures to 7 figures in just 2 years.
Since launch, what has worked to attract more organic traffic?

My go-to strategy to attract more organic traffic has always been content. I invest a lot in creating valuable content for my audience.
This has helped me rank for some of the most competitive money keywords in the world with high keyword difficulty scores and search volumes. And I'm not done yet as there are many more milestones yet to cross.
Here are some of my top tactics for generating organic traffic:
Content Hub: I use topic clusters to create a content hub for topics related to SEO, social media, influencer marketing, and so on. This helps establish my website as the authority on the subject and increases my website's DR and DA as well, which affects rankings and organic traffic.
SEO Writing: I start my content creation process with thorough keyword research and create SEO-friendly content using keyword optimization, proper structuring, use of visuals, etc. That's why my content organically ranks even for competitive keywords.
Backlinks: Being in the industry for over a decade, I also get numerous invitations for interviews, expert roundups, and contributing authorships. I have access to the top authoritative sites in different industries for guest posting. This helps me earn high-quality backlinks that have helped improve my site's domain authority and rankings. That, in turn, has helped me increase organic traffic to my site.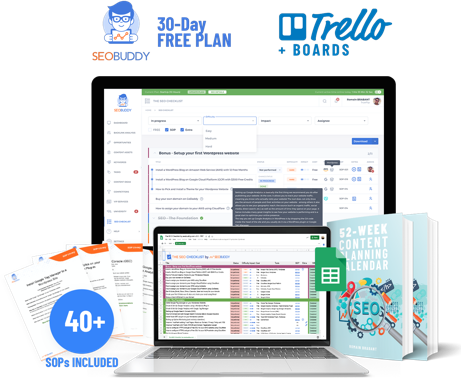 There's more…
Now it's time to discover the other 102 steps that will get more organic traffic flowing to your website. Get the SEO Checklist here.
Want to get a sneak peek of what it looks like?
Enter your email and get a free demo version of the SEO Checklist.
Have you learned anything particularly helpful in your SEO Journey?
My biggest learning is that despite the dynamic nature of the SEO industry, it all boils down to relevant content, user experience, and authority. You should think of SEO as a long game, instead of a one-off strategy.
The aim of search engines is and will always be to provide the best results for a search query. So, instead of blindly following the latest trends or getting distraught by each new algorithm update, I advise everyone to keep their basics strong. Also, avoid unethical practices and shortcuts.
Here's my core SEO strategy:
Create relevant, readable, actionable, and SEO-friendly content targeted at a specific audience. Use commercial-intent keywords and create educational content around those to gain more traffic.
Design a simple, quick-to-load, and easy-to-navigate website that provides a good user experience.
Build backlinks from top industry websites and consistently publish high-quality content to build authority. Form and nurture industry relationships to build a strong network that makes backlink creation simple and easy.
I also tell my clients that as long as the three pillars of SEO are steady, their website will withstand the test of time.
What SEO tools do you use for your business? (your SEO Tech Stack)
As someone who likes to experiment and discover new and useful tools, I keep trying various content and SEO tools. However, there are a few tools that will probably always be in my toolkit.
Here are some of the tools that I use regularly:

I have been in this industry for a long time and have a very strong network, so link-building is not that difficult for me. People usually seek my opinions instead of me having to pitch for guest post contributions.
I have contributed guest posts to 50+ websites, including reputed sites like TechCrunch and HuffPost. And I am a contributing author on multiple sites.
I prefer sites with a domain rating higher than 60. I also avoid link schemes or any spammy or unethical link-building tactics.
As an established SEO and digital marketing expert, I also get invitations to answer questions, give interviews, and provide quotes. I use all these opportunities to gain high-quality backlinks from authoritative sources.
What have been the most influential books, podcasts, or other resources?
I am someone who continually seeks to learn and grow, so I keep exploring new podcasts and blogs. While I don't limit myself to just a few sources, here are some special mentions:
Podcasts – The Authority Hacker Podcast, The Search Engine Journal Show, etc.
Blogs: Google Search Central Blog, Backlinko blog, and more.
I don't follow any specific YouTube channel for SEO, but there's some great content out there that I chance upon every now and then.
What's the next step in your SEO Journey?
At the moment, my domain rating is strong, but I want to improve that further and establish Attrock as one of the top SEO agencies in the world.
I have always prioritized client work and not focussed as much on my own website, but I'm going to change that. I started optimizing my website last year and it's already ranking for some of the most competitive keywords. I aim to boost that number further.
Here are my top priorities for future growth:
Tools – I plan on launching more tools. I already have an image compression tool to optimize images for web pages, a headline analyzer, and a couple of other tools. I plan to add more tools to that list, especially SEO tools for SaaS businesses.
Online Course – I will launch detailed and useful online courses to help SEO professionals, marketers, and business owners.
Podcast: I plan to start an SEO and marketing podcast and have several ideas on how to make it stand apart.
YouTube Channel: One of my top goals for next year is to grow my YouTube channel and post video content more frequently.
Where can we go to learn more?
Check out Attrock's website at www.attrock.com.
You can also reach us on social media at: