My SEO Journey [Pro Edition]: Tyler Hakes from YesOptimist.com – How We Use Strategic Content to Skyrocket Organic Traffic and Inbound Sales
My SEO Journey [PRO Edition] is a series where professionals of the SEO Industry, Digital Marketing, or Web Design, share their honest SEO Journey filled with failure and success, and most importantly proven results. Episode #32 features Tyler Hakes from Optimist.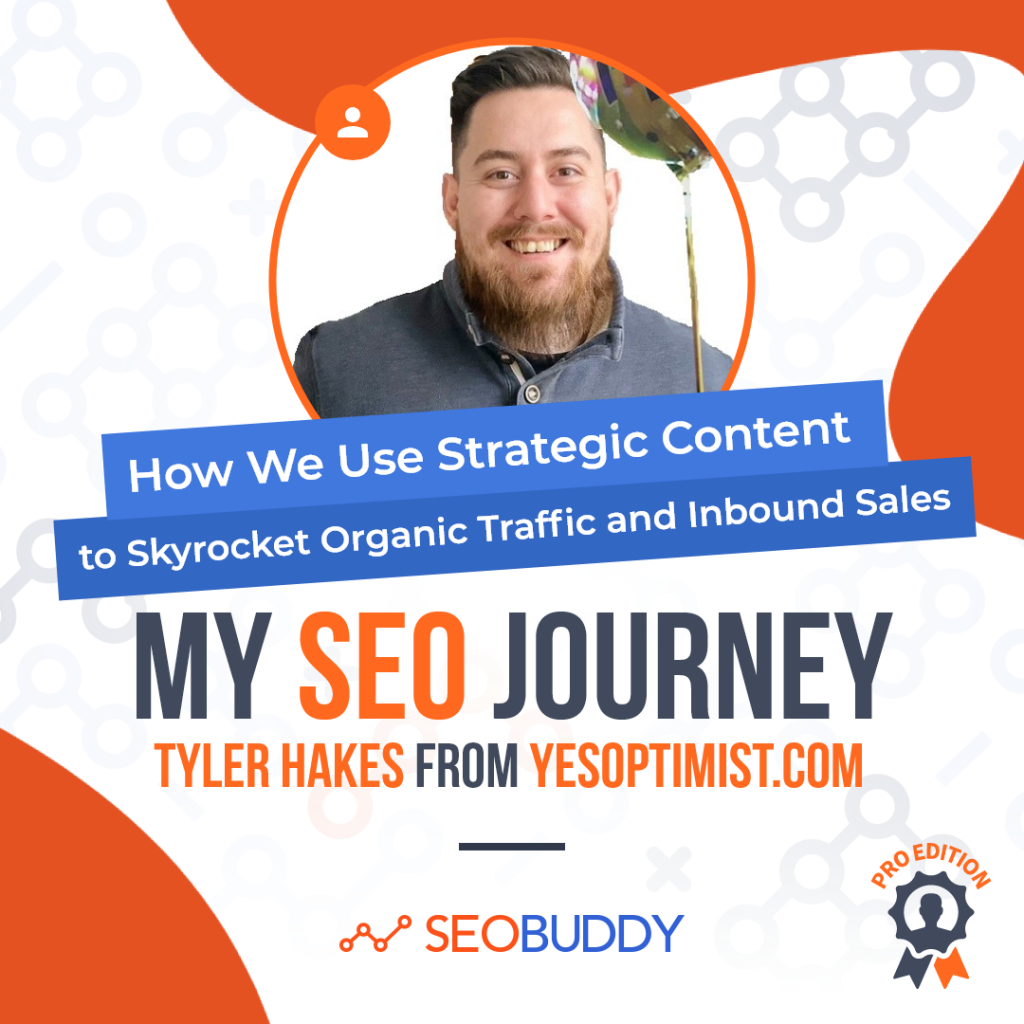 Tyler Hakes is the Strategy Director and Principal at Optimist, a full-service content marketing agency built entirely on inbound leads. In this interview, he shares how his team drives exponential growth (including a 9,800% increase in sales from organic traffic) for a range of clients across different industries and business models.
An Optimist's Origin Story
What motivated you to start your own content marketing agency?
Starting my own agency was a leap of faith, but the idea was grounded in lived experiences. The initial concept for Optimist grew out of my experience running growth and marketing for a venture-funded startup. In just over a year, we generated more than one million visitors to the site—including 100,000+ organic sessions every month.
That role taught me a ton about the challenges of scaling traffic and the value of good content. I also learned that content marketing takes a full team; it's not something one person can reasonably pull off on their own. You need 5-7 people to tackle the full range of roles, from strategy to writing to promotion and link building.
At the same time, I realized that most startups were approaching content marketing the wrong way. They'd hire a single person to crank out a bunch of content and then sit back and hope for results. Of course, they rarely saw results because they neglected all the other steps that make content marketing so powerful.
How did you come up with the concept of a freelance collective?
As someone who left a full-time job to freelance, I liked being a freelancer way more than being a full-time employee. Freelancing forced me to become better at managing myself and my time. I also had a bit more skin in the game since clients could choose to leave if I wasn't doing good work.
So, I wanted to create an environment that allowed similar-minded folks to focus on doing their best work while also giving them some accountability and potential to reap the rewards of their efforts on a larger scale.
There was no formal validation process, but this is my worldview: The future of work is hiring experts, giving them a goal, and letting them be experts at what they do.
My goal was to provide full-service content marketing at a cost equivalent or cheaper than a full-time employee—and actually execute content that delivers results. I wanted to build a team and a system that delivers a predictable stream of growth. That idea evolved into a freelance collective that comes together to serve diverse clients and content marketing goals.
Tapping Into the Power Inbound Traffic
How did you initially drive traffic to your site?
Before we get too deep into this topic, I have a quick confession: I haven't spent as much effort driving traffic to Optimist's website as I'd like.
(You know what they say about the cobbler's children.)
Optimist's inbound traffic isn't all that impressive if you focus on numbers alone. However, we have built an entire agency model and generated $4MM to date on inbound leads driven entirely by organic traffic and content marketing.
Many of our early leads came from an interest in a case study I published in 2016 detailing my experience growing and scaling content marketing for a startup.
In our first year, we generated 1.5MM in sales revenue.
Since then, we've focused on sharing content and case studies about the work we've been doing at Optimist for our clients. People reach out to us all the time and say they are impressed with the site, our content, and the fact that we practice what we preach.
So, even though that's been our only sales and marketing efforts, we're steadily growing—and it's 100% through inbound marketing and referrals.
I do hope to scale up our marketing further down the road. But right now, we're still seeing new leads enter the pipeline consistently, so we're focusing on driving growth for our clients more than ourselves.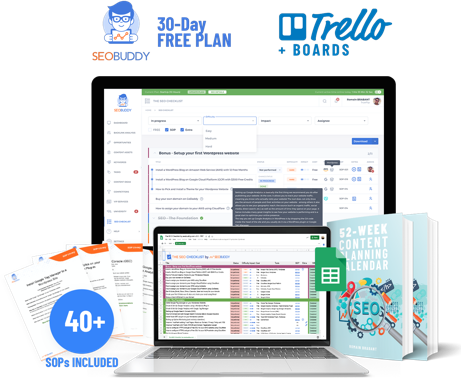 There's more…
Now it's time to discover the other 102 steps that will get more organic traffic flowing to your website. Get the SEO Checklist here.
Want to get a sneak peek of what it looks like?
Enter your email and get a free demo version of the SEO Checklist.
How do you adapt your strategy for different industries, sales cycles, and customer types?
One of the things that's made Optimist so effective and allowed us to be successful in different verticals and industries is the high-level idea that every piece of content needs to have a specific job. Then our job as content marketers is to put together the framework to determine how those pieces can work together to maximize growth.
The crux of our agency model is the content marketing trifecta strategy. The concept we've had from the beginning is giving every piece of content a very specific goal. That's a consistent truth that applies to every client we work with, no matter what industry they're in.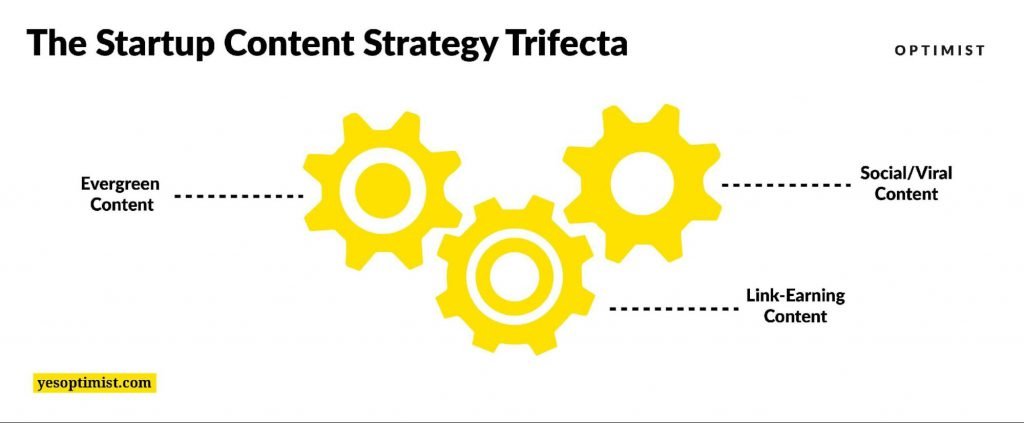 The original trifecta model has evolved over time, and not everything fits into one of those three neat buckets. But in general, that's still how we think about the strategy and the framework that we're applying to clients.
Content marketing is not a one-size-fits-all approach. Every client we work with is a little bit different and has unique needs, but the overall truth is that you can't make one piece of content and expect it to do everything. That's the premise of the trifecta strategy.
Let me share some examples from our clients to show how we apply these universal ideas to drive growth for very different types of companies.
Example 1: Driving exponential growth in the consumer tech space
Client: Huan
Product: Pet tracking devices
Business model: Direct-to-consumer tech product
Results: Grew organic traffic by 2,800% + sales from organic traffic by 9,800%
Huan doesn't fit the description of our typical SaaS client. They're a DTC tech company that sells a physical product (dog trackers) with a very short buying cycle. As a consumer tech product at a modest price point, someone can land on the website, learn about the product, and then decide to buy it right away.
Our content strategy for Huan is bifurcated. About 80% of our effort goes towards ranking for commercial keywords and generating traffic that can result in direct sales. The other 20% is focused on educational content.
So, for that 80%, we focus on targeting queries that are closer to the bottom of the funnel. To do this, we create content that targets commercial keywords and attracts super high-intent traffic that translates directly into sales. For instance, someone searching for "the best cat trackers" is more likely to immediately make a purchase than someone searching for "things to know before getting a dog."
The other 20% is targeting short-tail, high-volume keywords (like "adopting a dog.") with informational content. This type of content helps qualify consumers, gets them to the site, and builds brand awareness—with the hope that retargeting will turn them into actual customers down the road.
The two parts work somewhat independently, but they're part of the same overall strategy. The goal is to sell these consumer tech products to people who are in the market while also building brand awareness in people who are a good fit for the product but not necessarily in the market yet—and it seems to be working!
Here's a quick look at the results so far:
Organic traffic has absolutely spiked since we began working with Huan. From August 2020 to May 2021, their organic sessions have grown 2,800%.
Because we target high-intent traffic specifically, that boost in organic traffic has translated into an even bigger boost in sales. As a result, conversions and revenue have grown significantly. Since we began working with Huan in August 2020, sales from organic traffic have increased 9,800%.
Example #2: Full-funnel content marketing for a self-serve sales model
Client: Kubera
Product: Personal wealth management app
Business model: Self-serve SaaS
Results: Increased organic traffic by 1,000% + organic conversions by 3,200%
Kubera is a consumer SaaS product, which is kind of a rare thing. It's a personal wealth management app with a self-serve business model. Consumers can sign up for a free trial or get started with the app right away without speaking to a sales rep.
As with Huan, consumers can make a purchase decision relatively quickly. Once you get the right reader on the site, it's possible to move them through the remaining stages of the funnel to make a purchase—regardless of what stage they're starting at.
So, our strategy involves creating a full funnel of content.
In many cases, we're educating people who enter the top of the funnel, addressing pain points, and teaching them about the broad solution (i.e., a wealth management tool or crypto tracker), and then ultimately explaining why Kubera is a better option than competitors. Since Kubera is a paid product in a space where there are some free alternatives, part of the content's job is to make a case for value.
Our goal is to rank for a keyword, meet the reader where they're at in the funnel, and then walk them through the remaining stages to try to drive a conversion.
For readers who enter at the top-of-the-funnel, we've got to start at the top and educate them to move them to the middle and then the bottom to hopefully drive a conversion.
If they're in the middle of the funnel, we're starting in the middle, focusing on general solutions. Once we work through that, we introduce Kubera and move them to the bottom of the funnel.
If a reader is already at the bottom of the funnel, it's obviously a shorter journey to get them to a conversion.
This strategy applies to a lot of self-serve SaaS products—and it's something marketers tend to get wrong. They might think a top-of-the-funnel piece shouldn't sell the product, but that's not the case for a self-serve business model. The key is understanding where the content is in the funnel and then crafting the content to walk the reader through each stage.
For example, if a consumer is researching a high-level topic, like how to manage personal wealth, they're not ready to be sold Kubera in the first paragraph. But if we educate the reader enough throughout the course of the article, there's a narrative that gets them interested in buying a product that will help solve their query (i.e., Kubera).
Each piece is built to walk a SaaS buyer through the remaining stages of the funnel. Our goal isn't just to help consumers learn a little bit more; it's to get them to take action and sign up for a free trial.
Here's what we've helped Kubera achieved so far:
In the eight months we've worked together, Kubera has grown organic traffic by 1,000%.
They've also increased organic conversions by 3,200%.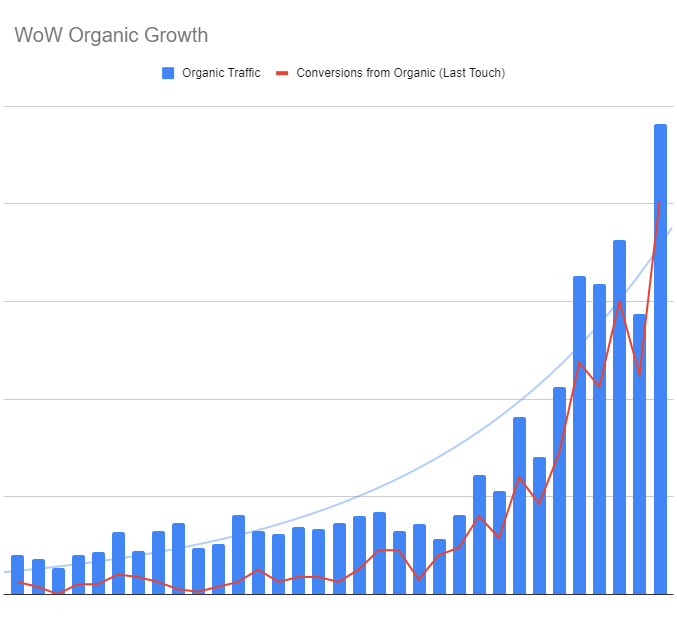 Example #3: Scaling organic traffic by 300% for midmarket B2B tech
Client: Stampli
Product: AP automation tool
Business model: Self-serve and inbound sales model
Results: Increased organic traffic 300% in 1 year
Stampli is a B2B tech company with a blended acquisition model. It's based on a mix of self-serve and inbound sales, primarily targeting mid-market firms. There's a bit of a sales cycle, but we're still focused on targeting very specific business buyers (Controller, CFO, Director of AP, etc.) in this particular segment.
Similar to Kubera, our strategy with Stampli involves creating a full funnel of content. And unlike our first example with Huan, there's definitely a need for mid-funnel content.

Our approach involves creating lots of educational evergreen content and a bit of thought leadership content as well. We look at where we can rank for keywords throughout the classic buyer's journey. For example, "How do I save money on AP costs?", "How does AP automation help me save money?", "How does AP automation work?"—and then highlighting why Stampli is the best solution for mid-market firms.
At the top of the funnel, we address initial pain points, like how to reduce AP costs or prevent fraud. By the middle of the funnel, we're educating them about the solution (AP automation), teaching them about implementation and how it integrates with other products they're already using. Then at the bottom of the funnel, we show readers how Stampli stacks up to competitors.
A prospect might go through a whole funnel, reading tons of articles to learn about the solution and how it works before reaching out to set up a demo. So, our strategy encompasses the entire funnel, moving readers through the stages, and ensuring they feel informed about their decision.
The results so far:
By working with Optimist to attract and educate leads at various sales funnel stages, Stampli grew organic traffic by about 300% in a single year.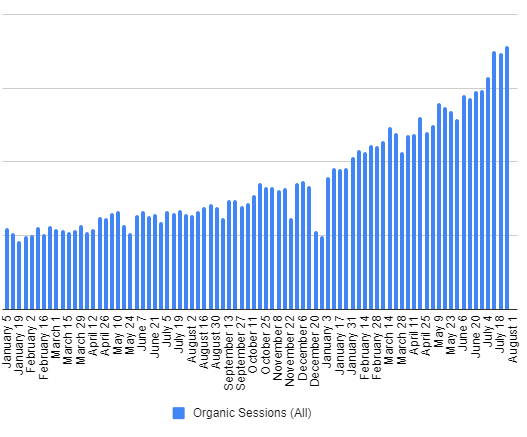 Example #4: Generating qualified leads for a sales-driven process
Client: Contentstack
Product: Enterprise CMS
Business model: 100% sales-driven
Results: Grew organic traffic ~6X in 2 years
Contentstack is an enterprise CMS. There's no option to sign up without going through the sales team, which means leads need to submit an inquiry through the website and then speak to a sales rep. The purchase process is long and involves multiple stakeholders.
In this case, our content marketing strategy focuses on the top and middle of the funnel. The bottom is 100% fully sales-driven, so the sales team takes over once a reader is qualified as a lead. So, our job is to attract the right audience, educate them about the solution, qualify them, and then pass them to the sales team.
We achieve this by creating content that educates the buyer throughout the funnel and addresses the concerns of multiple stakeholders. We speak to the development lead and the enterprise architect and the marketing team and the CFO, and all the different people who might be involved in this massive buying decision.
Each piece of content has an incremental goal. We don't expect to be able to move someone from a top-of-the-funnel piece about how to do content personalization to immediately getting them to sign up for an expensive SaaS product without a few steps in between.
To pull this off, we create a lot of gated content and content that helps qualify buyers based on need. For example, a lead might start by reading a piece about content personalization, then download an eBook on how to implement content personalization, and then read another piece about choosing a headless CMS that introduces Contentstack as a specific solution—before ultimately deciding to reach out to the sales team.
The journey involves a lot of steps. We need to create content that acts as a breadcrumb trail, leading people through the process, hoping that they follow along.
As for results?
100% growth in organic traffic within the first six months
Organic traffic has grown ~6X in 2 years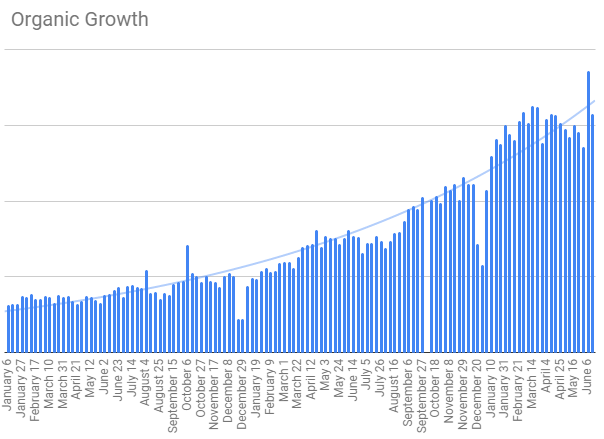 Final Thoughts: Advice & Tools for Scaling Up
What are some of the biggest lessons you've learned since launching your agency?
Lesson #1: Traffic isn't the be-all and end-all of growth metrics
One of the key things we've learned—and this might sound controversial—is that traffic isn't necessarily the best metric for mapping results. Yes, it makes a good case study, but traffic alone isn't all that valuable.
Our clients hire us to drive sales, leads, and revenue—not just traffic. To provide real value, we need to tie our results to a bottom line. We achieve that by getting to know their business, thinking like members of their team, and figuring out a content marketing strategy that will deliver real value.
Lesson #2: Our best clients understand that strategic content is a long-term investment
Over the years, we've narrowed our focus and figured out which clients are the best fit for us. But it's not about industry or size. In fact, the type of company becomes irrelevant.
We still work with all types of clients, but we only focus on those who are willing to invest in content marketing and SEO long-term. We can deliver amazing results, but we need time and trust from our clients to allow us to get there. It's not something that happens overnight.
Some agencies think if you do content marketing for B2B SaaS, you can only serve B2B SaaS companies. But that's not the case. We're able to win with clients like Huan and Kubera because they're still approaching it as an incremental investment over time. It will pay dividends, but it takes time, money, and strategy—and it takes good content.
What tools do you use for your business?
For SEO: In terms of SEO tools, Ahrefs is my main go-to. We also use keywordinsights.ca for keyword clustering and research, as well as Google Search Console. We have our own home-grown reports and automation that we've built in Google Sheets. It's not super complicated.
For communication: We use Slack for communication. As a 100% remote team, Slack allows us to communicate and work with outside experts or clients by bringing them into specific channels.
For project management: We use Asana for project management and workflow organization. I'll also give a quick shout-out to Notion and Loom.