My SEO Journey [Pro Edition]: Terry Kyle from wpx.net – Test, tweak, re-test for yourself
My SEO Journey [PRO Edition] is a series where professionals in the SEO Industry, Digital Marketing, or Web Design share their honest SEO Journey filled with failure, success, and most importantly, proven results. Episode #128 features Terry Kyle from WPX.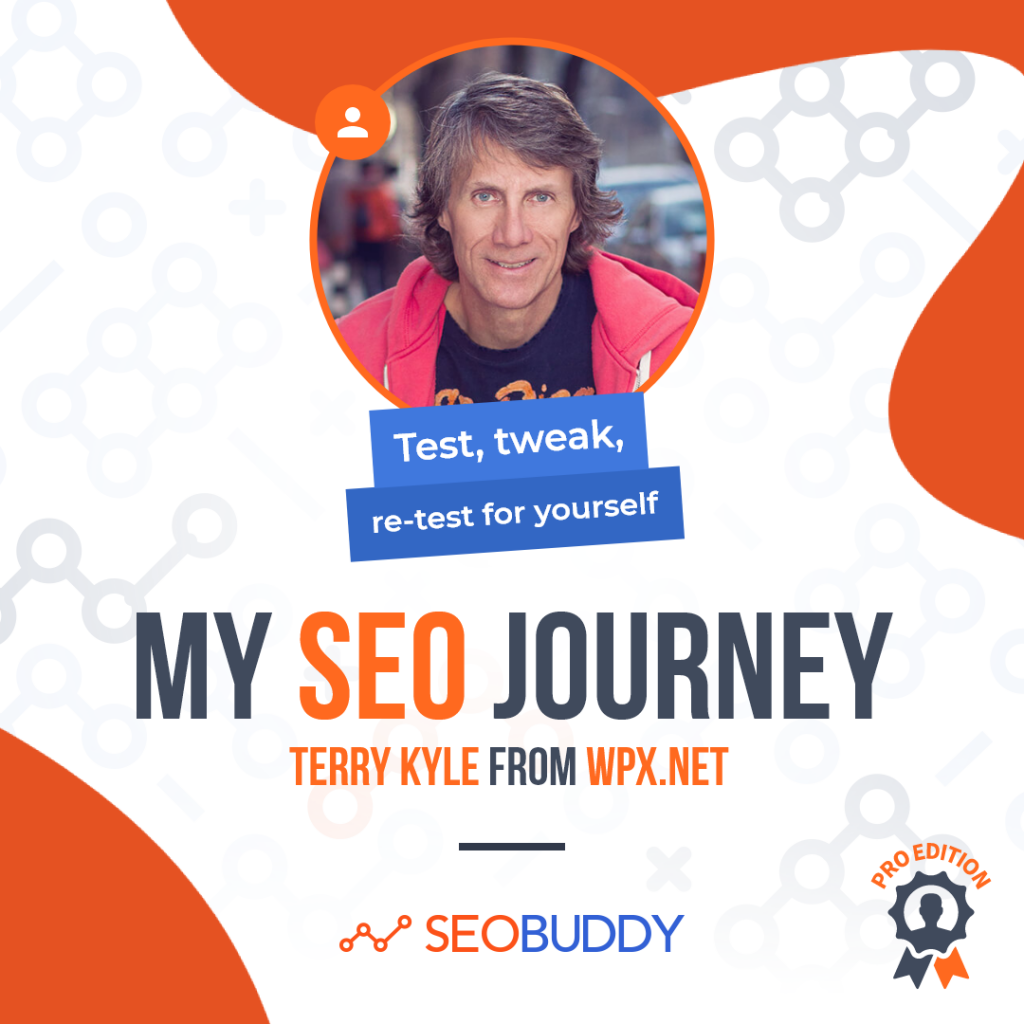 My name is Terry Kyle. I am the Australian co-founder of WPX.net (with my business partner, Georgi Petrov), an independent, high-performance, premium WordPress hosting company, that currently employs 110 people.
Our mission as a company is to make a huge positive impact in all our endeavors, from innovating in WordPress hosting to supporting Change Seekers across the creative spectrum through hosting and our new events space, Hyperspace, to animal welfare work with our foundation, Every Dog Matters EU.
The core audience of WPX.net is non-technical digital entrepreneurs and solopreneurs looking for a low-tech/no-tech solution to modern high-speed WordPress hosting.
What's your backstory and how did you come up with the idea?
Having been a professional writer for most of my adult life, I self-published a book on Amazon through their Lightning Source print-on-demand platform in 2008.
However, I found the sales and traffic within Amazon relatively small and realized that I needed Google traffic to boost the book sales.
I then spent the next 6 months deeply self-teaching on SEO through a lot of experimentation, plus course and blog post consumption at that time.
Pretty soon I had a far more valuable skillset than the book itself which was a solid SEO framework that was repeatable, teachable and valuable.
However, I had been using every hosting service out there since about 1998 and had been deeply disappointed with all of them.
So in 2013, with my business partner Georgi Petrov, we set up what would become WPX.net
At that time, I had a successful SEO forum called Traffic Planet and many customers from years of SEO work and enough Traffic Planet members followed me into hosting and jumped ship over to us.
Without that initial audience, it is unlikely that it would have worked or worked as quickly and as a new startup, my other SEO tools and products subsidized the creation of what would become WPX (then called Traffic Planet Hosting, changed to WPX in 2016).
Since launch, what has worked to attract more organic traffic?
Back when I was running live SEO experiments on my own blog, it was common for sites that I shared to get slapped by Google within 24-48 hours.
I was aware of other Google actions against SEOs like Google staff pretending to be a potential client of an SEO agency to find out that agency's PBN sites, then slap all of them instantly.
So when it came to WPX, it was critical to not do any active SEO on our main site, it was just too risky. In fact, every link to WPX is completely natural and earned.
But in the insanely competitive WordPress hosting niche, not doing active linkbuilding put us at a massive disadvantage.
Fortunately, we had other traffic drivers, namely:
[a] a great service that attracted positive word-of-mouth referrals via our customers
[b] influential bloggers and services like Matthew Woodward, Thrive Themes and Matt Diggity trying us out, liking us and recommending us to their audiences
[c] category-winning performance in Kevin Ohashi's independent annual WordPress hosting tests over at wphostingbenchmarks.com, and,
[d] effective social media marketing that promoted the above facts to our target audience
Ultimately, getting recommended to the audiences of trusted influencers have been the fastest growth drivers for WPX rather than us banging on about how great we are, alone.
What has also been effective for us has been sending traffic to our Trustpilot.com reviews page where we have close to 3,000 5-star reviews, many from long-term customers, instead of bringing traffic directly to our own website.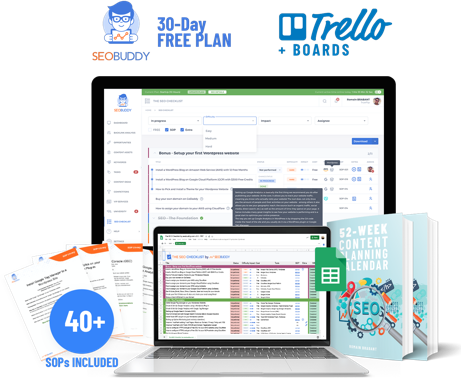 There's more…
Now it's time to discover the other 102 steps that will get more organic traffic flowing to your website. Get the SEO Checklist here.
Want to get a sneak peek of what it looks like?
Enter your email and get a free demo version of the SEO Checklist.
Have you learned anything particularly helpful in your SEO Journey?
I will go for 5 things here:
1. Don't assume that what John Mueller from Google or (back in the day) Matt Cutts or some random blogger says is accurate.
Test, tweak, re-test for yourself.
Continually.
That worked extremely well for me in SEO and I think that's a useful general business/life strategy.
2. A big part of success comes from consistently doing boring stuff.
It may not be that sexy or suit our Tik Tok/AI era but so much success comes from the discipline of doing boring stuff repeatedly but automate or delegate as much as possible, obviously.
3. Most of us don't push things as far as we can.
Ask yourself on each project, 'have I pushed this as far as I can?' and you will probably see that there is plenty of travel left in that accelerator pedal yet.
4. Review regularly.
Are you actually using anything from that course/event/podcast/video that you gave time/money to last week or last month?
In most cases, unlikely, and they turned out to be very entertaining distractions from what you really need to do:
continually dive deeply into your target audience's perceived needs and create products/marketing that fit those.
5. Get good at recognizing self-sabotage.
Self-sabotage comes in many forms: distraction, laziness, settling for mediocrity, lack of sufficient product differentiation, poor diet, poor productivity habits etc, it's a long list and I have been guilty at times on those too.
But if you can get better at assessing what is working in keeping your project/s moving forward and what is meaningless, unproductive noise, then you're on the way to major success, however you define that.
What SEO tools do you use for your business?
Nothing too original here:
·  SEMRush
·  Similarweb (for another source of competitor analysis)
·  Bluechip Backlinks (my own expired domain toolset)
·  Facebook Groups (e.g. Authority Hacker, Nothing Held Back)
Apart from a few secret projects around Baidu SEO in China and ranking for zero search volume terms at scale, I am not actively building links at the moment.
What have been the most influential books, podcasts, or other resources?
I follow the work of these SEO-related and non SEO-related sources:
· Matt Diggity (YouTube)
· Matthew Woodward (blog)
· Detailed.com by Viperchill (blog)
· My First Million (podcast)
· The One Thing by Gary Keller & Jay Papasan (book)
· Amp It Up by Frank Slootman (book)
· The Advantage by Patrick Lencione (book)
What's the next step in your SEO Journey?
I am particularly interested in Baidu SEO where I see small-scale English-language sites ranking for huge terms on Baidu, which is a pretty crude search engine, compared to Google.
I am also curious about the many tens of thousands of search terms in tools like SEMRush that report as having zero search volume. There may be a huge cumulative longtail here that is very easy to rank for and, in theory, if there is no search volume for those terms, they shouldn't even register in SEMRush or other tools, should they?
Though not original, I think there are still massive opportunities in non-English SEO where the SEO competition is often shockingly weak for large volume commercial terms.
Where can we go to learn more?
You can follow WPX's latest tech innovations and SEO enhancements at:
https://www.facebook.com/WPXHosting

Plus you can follow me at https://terrykyle.com/ and the work of Every Dog Matters EU through:
https://everydogmatters.eu/ and https://www.facebook.com/everydogmatters.eu