My SEO Journey: Virginia Zacharaki from moosend.com – DR80 building trustworthy relationships
My SEO Journey is a new series where entrepreneurs and Indie makers will share their honest SEO Journey filled with failure and success, and most importantly proven results. Episode #19 features Virginia Zacharaki from Moosend.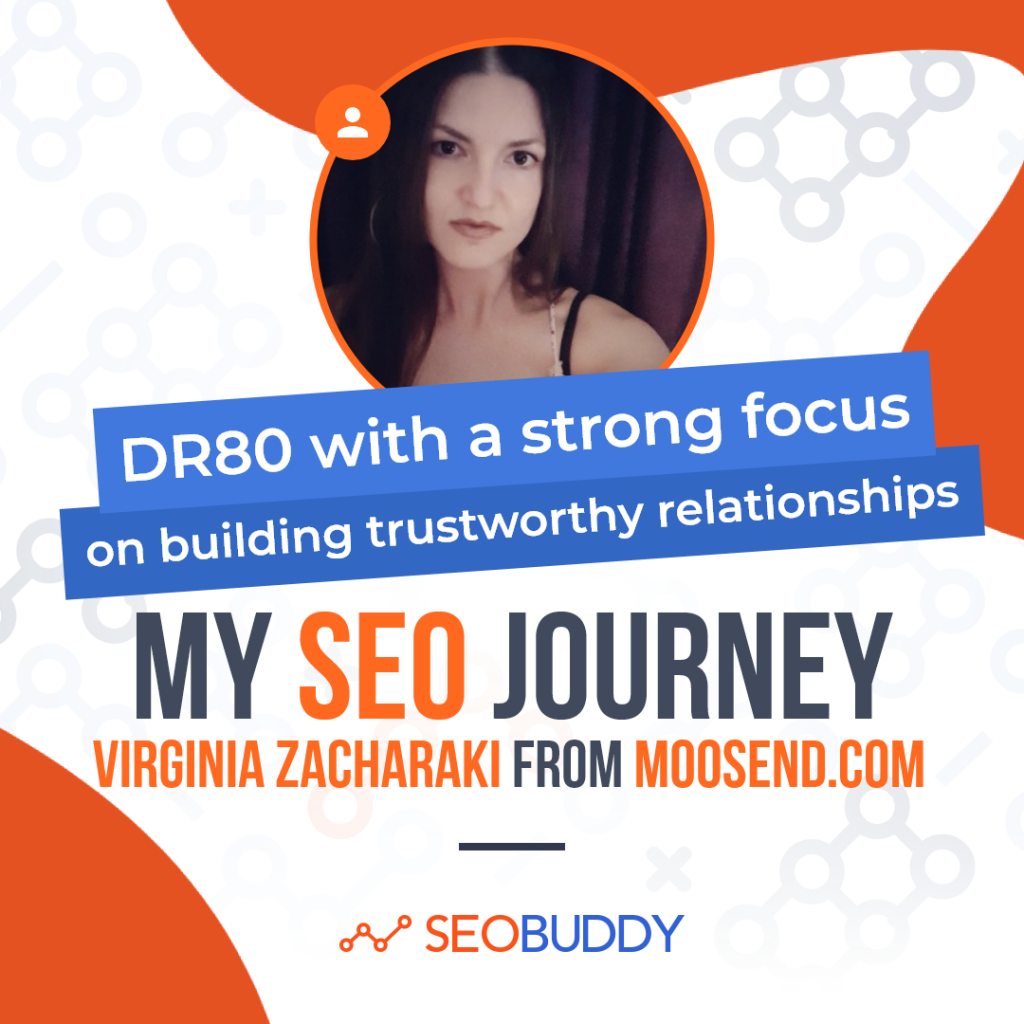 Hello world! I'm Virginia, the SEO Project Manager of Moosend, a powerful email marketing and marketing automation platform with a wide variety of tools, benefits, and integrations that can help you step up your marketing game.

The platform is suitable from fledgling startups to Fortune 500 companies, as you can easily manage multiple email campaigns and mailing lists, as well as design and send striking newsletters created on the built-in Drag and Drop editor, with zero coding knowledge.
And if you feel that you've run out of ideas you get free access to dozens of already crafted, responsive newsletter templates to get you inspired or simply save you some time on creating your email newsletter campaign.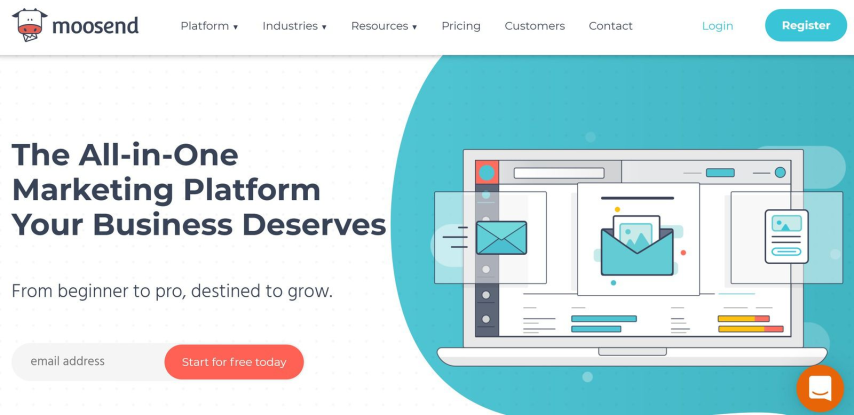 The Backstory: How the SEO Journey Started
To build brand awareness we decided to focus on growth marketing and especially SEO and content marketing. The first goal was building a team that we could trust and that could take our efforts to a whole new level. This is how a series of interviews started looking for skilled, open-minded people whose expertise lied in content creation, communication, and of course, digital and email marketing.
Secondly, we engaged in further research, brainstorming and experimenting to find out the best techniques, strategies and brand new tricks that would skyrocket our efforts.
How We Attracted More Organic Traffic
Since the very beginning, we decided to strictly follow Google's guidelines. We were not interested in coming in with a bang. Rather, we decided that a buzz would be more beneficial.
So, we worked hard to enhance our online presence, through excellent keyword research, authoritative content, and only mentioning what would be truly valuable to our readers. Of course, this could be considered as an SEO double-edged sword, given that the user's experience was way more valuable to us than pleasing a search engine.
But we made it work.
What I believe was detrimental to our success, is building trustworthy relationships.
To be more specific, since my first day at Moosend as the marketing communications associate of the brand, when I came in contact with any other brand out there I was never interested in just giving away some content to have our brand featured as an advertisement.
My main key for success was producing and giving away an article that could really help and educate the masses, because I know that this is what every blog out there really wants and that this is what every user will find beneficial.
In other words, killing two birds with one stone, or in my case three birds, as I had Google, the blog and its audience satisfied.
Now, the trick question is how do I manage to do this on a scale? Aren't people tired of getting zillions of marketing emails asking for the same thing?

The short answer is yes. However, you don't have to do this, per se.
The Present: How We Keep Up With Our SEO Efforts
Don't just do massive outreach.
Invest a good amount of time in researching whom and why you need to form a bond with. When you have the ideal blogs to feature your upcoming articles, use hyperpersonalization to craft the perfect email.
You might think that this will take ages to get you to your goal, but always aim for quality instead of quantity.
Another tip is to surprise your potential blog partner with a witty email.
In my case, I love playing around with more lighthearted, pop-culture-themed subject lines.
Here is an example of what my nerdy head comes up with:

The next most important part is the quality of the content that you put out there.
It is essential to have authentic, detailed and engaging content, with a unique angle.

Having an internal team of dedicated writers could only guarantee amazing results. Instead of writing generic topics for various blogs, each writer produced content dedicated to each blog we were collaborating with, starting with offering unique topics to each blog, to avoid proposing something that would have already been written, and finally, triggering their interest in our work.
This is what helped us have constant growth in our Domain Rating (DR) and overall traffic of the website.

Starting from a DR41, reaching an impressive DR80, and keeping up the good work to achieve even more day after day.

The Tech Stack We Trust
To achieve all that it is crucial to build an SEO set, full of various tools that help your daily life and struggles with your own SEO journey. ,
I have found impossible to maintain all the deadlines and hard work without utilizing the following tools:
First of all, take a look at Google Analytics, which is a web analytics tool that tracks and reports your website's traffic offered by Google. This way, you can have a better understanding of how your website performs, what works best and estimate what needs to be changed or touched up.
Secondly, before choosing a potential blog, besides taking into accord content relevance, I always take a peak at Ahrefs, which is an SEO software used to analyze a website's link profile, keyword rankings, and SEO health.
Moreover, while researching what keyword would best fit my goals I find it extremely helpful to check on keyword performance, using some explorer like the SEMrush or Ahrefs keyword explorer so I can better understand why pages rank, where they do with a SERP analysis breakdown of the elements and link data at each ranking position.
And last but not least, it is absolutely necessary to have some form of organization, to keep track of all the work and progress. Thus I have found that using a web-based list-making application like Trello can help us keep everything tidy and right on schedule, especially when it comes to working with a bunch of people in the same team or project.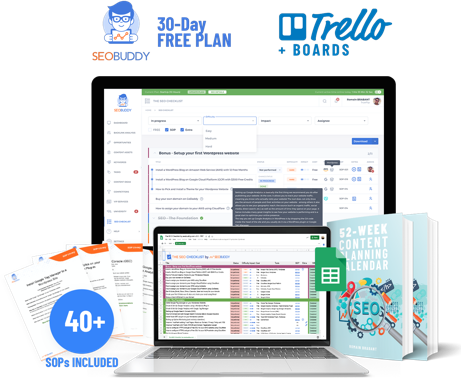 There's more…
Now it's time to discover the other 102 steps that will get more organic traffic flowing to your website. Get the SEO Checklist here.
Want to get a sneak peek of what it looks like?
Enter your email and get a free demo version of the SEO Checklist.
The Takeaway
To wrap up, I would strongly recommend to always keep your audience and users as your top priority, creating content and links that would help them and make their life and online experience a lot easier, rather than simply satisfying a search engine.
Hard work will eventually pay off and put you in the lead of your game.
I'm sure that my SEO adventure is just beginning, and that there's still lots to learn.
The journey has been magical so far, but I bet they're still are techniques to master that will enhance our creativity, and new worlds to explore and conquer.