My SEO Journey: Nikhilesh Tayal from vidsaga.com – The first step is to create content that solves the user's problem
My SEO Journey is a series where entrepreneurs and Indie makers share their honest SEO Journey filled with failure and success, and most importantly proven results. Episode #41 features Nikhilesh Tayal from Vidsaga.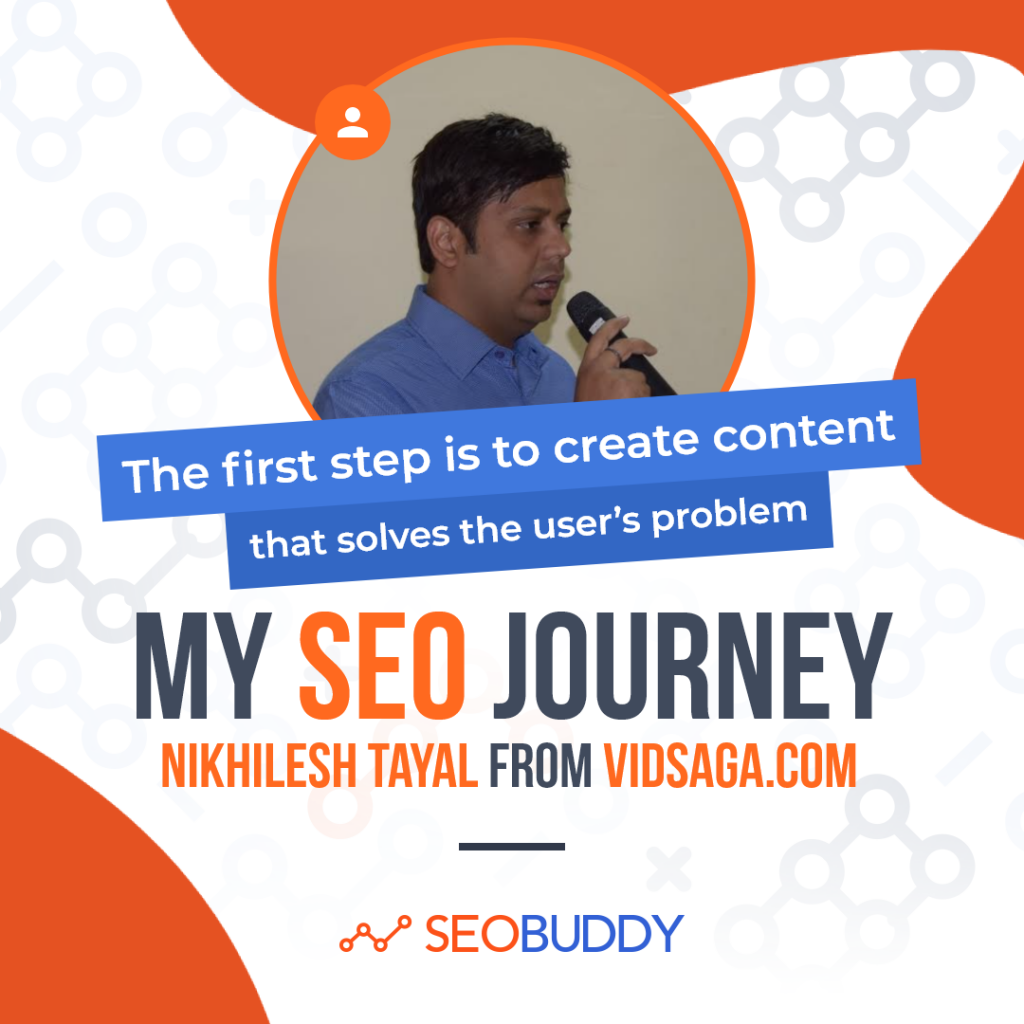 Hello, I am Nikhilesh Tayal, founder of Vidsaga. My team and I are building an online platform to enable global Organizations to create videos.
By videos I mean – Animation explainer videos, Corporate videos, Client story videos, Ad films, People story videos, Product demo videos, Interview videos, Social media videos, App demo videos, etc.
As an organization, you can create a video anywhere in the world through the managed marketplace and also can use Vidsaga's account management solution to manage the project.
The idea is to make enterprise video production (across the globe) simple (by using account management tools) and cost-effective (by outsourcing it to other countries).
What's your backstory and how did you come up with the idea?
This is my second startup.
After shutting down my first startup, I started doing theater (my passion from school days). During that time, I made a short film on almost zero budget.
The film was not that great but what I realized was that filmmaking is very much like an entrepreneurial activity. So in order to showcase the struggles of other filmmakers and give them their due recognition, I started a blog to feature prominent video creators.
In the next 6 months, I interviewed some 200+ upcoming video creators from India and unknowingly built the supply side of the platform.
While talking to these creators, I realized that they all are not getting enough work opportunities through existing mediums. On the other hand, many of my startup friends were looking for professional video producers.
I realized a problem that could be solved by creating a marketplace where video makers can be connected to companies. So we started a marketplace for India but later turned into a video agency due to lack of volume.
But after some time, I understood that instead of creating a country-specific marketplace, the platform should be a global one and at the same time should incorporate account management solutions of agencies.
Since launch, what has worked to attract more organic traffic?

When I started this company, I did not know SEO or anything about digital marketing.
But for an online marketplace, we had to attract traffic. Running ads was not an option as I did not have any money. So the only option left was to acquire clients through organic traffic.
What I could think of was – create great content and leveraging the existing network for distribution.
But who will create the content? I suck at writing simple content, forget about sharable content. At the same time, I did not have much knowledge about video marketing (domain area) then. 
So, one of the good things about entrepreneurship is that it pushes you to do things that are out of your comfort zone.
I decided I can not write traditional content but I can definitely write my experiences, my story, my learnings. For example this post: https://www.vidsaga.com/how-to-make-videos-like-khan-academy/
I did that and people found it interesting, they shared it in their network, and that's how we acquired initial traffic.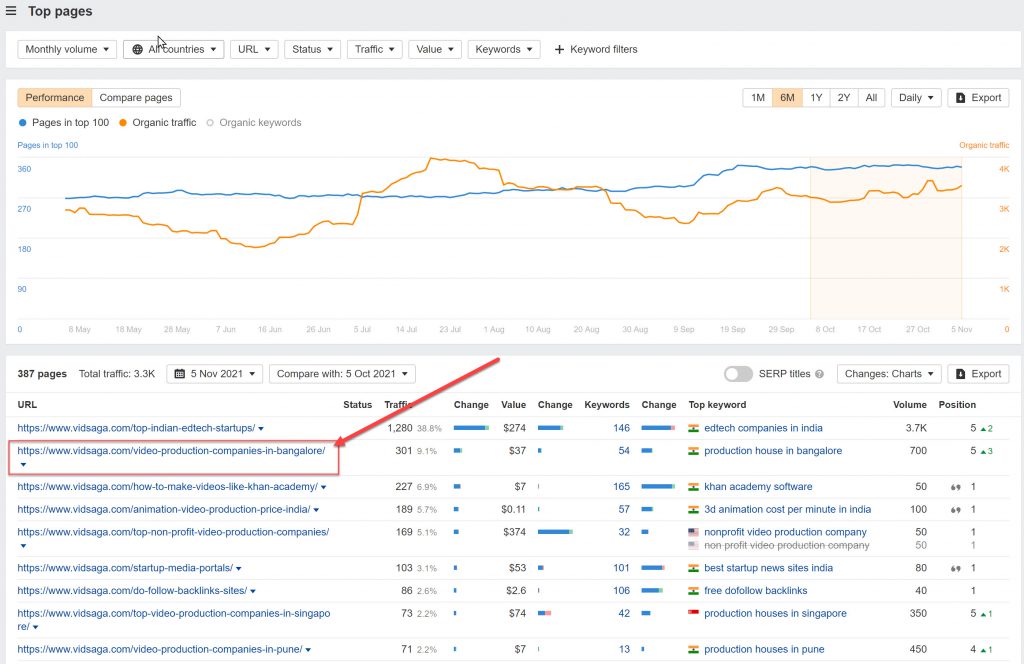 Have you learned anything particularly helpful in your SEO Journey?
Once we got initial traction through content, we had to expand our digital presence and it was time to learn SEO.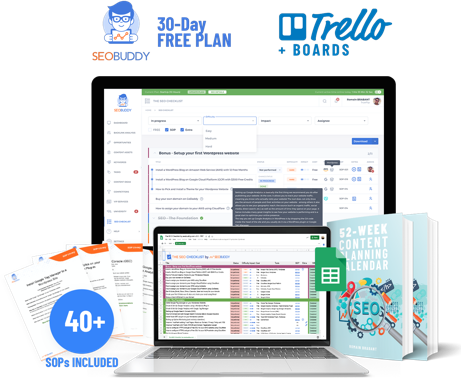 There's more…
Now it's time to discover the other 102 steps that will get more organic traffic flowing to your website. Get the SEO Checklist here.
Want to get a sneak peek of what it looks like?
Enter your email and get a free demo version of the SEO Checklist.
I started reading about it and started doing it but we did not get any results for almost a year and a half. This is the bad thing about SEO. It takes some time for you to understand whether it's working on not.
After this failure, the only option I had was that I should learn SEO systematically and start from scratch. One option was to attend an online course. But I have a business to run that requires traveling and a full day of involvement.
So we decided to hire an SEO expert and then build on that person's expertise. We hired one lady who was a fresher and had done a digital marketing course but had a tremendous passion for the field.
She taught us everything regarding SEO.
During this journey what we have realized is that "content comes first". If the content is not good, no matter how much on-page SEO or link building you do, the article will not rank.
We need to consider Google as a distribution medium like other social media platforms. As every social media has a different game, so does Google. We need to learn that game and play it with our great content.
So, create content that solves the user's problem or is actionable and then optimize it as per SEO guidelines and best practices.

Initially, we got links from startup media companies. These are credible links that are for the long term as well. For ex- https://yourstory.com/2019/07/startup-bharat-udaipur-iit-kharagpur-video-creators/amp
Then we got links by launching it on the launch websites like ProductHunt.
Then we got links by writing guest blogs on other websites.
This is a difficult task and has become very difficult in our experience.
Then after some time, we started getting organic links when our content started ranking.
What's your SEO Tech Stack?
Google Adwords
Keywords everywhere
Google search recommendations
Google webmaster
Google analytics
Canva
Tubebuddy
CoSchedule
TitleGenerator.com
Yoast SEO premium
What have been the most influential books, podcasts, or other resources?
Specifically for SEO, I did not read any book or follow any podcast.
In the initial days, I did follow Neil Patel and watched some of his videos.