My SEO Journey: Eduard Stinga from videoplasty.com – Leveraging YouTube to grow Brand Authority
My SEO Journey is a series where entrepreneurs and Indie makers share their honest SEO Journey filled with failure and success, and most importantly proven results. Episode #73 features Eduard Stinga from VideoPlasty.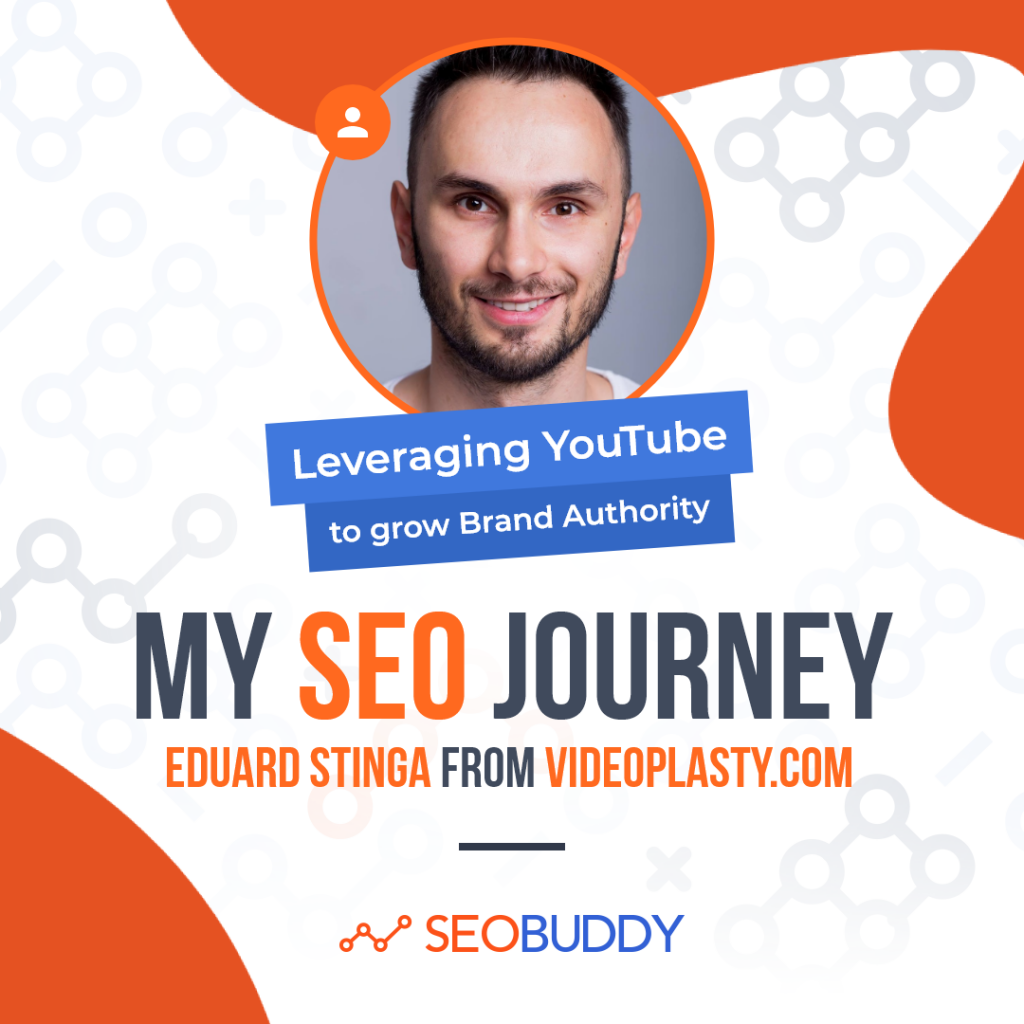 I'm Eduard Stinga, founder of VideoPlasty.com
We're an online marketplace for digital files in the animation and graphic design segment, being the only marketplace in the world where you can buy ready-to-use stock animation assets and commercially licensed stock GIF images.
Our customers choose to use our ready-made stock animation and stock GIFs because it helps them create professionally looking animated videos or presentations in minutes without wasting time learning complex skills.
At VideoPlasty.com our goal is to make animation easy so that anyone can incorporate it into their projects.
What's your backstory and how did you come up with the idea?
Our company has been making custom explainer animations for around 10 years at this point.
An explainer studio is a service-based business, which is harder to scale. As much as we enjoy working with clients and bringing amazing ideas to life, scaling to 10X clients means 10X more headaches. So we figured we could take the exact same skills and build a digital products-based business that scales easily.
We looked around and realized there's a gap in the market and nobody is selling ready-to-use stock animation items that are perfect for beginners. There were plenty of complicated After Effects project files, but who has time to learn After Effects.
So… VideoPlasty was born!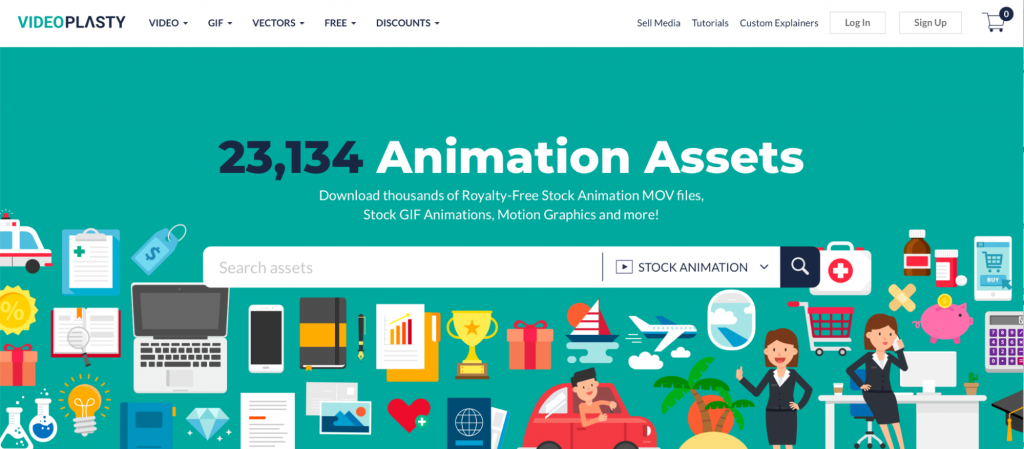 We honestly didn't really know if this was going to work or not. We've seen it work with vector graphics, but the barrier of entry to use images is very low. Everyone and their mom knows how to download an image from Google and import it into a PowerPoint. But actually editing videos for beginners was a gray area, because you do need to be a bit more technical oriented to do even basic video editing.
Eventually, after we started getting our first couple of sales and people were raving about the stock animation, we knew we were on to something good here!
Since launch, what has worked to attract more organic traffic?

As a bootstrapped company you don't have a lot of money to spend on attracting traffic, so what we did is we went for the free traffic sources. They also happen to be the slowest, but we went in for the long game.
Two major sources of organic traffic worked well for us.
The first one is YouTube. We started a YouTube channel with tutorials and other content relevant to our industry and we branded all videos with our company and logo and promoted items from our website. Making YouTube videos takes time and is super hard to grow a channel, but if you get things right, you can get millions of people to hear about your brand which is key to raising that brand awareness for a new company.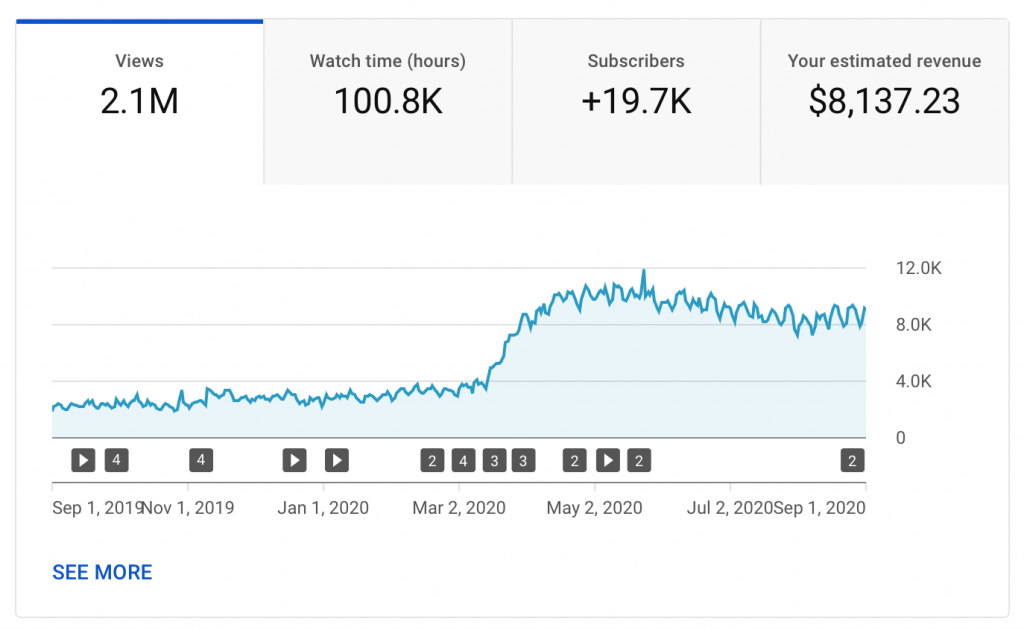 Because of this, we got a ton of people searching for our brand name on Google, because they kept hearing it in the videos. As you can imagine, that's a good signal for Google. Even if this can't be tracked accurately or quantified like classic backlinks for SEO growth, we see this as the "word of mouth backlinks".
If backlinks are basically websites "talking" about you, then users searching for your brand name means that people hear and talk about you outside of what Google can actually track. But in essence, it's still your brand becoming more popular and important to people, similar to what backlinks actually do on the web.

These two videos alone with 2M+ views total have brought in so much free and targeted traffic that it's ridiculous!
Even YouTube SEO is not traditionally viewed as mainstream SEO, it has been an important weapon in our arsenal. Our YouTube content strategy has been to create awesome ever-green videos for competitive keywords and master the art of ranking them high, making sure we get constant views, instead of relying on trends or videos going viral on the home page.
YouTube SEO boils down to the classics:
Great thumbnail and title to inspire people to click, thus high CTR
Great content, so you get a lot of that watch time
Engage with your users in the comments section so they come back
We still put a lot of effort into our tags, even if YouTube says they don't matter anymore
Promote our new videos to our email list or post in on our social media to get some backlinks and some of that initial traffic "boost"
The second massive source of organic traffic for us is of course search engine traffic, most of it from Google. Because we sell licenses for stock GIFs, those are very engaging and rank high on Google Images.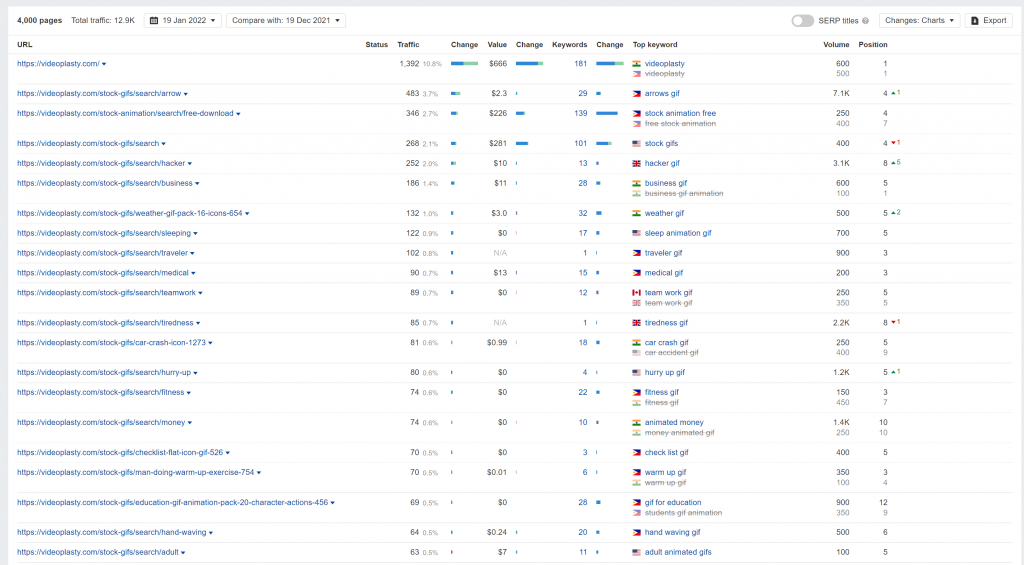 Combining that with the fact that we sell thousands of them, we soon started getting high rankings with low volume for thousands of long-tail keywords. Sure, only a few clicks for each, but they all add up to crazy numbers and people get exactly what they're looking for.
In order to promote those, we use our API system to automatically share all of our new products to YouTube and Pinterest, which for our industry are the most relevant social media platforms. This gets us backlinks for each individual product (we have 20k+ products), but more importantly gets us a little bit of traffic on each, which in turn helps us rank higher for those long-tail keywords.
And best of all, it's all automated. Sure, the repins we get on Pinterest are nofollow, but they're still backlinks nonetheless and it's our content being shared around the internet, which can only be a good thing as it's user-generated backlinks, not us trying to hack the system.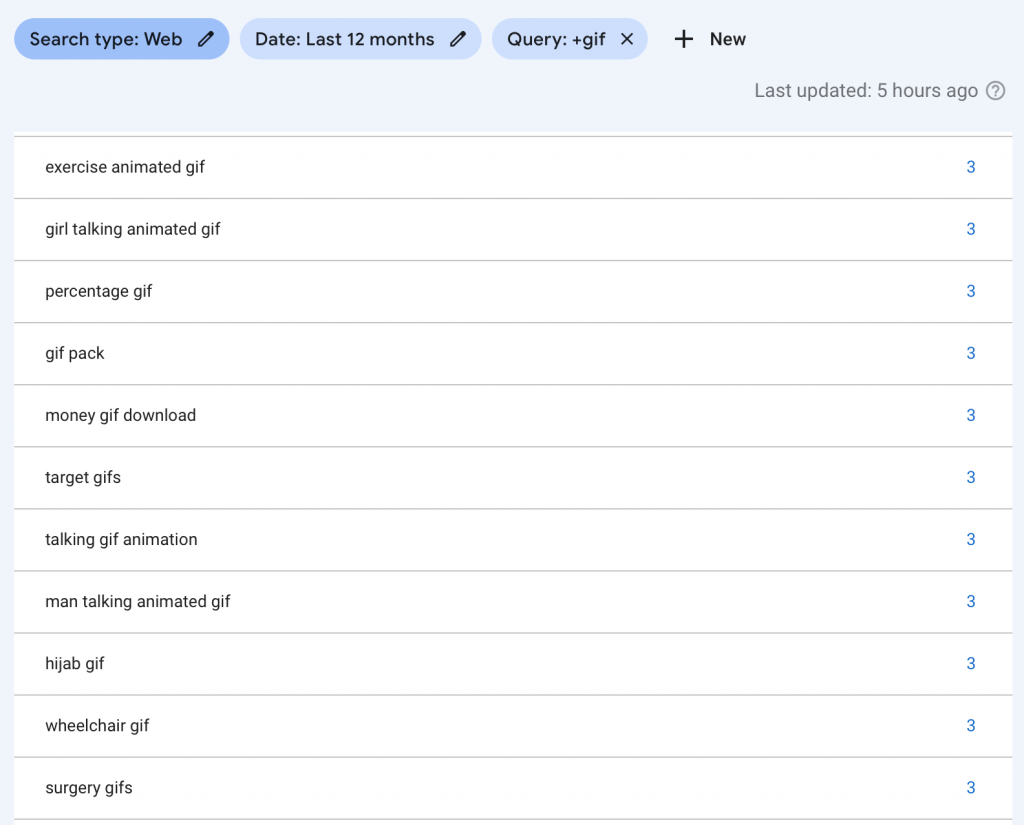 Have you learned anything particularly helpful in your SEO Journey?
One big lesson we learned along the way is that you should make as few changes as possible to your website layout.
When we first launched, we were on a WordPress eCommerce platform that started getting some decent rankings. Then we switched to a custom-built platform and obviously the HTML for each page was different. You can do as many 301 redirects as you want, but it will take another 6 months or so for Google to actually index those new pages and pass you all the SEO juice. In the meantime, you'll lose a lot of traffic so get ready for that.
Another massive lesson is that if something goes well, you gotta double down and ride the wave and the momentum you've build. Our YouTube channel started growing like crazy, but we got burnt out and stopped for a while, so eventually, the growth stopped and our numbers plummeted.
You gotta stay consistent.
Early on we massively underestimated the power of SEO, but at least in our industry, many of the top players get most of their traffic from organic traffic as it's a very "searchable" industry. It's something you need to carefully consider and plan early on as in our experience the results always come long-term.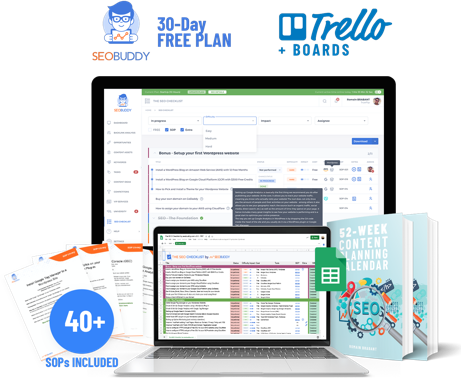 There's more…
Now it's time to discover the other 102 steps that will get more organic traffic flowing to your website. Get the SEO Checklist here.
Want to get a sneak peek of what it looks like?
Enter your email and get a free demo version of the SEO Checklist.
What SEO tools do you use for your business?
We love to keep it simple.
Google Search Console – we just regularly check our stats to make sure everything is fine. Pages are loading fast, crawlers can index things well and there are as little errors as possible.
Upwork – we run tech and SEO audits each year to see what we can improve and to make sure our technical on-site SEO is on point
Ahrefs – we don't use this as much as we'd like, but whenever we get the time, we spy on our competitors with 1,000X our budget to see their backlink profiles and get some ideas for ourselves for easy to get valuable backlinks

As a small company, we don't do as much link building as we would wish. So we try to come up with ideas for people to generate backlinks for us with our content, without any effort or time on our part.
There are two things that are working well right now.
First, we had a successful campaign where we uploaded a ton of free assets to Wikimedia Commons. And because these are under Creative Commons license, it means that everyone who uses them needs to provide a link back to VideoPlasty, which is pretty cool.

Based on that idea, we are soon implementing the same type of license for all of our free assets currently on VideoPlasty. We're giving away so many free assets for people to download and use for free, the least they can do is provide a little backlink. Realistically, it's not something you can actively police and start suing people all over the world at our current level, but there are many people who are happy to give you credit in exchange for using your assets.
This is something that Shutterstock does brilliantly, as a lot of their editorial photos are used in a ton of articles and all those massive publications have strict guidelines about attribution. This gives you constant and passive backlinks from a wide range of DRs.
I understand our example might not apply to all niches, but another great way to do this is what Brian Dean at Backlinko is doing. He does some awesome research and creates some great images and infographics, then a lot of people end up using those in their blogs, while linking back to his website.
What have been the most influential books, podcasts, or other resources?
You definitely need a good understanding of SEO and the fundamentals.
But honestly, at this point I think there aren't really any "hacks" or "tricks", just making sure you provide great content that people actually want. I think it was Matt Cutts from Google who many years ago said something fundamentally important for how you look at SEO. That you shouldn't try to make something to please Google, you should make your content as good as possible to please users and act as if Google didn't even exist.
That being said, we got all of our SEO fundamentals covered from Brian Dean Backlinko, if you read the entire blog there, you graduated from SEO school.
What's the next step in your SEO Journey?
We'd love to start reaching out to influencers, blogs, podcasts, YouTubers and have them start talking about us, whether it's an article, video, or interview, we want to make sure we get in front of new audiences. The more people talk about your brand online, the better. That translates into more traffic, more brand mentions, and also the good old backlinks.
Where can we go to learn more?
You can check out our marketplace at VideoPlasty.com
For any questions, you can message me on Instagram at: https://www.instagram.com/eduardstinga/
And you can find our growing YouTube channel mentioned in the article to see how we get tons of free and targeted traffic here: https://www.youtube.com/user/EduardStinga