My SEO Journey: Magnus Unemyr from Unemyr.com – How AI and ChatGPT might disrupt the SEO industry
My SEO Journey is a series where entrepreneurs and Indie makers share their honest SEO Journey filled with failure and success, and most importantly, proven results. Episode #115 features Magnus Unemyr from Unemyr.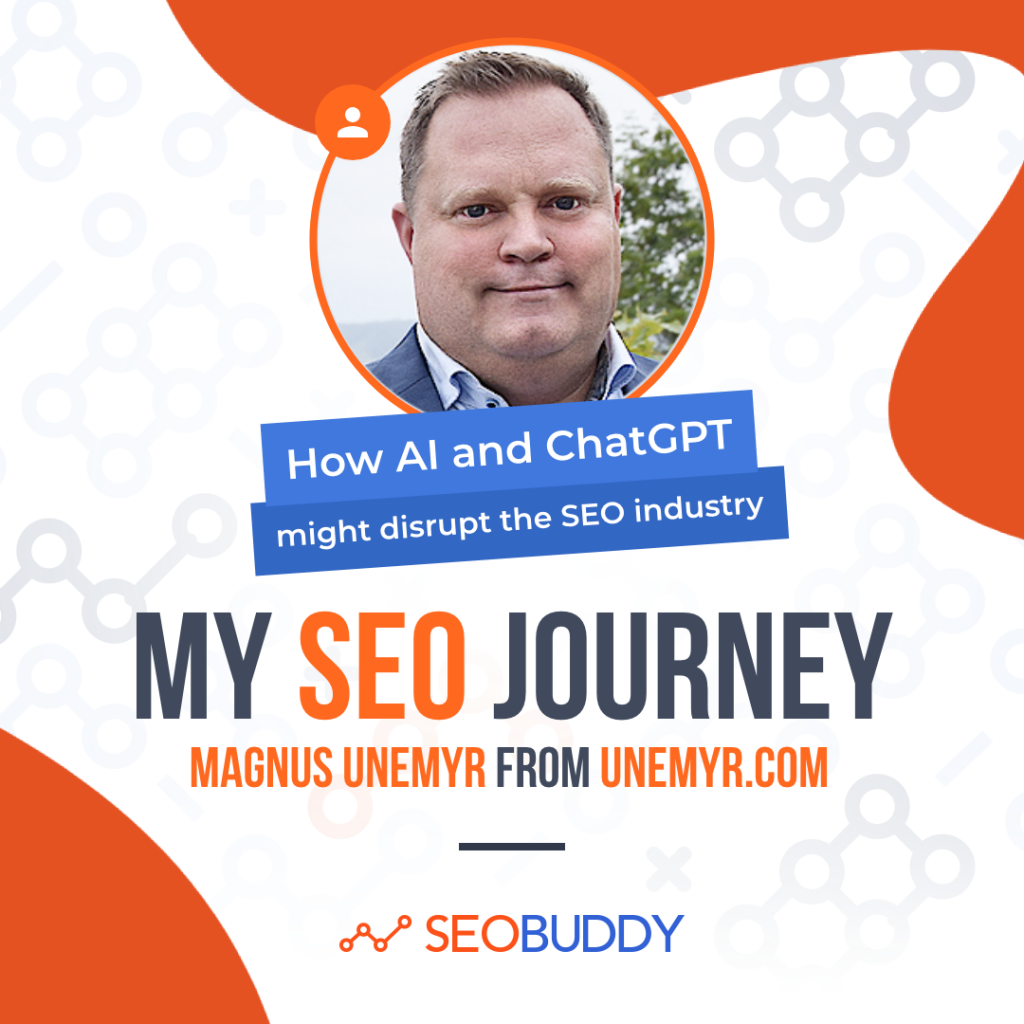 Hi! I'm Magnus Unemyr. I have been working in the global software industry for over 30 years (I even started as a software developer in my first couple of years after university), and I have held various management, marketing and strategic positions in the software industry; 10 of those as a global marketing manager and a marketing automation expert.
In 2017 I left a company I had co-founded and started as a solopreneur (author, speaker, trainer, advisor and consultant) in the marketing automation and AI space.
I wrote one of the first books about artificial intelligence in marketing, "Data driven marketing with artificial intelligence", that is available on Amazon in digital and physical versions. Now, I shift more and more into being an AI strategist and AI advisor, and I sell a training course "Successful AI transformation" aimed at non-technical managers and domain experts.
What's your backstory and how did you come up with the idea?
Since I have both a strong software background and long marketing and management experience, I realized I had something few people has. Technical experts rarely like or understand marketing, and marketers are often not very technically skilled. I know both sides very well, and so marketing automation and related software solutions became my interest and focus. 
After a few years, AI and machine learning started to be a disruptive technology. I shifted focus more and more from general marketing automation into marketing with AI. This made sense since I studied AI in University already in 1989 and AI based marketing was understood even less than traditional marketing automation by marketeers.
Over time, I broadened my focus a bit and now work as an AI strategist/advisor, speaker, trainer and consultant. I have found that many mathematicians and software developers are keen to learn AI and machine learning on the technical level, but there is a huge competence gap on the more strategic levels, amongst non-technical managers, domain experts, business developers, marketers, etc.
Since launch, what has worked to attract more organic traffic?
I was interviewed on a lot of podcasts a few years ago, and I have written many blog posts to attract organic traffic as well. My books on Amazon also contribute to my organic traffic.
Now I use AI tools to auto-generate most of my blog posts, and like everyone else ChatGPT has become one of my go-to tools for automatic content generation. Since I am Swedish and live in Sweden, I also enjoy far less competition for organic traffic as I also have a blog in Swedish language.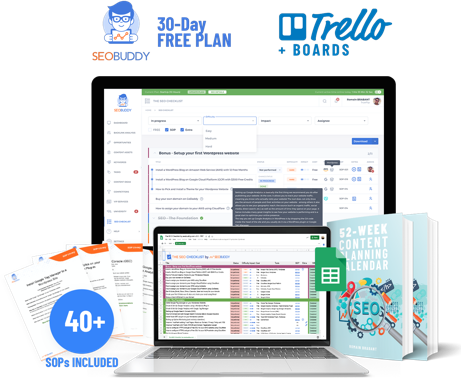 There's more…
Now it's time to discover the other 102 steps that will get more organic traffic flowing to your website. Get the SEO Checklist here.
Want to get a sneak peek of what it looks like?
Enter your email and get a free demo version of the SEO Checklist.
Have you learned anything particularly helpful in your SEO Journey?
I probably did what most people do, technical analysis of the webpage, speed-tuning the site, added more content, link building, keyword research etc. I don't think that is so interesting because I haven't done anything than what most other people do.
What is more interesting, I think, is how SEO will work in the (very near) future. In my opinion, in the next couple of years, almost anyone will be able to produce enormous amounts of content with virtually zero effort using AI writer tools. The "content shock" will be taken to a completely new level.
This will 1) lead to your content competing with an unprecedented volume of new content related to every little detail of what you try to get organic traffic for, and 2) search engines will start to use AI to detect what content is AI generated and demote those in the search result listings. It is unclear how this will play out, but it might lead to SEO becoming meaningless as a means of attracting traffic from search engines to your content (because your content will drown in the vast oceans of AI generated content).
Even if the above reasoning wouldn't affect SEO negatively, I think that search engines will less and less return a list of links, and more and more just provide the answer in human language. We already see this happening, and I don't think it will be long before Google will respond to searches with written answers, just like ChatGPT. Perhaps search engines like Google will not even display a result list with links, but just the answer in human text. If that would happen, SEO is dead and paid ads would be the only option to get search engine traffic.
But I think we should consider voice here too, not just human text. Voice changes everything in terms of searching and buying online. A voice assistant will never read out a list of 20 matching search result URL's like Google do today in a text interface.
Instead, I may talk to Siri on my iPhone and ask it to find good jogging shoes to buy. Based on my previous purchases and other factors, it may just read out loud "I recommend you buy these white ones in size X from Y". You can then ask "What do they cost in red?" Once the voice assistant have refined the answer based on a voice conversation with you. you can just ask it to order them.
And so, the increasing use of voice assistants for searching and buying will not drive any organic traffic, in my opinion.
What SEO tools do you use for your business?
I used to have lots of different tools; now I mostly push AI generated content from ChatGPT at very very little effort. Since I am a solopreneur, there is a limit to how much I can spend on SEO related things.
It is a slow process and you need to be somewhat well known for it to work
What have been the most influential books, podcasts, or other resources?
My own book "Data driven marketing with artificial intelligence", because I learned so much when doing "research" during 6 months before writing it; and it has also opened a lot of doors for me. So probably not the right thing to mention my own book, but writing it has given me so much in terms of new knowledge and opportunities.
What's the next step in your SEO Journey?
I think I will continue on my path to generate many more blog posts using ChatGPT, until it maybe doesn't work anymore due to above mentioned reasons.