My SEO Journey: Rishi Narayan from undergroundshirts.com – Building brand awareness and driving organic traffic through brick-and-mortar locations
My SEO Journey is a series where entrepreneurs and Indie makers share their honest SEO Journey filled with failure and success, and most importantly proven results. Episode #58 features Rishi Narayan from Underground Printing.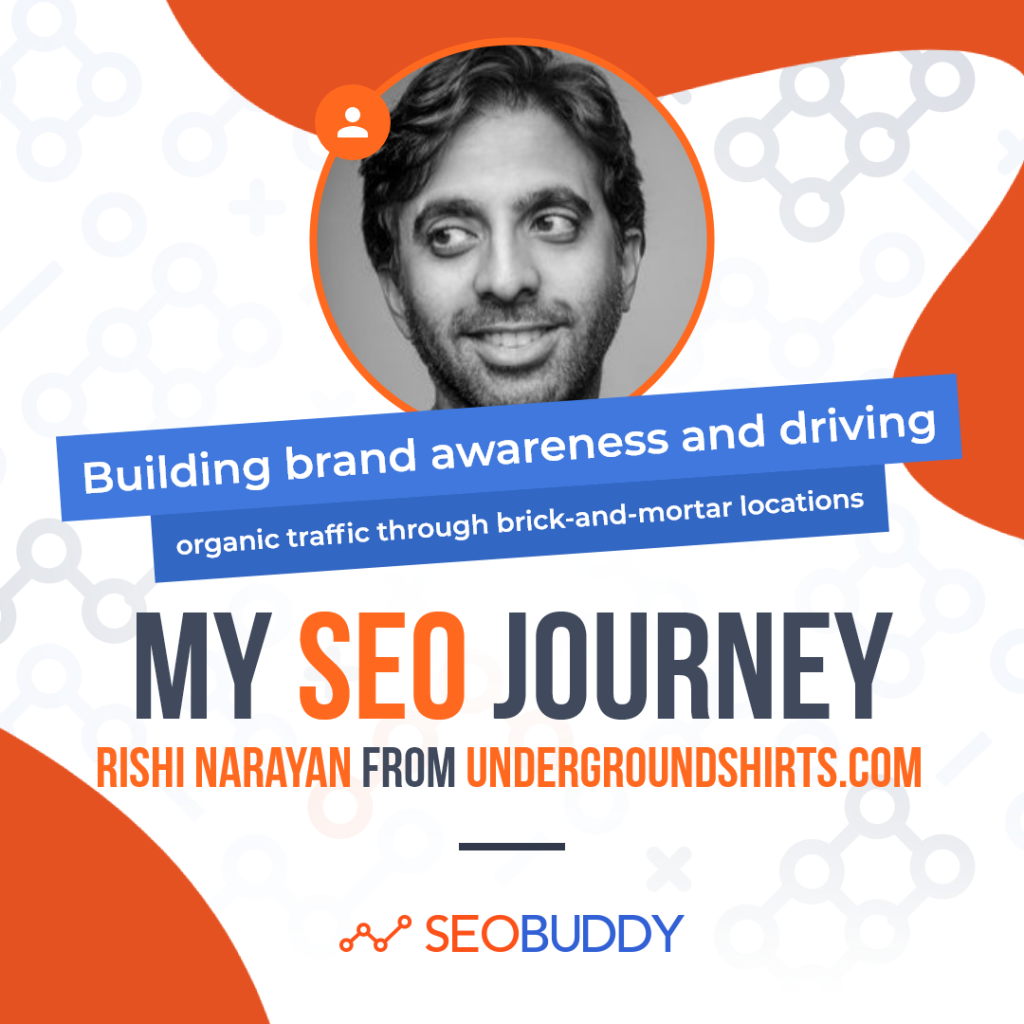 I am Rishi Narayan, co-founder of Underground Printing, a national custom printing apparel provider, headquartered in Ann Arbor, MI. We offer screenprinting, digital printing, and embroidery on a wide variety of apparel and promotional products.
We created Underground Printing because we wanted to make amazing custom apparel for customers while ensuring they had the best experience possible.
Since launching the company in 2001 while sophomores in college, Underground Printing has grown to 26+ locations across the country, primarily focused on college towns like Chapel Hill, NC, Evanston, IL, East Lansing, MI, and many more!.
All of our garment print production is done in our state-of-the-art 55,000 sq. ft. production facility and warehouse, located in southeast Michigan. Our technology and infrastructure allow us to provide the best quality, competitive prices, and with some of the shortest turnarounds in the industry.
Today Underground Printing has become one of the largest custom apparel providers in the country and we proudly employ more than 200 people. 
What's your backstory and how did you come up with the idea?
My childhood friend, Ryan Gregg, and I started the company in 2001 when we were at the University of Michigan. I learned about starting small businesses from my father, a professor of chemical engineering at Michigan State University who was also an entrepreneur.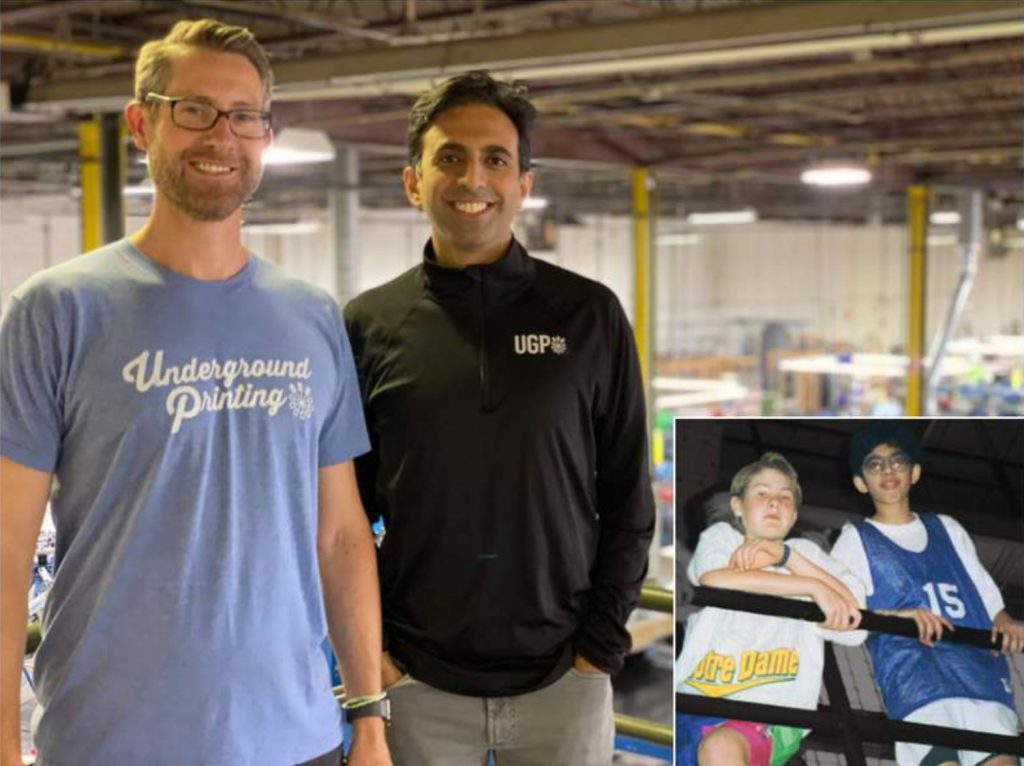 When I decided to pursue a degree in chemical engineering at Michigan, I assumed that learning about entrepreneurship would be part of my ChE degree. So in Ann Arbor, I was looking for an outlet for this entrepreneurial spirit.
It wasn't long before Ryan and I started a "dorm-loft building" business.
Ryan, a civil engineering student, designed the lofts and I would sell them. Unfortunately, I soon realized that this enterprise would keep me active only for one week in September. I knew I wanted a business that I could pursue the other 51 weeks of the year.
We considered some other products we could sell on campus to our fellow students.
In our sophomore year, we decided to start a t-shirt business—after all, everyone wore t-shirts and we had a little experience making t-shirts in high school. We named the company that we ran from our dorm room, A-1 Screenprinting, so our company would be first in the phone book.
In 2003, we purchased a small screen-printing business so we could increase our production capabilities. We also officially changed our company's name to Underground Printing, as it was a better fit for our bootstrap start and style…oh, and Google came around and made the phone book obsolete!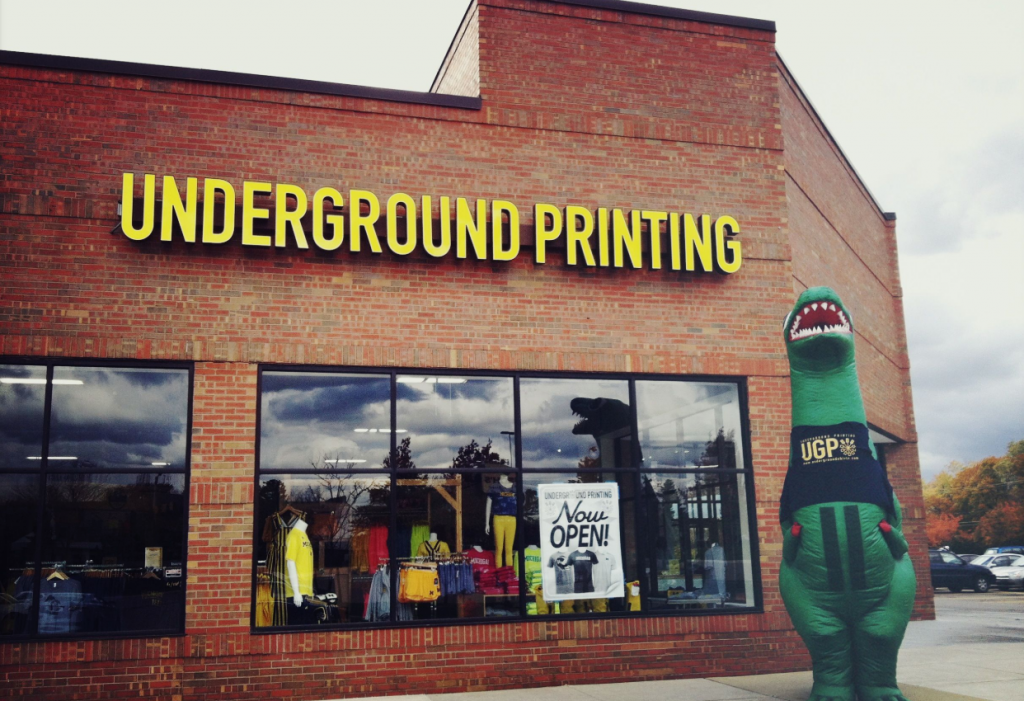 Since launch, what has worked to attract more organic traffic?
Right now we are doing very well by building brand awareness which is driving success on both of our key fronts — in-store sales and orders from our website. We are continuing to prioritize our website while striving to appeal to our key demographics through our unique product offerings like Pop Up Online Stores, Print on Demand, Fundraising, and 2 Day Lightning Rush Delivery.
Our brick-and-mortar locations throughout the country allow us to service our customers in person when they want to work directly with a salesperson or experience the products for themselves.
We have launched several marketing campaigns that are driving brand awareness in new and existing markets as well as converting existing customers to make repeat purchases.
The future, for us, lies in continuing to grow and expand — whether that's with new store locations or continuing to funnel more traffic into our website, or expanding our reach on social media platforms.
We want to make sure that Underground Printing is accessible and easy to work with for all customers.
But most importantly we want to ensure we are supporting local communities for all of their custom apparel needs and offering the best customer service in the business!
Since launch, we have always focused on giving the user the proper tools in order to create the best custom apparel to fit their needs. Focusing our catalog and landing pages on the intent of the search terms used has allowed us to gain Google's trust. This in turn gives the advantages of consistently ranking for those high-volume keywords that we target.
Most users in the custom apparel industry are looking to design or create. So giving them the best possible design platform and products have allowed our organic traffic to remain stable over the years.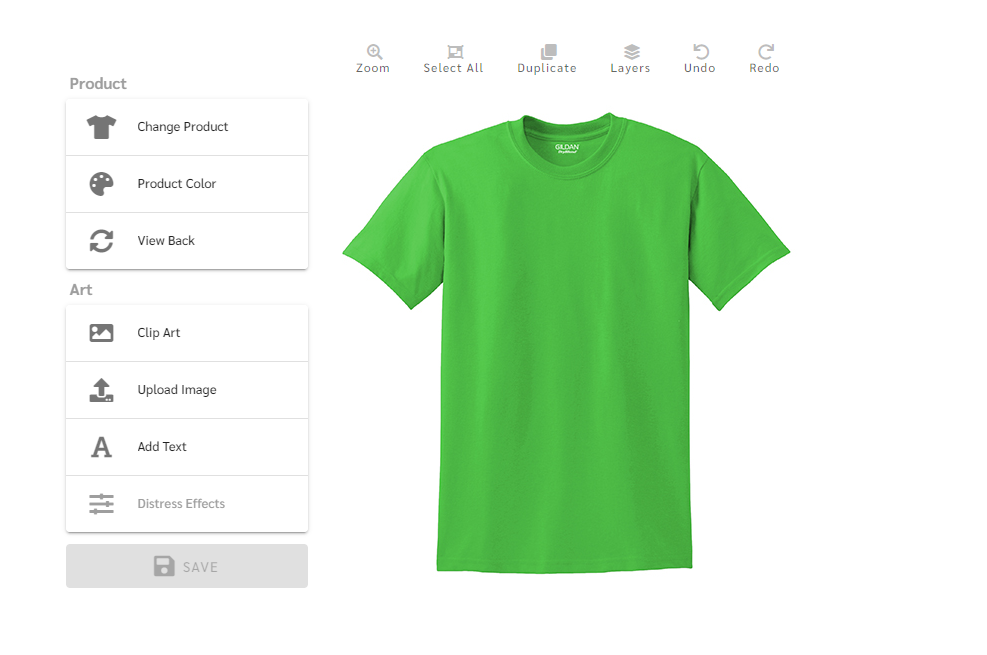 Have you learned anything particularly helpful during your SEO Journey?
Our SEO journey is focused on driving new customers into our funnel.
We have a very high retention rate due to the nature of the custom printed apparel journey but also our excellent customer service.
We also try to add value by posting weekly educational and informative blog posts. The feedback and comments on our blogs have been extremely positive and have helped us build more products and solutions that address their needs.
The custom apparel market has been exploding. There is competition from local mom and pop stores as well as silicon valley startups. This increased competition has helped grow the market and educate our consumers.
We have seen growth from several key categories recently including craft breweries, startup businesses, events, and local restaurants. Custom apparel is definitely something that all businesses should think about as an incremental revenue stream and important word-of-mouth marketing channel.
We have been able to attract and retain customers because we pride ourselves on offering the highest level of customer service and ease of ordering in the industry. We are one of the highest-rated custom apparel companies in the industry!
Over the past couple of years, our SEO team has found many new tactics to be advantageous to our organic traffic growth. These tactics have included; extensive competitor analysis, keyword research, and landing page optimization. These tactics have been applied both to non-catalog-related search terms and product-specific search terms.
Identifying terms that we do not rank for that our competitors do rank for, has been a key to driving some recent organic success.
Here are a couple of screenshots of those successes: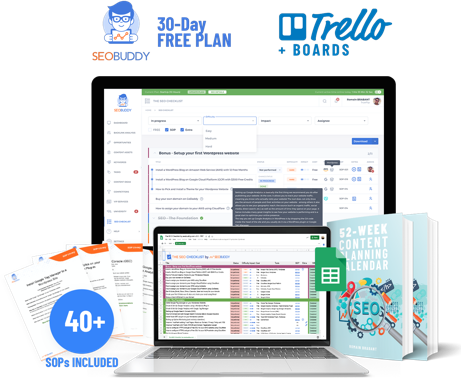 There's more…
Now it's time to discover the other 102 steps that will get more organic traffic flowing to your website. Get the SEO Checklist here.
Want to get a sneak peek of what it looks like?
Enter your email and get a free demo version of the SEO Checklist.
What SEO tools do you use for your business?
I use a ton of tools in my everyday work. Some of these tools include Calendly, Google Keep, and Last Pass. Very few days go by where I don't use at least two or three of these tools. These are great for keeping things organized on my desktop or phone, which is huge for me. Being organized is essential for me just to keep my own working life structured in a way that is cohesive. A lot of these tools serve as good ways to remind me of things I want to make sure to get back to or set things up ahead of time. In that way, it lets me have a good level of control over important events in my work.
And here are some SEO related tools that we rely on for various data and insights:
SEMrush – This tool is used by our SEO team members to conduct in-depth keyword research, competitor analysis, and backlinks audits. This tool both identifies content opportunities and technical site analysis that allow us to uncover issues across our web pages.
Ahrefs – This tool is mainly used for keyword ranking position changes for our main domain. We are able to use Ahrefs on a weekly basis to identify where we might see position increases or decreases and this will give us an opportunity to slightly tweak our content for the better. Ahrefs is also used on a monthly basis to run technical site audits.
Google Analytics – One of the most important tools for us to track anything and everything is done through digital marketing is Google Analytics. Most importantly, for SEO, this tool allows us to identify what pages are driving the most organic traffic, transactions, and revenue. Not only does this tool allow us to identify where our traffic is coming from or going, it also allows us to shift our conversation from traffic to conversion. In which this gives us the opportunity to focus on long-term revenue growth.
Google Search Console – GSC is our SEO team member's favorite one-stop-shop tool for everything SEO-related. This tool is used on a daily basis to identify trends, analyze query reports, identify top-performing landing pages, and make sure our SERPs are showing up properly. This tool is also used for many more tactics including identifying any technical site issues on a page-by-page basis.
What have been the most influential books, podcasts, or other resources?
Podcast
WorkLife – Adam Grant
How I Built This – Guy Raz
Planet Money – NPR
Startup, Without Fail – Adam Blumberg
Books
ShoeDog – Phil Knight
Small Giants – Bo Burlingame
Zingerman's Guide to Giving Great Service – Ari Weinzweig
Other
Morning Brew – Daily Newsletter
https://searchengineland.com
https://www.searchenginejournal.com
@lilyraynyc / twitter
@rustybrick / twitter
@glenngabe / twitter
Where can we go to learn more?
[email protected]
https://linktr.ee/rishin
https://undergroundshirts.com/pages/our-story
https://undergroundshirts.com/a/custom-printing-blog/20-years-of-custom-printed-apparel
https://www.instagram.com/undergroundprinting/