My SEO Journey: Scott Lieberman from touchdownmoney.com – Try to be as helpful as possible to people who can promote you
My SEO Journey is a series where entrepreneurs and Indie makers share their honest SEO Journey filled with failure and success, and most importantly proven results. Episode #90 features Scott Liberman from Touchdown Money.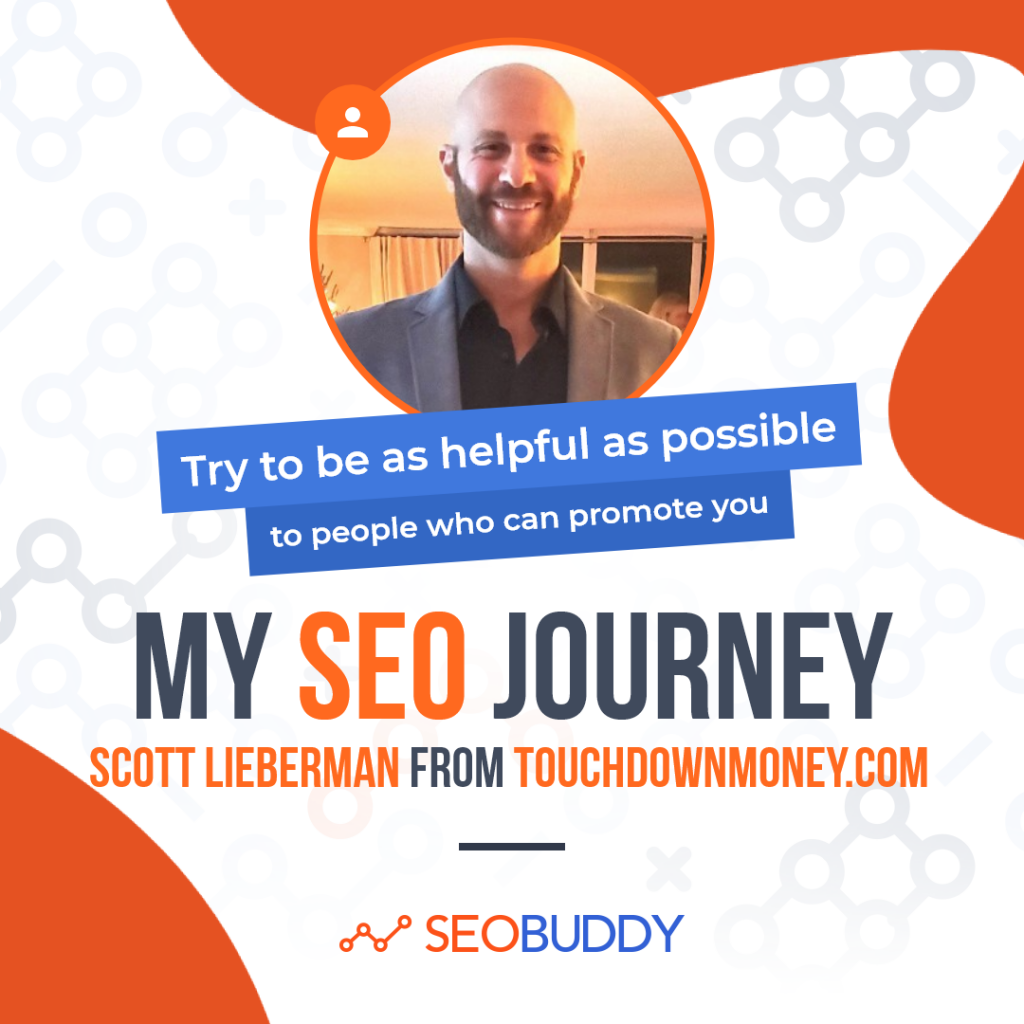 My name is Scott Lieberman and I've been making money online since 1999. Hot dang, I'm old! I'm so old I shout phrases like "hot dang!"
I'm so grateful for this lifestyle. I've been fortunate to have traveled to 25 countries. The cool part is when I travel I can stay for months at a time and live like a local.
I started Touchdown Money for one reason: FREEDOM.
I want my audience to enjoy the blissful freedom of living life on their terms, instead of being told what to do and when to do it.
As a child I saw my father get laid-off from his job through no fault of his own. I saw the anguish on his face – the feeling of no control.
My dad wanted better for me. And I made a commitment to it.
There comes a point in life when you want to share what you've learned. I'd be ecstatic if my legacy is to have helped regular people gain freedom and control over their lives by building their own fun (and profitable!) online business.
My business exists to help regular people make money online. I review the software and tools you need to build your online business. I make it fun by inserting my real-life experiences, including when I messed up!
I want to help anyone who is striving to be their own boss. Life is too short to work for someone else doing something you don't believe in. But realistically we all need to make a living.
So I want to help people turn their idea into a strong profitable business they can be proud of.
Since launch, what has worked to attract more organic traffic?
My site, Touchdown Money, is still very new. Even still, I've been able to build the site's Domain Authority very quickly using the techniques I've mastered when marketing for other companies.
Domain Authority is a score from 1 to 100 created by a company called AHREFS that estimates how likely you are to rank at the top of Google search results, IF you write a well-crafted article on a topic relevant to your site.
For instance, Wikipedia scores a 91. This site, SeoBuddy, scores a 54. A site I work with, The RideShare Guy, scores a 71. In just a few months of SEO promotion, Touchdown Money scores a 37 and is rising rapidly.

The RideShare Guy serves over 250,000 pageviews per month to over 176,000 gig drivers.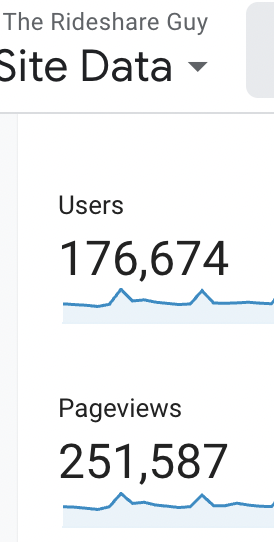 I'll share what we've done at Touchdown Money, The RideShare Guy, and other sites for which I've worked to quickly and sustainably gain organic traffic.
First thing – avoid a rookie mistake. More traffic doesn't necessarily mean more money.
You want to focus on the RIGHT kind of visitors for YOUR business.
Say you're working on SEO for luxury homes for sale in Omaha. Wouldn't it be better to attract 1,000 wealthy people a month who are looking to move to Omaha versus 1 million teenagers who live in Godric's Hollow?
You need 3 main things to attract more organic traffic. (There are many things you need but without these 3 the rest are irrelevant.)
You need a speedy site, you need terrific content, and you need publicity.
Fast loading website
Select from the best web hosting services. If your site takes longer to load than your competition, you're at a deep disadvantage. Every millisecond counts!
Terrific content
"Terrific" is not what your mom thinks about your articles. Terrific is measurable.
Check Google Analytics to see how long people stay on each article. If people are leaving within 30 seconds, your article probably needs to be improved.
Endeavor to write the best article on the internet about your chosen topic. Yes, it's very competitive on the world wide web!
Your article can be:
More informative
More entertaining
Better organized
More specific to your audience (for example, you might want to speak mainly to engineers who skydive on Thursdays about which craft beers are tastiest)
Etc.
Imagine your article is you speaking to an audience of people in a room. They have come to this room with the purpose to learn more about your topic.
What if 30 seconds into your presentation, most of the people stand up and walk out!
They walk across the hall to listen to a different speaker on the same topic. Ouch!
You'd know you had better make your introduction more compelling. Make your tone of voice and personality more appealing. And so on.
Publicity
It's not enough to create outstanding content. You need a lot of publicity.
How?
Give the people who can promote you what they want!
For instance, develop authentic relationships with reporters. Reporters often need new statistics, quotes from experts, and stories.
If you say or provide what everyone else does, you're not being that valuable. But what if you created a NEW survey with unusual results that speak to a trend? What if you have unique insight into current events based on your experience?
This is very valuable to reporters. Reporters will often link to your site or mention it in their article.
Another way to gain publicity is to do what I'm doing now – make yourself available for interviews!
In this case, SEO Buddy is getting free content that (I hope!) is useful to their audience. And while I'm here I just might mention my site, Touchdown Money, one or two thousand times.
Now, if you want people to come back to your site, here's what I suggest. Get yourself the best email marketing software and give your visitors a super good reason to give you their email address.
We all get too many boring emails from boring companies. Give something awesome, useful, and free to people who sign-up for your newsletter.
Then you can email these people to let them know when you have new content or an offer that would interest them.
Important tip on what to expect: It will take longer and it's more challenging to rank at the top of search results for phrases that are highly competitive.
Often these phrases are what people type in when they are close to buying something or signing up for something.
An example would be best business credit cards. Don't expect six-pack abs just because you did 12 sit-ups and only ate one doughnut this weekend and don't expect to beat out big sites right away.
However, if you go for some less competitive phrases, you can see success faster.
AHREFS is a tool that estimates how hard it is to get to the top of search results: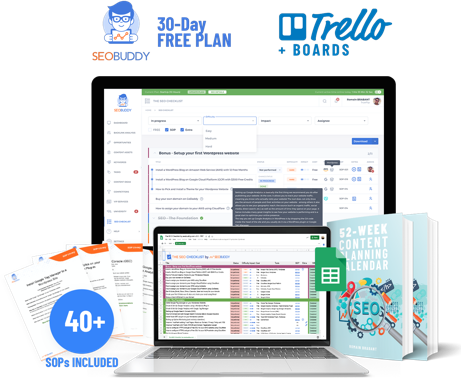 There's more…
Now it's time to discover the other 102 steps that will get more organic traffic flowing to your website. Get the SEO Checklist here.
Want to get a sneak peek of what it looks like?
Enter your email and get a free demo version of the SEO Checklist.
Have you learned anything particularly helpful in your SEO Journey?
No. I am stubborn and never listen to anyone else, except for the voice in my head that says, "Order Chinese food. C'mon. You know you want egg rolls!"
What I've learned is to try to be as helpful as possible to people who can promote you. Find out what they actually need and give it to them.
They might need your expertise in the form of a quote, they might need story ideas, they might need you to retweet them, they might need you to comment on their content, they might need you to make them look good to their boss, they might need to be complimented on their eyebrows.
Serve others and they'll be more likely to help you out when you ask.
The other thing I've learned is, using the best SEO tools really helps. However, everyone who is serious about SEO is using these same tools. So what's your competitive advantage?
Think about how to make your content better, your publicity more widespread, and try to see into the future.
Perhaps the greatest hockey player ever, Wayne Gretsky, famously stated, "I skate to where the puck is going, not where it has been."
Can you do that with SEO and content marketing? If you can, you'll be The Great One.
Sign-up for HARO (HelpaReporter)
Look for media reporters in your industry and follow and help them on social media, and
Offer to be interviewed everywhere you can to share your specialized knowledge.
What do you see companies get wrong with SEO
They have no strategy at all.
No, you can't write a bunch of articles without SEO structure and expect to gain traffic from search engines. It might work for other sources of traffic, but search engines are run by algorithms that look for specific keywords and elements.
Use an SEO Checklist!
They have a strategy but there's a tall brick wall between the SEO person/team and the editorial team.
SEO isn't something you "add on top" like mushrooms on a pizza. It's got to be baked in, like the cheese in stuffed crust pizza. Note to self: stop doing interviews while hungry.
Your articles, regardless if you're targeting search engine traffic or social media traffic, etc., should begin with the AUDIENCE'S desires. Sure, leave some room to experiment. But mostly you should be writing on topics you KNOW will be in demand for the people you wish to serve.
Too many companies write an article and then try to "search engine optimize" it. Instead, know what you should be writing about, how to format it, and THEN write it with those aspects in mind.
They spend too much money for weak results.
Beware of companies that offer you tons of links for a dirt cheap price. Beware of SEO companies that promise you huge results in 30 days.
Even if you know nada about SEO, heed this quote from billionaire Warren Buffett, "If you don't know jewelry, know your jeweler."
So while you may not understand SEO yourself, go with someone you trust, someone who has a track record of success, and so on.
That goes for any aspect of your online business. Did I mention my site is Touchdown Money and I help grow online businesses?
Did I mention that you should promote yourself a lot? 🙂
Did I mention that, "Hot dang!," your eyebrows look especially glorious today?
Where can we go to learn more?
The best way to reach me is at Touchdown Money.
Thank you to Romain and the team for allowing me to share with you!