My SEO Journey [Pro Edition]: Dmitry Dragilev from topicranker.com – Finding weaknesses in search results to discover easy-to-rank keywords
My SEO Journey [PRO Edition] is a series where professionals in the SEO Industry, Digital Marketing, or Web Design share their honest SEO Journey filled with failure, success, and most importantly, proven results. Episode #100 features Dmitry Dragilev from TopicRanker.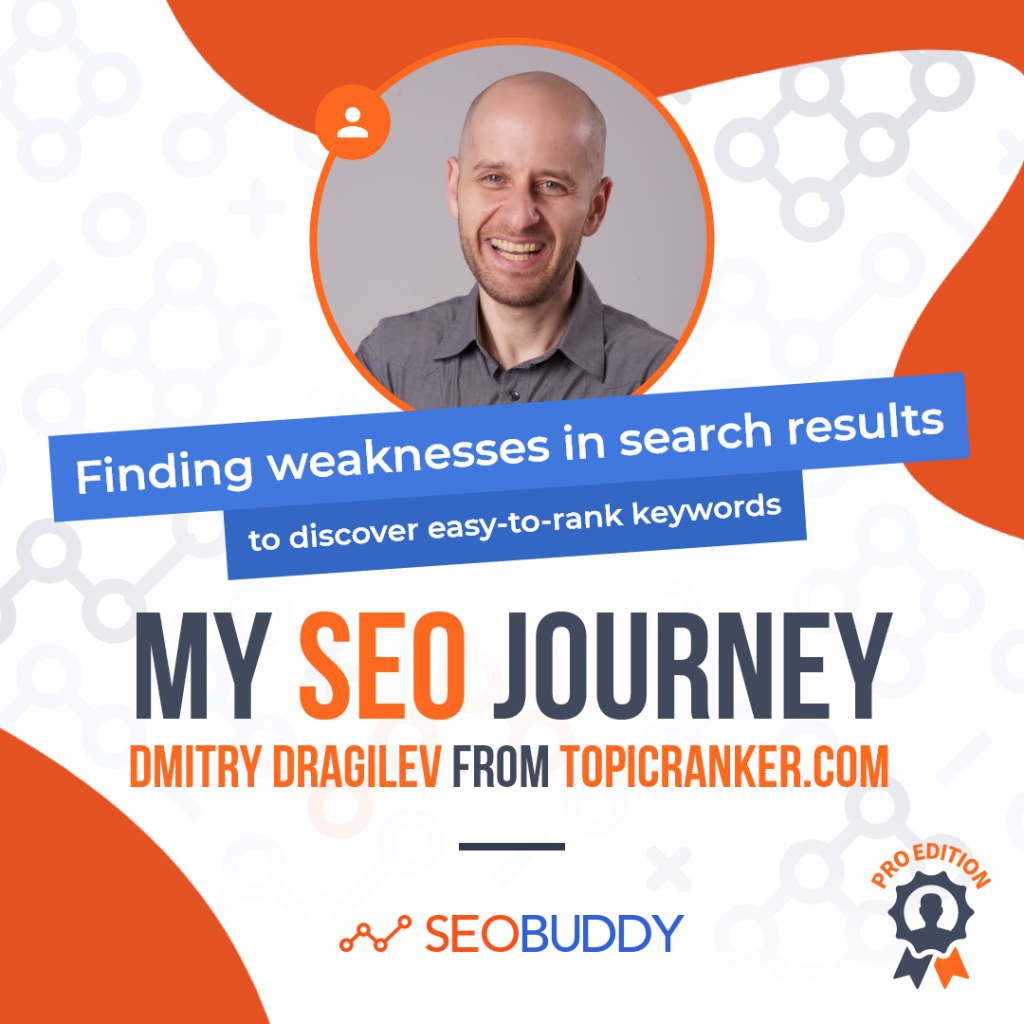 Hello! Who are you and what business did you start?
Everyone is looking for content with substance. The days of posting an article just to accumulate posts on a new blog, or stuff some links into a piece are no longer well tolerated. As a content producer, I know that people can't possibly read everything related to a topic, they don't have that kind of time. The best articles are the ones with information people can actually use.
Let me back things up a bit. Hi. I'm Dmitry Dragilev. I'm an entrepreneur, consultant, relaxed CrossFitter, late-to-the-party pianist, and all-around family guy pushing boundaries around what constitutes balancing work and life. With an emphasis on life.
I started providing marketing guidance to clients who wanted to learn how to implement growth strategies through my aptly named consultancy, Criminally Prolific. You might have seen this case study of how I used PR to grow a startup from 0 to 40M pageviews per month and got acquired by Google.
I took the know how from this experience decided to take the plunge and become a full-fledged Saas entrepreneur – I launched JustReachOut to help businesses automate their outreach practices, enabling thousands of early stage startups and small businesses to replicate the daunting process of running a modern public relations shop in-house.
Somewhere along the way I bought and scaled SmallBiz.tools – a blog for business tool reviews – from 0 to 30K visitors per months, Now, after years of recognizing the pitfalls and patterns inherent in the process of developing content that makes the SEO world swoon and the fellow high ranking competition fade into the background, I built and launched my latest Saas Topic Ranker – a tool which recommends keywords you should target on your blog based on weaknesses and problems in search results.
So, how is it that people manage to land on exactly the most relevant content? Search engines. Most often the one that rhymes with kugel. I love kugel. SEO was once an afterthought for many business owners but now it's the singular marketing activity that provides the greatest value. If you have a website and rely on people learning about your products or services for growth, SEO is the last thing you want to leave on the table.
I've been focused on building Topic Ranker in a way that's surprised me. I'm having the most fun experimenting with what I think will be a hot topic and seeing how my judgment compares to the algorithm.
To demonstrate how TopicRanker works I recently ran an experiment where I ranked #1 for "which keywords are best to target" – 320/mo search volume on my brand new domain – topicranker.com in two weeks without any links!
The secret sauce was that I picked a keyword which had a specific weakness in the search result, here are the weaknesses TopicRanker reported on as it suggested I  go after this keyword:
Moz DA 8 and other low Moz DAs are on ranking in top 10 spots
Google web vitals poor for 3 results in the SERP
Reading ease score is poor in 4 results n the SERP
Topical depth is not great for 5 results n the SERP
Word count was below 1000 for 4 results in the SERP
Some content in the SERP was older than 6 months
I love Googling and finding weaknesses in search results. It's exhilarating for me because, as a client recently shared, I can read an article like an SEO algorithm. This was rather humbling because I guess it's not that great if I come off as a human with computer-like tendencies. It's also cool though, because this is what my clients hire me to do.
Our content is only as good as the algorithm when it comes to ranking number one on Google. I find this both limiting and freeing. It's why humanity and real life beyond the screen is more vital now than ever.
What's your backstory and how did you come up with the idea?
There were many stumbles when I first launched JustReachOut. We weren't originally a pure Saas business because the premise of the company (do your own PR without an expensive agency) was a steep learning curve for customers – solopreneurs who didn't have time for or genuine interest in the nuances of relationship building and personalized outreach.
Then there were customers who had the necessary marketing person on board who could dedicate time to polishing the PR strategy in the name of boosting SEO but lacked the writing skills necessary to push stellar content out the door.
So, I propped up the business with a service subscription option. I built up a team of outreach specialists by partnering with a small PR agency to do the work for customers and also coach them so they could eventually do the work themselves. That bought me time.
There were some creative opportunities that I considered trying in order to grow the company, but ultimately everything was too hands-on. I wanted a true Saas business, where customers could log in, use the tools, broaden their PR influence and boost their SEO rankings.
I didn't want to hire a team and manage others. I enjoy the non-operations and non-personnel aspects of work the most. I also knew I wanted to develop JRO only so much that I could handle it largely as a part-time investment and without the pressure to scale and hire employees. I figured I'd let someone else who was an expert in that stage of growth buy me out and take the tools and capabilities to soaring new heights.
In 2018 I had my wife, Corey, join JRO to focus on customer enablement and retention. She provided the scaffolding that was missing from the software. Customers were finally able to see their outreach data on a dashboard and learn why PR and content strategy was crucial for SEO, how to execute different tasks using the tools, and what other customers were doing to succeed. Two years later we sold the majority of the company to an entrepreneur with sights to grow it properly.
Since launch, what has worked to attract more organic traffic?
We did a few things to get the word out. We have always been active participants in a bunch of marketing communities – contributing to AMAs, being interviewed on podcasts, writing guest articles.
We also strengthened our own community of customers and newsletter subscribers, holding virtual events to showcase some of the amazing results customers were having with our tool.
The pinnacle of our organic traffic quest has been at this intersection of our community and the content we publish. I plan to do much of the same for Topic Ranker.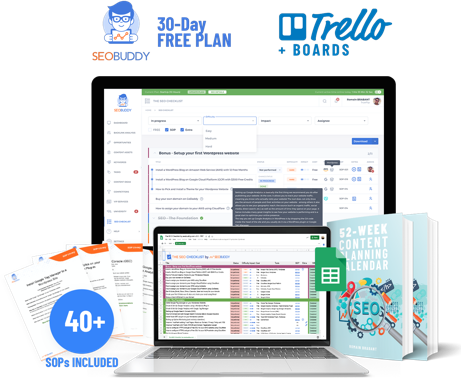 There's more…
Now it's time to discover the other 102 steps that will get more organic traffic flowing to your website. Get the SEO Checklist here.
Want to get a sneak peek of what it looks like?
Enter your email and get a free demo version of the SEO Checklist.
Have you learned anything particularly helpful in your SEO Journey
I've learned a lot about the technical side of SEO but the most helpful thing to remember is that nothing is constant.
Things change.
Google changes their algorithm from time to time. Other companies change their content. Links become broken. You don't usually have control over these things. Being flexible and ready to respond thoughtfully is what will help you to bounce back up to the top. Even if it takes a bit of time.
The SEO life really forces a Zen outlook on life.
What SEO tools do you use for your business?
Ahrefs,
KeywordsEverywhere.
Nothing out of the ordinary – I just connect with most people easily. I offer what I can, when I can and have built a wonderfully supportive group of colleagues who return the favor as the opportunity arises. It's a numbers game.
I've published thousands of articles and have covered a variety of topics. Each article has at least one link and I don't focus on giving all my links away to one VIP so this adds up to a lot of traffic over time.
What's the next step in your SEO Journey?
Scaling TopicRanker!
Where can we go to learn more?