My SEO Journey: Tim Leland from weatherextension.com – Building Link through Digital PR, Rewarding Users, and meaningful relationship
My SEO Journey is a new series where entrepreneurs and Indie makers will share their honest SEO Journey filled with failure and success, and most importantly proven results. Episode #22 features Tim Leland from Weather Extension.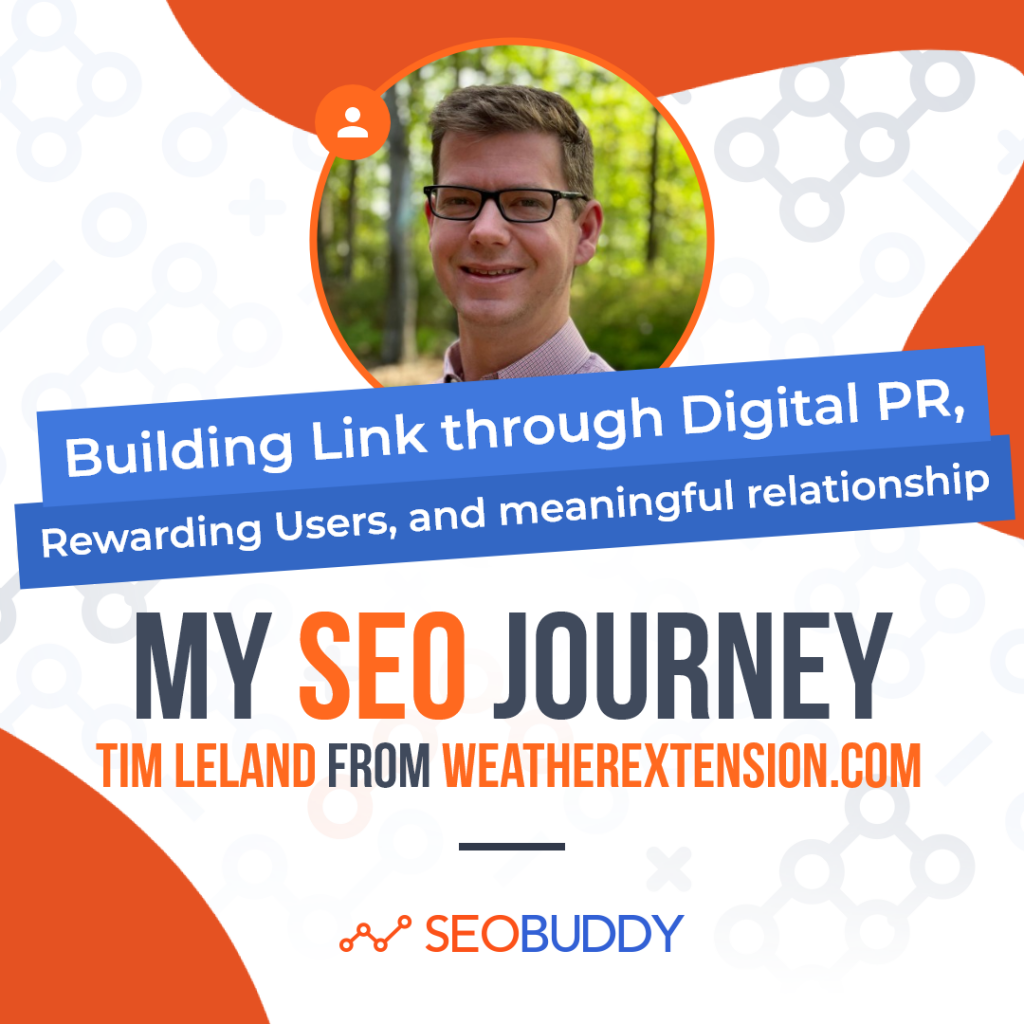 Hey guys! My name is Tim Leland, and I've been working as a software developer for the past 12 years.
In my free time, I enjoy working on side projects to learn new programming languages and solve my technical problems. Over the years I have created several web apps and extensions.
Two of my most popular are Weather Extension (209,000 active users) and T.LY URL Shortener (6+ million short URLs). Weather Extension is described as the best way to check the forecast right in your browser.

What's your backstory and how did you come up with the idea?
I created Weather Extension to scratch my own itch.
I was tired of going to other advertisement-filled weather sites to check the forecast. I decided to build my extension to quickly check the weather forecast. I realized that the mobile app stores were filled with weather apps but the Chrome web store was lacking when it came to high-quality weather applications.
Most of the existing weather extensions were malicious.
I also wanted to use the Dark Sky weather API which is my favorite weather application for my iPhone.
The growth of the extension was slow at first. Just a few friends and family.
My big break was from when I reached out to Lifehacker to see if they would share the extension. I sent an author that recently wrote about another chrome extension a cold email. I never heard anything back until one day my server went down from the load.
I tracked it back to a Lifehacker article about my extension!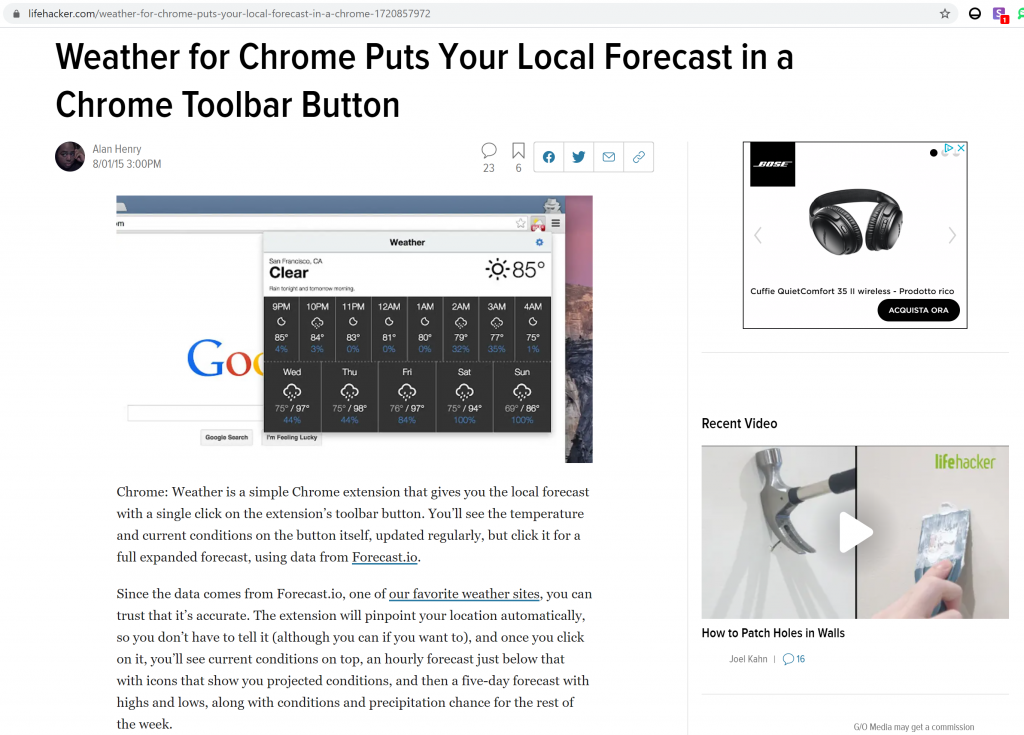 This article helped me to gain 10,000 users in a week!
To this day, this article continues to bring in hundreds of installs.
Since launch, what has worked to attract more organic traffic?
Growth over the years has been steady.

My recent strategy is to get backlinks to my weatherextension.com domain by reaching out to other avid weather fans. Fortunately, I was able to get a link to my homepage listed on a popular weather site that gets millions of hits.
Have you learned anything particularly helpful or advantageous?
The best strategy I have found to get the attention of website owners is to not just cold email them.
I often look for a donation link such as PayPal. I like to send them a small donation thanking them for their site. I then ask them if they would be willing to try out my extension and add a link to their site.
This strategy has worked several times for me and is much cheaper than traditional advertising.
I can't stress how important it is to build an online presence through blogging and other social media platforms. Another strategy I have used to attract users has been to give away free pro upgrades for anyone who shares a link to my install page.
This has been very successful, and my users appreciate it.
I realized this is much cheaper than paying for ads on Facebook or Twitter.
For example, if a user installs my Link Unshortener extension, they are taken to my blog where I tell them about the extension and also suggest some of my other browser extensions.
This cross-promotion has helped to grow my blog and extension followers. My goal is to build a following around my extensions so they can help to promote each other and build a solid fan base.
Any challenges that you're still facing today?
Back in 2018, Weather Extension faced its biggest challenge. The extension was spammed with thousands of 1-star reviews to destroy the rating. It went from 4.5 stars to 2 stars in a week.
Ever since then, I have been trying to improve the reviews of the extension. This has affected the extension's store placement and user's confidence to install the extension.
My current goal is to get the extension back to 4+ stars.

What's your SEO Tech Stack?
Currently, I only use free tools when researching SEO tips such as Ahrefs Backlink Checker and Neil Patel's SEO Analyzer. These can be very useful when researching your websites.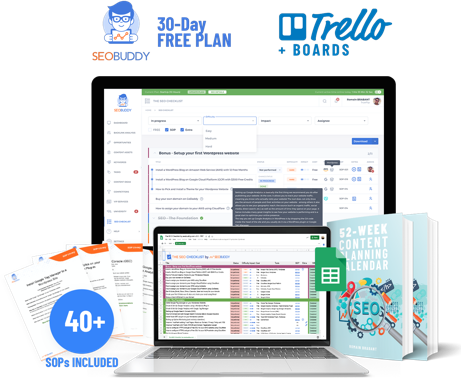 There's more…
Now it's time to discover the other 102 steps that will get more organic traffic flowing to your website. Get the SEO Checklist here.
Want to get a sneak peek of what it looks like?
Enter your email and get a free demo version of the SEO Checklist.
What have been the most influential books, podcasts, or other resources?
I'm a big fan of podcasts. If I'm driving, running, biking, or doing yard work, I am always listening to a podcast. Some of my favorite podcasts are:
Where can we go to learn more about you?
My personal blog where I post regularly on my extensions and other web development-related content. You can also follow me on Twitter where I post about my side projects.