My SEO Journey: Kelan Kline from thesavvycouple.com – Half Million visitors per year from Organic Search in the YMYL niche with 10k+ Backlinks and ranking on 67k Keywords.
My SEO Journey is a new series where entrepreneurs and Indie makers will share their honest SEO Journey filled with failure and success, and most importantly proven results. Episode #33 features Kelan Kline from TheSavvyCouple.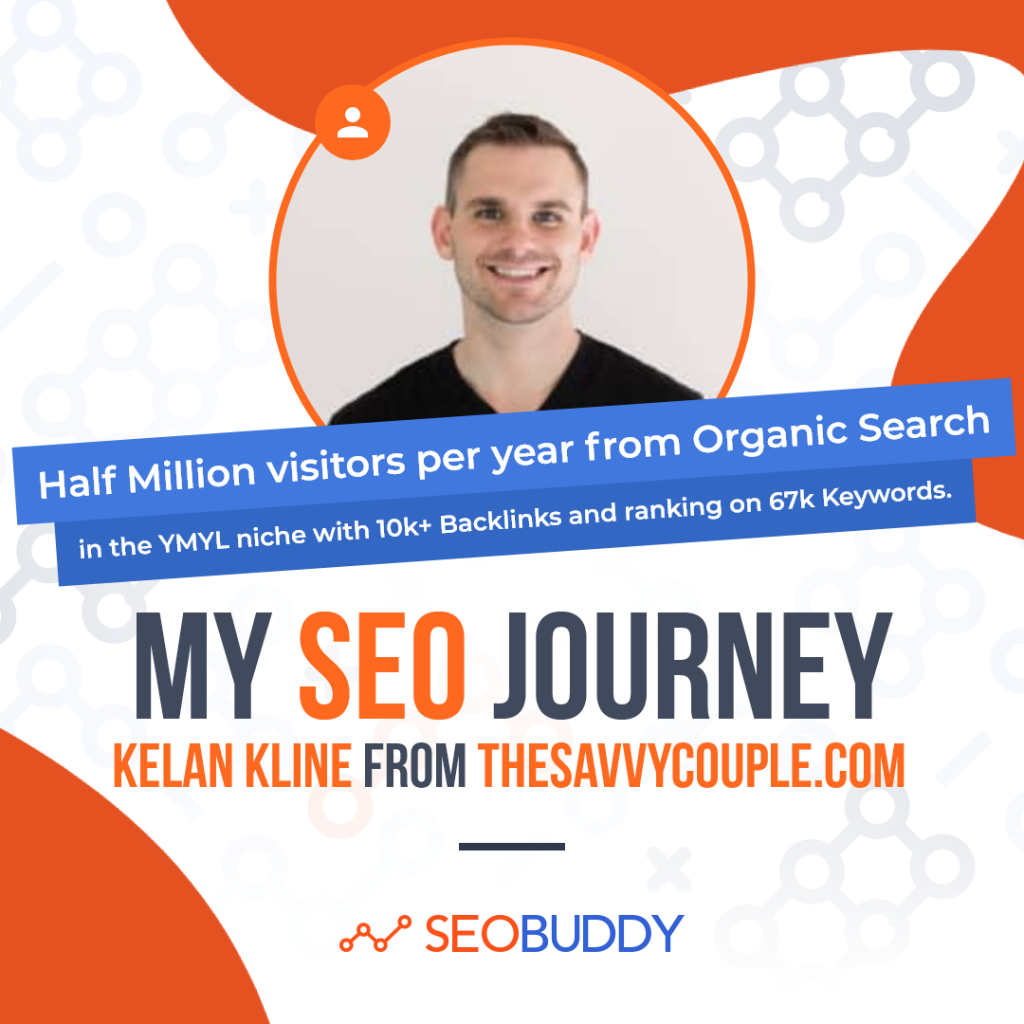 Hi, I am Kelan Kline! I'm a past Jail Deputy turned online business owner.
In July 2016 my wife and I had the idea of starting a personal finance blog together called The Savvy Couple. We had no idea that decision would completely change our entire life.
Within a year of starting the business, I quit my job after we made our first $50 to go all-in.
Just two years later my wife and I grew our blogging business to multiple six figures allowing her to quit her teaching job and join me full-time as well.
We have been running The Savvy Couple for over 5 years together with the mission of helping families take control of their time and money so they can do more of the things they love.

What's your backstory and how did you come up with the idea?
We were a couple of years out of college and I had bounced around to 4-5 jobs and ended up hating every single one. I hated someone else being in control of my time and income.
We decided together after seeing an income report from another blogger that we would give blogging a shot and personal finance was a natural fit since we both nerd out over budgeting, saving money, and making money online.
We had always had money-making side hustles.
Whether it was flipping items on eBay, dropshipping on Amazon, or selling Avon products.
Starting our site was no different. We had planned it to be a nice little side hustle that earned us a couple hundred dollars a month and would help us pay off our student loans debt faster.
We never knew it was going to be the catalyst that helped us become debt-free paying off $25,000 in less than five months and allow us both to quit our jobs.
Since launch, what has worked to attract more organic traffic?

When we first launched our site we focused heavily on social media. Pinterest at the time was a gold mine for traffic. We would create a bunch of lifestyle articles in hopes of going viral on Pinterest and we did many times.
But as all things change Pinterest has definitely changed over the years and they don't hand out traffic like they used to.
We knew we had to diversify so we started learning everything we possibly could about SEO. Luckily we become good friends with SEO expert Mike Pearson as he entered the blogging world to help bloggers better understand the power of SEO.
We first started learning SEO by taking Mike's course Stupid Simple SEO.
I cannot recommend this course enough! It's broken down so simply and easy to understand and really helps you focus on the big picture of SEO and learning how to drive traffic to blogs.
High Quality Content + Backlinks = Traffic
The main takeaways from Mike's course were how to effectively do keyword research and how to build high-quality content.
Keyword Research – Mike teaches you how to find your competitors in your niche, see what posts and keywords are bringing in the most traffic, and filtering out keywords that would be too difficult to rank for. This basically sets you up for success from the start giving you a massive list of possible keywords you know your competitors are driving traffic with.
I took it one step further and created a Google Sheet that filters keywords by DA, Traffic, Relevance, Monetization Potential, and if the content would help us grow our email list. This enables me to handpick the best keywords that will give us the most ROI so we are spending our time and money as efficiently as possible.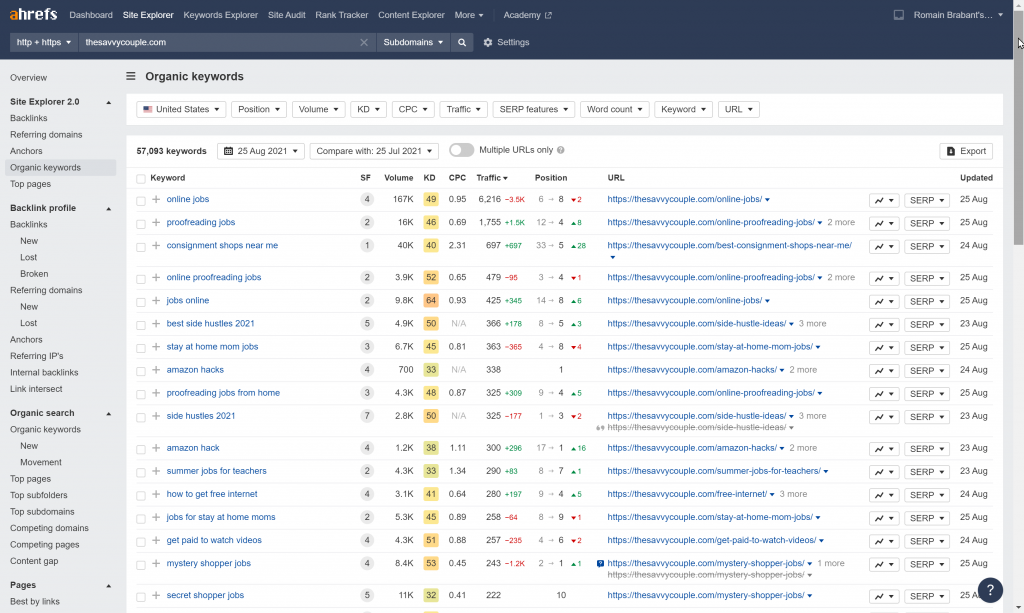 Creating High-Quality Content – We use the skyscraper technique that many SEOs recommend. Basically looking at what Google is already ranking, sorting through the content, finding areas for improvement, and creating a better user experience with more in-depth content.
Over the years we have learned more than ever how important understanding a user's search intent is when picking keywords to create content around. Focus on solving the reader's problems as quickly and efficiently as possible in the beginning then cover any question they might have on the topic throughout the rest of the article.
Another tip for business, in general, is to start to make systems and processes in everything you do. You want to be able to repeat step-by-step the tasks you do on a daily basis and eventually even outsource most of them.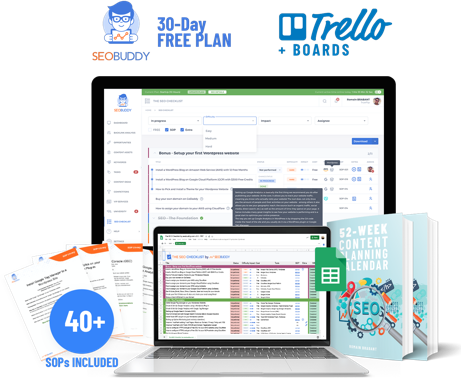 There's more…
Now it's time to discover the other 102 steps that will get more organic traffic flowing to your website. Get the SEO Checklist here.
Want to get a sneak peek of what it looks like?
Enter your email and get a free demo version of the SEO Checklist.
Have you learned anything particularly helpful or advantageous in your SEO Journey?
I definitely learned that quality > quantity when it comes to SEO and blogging.
I would rather publish 1 epic article per month over 4 lower quality articles per month.
Our goal is to make sure our content is the absolute best on the internet that we are confident will rank on page 1 before we ever hit publish.
A good example of what an epic article looks like is our article on 35 Legit Online Jobs.
We cover a huge range of online jobs, expected pay, education needed, type of work, etc.
What's your SEO Tech Stack?
We use Ahrefs, Surfer SEO, Jarvis, Google Analytics, and Google Search Console. These are all critical tools for us and have really helped us find success with driving traffic via SEO over the years.
We now own multiple niche sites as well as The Savvy Couple so it's nice to be able to spread these tools across multiple sites to use.
Here is our list of every blogging resource, tool, and investment we have made and recommend for our blogging business.

This is a big one and one that you don't want to do the wrong way.
Read Google's terms of services then read them again. Stay away from anything that goes against them because at the end of the day they are the ones controlling how much SEO traffic you get.
We have found that HARO (help a reporter out) is one of the best ways to build backlinks.
Using our HARO strategy we have been featured on sites like Forbes, Business Insider, Yahoo Finance, USA Today, and so many more. It's really helped us grow our EAT as personal finance experts.
We actually put together an entire FREE HARO Backlinks Strategy Guide (Normally $47) that we are happy to give to any SEO Journey readers reading our interview.
This is the exact process and system we use to get high-quality backlinks every single week.
What have been the most influential books, podcasts, or other resources?
My favorite book of all time is Work Less Make More. This was one of the first business books I ever read and it completely changed my life.
Other than that I regularly read Backlinko's blog and watch Matt Diggity's, Income School, Niche Pursuits YouTube videos. 
But again most of my SEO knowledge and expertise has been learned from Mike Pearson and his handful of SEO courses.
Where can we go to learn more?
We would be honored for you to check out our site The Savvy Couple and more specifically our blogging category filled with content helping our readers learn how to make money blogging and sharing our past income reports.
You can follow us on all the major social media platforms and Facebook groups:
Blogging With Purpose
The Savvy Couple Community
YouTube
Facebook