My SEO Journey: Dean Salakas from thepartypeople.com.au – Mastering the art of Press Relationship from an SEO perspective
My SEO Journey is a series where entrepreneurs and Indie makers share their honest SEO Journey filled with failure and success, and most importantly proven results. Episode #38 features Dean Salakas from The Party People.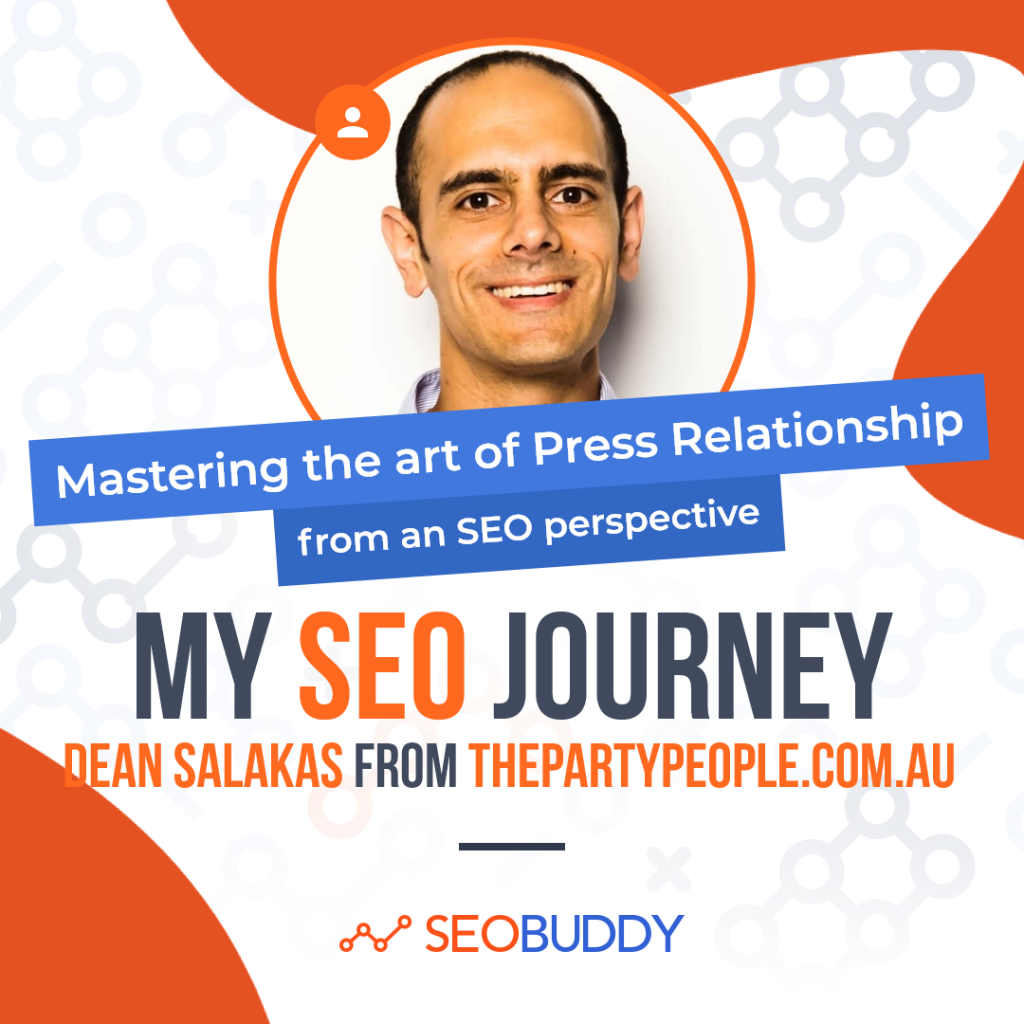 30 years ago Mala Salakas was "Patches The Clown" catering for kid's parties.
Her passion for parties led her to start a small party store with her father Peter Nikolas. In 2007 her sons Dean (me) and Peter Salakas took over the family business so they could retire. At that time The Party People Shop had 2 employees in the shop.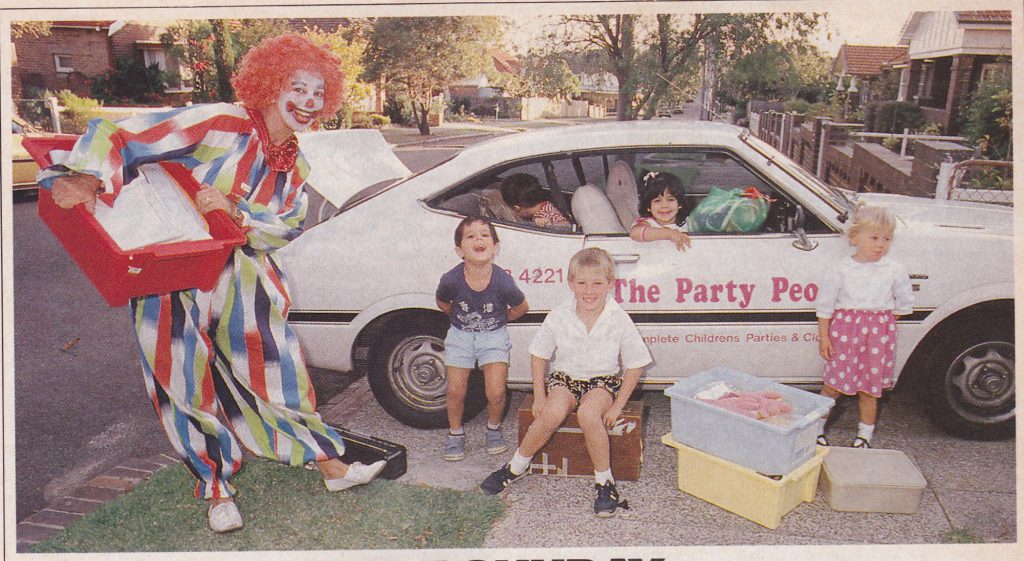 Today the business has over 40 employees, is the market leader for party supplies online in Australia, and now has two bricks and mortar stores of which one of them is the largest bricks and mortar party store in Australia.
We use to get teased at school because our mum was a clown and today we wear it with a badge of honor.
The business launched online early in 1999 as Australia's first online party store and continued to achieve online firsts by offering click and collect from the beginning, being Google's first Australian Adwords customer, being Microsoft Bings first Australian advertiser among other first including piloting Facebooks accelerator program. I helped my mum with the online business while at high school and university and did my final year thesis on the business which led to major changes and an acceleration in growth.
When Peter and I took over in 2007, we drove the business's digital strategy which has made it the success it is today. We have also focused on building a great store experience which is why the Australian Retail Association recently named us as the Independent Retailer of The Year and the Online Retailer of the year.
I was also personally named Retail Leader of the Year.
The business also appeared on Shark Tank Australia where we received a $400,000 offer from Janine Allis which we turned down and today are preparing to create a chain of party stores in Australia so that every Australian can create their dream party.
Recently we have won a host of retail industry awards including Online Retailer Of the Year, Independent Retailer Of The Year, Retail Leader Of The Year, Store Manager Of The Year, Innovative Retailer Of The Year, Pop Up Of the Year, and more.
Since launch, what has worked to attract more organic traffic?
As the first party store online, as you would expect we ranked top for all our keywords.
However, over time we started slowly fall down the list despite having good SEO at the time but it seemed black hat techniques by competitors were paying off for them and we made a conscious choice to stay white hat.
It took a few years ranking around 7-15 for our top 10 traffic keywords but overnight on a particular Google algorithm update we shot to the top of all 10.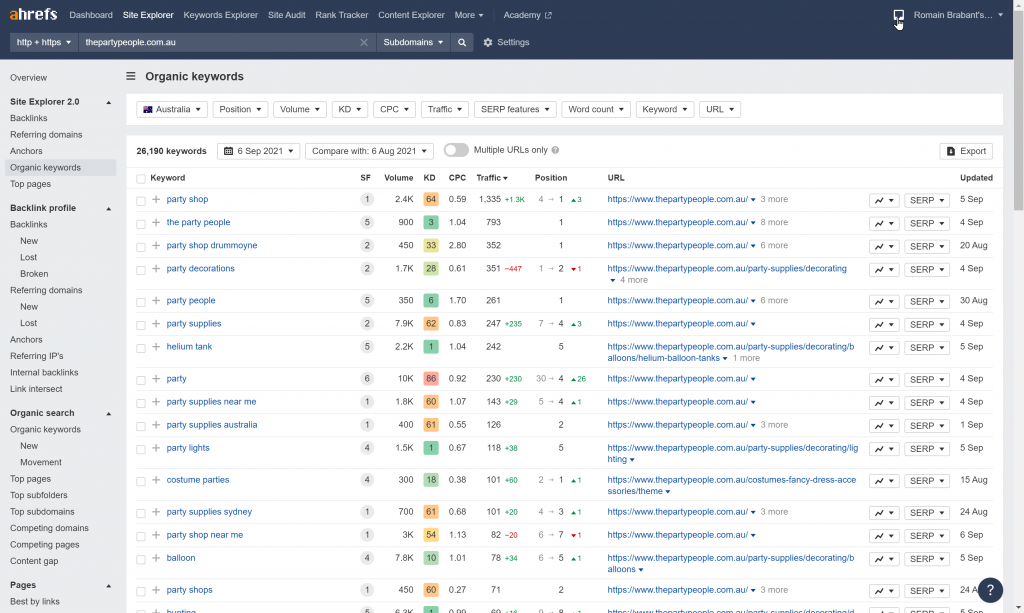 Since then, the landscape has become more competitive with many doing great SEO and it makes competing very challenging. Over the last 5 years, our focus has been on building awareness of our brand in a cost-effective way.
We found the best way to do this was to do lots of PR.
PR is generally free and if you come up with strategies to do it efficiently, it can get to where I have got it to which is that I spend less than 15 mins a week pitching and averaging 1-2 stories per week.
Once landed a story now takes me between 15 mins – 1hr to complete.
PR was our strategy because we saw it as a way of getting more organic backlinks from High Authority sources. This was at a time when backlinks were important. They are less important today but today even if I don't get a backlink on a story, it's still great as search engines see media content associating my brand with my topic and I believe that still translates to good SEO juice not to mention getting articles in high authority sites translates into genuine traffic from people reading the story (which translates to sales) and also general awareness.
Have you learned anything particularly helpful during your SEO Journey?

PR for SEO needs to be efficient.
You can hire a PR agency to work 5 days a week coming up with stories and angles but I have found I can do the same (I think better) using only a few minutes a week.
The trick is to get used to pitching and get it down to a fine art.
If people ask me for my "elevator pitch" I would say, do you want the 1 line, 1 paragraph, 1 minute, or 2-minute version? I have pitched my story so many times and in so many different ways, It has become relatively easy for me to do.
And every time I do it, I enjoy telling the story.
People see that I love what I do and they feed off that energy.
The first tip I would give people is to write up their pitch. Spend time crafting into something that is interesting. Have a read of my intro above. That is my extended elevator pitch as an example. The second part is to practice pitching it so when people ask you what you do, don't get crappy about having to tell someone what you do (because people just ask you all the time and you are sick of it), tell the story with passion and enjoyment, it will make you good at it.
The second tip I would give is to "pitch like your demanding more of someone's time" in each paragraph.
If they read the first paragraph and are bored, they may not read on. Don't write a physiological thriller with the big reveal at the end. Start with the answer to the journo's question (the punch line) in the first paragraph (first sentence ideally).
Then go deeper as you go. This will hook them in and make them want to read more.
The third tip is to really shout from the rooftop about you and your company. Don't be modest even if it's in your nature. You need to make the story juicy with cool stuff so if you have done some cool stuff, tell that story.
These three tips will help you get to a stage where you see an opportunity to pitch and it takes you 15 mins to just knock out a pitch.
I generally come up with a story before pitching.
So the angle is something I keep top of mind when going about my everyday business. When we do something cool, I try to think of a media angle. Then I pitch it to a specific media. For example, I was sick of software vendors pitching to me so I wrote an article "I'm a retailer, here's how to pitch me" then pitched it to the Online Retail Association. 1 pitch, 1 story because I pitched it to the perfect media for that story. Their audience is retailers and service providers to retailers.
Another example is Sourcebottle where I pitched a story on how to respond to media call-outs.
Another example is for Book Week, I pitched a story to "Booktopia" on best costumes for book week. Again the perfect story for that blog. The common theme is to find an angle and then think of the people who would most benefit from that content and where they are best to see your content.
SEO journey is a good way to put it because it's absolutely a journey.
Getting featured in the media initially was very hard but still fruitful however over time has become easier with the right strategies such as going the extra mile for journalists, making their stories amazing etc.
When I get features, I provide as much assistance as I can, give them extra time, take the time to get them a good image, etc. I even offer to get dressed up in a funny costume for their story (and they often take it up) because I will do whatever it takes to make their story great.
If the story is great, it's good for them, it's good for me and it will make them remember me as the guy that is easy to work with and always makes their stories great when they come across a story idea next time and will naturally think of me.
Now journalists often come to me with a story and ask me if I want to feature. They move around companies as you would expect and often stay in journalism so never burn a journalist.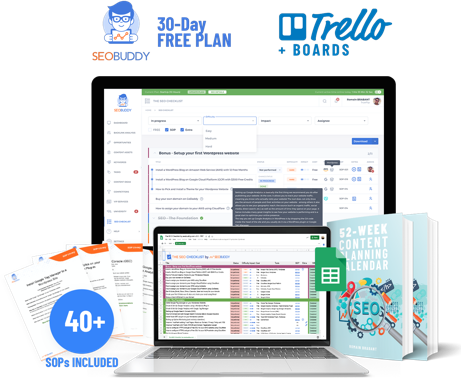 There's more…
Now it's time to discover the other 102 steps that will get more organic traffic flowing to your website. Get the SEO Checklist here.
Want to get a sneak peek of what it looks like?
Enter your email and get a free demo version of the SEO Checklist.
Do you have any specific tips on eCommerce SEO?
I guess one tip is to just put as much info in the product as you can. The more "words" the better.
Even the blatantly obvious needs to be mentioned so the word appears. If you are selling a ball. It helps to say something like, "this ball bounces". People might search for "Bounce Ball" so the more words, the more chance you have of appearing in the search results.
Also, Google associates words so you need to have these obvious words so Google can better guess what your page is about.
What's your SEO Tech Stack?
The main one I use is SEMrush to keep track of my results and competition.
What have been the most influential books, podcasts, or other resources?
I follow a bunch of PR agencies on LinkedIn where they post great ideas.

One I follow is https://www.linkedin.com/in/monica-rosenfeld/
and also https://www.linkedin.com/in/maryhendersoncoaching/
Where can we go to learn more?
https://www.linkedin.com/in/deansalakas/
https://www.thepartypeople.com.au/
https://www.facebook.com/thepartypeopleshop/