My SEO Journey [Pro Edition]: Amit Raj from thelinksguy.com – Link Building requires an unwavering focus on quality and iteration of the process
My SEO Journey [PRO Edition] is a series where professionals in the SEO Industry, Digital Marketing, or Web Design share their honest SEO Journey filled with failure, success, and most importantly, proven results. Episode #144 features Amit Raj from The Links Guy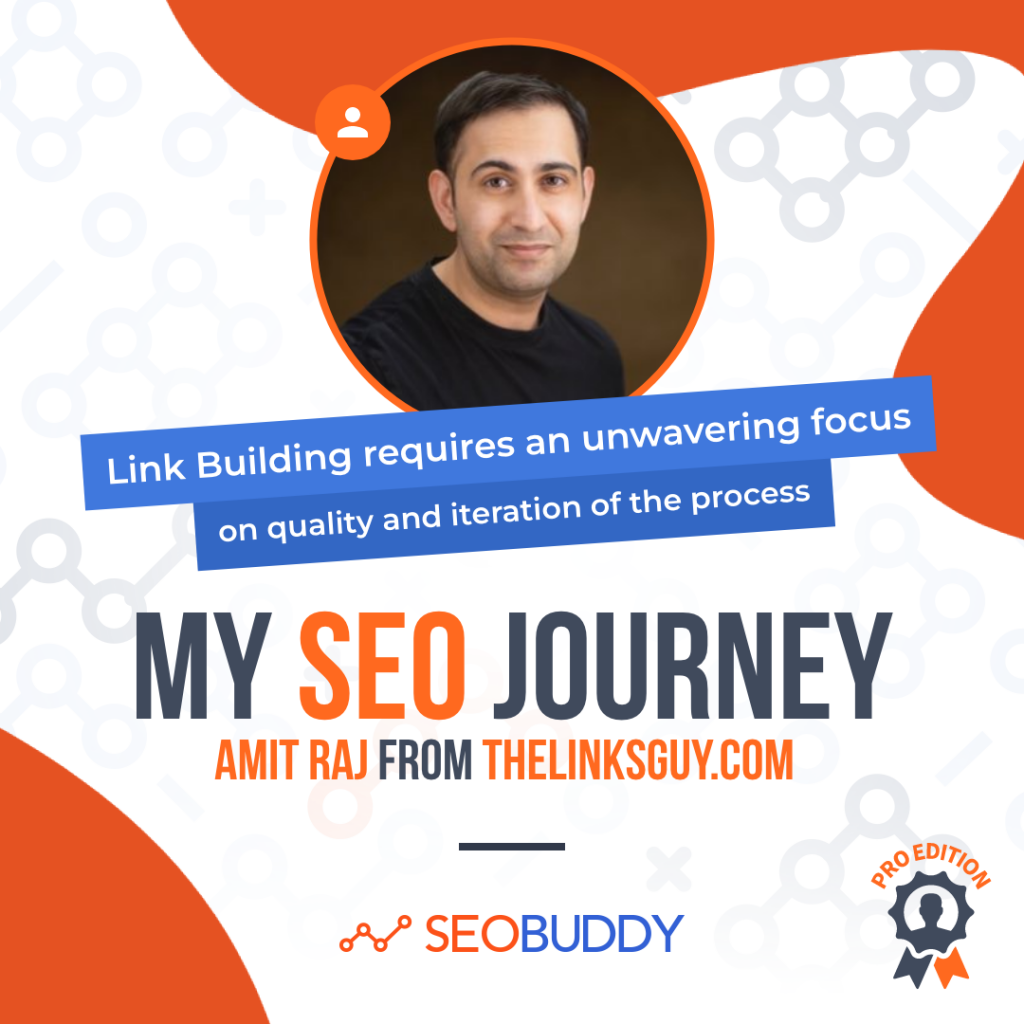 My name is Amit Raj, I'm the chief link strategist and Founder of The Links Guy.
We are specialist agency that only does link building and digital PR.
We work really with a range of industries, but particularly anyone in SaaS and tech, but also ecommerce, real estate and finance.
Our mission is to build links that can create connections, educate audiences and grow businesses.
What's your backstory and how did you come up with the idea?
I have been in digital marketing since about 2013, but got into SEO and link building around 2015 to 2016. I was actually originally a pharmacist, but had a love for digital marketing at the same time. I kind of fell into link building as I did some work in SEO on the side, and got some hands-on experience at link building with a mentor.
I didn't know anything about link building, but the more I did it, the deeper I fell into the rabbit hole! I got addicted to that feeling of building connections with people via email, educating them with content, or building rapport with them, and having it actually lead to links, or some other kind of business outcome.
The "aha" moment was when I realised the demand there was for link building, and the gap in the market. There was a lot of very poor link building out there, and it quickly became apparent this was a very valuable skill.
If I could find a way of scaling up my process and expertise, applying some business intelligence and adding in technology and data – I could make a very impactful company.
So from 2016 onwards, I just had to get into the trenches. The only way to get better at link building, was to keep DOING. So, trying to attract clients, do great work for them and help them grow their businesses was my major focus all these years. At the same time, I grew a team, created SOPs, training curriculums and did everything I could do to build an amazing team around me.
Up until around 2021, I was also working in pharmacy at the same time, purely so I could have stable income. In the initial years, I was so dedicated to the craft of link building, the focus was on quality and getting results so my company could continue to iterate the process and learn, and see what worked and what didn't. Then in 2021, I took the plunge and went full time with TLG as things really started to pick up, and we got busier. The rest is history!
Since launch, what has worked to attract more organic traffic?
I'll cover this in more detail in a later question, but with link building – it must require an unwavering focus on quality, and iteration of the process. There are a whole host of tactics and methods for acquiring links, the key thing is knowing what will be sustainable, risk-free and will lead to long term growth – rather than using manipulative methods that lead to only short term growth bursts, with eventual devaluing of links.
Our white hat link building approach, means we can build links in some really interesting types of sites.
This is the key to the growth that a lot of our clients experience. For example, we worked with a large news site in the health & fitness industry, and helped them treble their traffic from 1 million to 3 million visits a month, within about 2 years. This was possible because we kept building links that were truly relevant. We tried tactics ranging from:
University resource pages
Local government resource pages
Ecommerce stores (mostly healthy eating, supplements or other health-related brands)
Fitness blogs or lifestyle blogs that cover health topics.
Senior living companies or organizations
And many more
It's important to remember though, you can do all the link building in the world, but you need the content and foundation to support those links. Especially with the way Google is moving towards Search Generative Experience (SGE), it really pays to build some topical authority in your niche.
As well as that, ensuring you follow good practice, when it comes to on-page/technical SEO and site speed, will ensure you get the maximum benefit of your link building.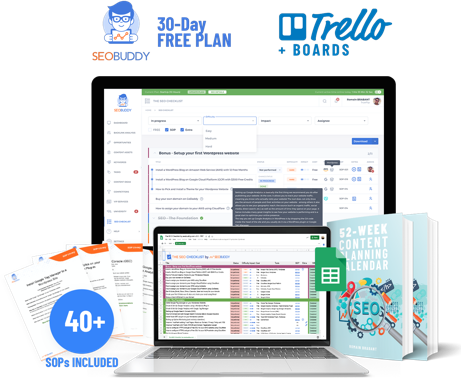 There's more…
Now it's time to discover the other 102 steps that will get more organic traffic flowing to your website. Get the SEO Checklist here.
Want to get a sneak peek of what it looks like?
Enter your email and get a free demo version of the SEO Checklist.
Have you learned anything particularly helpful in your SEO Journey?
One of the things I noticed being in the industry, was that there is a large spectrum when it comes to quality – and this is particularly when it comes to link building agencies.
It is not necessarily the biggest agencies that are the "best". In fact, I truly believe that it is very hard to maintain quality in link building, past a certain level of scale. At a certain point, link building will have to either deteriorate (as you lose control of the process and manual input or quality checks lessen), or you have to have multiple layers of support and checks & balances within your agency. We are not a large agency by any means, but the way our team is structured and the way we operate means we are always scrutinizing quality, finding problems in the process, and having a support structure for the team.
At some point a few years ago, I could have made that choice to become a "cookie cutter" agency like many others, but I started to realize the impact our link building was having for clients, and their businesses. That ability to help clients increase their traffic multiple-times fold, is more important to me, than just making money.
At TLG we don't want to just build links for the sake of building them and filling reports. We want our link building to have a positive impact for clients who choose to work with us, and to drive real growth.
As well as this, SEO isn't the be all and end all. I think it's still important to invest time and resources into other channels, and your overall brand is also very important. I've worked closely with Inkbot Design, and having a creative brand agency like this to help client's create cohesive brand identity and tighten up the visual appeal of your assets, can help you remain memorable. A memorable/appealing brand can drive more brand search, and help with user experience and ultimately, conversions.
What SEO tools do you use for your business?
Great for streamlining the link building outreach process. Couldn't imagine the process without it, and far superior to any other outreach platforms on the market, when it comes to link building specific products.
Majestic is great for backlink analysis, and for data prospecting purposes. They're really good for when you need to dig into why a website is getting links, or getting insights from the SERPs on what potential link strategies we could use for our clients.
The team is also great and customer support are very helpful.
A crucial part of link building is researching the right contact person at each target website. It involves a lot of manual work, but we find SalesQL quite useful as part of our contact finding process, and better than a lot of the other email hunting tools out there.
BacklinkManager is a link-building CRM that helps organize and monitor your backlinks, manage partnerships, and can be used for client reporting. Really good when you're managing a lot of link exchanges and want to monitor them, to ensure they stay live.
We all know link building is a very crucial part of SEO strategy. It is a major ranking factor – which is supported in several parts of Google's own patents, and I don't see that changing any time soon.
But, the type of links you acquire is the key here – are they on good quality sites and are relevant? This is the problem you need to solve if you want to build links that will drive the best impact and will create long term, sustainable growth.
Link building (as taught by the grandfather of link building Eric Ward) is at its core, a human endeavor. You should treat it more like being a publicist for the client.
What is the core business?
Who is the target audience?
What other potential audiences could cross over with this?
If you focus on this and build links from that perspective (not merely focusing on flimsy metrics like DA and DR, or even traffic volume alone), this is the marker of true link building.
This is a simple concept, but it's worked for us up until now.
Knowing what the clients commercial goals are is also important, as we don't want to just drive traffic – we want traffic that leads to revenue growth. We want to know what the most valuable pages and keywords are – and you want to steer link building campaigns, to ensure those pages are promoted as much as possible. At the same time, you have to balance this with the fact that you need something of value to leverage at outreach. Not everyone will link to a commercial page, and if you don't have some content to bridge the gap, you may only be able to build links to your informative pages (i.e. blog posts). But, again, maybe this will acquire links more efficiently, will bring traffic in at higher volume – which will result in quicker ROI.
What have been the most influential books, podcasts, or other resources?
Eric Ward has a great YouTube channel: https://www.youtube.com/@EricWard and I think I've seen all of the videos on there. I recommend that to anyone who wants to do a deep dive and see Eric's creative process for link strategy ideas.
Backlinko: https://backlinko.com/ – has some great content about link building, and some very comprehensive guides. Good if you're just getting started.
Detailed by Glen Allsopp: https://detailed.com/ – is a great read if you want to keep you finger on the pulse of what's happening in SEO.
What's the next step in your SEO Journey?
I look forward to seeing the changes coming in, with the rise of AI and SGE. I'm quietly confident our approach to link building and content will become increasingly important. SGE is essentially supercharging the E-E-A-T criteria. And to satisfy the "trust" and "authority" parts, that's where getting links from reputable sites plays a part.
For the agency, we will be looking forward to another period of scale, and will be putting out more educational content – mostly in the form of written content, but also some video content as well. We will also be announcing a partnership with a major player in the SEO industry soon, and I have a few more podcasts lined up, as well as a mention in an SEO experts upcoming book.
Watch this space!
Where can we go to learn more?
You can find my agency's website here: https://thelinksguy.com
Instagram: https://www.instagram.com/thelinksguy/
YouTube: https://www.youtube.com/@thelinksguide
You can follow me on LinkedIn: https://www.linkedin.com/in/link-building-expert/
Or Twitter: https://twitter.com/thatlinksguy