My SEO Journey: Gareth Mahon from thecareside.com.au – Outsourcing SEO efforts and getting results!
My SEO Journey is a series where entrepreneurs and Indie makers share their honest SEO Journey filled with failure and success, and most importantly proven results. Episode #65 features Gareth Mahon from The CareSide.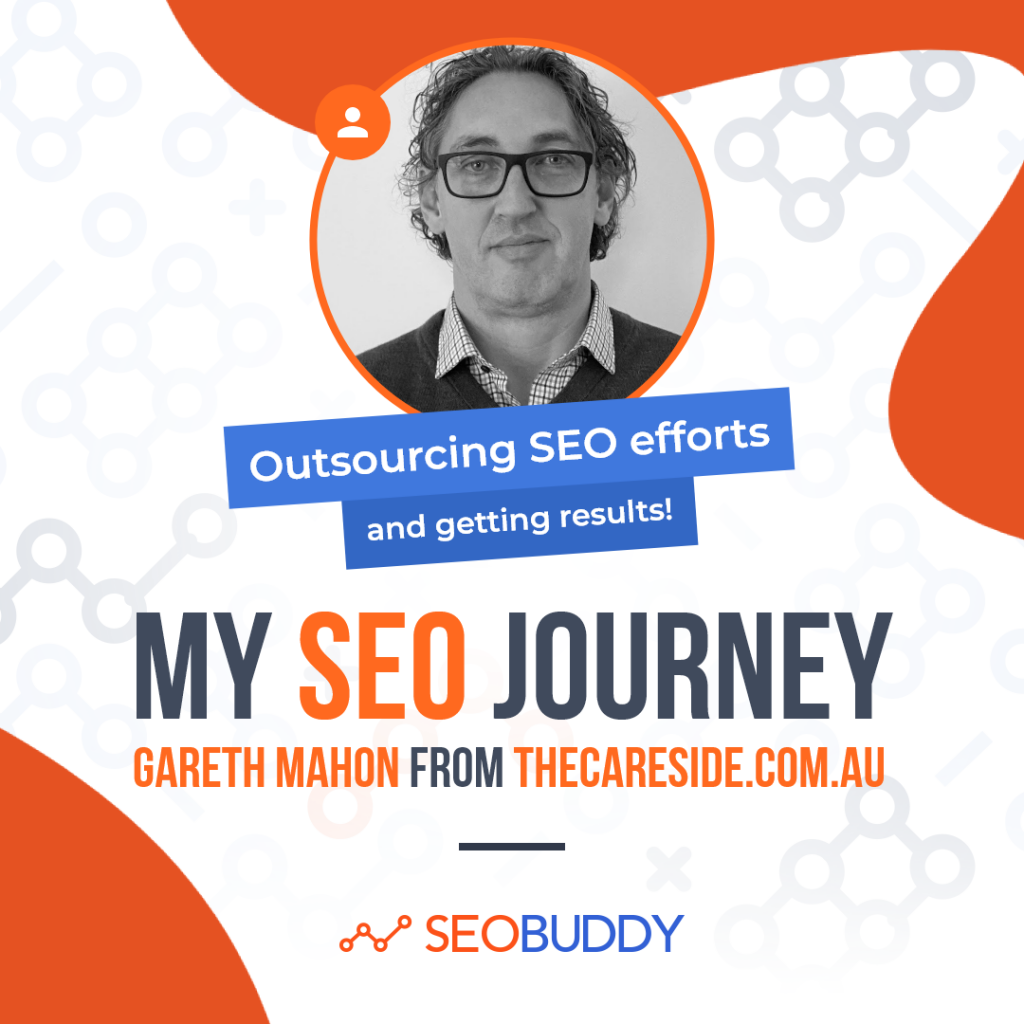 Hi there. I'm Gareth, and I co-founded The CareSide with my partner, Emily Gillett, in 2017.
We are a home care and nursing service headquartered in Perth, Australia, and with offices in Adelaide, Melbourne, and Brisbane. Our services include aged care, disability support, live-in care, palliative care, and post-hospital care. We work primarily with the elderly and disabled, to ensure that seniors can live out their golden years in the comfort of their own homes and that disabled people can receive the support they need with safe, reliable assistance from our caregivers.
We manage home care packages, NDIS (National Disability Insurance Scheme) home support services, and CHSP (Commonwealth Home Support Programme) services.
Our tagline is: We give you more; we have a mission to provide home care for the best value, and best value for us means more hours of care, for rates 30-50% lower than the national average. We also don't charge joining or exit fees, consultation fees, or case management fees. Other providers will at least charge for case management (which is included in our support), and other hidden fees are unfortunately a common theme amongst home care providers.
What's your backstory and how did you come up with the idea?
There were a few factors that contributed to how we got started.
We saw a real need for home care that people could rely upon. This was timely because, in 2016, major home care system reforms were sweeping through Australia. Consumer-directed care was introduced, which means that consumers could choose their own provider and try to find the best deal that they could. Before this, consumers were allocated providers who won big government contracts and managed how those contracts were spent.
The new system was introduced to create more value for consumers.
Also, after reading The 4 Hour Work Week by Tim Ferriss, I was inspired to create a business that could be run from anywhere and utilise the best of international resources, all through a cloud.
Emily is a registered nurse, and her family has decades of experience in the medical field, too.
The majority of home care companies have binding contracts, frequent change of caregivers for one customer, and a large window of time for when caregivers will arrive at an individual's home. These issues make the process of finding home care more daunting than necessary.
We started a home care business with no hidden fees, no lock-in contracts, the same caregiver for every visit, and customers can choose a time for their caregiver to arrive. We offer services tailored specifically to each individual, which entails having care for any number of hours per day, no minimum requirements for care, and care anywhere in the range of short-term to live in.
We also have Care Managers who check in weekly and see if folks are satisfied with our services. We want the best for our customers and their families, and for them to be treated fairly.
Oddly enough, I didn't have experience working in healthcare before The CareSide. I previously had senior management roles in several large organizations including ANZ Bank and KPMG.
Although these jobs were well-compensated and involved a lot of responsibility, I had to work long hours. I also had to travel often to meet with clients. Starting my own company has provided me with greater flexibility. I love that I can travel with my family for a week if I'd like to, or take off a day to regroup.
Emily's nursing experience plus my financial background are a great combination. She focuses on Australian healthcare regulations and how they play into our team taking the best care of customers, while I oversee other logistical aspects of our business.
It was great to catchup with @TheCareSide's CEO Gareth Mahon & Director of Care Emily Gillett celebrating their #NDIS #approvedprovider status & planning their next steps.

Congratulations to all of The CareSide team. #disabilityservices #disabilitysupportprovider pic.twitter.com/qSw16t9oco

— Jacqui Tibbits (@jacqui_tibbits) June 22, 2020
Since launch, what has worked to attract more organic traffic?

We increased our investment in SEO in 2020 and started working with an SEO agency called CanIRank.
I'd realised that if I wanted the company to scale, I wouldn't be able to do all the marketing myself, and since I'm not a marketing expert, I preferred not to manage an in-house team. Also, as SEO requires multiple skill sets, an agency enables me to collaborate with a team of specialists. Since we began working with the CanIRank team, we have seen compounding growth in our organic traffic.

Testing out what works and doesn't is fundamental for one's marketing efforts.
And it's crucial to understand who your target audience is and what their needs are and keep them in mind when creating an SEO strategy. We've created service pages to rank for bottom of the funnel keywords, written blog posts to earn links and drive top of the funnel traffic, made sure each page on the website is optimized for a specific keyword topic, promoted content on social media, and most recently, moved our website over to WordPress to improve page load speed.
It is okay to try out several different methods before selecting a core few that work best for your business.
We've quickly learned what types of keywords generate leads and sales. However, we also don't want to be reliant on one marketing channel – that wouldn't work out in the long run.
We've also just spent several months updating our old directory listings and creating new ones for a local SEO project. Our goal was to create more local citations and ensure each profile had consistent information about our business (i.e. physical address, phone number, and company name).
While time-consuming, this has increased our rankings for local keywords and helped grow awareness for our services in each geographic area we operate: Perth, Brisbane, Melbourne, and Adelaide.

Have you learned anything particularly helpful in your SEO Journey?
One of the biggest things I've learned is that SEO takes time.
I initially thought that once we centered more of our digital marketing efforts around SEO, within no time our leads, conversions, and customer base would increase. Now that I've gotten to understand how SEO works, I understand the time, A/B testing, trial and error, and most importantly patience that goes into it.
And when you take on more challenging tasks and are successful, the rewards (or rather, rankings) are greater. Our biggest SEO mistake was not utilising it from the very beginning of our marketing efforts and relying exclusively on paid ads to generate leads.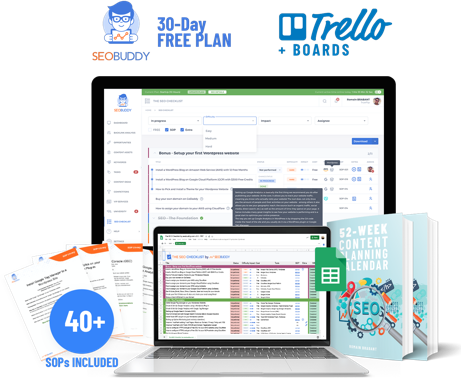 There's more…
Now it's time to discover the other 102 steps that will get more organic traffic flowing to your website. Get the SEO Checklist here.
Want to get a sneak peek of what it looks like?
Enter your email and get a free demo version of the SEO Checklist.
What SEO tools do you use for your business?
I use CanIRank's keyword research tool to track our SEO efforts.
I enjoy using CanIRank because it has weekly progress reports detailing our keyword rankings in Google.
The tool itself is also intuitive, and it provides me with thorough information – it saves every keyword I've researched so I can refer to them over time, and having them logged also helps when brainstorming new keyword ideas to look into.
Since I know which keywords generate the best ROI with Google Ads, I focus on improving those on the SEO side of things. Google Ads is also great because you can look through the click-through rate on your keywords, their impressions, and ways to organise remarketing efforts, for example.
In addition, I track our link-building efforts with Moz. Using Moz's software, I can research where competitors have gotten their best backlinks to see if there are any opportunities we can piggyback off of.

We write guest articles for trade publications, conduct original research reports by way of surveys, for example, pitch press opportunities using tools such as Help a Reporter Out (HARO), and promote our blog content on social media and communities relevant to our industry.
Our blog posts include original case studies, research reports, and resource pages.
Guest articles and syndication could be on pages for seniors, financial planning, or medical products, for example. Websites that seniors are even tangentially connected to can provide valuable opportunities.
Conducting research reports has been one of my favourite link-building methods- its execution is more time-consuming than others, but you learn so much about topics that are important to you and get to share your findings with your audience.
We have earned many high-quality backlinks through our research reports!
What have been the most influential books, podcasts, or other resources?
My first pick would be The 4-Hour Work Week by Tim Ferriss. The book influenced me to start a company so I could have greater flexibility and control over my schedule, and work/life balance.
There's also Dear Life: On Caring for the Elderly by Karen Hitchcock; this has provided me with deep insight into how we've grown accustomed to viewing the elderly in society, and also helped fuel my goal to make The CareSide a service that upholds transparency, respects seniors and gives them the autonomy they deserve to safely live at home.
As for podcasts, Mixergy, the Y Combinator lecture series, How I Built This and in the last couple of years, My Wake Up Call are my go-to's. The Y Combinator lecture series offers a lot of actionable advice from experienced founders, and I frequently referred to it before getting started.
Mixergy and How I Built This are extremely insightful interviews with entrepreneurs.
My Wake Up Call is exactly what it sounds like, featuring vulnerable, fascinating stories. The interviews in this podcast, and the others, are inspirational and help me put my personal and entrepreneurial journeys into perspective.
The Moz, Hubspot, and Semrush blogs are excellent resources that I regularly refer to.
What's the next step in your SEO Journey?
We will continue with more of what's been working – with our link-building and on-page optimization efforts. Specifically, with link-building, we plan to carry out more research reports and build relationships to contribute content to relevant websites.
We are also consistently figuring out ways to tweak the UX on our website – we are actually in the process of migrating our page to WordPress in order to improve page load speed and other Core Web Vitals metrics following Google's most recent algorithm update.
I hope to find more about how our SEO efforts can be built upon and scaled, as we eventually open more offices. Since SEO has had such a significant impact on who's introduced to The CareSide, for continued learning, I plan to find more books and possibly take an online course on the topic.
Where can we go to learn more?
Here's our Facebook, Twitter, and LinkedIn
And some of our blog posts and resource pages:
68% of Australians Want to Age in Place (one of our research reports!)
Guide to Becoming an Aged Care Worker in Australia
How to Find a Disability Support Worker in Australia