My SEO Journey: Harry Prince from spacehuntr.com – To get links, you firstly need a relevant and quality idea to pitch to outlets
My SEO Journey is a series where entrepreneurs and Indie makers share their honest SEO Journey filled with failure and success, and most importantly proven results. Episode #49 features Harry Prince from Spacehuntr.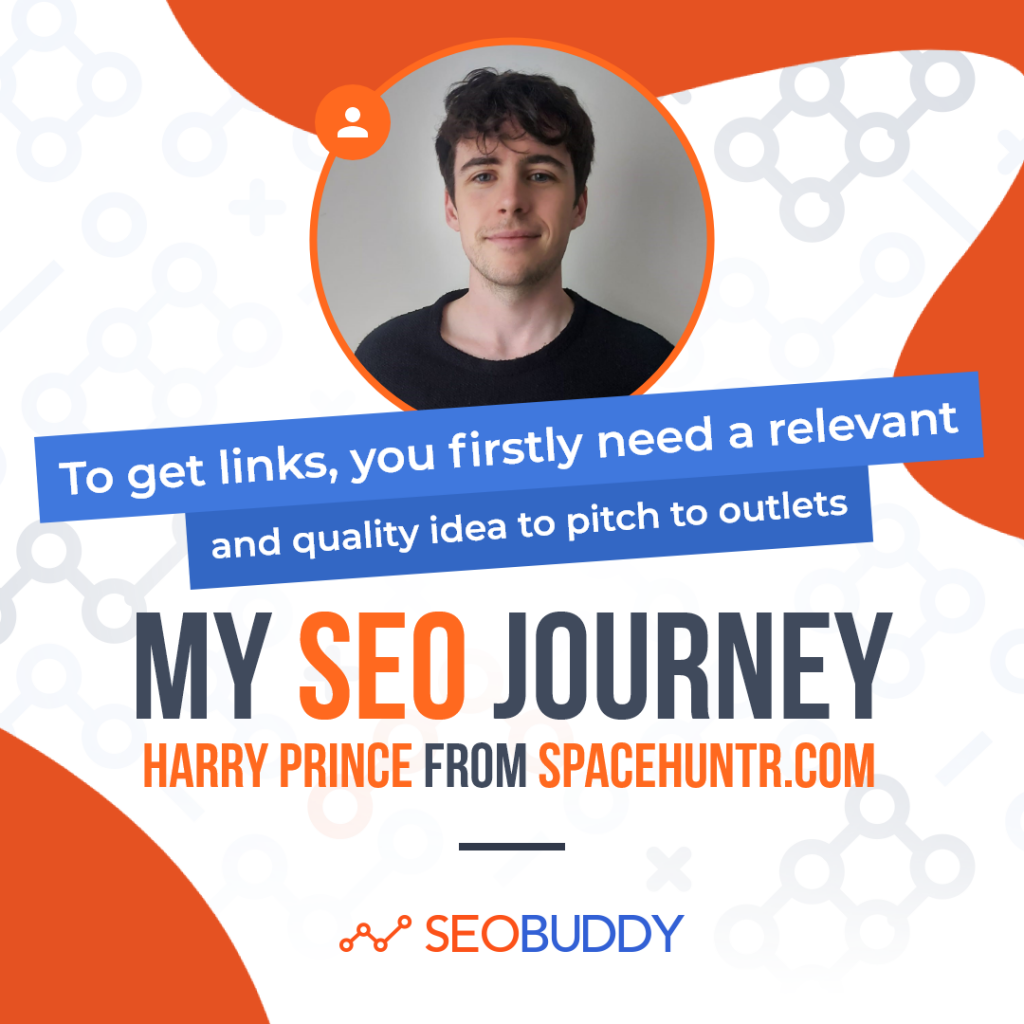 Funnily enough, I never dreamed of being an SEO expert when I was a kid. Partly because I – and everyone else – didn't know it existed yet, but more so because I wanted to be a Formula 1 driver.
As it happens, I pursued education instead of a career in motorsport.
And throughout my studies, a series of serendipitous accidents led me to Amsterdam.
Although I wasn't sure what I wanted to do, I knew I was open to whatever exciting opportunities came my way. So I found a start-up called Spacehuntr, an online platform for unique corporate event spaces.
Moving to content was a happy accident.
There's so much I can say about lateral moves, but now's not the time. All I'll say is they're wonderful. So wonderful that I prospered and was anointed Creative Content Manager.
Initially, I was frightened. I felt like I had no idea what I was doing. That fear of failure drove me initially, but as I learned more about SEO and content, I got pulled in, and I'm not afraid to say I quite like it!
What's your Content Strategy?
We have three types of content we do: Expert Advice, Landing Pages, and the Journal.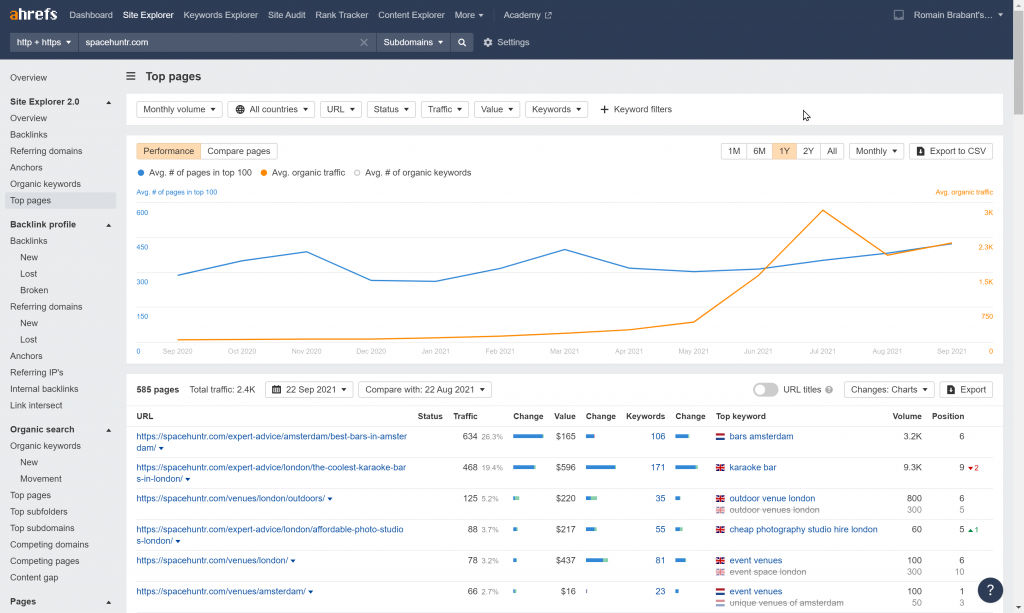 We make this content because, firstly, it helps us rank. But also, because we want to be recognised as an outlet that makes good content. Everything we put our name on we want to be proud of. It's as simple as that.
So that's the why. The how has two parts.
Firstly I maintain a content pipeline via excel. Yes, I'm also a Data Sheet Geek.
The second part is my SEO tools and knowledge. But I'm rushing ahead. Let's circle back to that later.
Expert Advice forms the most significant bulk of what we do. It's making concise and informative content on the best venues for particular events in particular cities. So, it could be on meeting rooms in London, conference rooms in Madrid, etc.
A landing page is a unique page for each type of event in each city we operate in. We write guides to hosting said events in said city, proving helpful for our clients looking to build a quality event, and of course, helping us to rank high on our old friend Google!
And with journals, there's a lot more diversity in what we do. We do everything from event planning advice and solutions to guides on team building activities, food, architecture, travel, and more. We write for our own journal, accept high-quality guest posts and guest posts for other outlets.

Link building can be a long and challenging process, but the results and the feeling of success are oh so worth it. It involves a lot of research and a knack for PR.
One of the difficulties for me was getting caught up reading all the exciting work out there.
There is seriously so much good content out there now, and it's getting bigger all the time. So to get links, you firstly need a relevant and quality idea to pitch to outlets.

But you also need to show that you can produce top-quality content.
Link building also taps into a sales mentality – here I go talking about transferable skills. Being personal and relatable firstly helps you get your foot in the door, making the process more enjoyable!
And that's important. We all send and receive a silly amount of emails daily, so if you can have fun with it, it makes your working day much more enjoyable.
What are your favorite SEO tools (SEO Tech Stack)?
I love using Frase, Grammarly, and Yoast.
Frase gives me clarity in ideas and structure while keeping me honest. It gives me the benefit of other people in the communities' views, picking and choosing my favourites, combining them, setting me up perfectly to add my own unique perspective to proceedings.
Frase also has a significant impact on how I shape my keywords and secondary keywords. This is the input machine, as it were.
Yoast is our output machine. It's a remarkable piece of software. I love it. Usually, and hopefully, Yoast tells us we've done well. Occasionally Yoast will ask us to make some changes. It's disappointing when it tells you you can improve, but we're always thankful for better content!
And then there's Grammarly. It has just changed everything. Initially, I was cynical because I pride myself on my grammar and ability to form a sentence. But it turns out there is space for my pride and Grammarly to live together after all!
I also personally love just using a classic Google search. It helps give me a feel for what I should be using. Plus, it allows me to see the search results as prospective readers are going to.
What are your favourite SEO resources?
If you're reading this, I don't have to tell you how much is out there and what is out there. You know. We're spoiled for choice these days.
Blogs, Youtube, Podcasts, it's so empowering being able to train yourself at your leisure.
I try to read as much as I can. If I'm shopping or traveling, I try to absorb content.
It's all about reclaiming dead time for me.
If I had to recommend resources, it would be Yoast, HubSpot, and Moz. They're my favourites.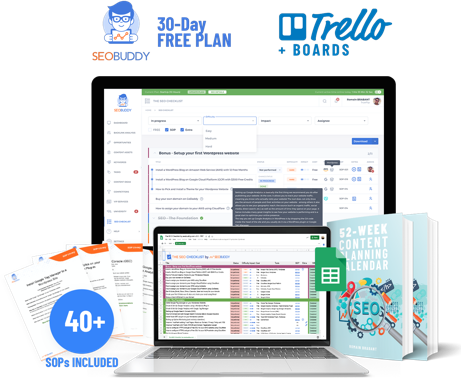 There's more…
Now it's time to discover the other 102 steps that will get more organic traffic flowing to your website. Get the SEO Checklist here.
Want to get a sneak peek of what it looks like?
Enter your email and get a free demo version of the SEO Checklist.
Any experience with Outsourcing SEO Strategy?
I'm not vain enough to think I don't need help. We all need a little help sometimes. At Spacehuntr, we have an external expert who we refer to occasionally to review our process.
I enjoy working with them as it's good form to have another perspective from the outside. If they agree with what we're doing, it's validating. If they don't, then it's a chance to learn (or open a discussion).
If you can get an outside expert to check up on you, it's absolutely worth it. As I said, you'll either be told you're doing well, which is excellent, or you'll be given areas to work on, which is great too because we're always looking to improve!
Final Words
The glorious and frustrating thing about SEO is that it is constantly changing. Yes, the core principles are fundamental, but there is always something new to learn.
I'd encourage anyone to get into it because it challenges you in different ways. You need to be able to solve problems, recognise patterns, be creative, and of course, be able to write.
And my final word would be about competitiveness. I've never thought of myself – or been known as – someone who is competitive. But I check our DR score every day. There's something about this work that draws a competitor out of me.

But how you motivate yourself, well that's your business and good luck!