My SEO Journey: Adam Shlomi from soflotutors.com – SEO is a marathon, not a sprint.
My SEO Journey is a series where entrepreneurs and Indie makers share their honest SEO Journey filled with failure and success, and most importantly proven results. Episode #44 features Adam Shlomi from SoFlo SAT Tutoring.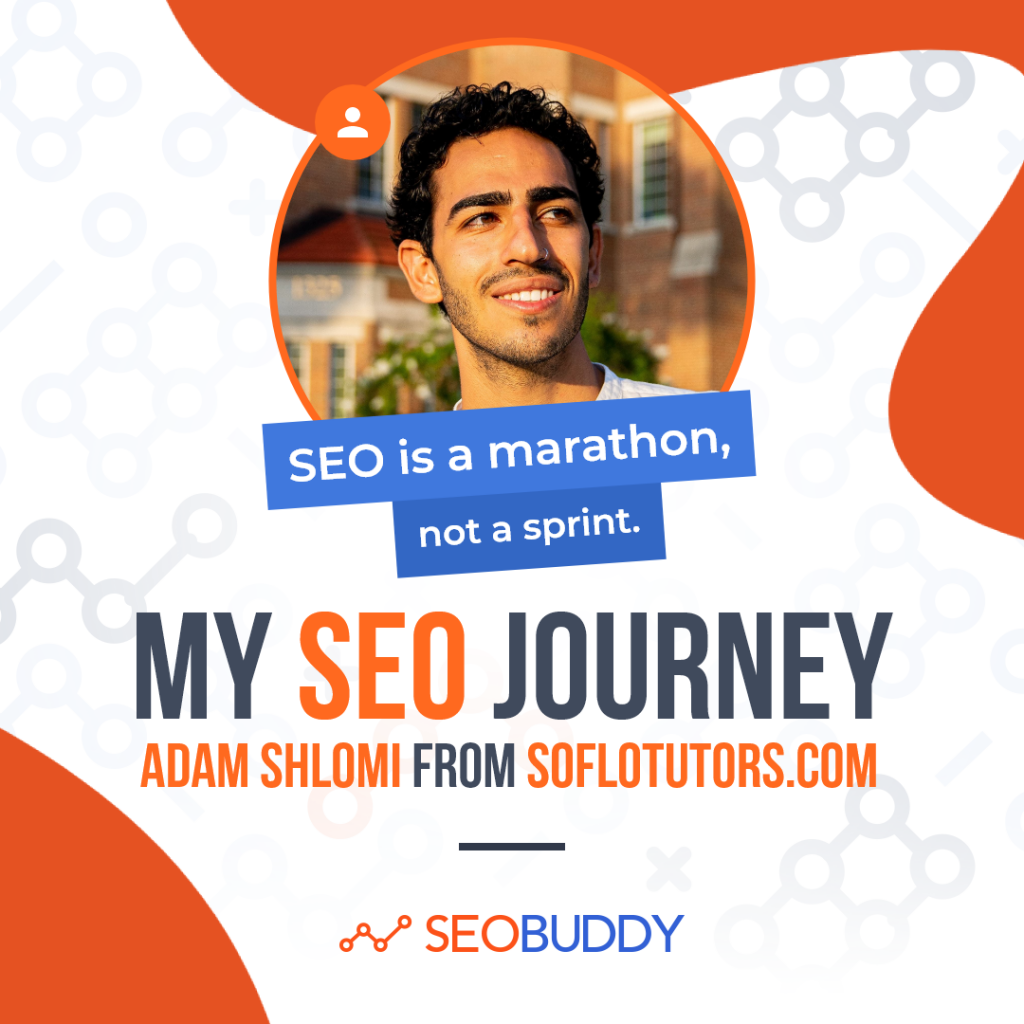 My name is Adam Shlomi and I'm the founder of SoFlo SAT Tutoring, an online tutoring company for high schoolers looking for an extra edge on their SATs.
With seven figures in revenue, SoFlo has helped over 3,000 students prepare for either the SAT or ACT, and we're not planning on slowing down anytime soon. We know there are many students out there who are looking to improve their SAT scores and strengthen their profile as college applicants — and we're here to help them.
What's your backstory and how did you come up with the idea?
After scoring a 1570 on my SATs and enrolling at Georgetown, I started tutoring high schoolers on my own before word of mouth spread about my SAT services. While bonding with students and helping them increase their scores was fulfilling, it wasn't something I considered as a full-time career.
But then, a severe foot injury confined me to my room for weeks — doctors said I may never walk again.
The sudden injury disrupted different aspects of my life, especially since I was bedridden, but I knew that I could still scale my interest in providing online SAT tutoring in my situation. I decided not to let my injury take over my life, and that's when I founded SoFlo.
I'd always felt passionate about entrepreneurship, and learning how to start my own company while also helping students achieve their goals offered the perfect inspiration. I was and am dedicated to being the best, and I apply this philosophy to every aspect of SoFlo. From building a great and intuitive website and recruiting the brightest and most dedicated tutors, this commitment to excellence has paid off.
Now, we have over 100 tutors and help students boost their scores so they can attend their dream schools or receive life-changing scholarships.
We leverage technology to give more people access to education — students don't have to worry about transportation to and from different SAT facilities and can instead focus on learning from the comfort of their own rooms, whenever they want.
Since launch, what has worked to attract more organic traffic?

At the beginning of SoFlo's inception, we spent a lot of time testing and considering different ideas.
Ultimately, in the early stages of a startup, it's good to throw things at the wall to see what sticks like our free SAT Course — we beat out our competitors simply because we were willing to put in the work and out-test them. We tried different strategies to find the best one because that's how you become the best.
Initially, we looked to YouTube videos; that idea failed because the high price to produce these videos didn't yield enough traffic to be cost-effective. Next, we looked to create a webinar series that included videos like "How I got into x college." Those also didn't fare too well because of the low attendance rate: why would students go to a webinar when they could just watch a video that answers all of the same questions?
Through a lot of trial and error, including things like resource pages on our website and promotion of our SAT scholarship page, we found that blog posts were the best traction we've had so far.
Initially, it was difficult to start ranking because we were a new company with a brand new website with almost no domain authority. However, when the pandemic began in earnest, I noticed that AP exam questions generated a noticeable amount of traffic with a competitiveness score of 0.
This observation was huge because it showed that very few companies were investing time to answer questions like "How difficult is the x AP exam?" At the time, SoFlo had slowed down because SAT/ACT exams were canceled, but I wanted to make sure our tutors could still work if they wanted to.
I assigned various blog posts to our bright tutors who wrote articles on different topics they have firsthand experience with, and SoFlo was generating blog posts from 500 to 4,000 words within a few weeks.
At first, the blog posts didn't rank because there were issues with our URLs and site maps, but once we addressed those issues our blog posts began ranking as top results.
Now, we're focusing on building top of funnel traffic and ranking for high intent terms: we even rank above-established companies like Princeton Review and Kaplan for terms like "SAT tutor" or "online SAT prep."
This organic traffic has higher conversion rates than any other lead funnel we've tested like paid ads, affiliates, or direct marketing (with the exception of customer referrals).
If my experience getting SoFlo blogs to rank has taught me anything, it's that SEO is a marathon, not a sprint. The results of our persistence and hard work are starting to pay off immensely, and the evidence from our data insights is clear.

Have you learned anything particularly helpful in your SEO Journey?
The best decision I made in SoFlo's SEO journey was to give our blog a facelift. After our initial AP exam blog posts began to rank, I took a look at different blogs on the Internet in order to gain a greater sense of what works and what doesn't.
I found that blogs that are easily digestible, especially for any technically challenged moms looking for good SAT prep tips for their kids, had the greatest success.
I wanted SoFlo's interface to be clean and simple, inspired by Medium's.
Initially, I considered using CMS or other online tools but decided to rule it out because I didn't want SoFlo's blog on a subdomain and wanted to keep all of the domain authority concentrated in one spot.
Instead, I worked with a great freelancer who was able to install and customize a clean and readable WordPress theme that is still currently in use.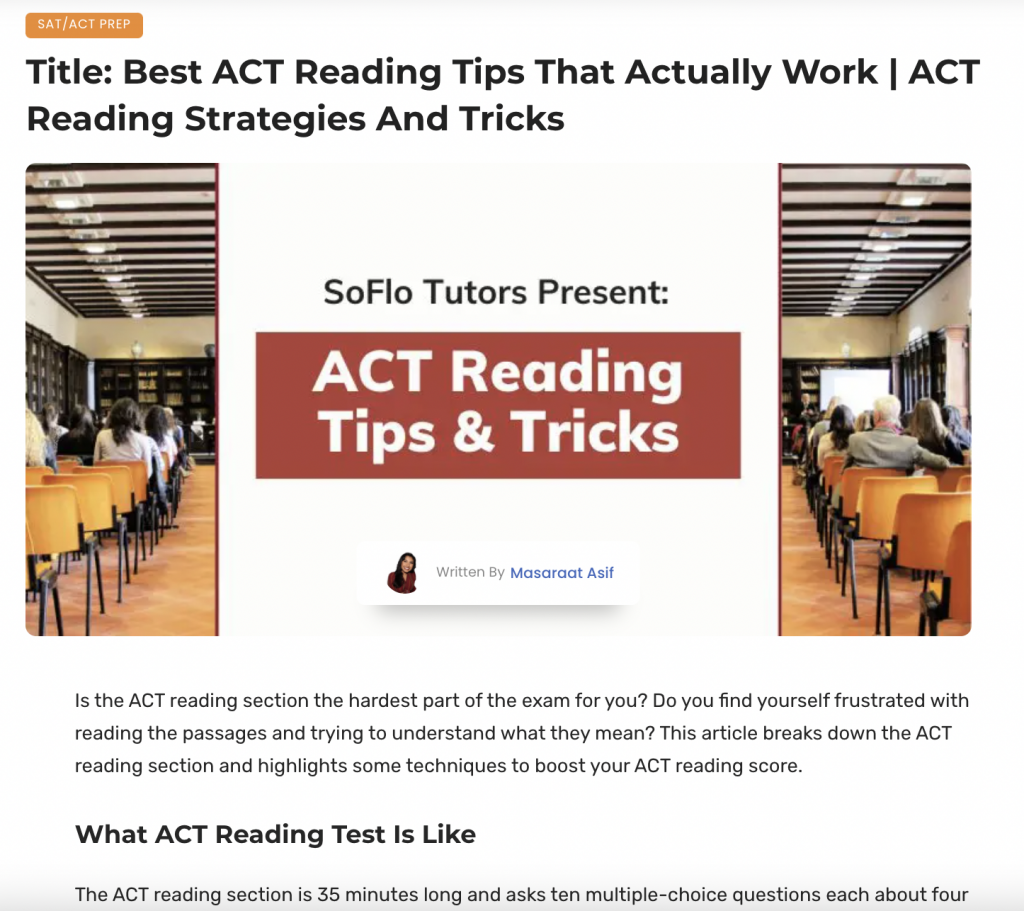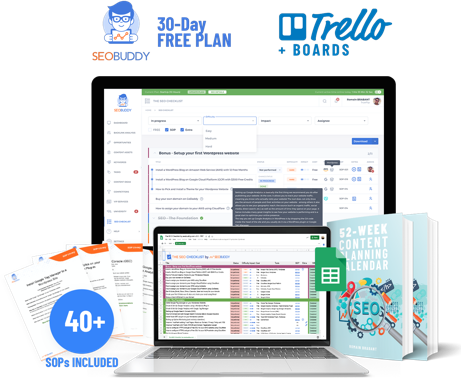 There's more…
Now it's time to discover the other 102 steps that will get more organic traffic flowing to your website. Get the SEO Checklist here.
Want to get a sneak peek of what it looks like?
Enter your email and get a free demo version of the SEO Checklist.
What tools do you use for your business?
For email communication, I rely on Superhuman because it's visually appealing and easy to use, and has speed suitable for busy days. It integrates social insight into my workflow with basic information about who I'm speaking with, and the built-in protection against sending accidental typos ensures that I can always maintain a degree of professionalism and work with confidence that Superhuman will assist in avoiding unnecessary types.
For SoFlo's website, we're hosted on WordPress.
Specifically, the Ceris WordPress theme powers the backend of our blog. Again, the cleanliness and readability of our blog and site were paramount to create an optimal website. I appreciate the ease of using WordPress as well and hiring a freelancer to make sure we're reaching excellence was also a big factor in how smoothly our website runs now.

My best link comes from Georgetown.edu.
I approached a newspaper staffer at Georgetown to write an article about my experience starting SoFlo, and then worked with the Georgetown Entrepreneurship Program to link the article.
Since our blog hosted the article, our search engine rank immediately shot up after Georgetown.edu featured our link. While the experience isn't replicable, it was the first real link SoFlo ever received and was one of the most helpful in terms of search engine optimization.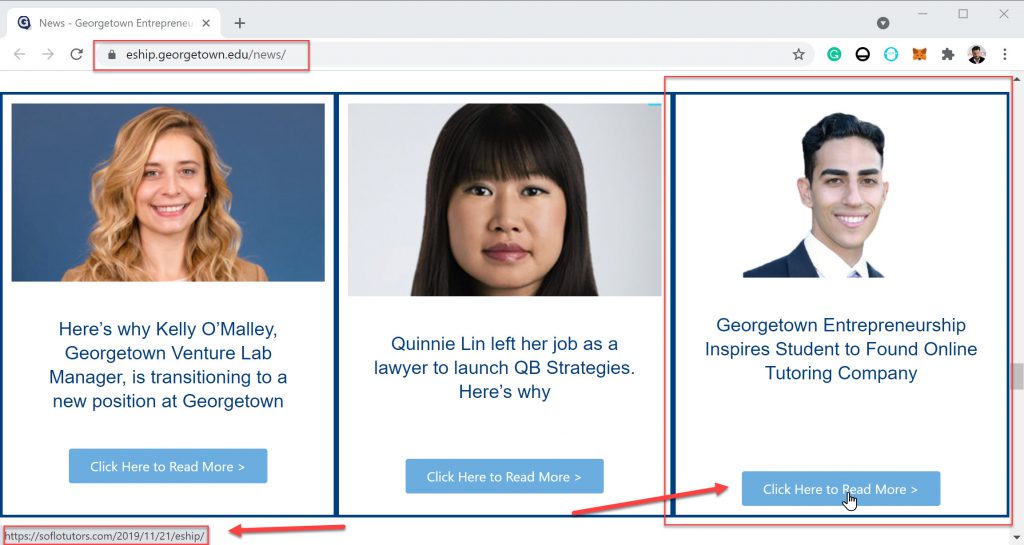 What have been the most influential books, podcasts, or other resources?
I began my SEO journey by educating myself on the topic. Specifically, I read resources from Brian Dean from Backlinko. Learning from Dean gave me helpful tips, and even though they weren't always replicable for SoFlo, they taught me how to think critically and strategize about creating content.
Importantly, Dean's resources emphasized thinking about the consumer and what they want.
Once I had an idea about the segment I wanted to approach with SoFlo's content, I knew I also had to make sure that SoFlo's resources were free, easy to load, and accessible to a wide range of people. Additionally, Dean also taught me introductory technical facets of SEO, like H1 versus H2 and keyword research.
Other than my self-education on Backlinko, I also looked for free SEO tools.
Once I found one, I'd try it out and speak with the creator of the tools because I discovered that generally, creators giving away SEO tools tend to be solopreneurs who had time to talk.
I spoke with them about my experience as a young entrepreneur trying to learn and grow a business I'm passionate about. Usually, they were helpful and let me pick their brains — talking with them about their firsthand experiences with outreach and anchor text strategies was invaluable.