My SEO Journey: Shyamal Parikh from smarttask.io – Be patient, build relationships, and create quality content worth sharing
My SEO Journey is a series where entrepreneurs and Indie makers share their honest SEO Journey filled with failure and success, and most importantly proven results. Episode #42 features Shyamal Parikh from SmartTask.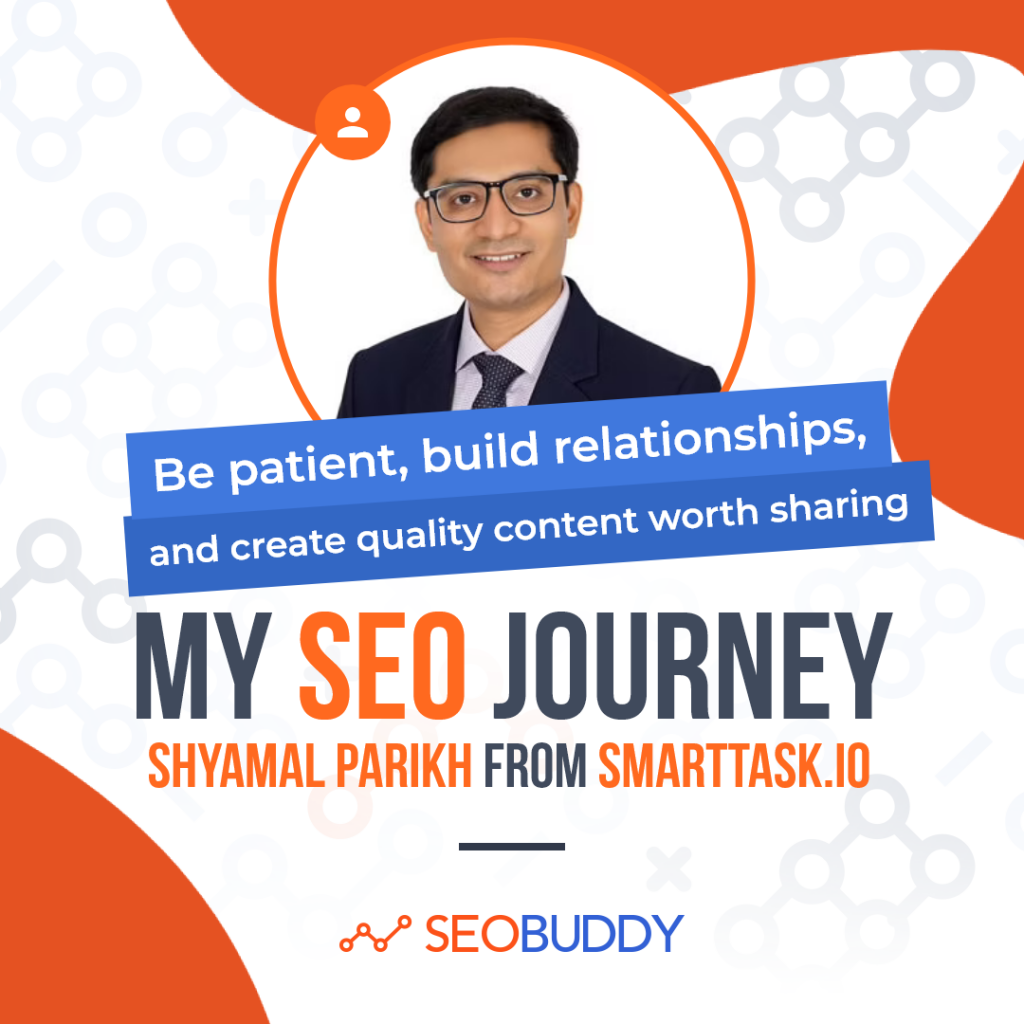 Hello, I am Shyamal Parikh and I am the founder of SmartTask.
SmartTask is a work management tool that aims to make people 3x more productive by helping them prioritize their tasks, distributing work amongst team members, and tracking sales using CRM.
We currently are at 4K $ MRR and received 300K $ in seed funding this year in April.
What's your backstory and how did you come up with the idea?
I pursued my Bachelors in Engineering (B.Tech) from UVPCE, Gujarat. 2013 was a very special year for me as my college participated in Robocon for the first time, and I got the opportunity to represent my college as a lead programmer.
For those who don't know about Robocon, It stands for Robotic Contest where budding engineers program machines to perform a certain task. Despite being the debutant team, we scored the 1st position in our state. In addition to the achievement, I also found my mentor at the event and I interned under his tutelage for a year.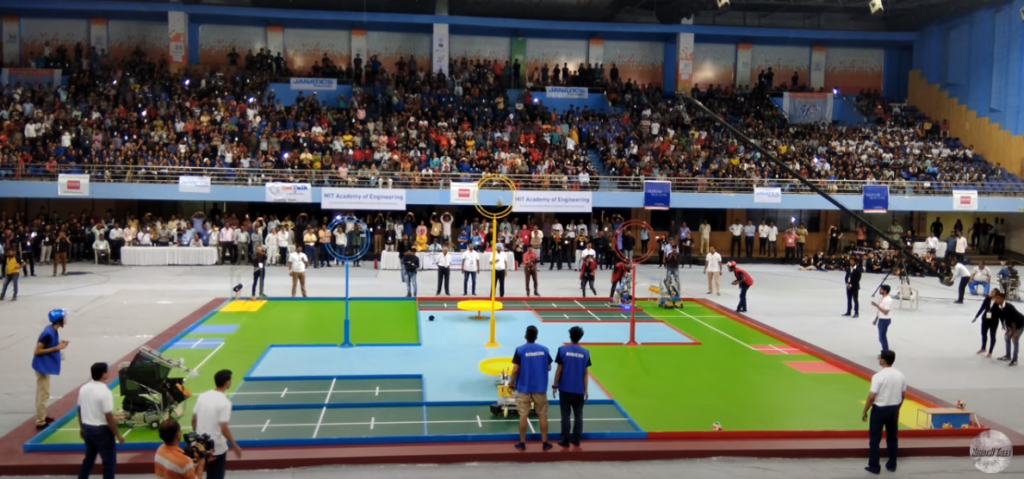 Time flies and in 2014-15, I decided to pursue MS in Embedded Systems, a field which I was really passionate about. Coming from a Mechatronics background, getting into top 30 colleges was going to be difficult and it proved so in the first year. I still felt I was good enough and decided to apply again.
As I had a 1-year break, I decided to productively use it by working at my father's business.
As I worked with him, I realised that his way of working was very unorganised in a sense that he had to rely on different tools for tracking his sales, checking tasks and Service requests.
This pain point motivated me to create SmartTask, where businesses could manage all their tasks and sales from a single app and become more productive.
When I researched the viability of my idea, I realised that the majority of the Indian businesses were operating in an unorganised manner and my product could be of use to them. I had the idea, time and the reason to create it.
As I had experience in the field of programming (B.Tech) and the ability to solve problems (sharpened through Robocon), I knew that I could create the product.
This would not have been possible if I had secured admission in a good college abroad.

I researched about the existing players in the market like Asana. They already had a huge team and exorbitant funding. To manufacture a SaaS product, usually, there is a dedicated team of backend and frontend developers. But as SmartTask was bootstrapped, I could not afford a team and that is why I had to build everything on my own.
During the break year, I dedicated myself to learning programming and implementing the lessons in building SmartTask. I used Angular and C# to build SmartTask. As my break year was about to finish and the GRE retest was approaching, I had two options – either to abandon SmartTask and leave to study abroad, or stay here.
SmartTask was like a brainchild to me, as I built the entire thing from scratch. Although it did not fetch me any revenue, I still had faith in its potential and took the risk by abandoning my plans to study abroad.
Many of my colleagues warned me about the consequences of staying here and risking my career potential. For a moment, even I got into self-doubt, but I was fortunate enough to have supportive parents who offered me emotional support and had faith in my capability.
My mentor at Robocon also supported me in my journey.
Since launch, what has worked to attract more organic traffic?

100% of SmartTask's traffic is through organic channels. As it's a bootstrapped venture, the idea of paid traffic did not appeal to me. The downside was that it took me a long time to gain significant traction.

They say SEO is a long-term game and I couldn't agree more.
I have been consistently writing articles since 2018. Presently we have 100+ published articles on our website and it helps in generating traffic to the website.

As SmartTask is a project management tool, I research relevant keywords with high search volume and low difficulty. To widen the reach of our audience, I prefer writing guides pertaining to the concepts related to project management such as Project Scheduling, Project Scope, etc.
There is also a healthy mix of evergreen topics such as Time management and Productivity.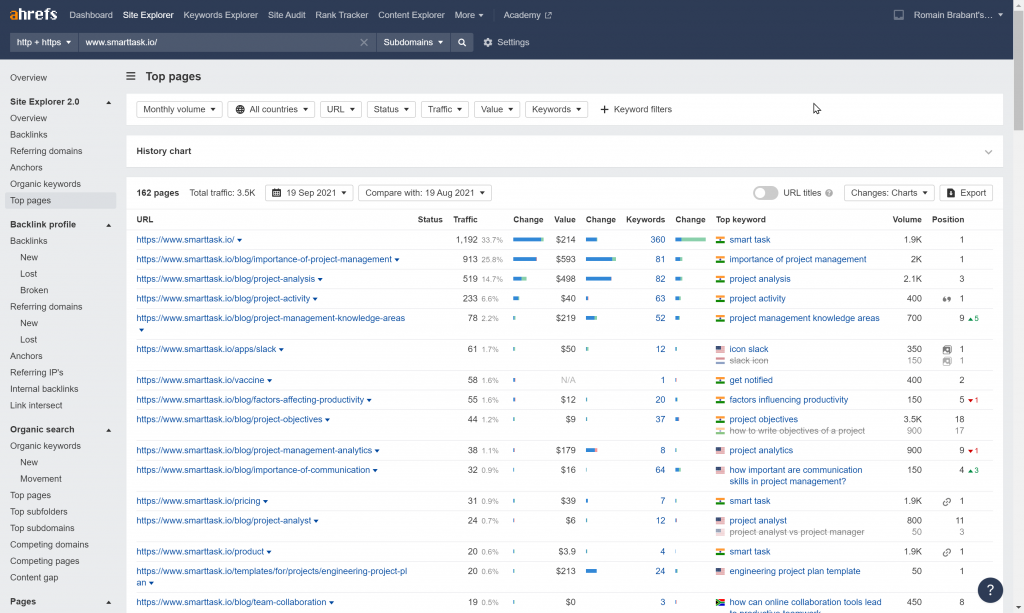 We balance out content to cater to different segments of the audience.
For our existing customers, we create content describing how they can achieve XYZ's goal using SmartTask. For the general public, we create content on generic topics such as Productivity and do a subtle plug of how they can leverage SmartTask to achieve productivity.
We did an Appsumo lifetime deal that also brought us organic traffic (from Appsumo – YouTube, Website, and Customers and From other bloggers, who posted reviews about our product)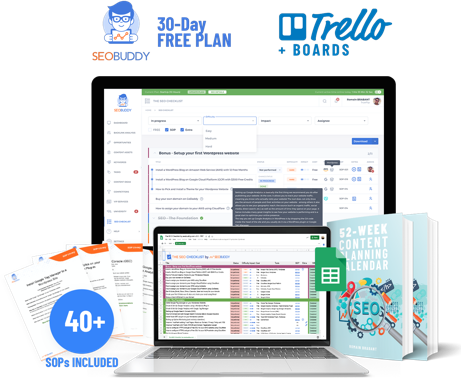 There's more…
Now it's time to discover the other 102 steps that will get more organic traffic flowing to your website. Get the SEO Checklist here.
Want to get a sneak peek of what it looks like?
Enter your email and get a free demo version of the SEO Checklist.
Have you learned anything particularly helpful in your SEO Journey?
Just like investments, SEO results compound over time. At the beginning, you see negligible results. But instead of being disheartened, you need to continue with the efforts to see the results.

Building relationships is a game-changer when it comes to SEO. I meticulously spent time to outreach and develop good relations with other bloggers and website owners.

Quality content should not be overlooked. Unless your content is good, nobody would give a backlink to you (irrespective of your relationship with them).
When I started, I used to personally cold email people asking them if they would like to give a backlink to our article. In return, I helped them get a backlink.

As my team grew, I hired an outreach specialist who worked towards outreaching people for link building. He created a list of relevant websites from which we could guest post.
It is important to guest post primarily on websites in your niche, as we are a SaaS company we preferred SaaS/Technology websites for link building. But if they offer a competing solution, then it's most likely that they won't accept your offer.
So approach websites that are not in direct competition with you
We also leveraged guest posting to get backlinks for our articles. Prior to guest posting, we check the spam score of the website, if it is greater than 1, we do not proceed ahead.

As of now, we have 690 referring domains and now the efforts of the outreach are paying off.

What's your SEO Tech Stack?
For SEO, Ahrefs is our go-to tool.
We also use Google Search Console to track the position of our articles.
We use Microsoft Azure to host our application.
For payment management, we use Stripe.
We use FactoHR for Human Resource Management.
For documentation purposes we use Gitbook,

And for project management, task management as well as team collaboration we use SmartTask
What have been the most influential books, podcasts, or other resources?
Today, Twitter is my primary go-to platform to gain knowledge from experts. I like the way Twitter summarizes knowledge in threads compared to reading 200 pages of a book.
I follow people like Naval Ravikanth, Julian Shapiro, Hiten Patel, etc.
Earlier when I had more time, I used to read a lot of books. Some of my favorites to date are Rich Dad Poor Dad, How to win friends and influence people, The Himalayan Sage
Where can we go to learn more?
If you have any questions or comments, drop a comment below!