My SEO Journey [Pro Edition]: Branko Ilishev from smartclick.agency – Our three-part analysis framework to optimize our client's site systematically
My SEO Journey [PRO Edition] is a series where professionals of the SEO Industry, Digital Marketing, or Web Design, share their honest SEO Journey filled with failure and success, and most importantly proven results. Episode #79 features Branko Ilishev from SmartClick.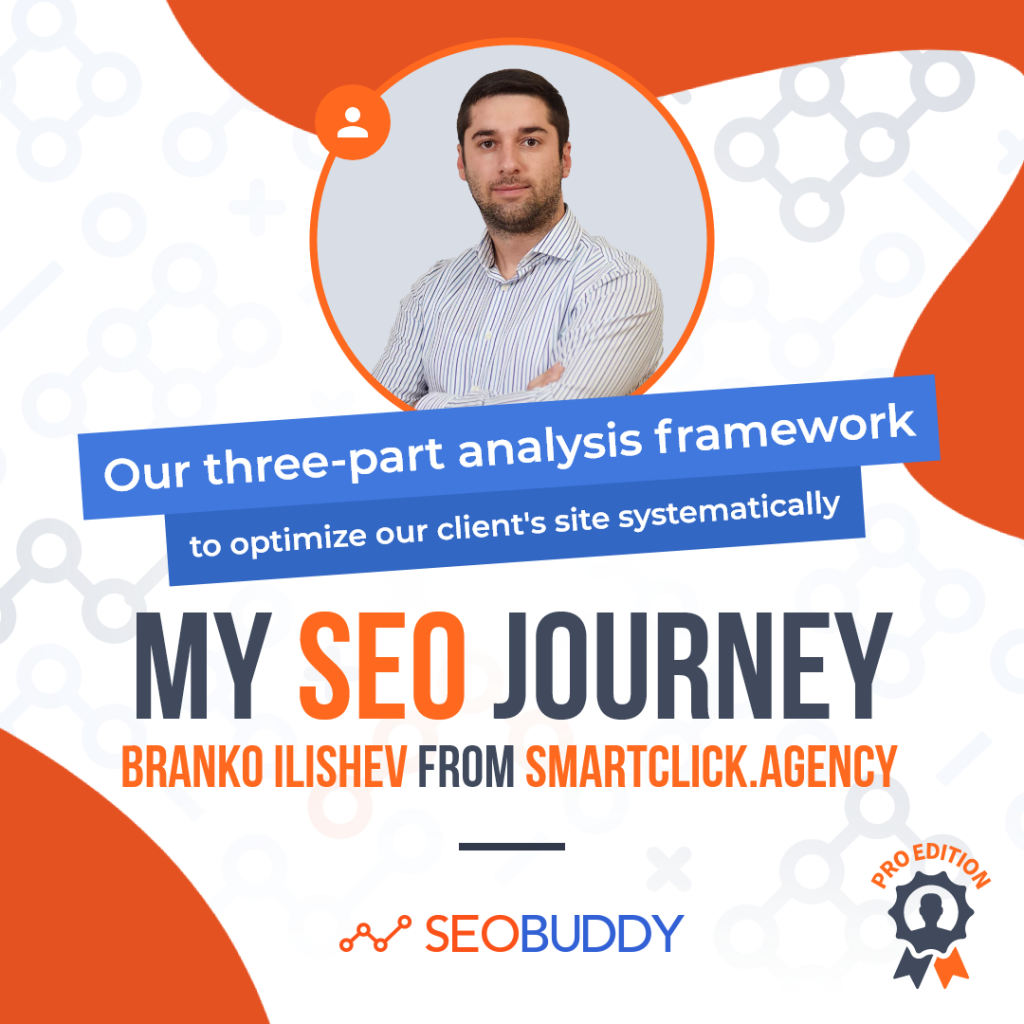 Hello, I am Branko Ilishev, and I am the co-founder and Head of SEO at SmartClick – a Web and SEO Agency.
We are a modern agency that helps our international clients gain the online visibility they desire for their businesses and rank on the first page of Google Search Engine Results. We work with international clients all over the world.
We stand out from the crowd because we have developers and SEO professionals who work side-by-side to ensure we achieve our clients' wanted results. We build optimized websites with optimized content for the ideal clients and execute an SEO strategy that will bring our clients success.
When it comes to SEO, we have a unique approach – we have created the SmartAuditor, a three-part tailor-made analysis that helps us conduct extensive research and understand the client's website. We can pinpoint the obstacles that prevent the website from appearing high on the Google Search Engine results. Then, according to the collected data, we propose suggestions and fixes for these issues and an action plan on how all of it should be implemented.
So, you can say that we hand our clients a ready-to-use manual to optimize their website.
If they don't know how to do it, that is what we are here for.
Our agency's mission is to ensure that our clients stand out in the sea of competitors through their digital presence and performance.
What's your backstory, and how did you come up with the idea?
I have had this obsession with the Internet and how it worked since I first got my hands on a computer and the Internet. It seemed incredible how it all comes down to just functioning so smoothly. It was unbelievable to see how searching for stuff I wanted to be informed about was offered to me in the shape of listed results by, literally, a machine! As Google continued to improve its algorithms, it became clear that this is an opportunity that online businesses must seize as soon as possible and start building their online success.
So, I started dwelling on SEO.
I was learning the basics, reading forums, exchanging opinions with people as interested as me, and I revealed a whole new world of opportunities. I started experimenting with my websites, and I saw that SEO could be the next big thing if done correctly. I didn't stop for a moment. I took webinars, courses and was patiently working our patterns. I realized that I had to get serious about technical SEO as it is the backbone of any website.
Becoming a part of an SEO company was even a more significant booster for me.
I saw the potential in me when I was able to help some of our clients get first-position-on-Google success. That made me believe that I could untangle the creative cloud of concepts in my head and start turning them into action plans.
Then, I moved on to become a freelancer. UpWork has chosen me as one of the top SEO specialists in my field due to the successful close rate of my projects. Freelancing has really helped me navigate the SEO world on my own, where I was able to listen to my thoughts, oppose them, discuss them and then decide which will work out and which won't.
The "aha" moment for me when it comes to starting my own company was that having the right team beside me will help me do much more. If you want to evolve, grow professionally and expand your horizons and clientele, you need the support only a team can provide. Moreover, there was a gap on the market: too many SEO agencies out there with little WEB development help. That was an opportunity that my business partner (a web developer) and I realized after discussing the needs and issues of our two worlds and how codependent they are.
We joined forces, and ta-da! SmartClick – SEO and WEB agency was born.
Since launch, what has worked to attract more organic traffic?
This January, SmartClick celebrated its 4th birthday as a company.
We are still working hard to improve our internal organization since we are growing. Our combined experience of more than a decade in the industries has helped us gain international clients from different niches. We are paving the path to becoming the business where people want to be, whether they are clients or employees.
We redesigned our website to increase traffic and sales and started following the EOS model for internal organization. The CEO of SmartClick is responsible for developing the sales skills and is continually attending courses, working with coaches while I am focusing on learning project management, and working out things internally.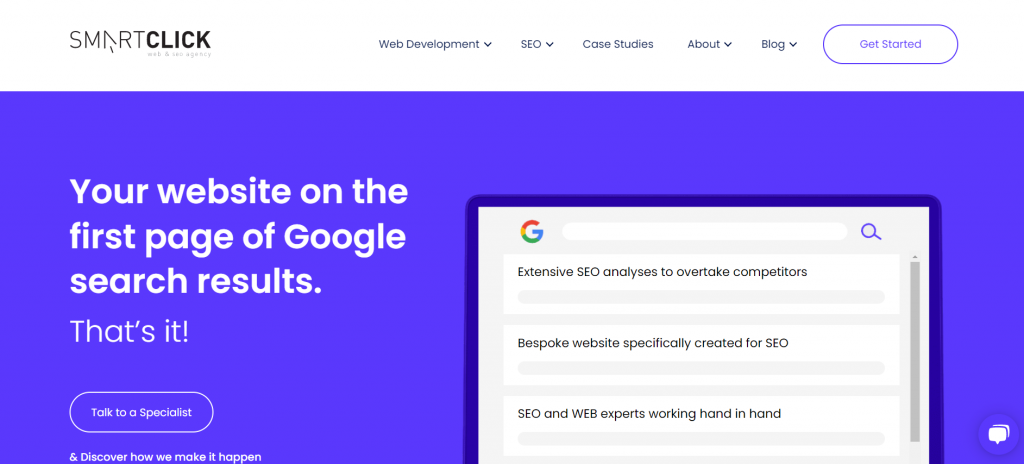 At the same time, our team leaders are working on projects for our clients – crafting fully optimized websites with valuable content and quality off-page strategy. We have found out that the practice that gives us the best results is when the process of optimization is done systematically, step by step.
Namely, we first do the three-part analysis; then, we present what we have found to our client.
The three part analysis consists of Technical Audit, Competitor Audit, and Content Audit. With the Technical Audit we make the sute easy for navigation and finding the information visitors need. Also, with it we make the website easy to be crawled, indexed, and ranked. We propose a search-engine-friendly URL structure and highlight the ways of adding details in your Google website listing to improve the look of the pages in Google Search Results Page.
The Competitor Audit is the analysis of our clients' top online competitors. We take a look at the market leaders and the direct competitors and identify opportunities of pages and keywords to take over positions for. This analysis focuses on the strengths and weaknesses of the competitors and gives suggestions on how to implement the best practices from competitors and how to leverage their weaknesses.
The Content Audit does an extensive analysis of the content on-site. Based on the keyword research mapped to the target pages, it provides attractive titles and meta descriptions for better CTR. By implementing the findings of this audit, the copy gets optimized with the relevant keywords and speaks directly to the ideal client. Moreover, we provide solutions for improving the content strategy and identify opportunities for content repurposing. Finally, we propose a content plan of topics that should be covered in the blog section based on trends, popularity and the competition's content output.
We suggest an action plan with prioritized fixes and explain how it should be implemented. Usually, our clients want us to take care of the optimization and the creation of the SEO strategy.
So, we implement the solutions and start the SEO strategy with clear milestone goals predetermined. We take pride in the continual growth of our clients' success, as we believe that SEO should bring exactly that – constant growth and increase of organic traffic. (see image below – a continuous growth of organic traffic of one of our clients)

One of the key SEO elements we pay attention to is implementing a thorough internal linking structure on the website. We have created our own spiderweb template that shows us visually what we are linking, how and what results do we get from these links. Here is an example of how it looks.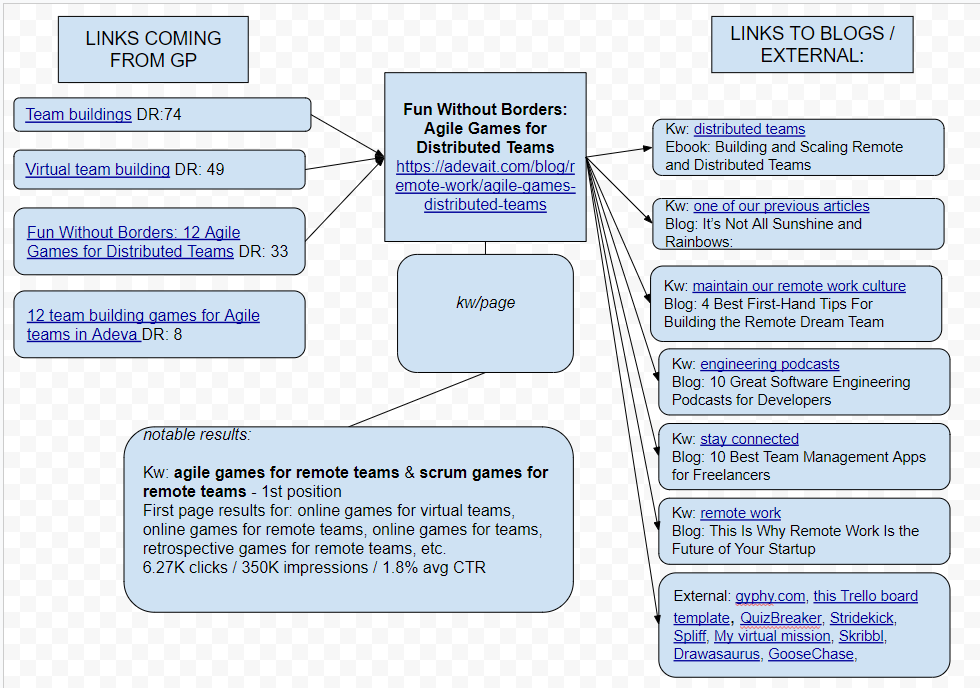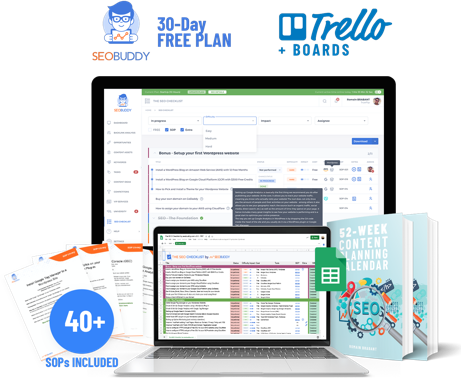 There's more…
Now it's time to discover the other 102 steps that will get more organic traffic flowing to your website. Get the SEO Checklist here.
Want to get a sneak peek of what it looks like?
Enter your email and get a free demo version of the SEO Checklist.
Have you learned anything particularly helpful in your SEO Journey?
My whole SEO Journey was constant improvement, development, thinking outside the box, and it still is to this day. SEO is a dynamic world where things that were essential yesterday won't necessarily be important tomorrow. So, I am always learning, discovering, following up on trends, and fellow SEOs worldwide to advance even better.
The fact that we've collaborated with companies who already knew so much about SEO, mainly technical SEO, has helped me overcome some challenges and clear out doubts preventing me from exploring even further.
Today, I am confident that I am a successful SEO expert who can pinpoint the problem and solve it with his team. The main characteristics that led me to this confidence are discipline, learning, and whatever it takes mentality.
What SEO tools do you use for your business?
We use a plethora of SEO tools: Ahrefs, Screaming Frog, Serpbot, Grammarly. Of course, Google Search Console, Google Analytics, and Search Console Insights are the primary tools we get data from.
All of these tools help us get the information we need to understand the online visibility problems of our clients.
When it comes to our link-building strategies, first, we aim for quality.
We create campaigns in Snov.io and do outreach to websites that we have vetted as high quality. The process is vetting the important factors when we are going for link insertions or guest posts. Here are the factors that we go by:
Relevancy (the site must be related to the specific niche of our client)
DR 40+ (the domain ranking or domain authority must be over 40)
Organic traffic 1K+ (at least 1K+ organic traffic for clients' who are just starting with SEO)
Ranking keywords (we look at what the websites rank for, if it is a PBN – it is not worth it, if the site is ranking for all kinds of keywords that don't make any sense, we exclude those site opportunities)
Backlinks (we also look at backlinks that point to the site we want to take a backlink from. This gives us an idea whether the site is considered authoritative or not.)
Keyword growth (if the keywords' number is declining that means that the website's been penalized or it doesn't invest in SEO. Be it any of the two cases, we wouldn't consider the site as relevant.)
For each client, we have separate campaigns that target their ideal audience.
Also, we come up with different techniques and collaborations to get a backlink on a site that is of enormous importance for our clients. The best backlink is the one that we got on Digital Ocean, whose Domain Rating was 91.
What's the next step in your SEO Journey?
As I said previously, we are constantly on the move – we don't stop learning and improving. We are open-minded; we want to experiment, take risks, and find out what works and what doesn't to guarantee our clients' first page results on Google. Looking at six months from now, I see my team tackling challenges on a daily basis as a piece of cake.