My SEO Journey [Pro Edition]: Rick van Haasteren from siteguru.co – SEO is a long-term game, be consistent and always try something new
My SEO Journey [PRO Edition] is a series where professionals of the SEO Industry, Digital Marketing, or Web Design, share their honest SEO Journey filled with failure and success, and most importantly proven results. Episode #50 features Rick van Haasteren from SiteGuru.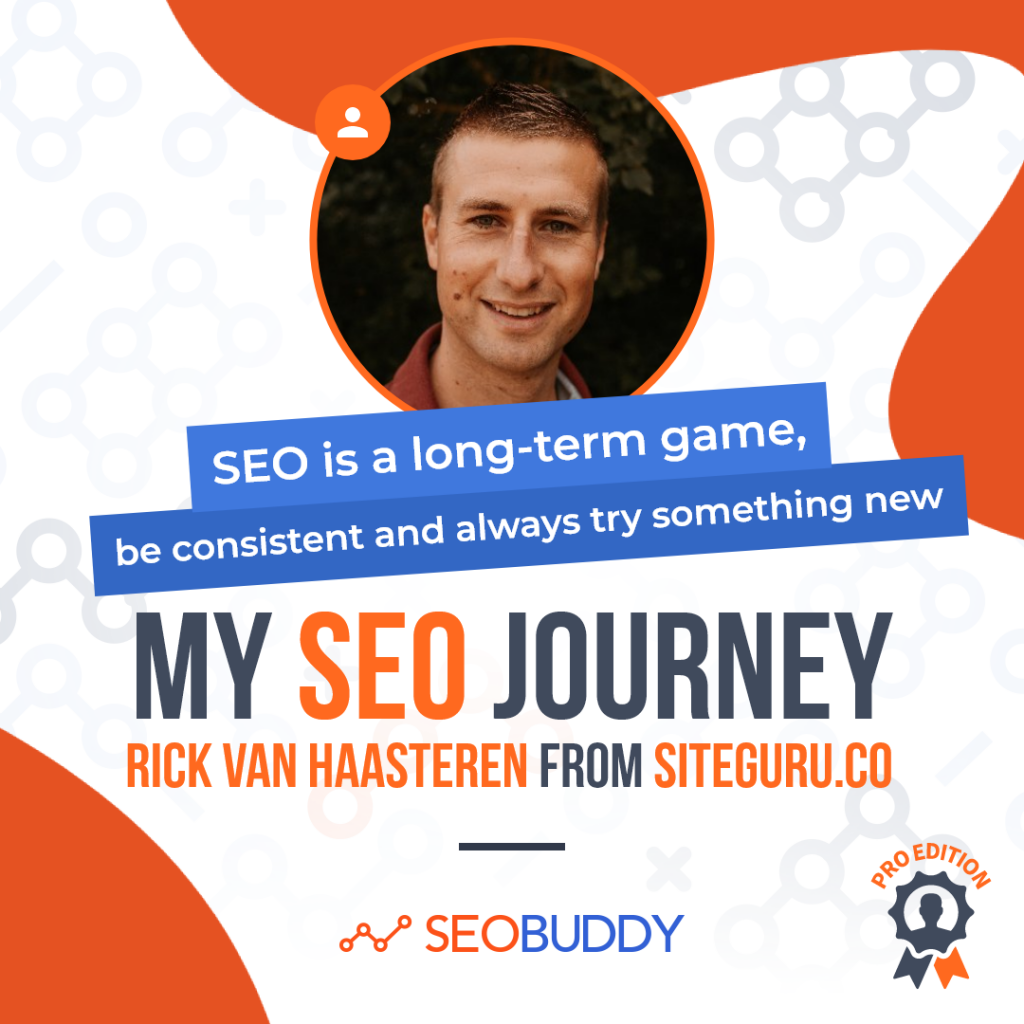 My name is Rick van Haasteren and I run SiteGuru. SiteGuru is an SEO tool that helps marketers and SEO experts improve their websites and monitor their performance.
The tool is popular with in-house marketers because it gives them a step-by-step approach to SEO, without having to become an SEO expert. Instead of endless lists of issues, they get a prioritized SEO to-do list which makes their lives a lot easier.
It's our goal to help our clients succeed in organic marketing, by removing all the fuzziness that you often found around SEO, and provide actionable steps instead.
What's your backstory and how did you come up with the idea?
I'm a bit of a mix between a developer and a marketer.
I've worked as an SEO consultant, and for every new client, we would start with an SEO scan, using tools like Screaming Frog or Ahrefs. Although those tools are quite in-depth, it took most of us ages to make anything meaningful out of them.
I had worked as a developer before, and I thought I could build something better.
I started working on an SEO audit tool and focused on getting a prioritized SEO to-do list. This way we could quickly tell our clients what was wrong without having to go through endless amounts of data.
After testing the tool on many of our client's websites, I knew I was onto something. It really helped me make sense of a client's website quickly and identify the top priority issues.
Meanwhile, I started promoting the tool and it got some traction. I got a lot of positive feedback. But most importantly, because I was using it myself all the time, I was able to improve it.
Drink my own Champagne, like they say.
I've always dreamt of starting my own company, so a few months ago I decided to quit my job as an SEO consultant and go all-in on my startup. I've been working full-time on SiteGuru for a few months now, and I absolutely love it.
Since launch, what has worked to attract more organic traffic?

After I got to my first 1,000 users (this was back when it was still a small side-project), I wrote a blog post about how I got there. I shared it on Indie Hackers and Hacker News, and it took off: lots of new visitors and users. One drawback: most of these users were startup founders. Sure, they wanted to improve their website, but they're unlikely to start paying for an SEO tool.
Nevertheless, it helped me gain exposure and build links
Another piece of content that brings in a lot of traffic is our Startup Directory List. When I started link building, I initially wrote to all the startup directories out there asking them to list my company. This is a relatively easy way to do link building.
I had the list of startup directories and thought it would be useful for others as well. I created a page for it and posted it on some startup communities. It's brought in a lot of traffic ever since, and it keeps doing well. All I need to do is refresh the content every month or so.

Next to that, our SEO Academy has a lot of in-depth articles about SEO.
It's funny to see how the more generic articles don't get a lot of traffic. On the other hand, the very specific, in-depth articles like the one about Text to HTML ratio does really well. Competition is less strong, so for a relatively small site like ours, it's possible to rank for those terms, whereas it would be impossible to beat giants like Moz or Ahrefs on more generic SEO topics.
The trick is to consistently produce good content. Not every article will rank, but it will give you a much better idea of what works and what doesn't. Take those learnings and adjust your content strategy based on that.
Have you learned anything particularly helpful in your SEO Journey?
For me, the most important lesson is that SEO is a long-term game.
You're unlikely to find that one tweak, that one link, or that perfect piece of content that gets you to the top. It's a combination of all these little things. Together, they add up and drive growth.
This requires patience and perseverance. Don't give up if something doesn't work.
Learn your lessons and try something new.
Just to illustrate: some months ago we launched the SEO Glossary: a list of SEO terms with an explanation.
It didn't take too long to create a list of around 200 terms, and we quickly pushed it online. Quite soon, impressions in Google started rising, we gained positions and got some clicks.
But then it stopped. We lost positions, and never got any clicks after that.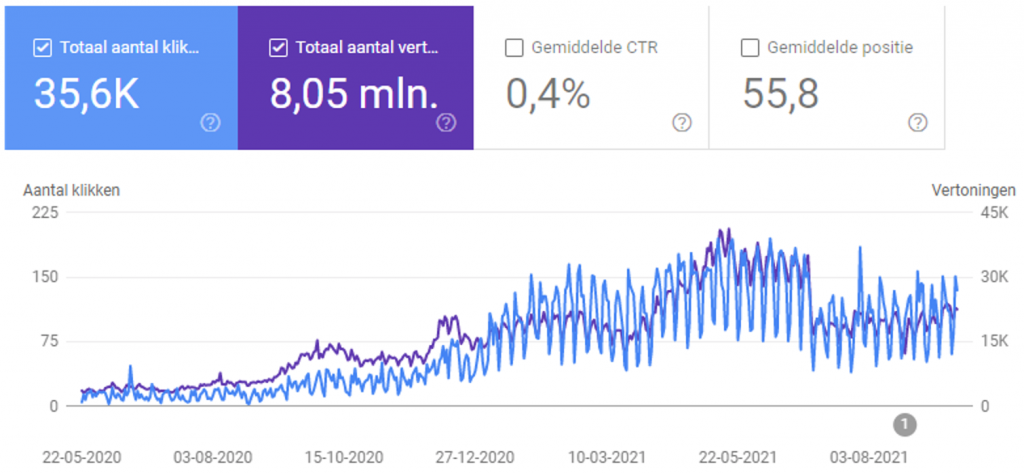 At the same time, our more in-depth content did better than ever.
We added more advanced tools to the existing articles, like adding a compression checker to an article about compression and page speed. This made the article more valuable to the reader, and that paid off. This was a lesson that meaningful content always beats short-form content.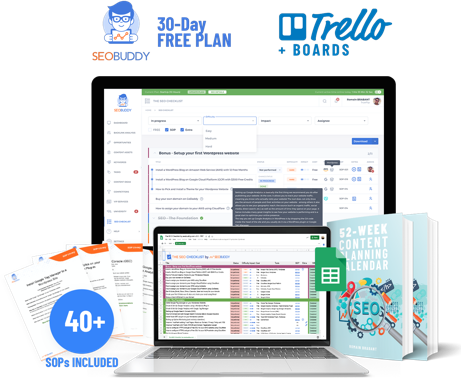 There's more…
Now it's time to discover the other 102 steps that will get more organic traffic flowing to your website. Get the SEO Checklist here.
Want to get a sneak peek of what it looks like?
Enter your email and get a free demo version of the SEO Checklist.
What's your SEO Tech Stack?
You won't be surprised to hear that SiteGuru is my main tool for on-page SEO and monitoring. It has all the features I need, and if there's something missing, I build it:)
For link building and rank tracking, I've used Ahrefs and SE Ranking. Of course, I couldn't work without Google Analytics and Google Search Console to track my performance.

I'm not a big fan of link building personally. I know it needs to be done to succeed, but it's not something I love doing. To force myself to do it, I set aside some time every week to reach out to publications writing about marketing tools.
It can be frustrating because as you probably know, the chance of getting even a response is quite slim.
But sometimes it works. I reached out to an SEO specialist who'd written about the top 10 SEO tools on the number one marketing blog in The Netherlands. He tried SiteGuru and loved it.
We found out we live in the same area and got together for a beer. We kept in touch, and after a few months, he published a new article about the best SEO tools of 2021, and SiteGuru was number 1.
That drove a massive amount of traffic and still does.
Bottom line: sometimes you need to do things you don't like 🙂
What have been the most influential books, podcasts, or other resources?
I'm a big fan of The Art of Product, a podcast by Derrick Reimer and Ben Orenstein. They're both building a company, and I can relate to many of the challenges they face.
SEO-wise, Twitter is a great resource. There are so many SEOs out there that share insight and great content. The SEO community is very open and generous, so if you keep your eyes open, there's plenty of opportunities to learn from others.
Where can we go to learn more?
Follow us on Twitter on @siteguruco, or me personally on @rickhaasteren. Our blog has the latest updates we made to the product, and other things that are interesting for the SEO world.