My SEO Journey [Pro Edition]: Ivan Palii from sitechecker.pro – Create many landing pages as early as possible
My SEO Journey [PRO Edition] is a series where professionals in the SEO Industry, Digital Marketing, or Web Design share their honest SEO Journey filled with failure, success, and most importantly, proven results. Episode #91 features Ivan Palii from Sitechecker.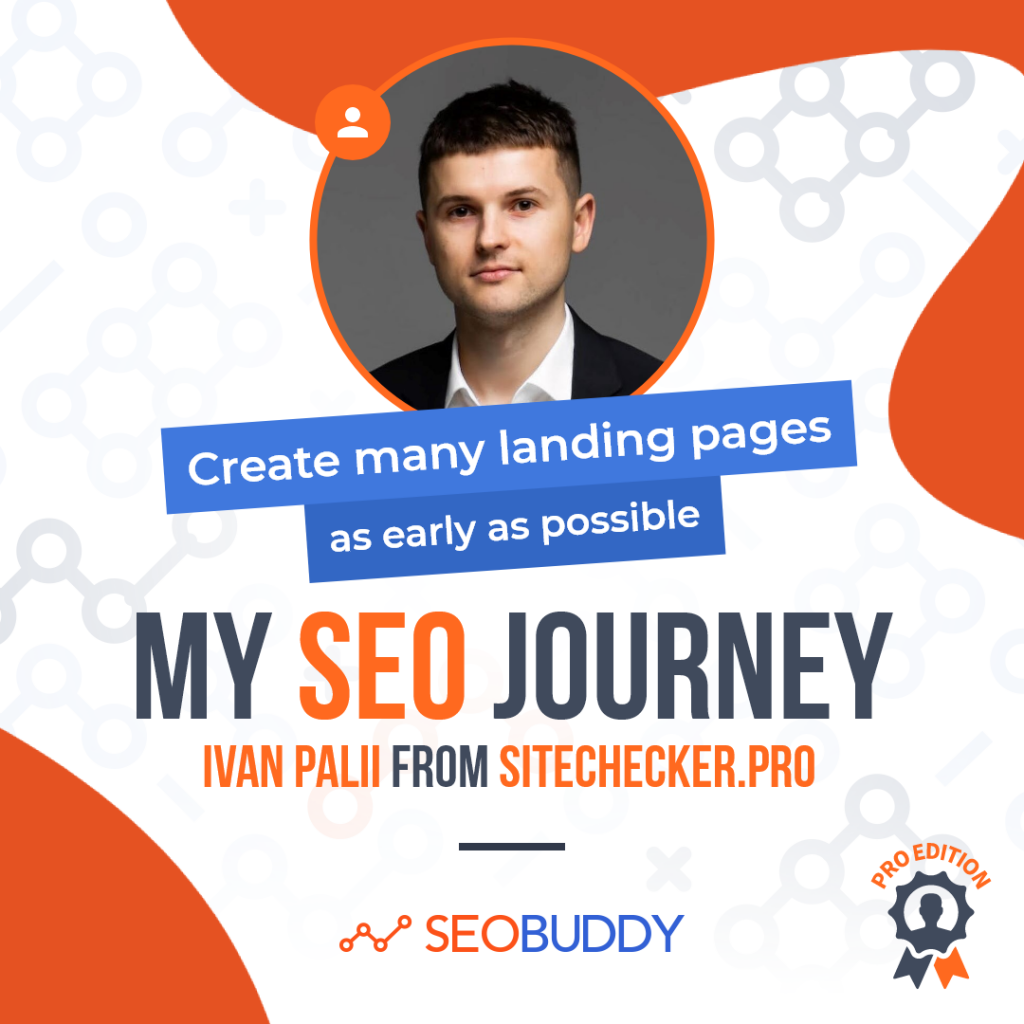 Hi, I'm a product manager and a digital marketer.
For the last 5 years I worked on growing Sitechecker, a DIY SEO platform. Sitechecker is a platform consisting of Site Audit, Site Monitoring, Rank Tracker and Backlink Tracker tools. The industry of SEO tools is very competitive, but we found the product/market fit.
It is interesting that analyzing our audience and running custdev we found that two very different types of users are choosing Sitechecker among other SEO platforms.
The first one audience is business owners who are interested in growing organic search traffic from Google to their website but don't know where to start and are looking for an easy-to-use and cheap decision. The leaders of the industry like Semrush and Ahrefs are too complicated and expensive for such types of users.
The second one audience is design, development and digital marketing agencies who are working with many clients' websites and also need a solution that helps to improve website quality and that is easy to work with for employees and clients with no SEO expertise.
So, our team is focusing on transforming hard to learn professional SEO and UX requirements into a simple language that can understand anybody who works with the website.
Our mission is to help website owners to get to the top of Google without being or having to hire an SEO expert.
What's your backstory and how did you come up with the idea?
The first job in my SEO career was optimizing product listings on ebay.de for medical online store :). I also had an experience of working as a digital marketer in an agency, but the most interesting things happened after joining the Sitechecker team in April, 2017.
I decided that this is a good idea to join Sitechecker due to a few reasons:
Sitechecker was just one of many products the team launched, so I have the ability to work with different websites. In this case you are growing faster, because you can run more experiments and try to duplicate the experience from one product to another.

When I joined, Sitechecker was only an alpha version of the product. It had very little traffic and backlinks, no marketing, no business model. So I had a chance to build something from scratch and learn many important things that you can learn only in the startup.
Considering how competitive the market of SEO software is, we achieved many breakpoints in 5 years. Now we have 350k unique website visitors, 90,000 installs of our Google Chrome extension, 4.5+ ratings on G2, Capterra, Trustpilot, good retention rate and enough revenue to reinvest in product improvements and business growth.
Working on Sitechecker at first as an SEO specialist and then as a product manager, I have gained a lot of experience. So now except for a full time job, I run a blog, develop unique Google Data Studio templates, provide consulting services, take part in professional conferences as a lecturer.
Since launch, what has worked to attract more organic traffic?

The first step I did was registering Sitechecker in popular startup listings (e.g. betalist.com) and review websites (e.g. g2.com, capterra.com, trustpilot.com). Some of these listings are just good backlinks, other ones send you real traffic.
This is a good start for any startup because you can do it fast and for free.
The second important step was creating many product landing pages as early as possible. Many startup owners when deciding which landing pages to create, don't do keyword research. Your target audience can look for products like yours in many different ways and use many different queries.
For example, the main tool in Sitechecker is Site Audit. We created landing pages not only for this cluster of keywords. We also created such landing pages as Broken Link Checker, H1 Tag Checker, Title Tag Checker, Redirect Checker and pages based on many other keywords with low volume but high potential for conversion rate. So, the tip is to dive into your product and try to see it from different perspectives and then do deep keyword research.
Why is it important to create many landing pages as early as possible? Because you need to build backlinks and get organic backlinks from your users. And you can't get them if you have no pages to which to link.
The third strong step was creating a Google Chrome Plugin for on-page SEO. It helped to get one more landing page on a strong website that ranks in the top 1-3 by the most valuable keywords for us (website checker, seo checker etc.)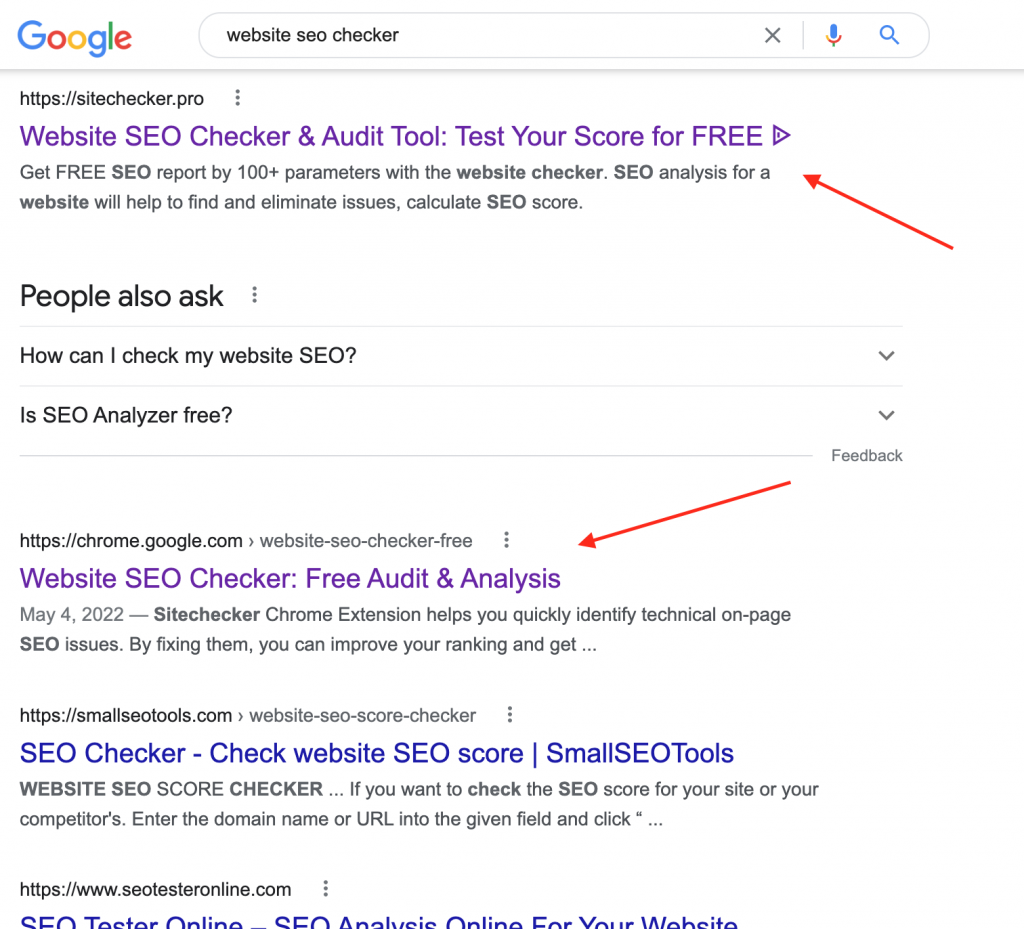 Have you learned anything particularly helpful in your SEO Journey?
The first particularly helpful knowledge I learned is understanding the limits of Google Search Console and any tool that provides a search volume for keywords. This knowledge helps me to describe a technology of research of profitable low-volume keywords. The key tip: don't limit you with Ahrefs, Semrush and Google Search Console data.
There are always more keywords you can target too.
The thing that was and is still hard for me is to beat the content of Backlinko, Moz, Ahrefs in Google SERP.
We tried to create checklists and guides of high-level and tried to promote them but we can't beat our competitors in it now. Most of the organic traffic we get to landing pages of 'extra tools' type – pages with a simple one-function tool that is the start of a big funnel.
Starting our own affiliate program on Shareasale and launching education partnerships with universities and schools also were valuable important decisions.
We needed to differentiate our traffic sources and this steps help us to do that.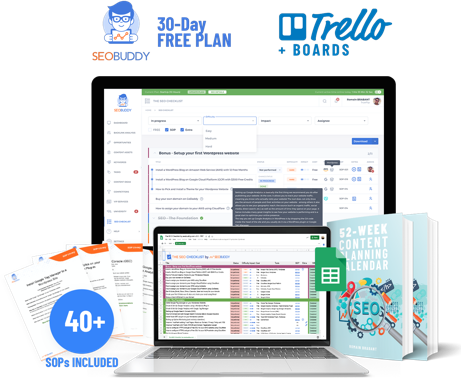 There's more…
Now it's time to discover the other 102 steps that will get more organic traffic flowing to your website. Get the SEO Checklist here.
Want to get a sneak peek of what it looks like?
Enter your email and get a free demo version of the SEO Checklist.
What SEO tools do you use for your business?
Google Search Console as a key dashboard that is as close to reality as possible. Don't trust GSC fully, but trust GSC more than any other SEO tool.
Google Analytics to measure conversion rates and user behavior on the landing pages. To understand the business audience better.
Google Data Studio to build custom dashboards with features that GSC and GA don't have.
Sitechecker to monitor website health and get a complete list of opportunities on how to improve on-page SEO, internal linking etc.
Ahrefs to analyze competitors' SEO strategies, do keyword research and monitor new backlinks built to my website.
Search Analytics for Sheets. A simple and fast Google Sheets add-on to import performance data from GSC.
Our link building strategy changes as our startup grows. In the first months I added Sitechecker to business and review listings, posted comments with backlinks on relevant blogs, answered to the SEO related questions on Quora and Reddit.
Then I started to ask bloggers to make reviews of our platform, and suggested publishing interviews with them on our blog. By the way, I love this long-term strategy, when you first give some value to influencers and only after that ask them to do something for you.
Additionally I had a good experience of getting organic backlinks to images on Sitechecker website. When we did blog posts I asked for a designer to create unique and valuable preview images that related with the content. And all of such images has a common style.
What have been the most influential books, podcasts, or other resources?
I used not only SEO resources but marketing and product management resources. Here is my list of recommendations.
What's the next step in your SEO Journey?
I plan to cover more valuable low-volume keywords, implement low-volume strategy to grow Sitechecker YouTube channel. I am also interested in the implementation of technology of regular SEO A/B tests on Sitechecker landing pages.
Additionally, I will work on Sitechecker's mission. We will help business owners with no SEO experience to get organic traffic faster, cheaper and to control own subordinates or agencies who work on that.
Where can we go to learn more?
Email: [email protected]
Linkedin: https://www.linkedin.com/in/ivanpalii/
Twitter: https://twitter.com/IvanPalii)
Blog on Medium: https://medium.com/@ivanpalii
Personal website: https://ivanhoe.pro/