My SEO Journey [Pro Edition]: Olga Zarr from seosly.com – Creating Stellar Content in the Technical SEO and SEO Audit Niche
My SEO Journey [PRO Edition] is a series where professionals of the SEO Industry, Digital Marketing, or Web Design, share their honest SEO Journey filled with failure and success, and most importantly proven results. Episode #40 features Olga Zarr from SEOSLY.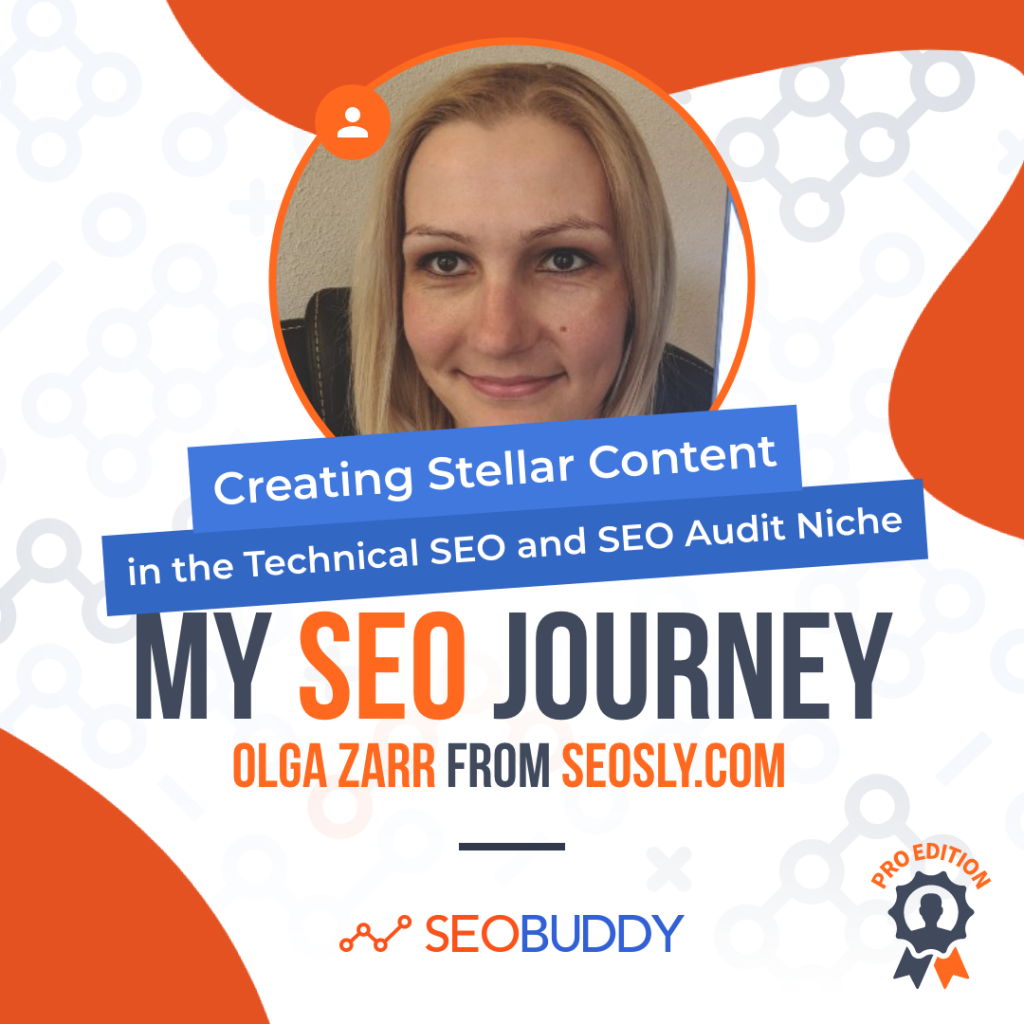 I am Olga and I am a technical SEO specialist, SEO auditor & SEO consultant with 8+ years of experience (as a freelancer, in-house, and at the agency). I specialize in technical SEO and SEO auditing.
I am the owner and founder of SEOSLY, an expert SEO blog. The goal of SEOSLY is to share my SEO knowledge and experience in the form of in-depth guides, tutorials, and checklists.

There is also the premium area of SEOSLY – SEOSLY Pro – where I teach people step-by-step how to conduct in-depth SEO audits that analyze just about every aspect of the site and do it very holistically.
I also cooperate with the biggest SEO agencies in Europe where I am responsible for the SEO auditing process & teaching technical SEO to other SEOs as well as consulting for the biggest brands.
What's your backstory and how did you come up with the idea?
After doing SEO "quietly" for so many years and creating websites that I never put my face on, I decided it's time to come out and start sharing my knowledge about what I know best, that is, SEO.
The SEOSLY website was officially launched in August 2020 after a few months of my in-depth analysis, planning, brainstorming, doing keyword research, etc.
Work on my own site about SEO and doing SEO for it turned out to be extremely fascinating and addictive. As soon as the site started to gain some traction, I knew this was a brilliant idea and I only regretted doing it so late.
The SEO community is awesome and so friendly.
At one point, I started to get tons of positive comments and feedback from the best-known SEOs in the world. I got invited to the SEO Mastery Summit and then to the SMX Advanced.
The moment when John Mueller started following me on Twitter was proof of the concept for me!
Since launch, what has worked to attract more organic traffic?
When I am interested in something, I often tend to become quite obsessed with it and that's how I approached SEOSLY and its (organic) growth.
My main focus has been on creating articles and guides in which I share my hands-on SEO experience in much detail and depth. Some of my guides, such as the technical SEO audit guide, have 20K words.
After creating a bunch of such article articles, people – including very prominent SEOs, began to notice me and the snowball started rolling.
My process was very simple
Do keyword research to choose topics people are interested in,
Create stellar content on these topics,
share my guides on Twitter, LinkedIn, and in the newsletter.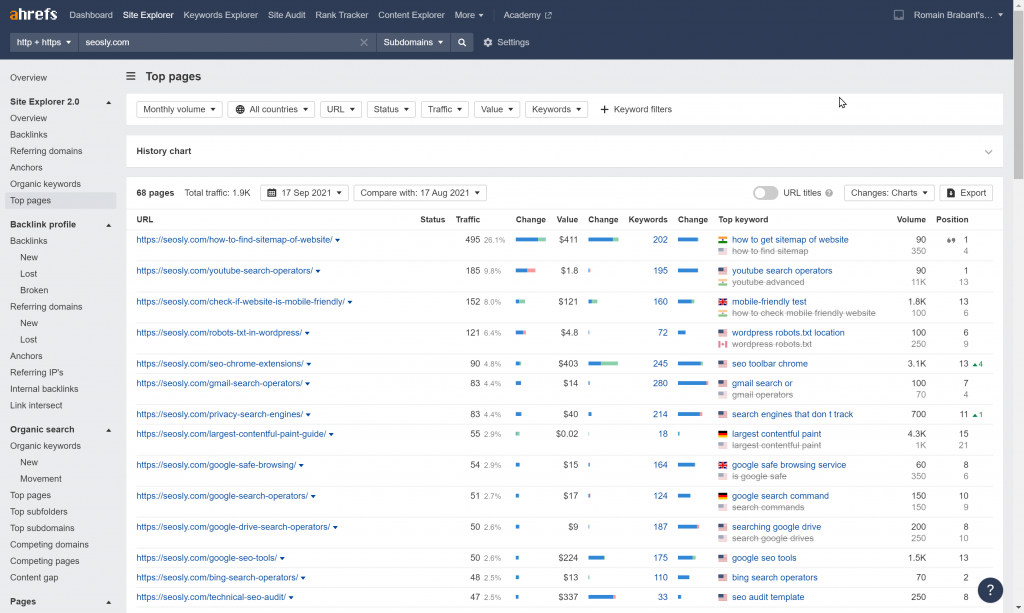 Have you learned anything particularly helpful in your SEO Journey?
During my 8+ years of being in the SEO industry, I really learned a ton.
Here are a few of my insights in this regard:
Always learn from multiple sources about the same thing, such as courses, videos, books, podcasts, SEO newsletters, etc. This way you will have a better understanding of new concepts you are learning about.
To learn SEO and to understand how it works, you need to absolutely build a few websites from scratch, experiment with them, improve them, break them, optimize them, etc. I had created at least 17 test websites before I started to have any real success with SEO.
Do not be afraid of asking questions and directly reaching out to people who you think may help you. Most of the time, you will be pleasantly surprised.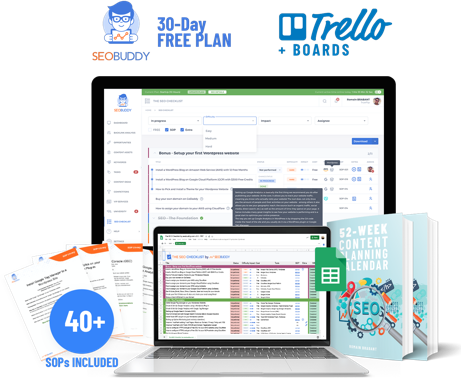 There's more…
Now it's time to discover the other 102 steps that will get more organic traffic flowing to your website. Get the SEO Checklist here.
Want to get a sneak peek of what it looks like?
Enter your email and get a free demo version of the SEO Checklist.
What's your SEO Tech Stack?
I use a variety of SEO tools in my day-to-day work, so I will try to keep this list short, or this interview will have 20K words:
Google SEO tools, such as Google Search Console, GA, PSI, Lighthouse, Chrome DevTools. I am a great fan of Google Search Console and using the data that's there as the foundation for my in-depth SEO audits.
Screaming Frog and Sitebulb.
Semrush and Ahrefs. I love and use both.
I invite you to check the entire list of SEO audit tools that I've prepared for you.

My link-building or rather a link-earning strategy for SEOSLY has been simply to create valuable, in-depth, and expert content that would earn links naturally. I have never been much of a link-builder and so far this has been working nicely for me.
What have been the most influential books, podcasts, or other resources?
I am totally addicted to listening to SEO podcasts and watching Google SEO office hours.
I especially like doing it at 1.5 or 1.7 speed, which allows me to consume a lot of knowledge in a relatively short amount of time, e.g. I can listen to 5 hours of podcasts during a 3-hour bike ride, which is insane.
My favorite SEO podcasts include Search News You Can Use by Marie Haynes, Edge of the Web, Experts on the Wire, SEO Rant, Search Off the Record, and a lot more. I follow and regularly listen to 30+ SEO shows.
When it comes to books and reading resources, this is definitely Google documentation (Google Search Central) and Search Engine Roundtable.
Where can we go to learn more?
To learn more about me and the stuff that I share: