My SEO Journey [Pro Edition]: Nate Nead from seo.co – The ability to write decent content has been one of the best kept tools for working in SEO
My SEO Journey [PRO Edition] is a series where professionals in the SEO Industry, Digital Marketing, or Web Design share their honest SEO Journey filled with failure, success, and most importantly, proven results. Episode #118 features Nate Nead from <seo.co/>.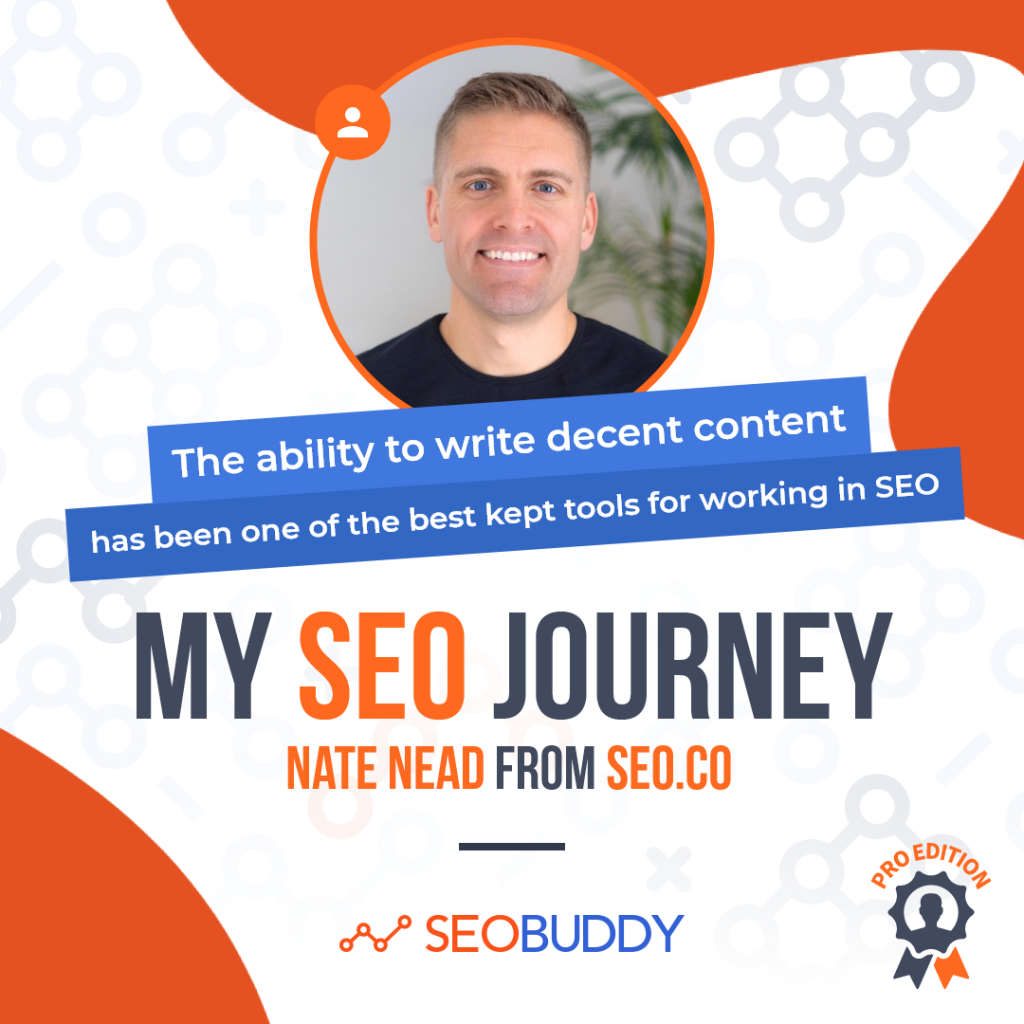 Our business was founded in 2010 as AudienceBloom. The company was solely operating as a link building services company. I acquired the business from the former owner in 2019 and we subsequently rebranded to SEO.co and expanded the service offerings well beyond simply providing link building services and link building outreach. We have worked with dozens of companies in the Fortune 1000, acquiring high-profile and high-quality backlinks for their websites. Our mission is to help businesses in an ethical way, increase their exposure, revenue and ROI through technical digital marketing. We have been successful in this mission and look forward to continuing to help businesses succeed through our digital marketing services.
Beyond the technical aspects of SEO, our team members are also known for their highly personalized customer service. We believe that by listening carefully to customers' needs, we can better understand what solutions will best serve them and create customized strategies to increase their success. Our team understands that digital marketing is a constantly-shifting landscape and, as such, requires ongoing monitoring and strategic maintenance in order to stay ahead of the competition.
What's your backstory and how did you come up with the idea?
I am a licensed investment banking by training and background, but have been working in digital marketing for more than two decades, building websites and optimizing them. I was looking to acquire a marketing agency for several years before I found this opportunity. I enjoy digital marketing as it has the same technical, quantitative aspects as investment banking.
When I first heard about the idea, it struck me as a perfect way to combine my finance and digital marketing background. After researching the market more deeply, I was confident that this was an underserved niche with great potential for growth. Therefore, I decided to take the leap and pursue this opportunity.
Before making any commitments, I spent a considerable amount of time evaluating the idea, testing and validating that it could be financially viable. My research showed that people were searching for services to help them better manage their online marketing needs.
For me, this was an exciting challenge, yet one with immense reward potential. After a year of hard work and dedication, I was able to launch the agency and am now enjoying great success with it. It has been a rewarding journey as I learn more about digital marketing every day, while also helping people reach their desired goals. I believe that this is only the beginning for my business, and I'm excited to continue pushing forward.
Overall, this experience has pushed me to think more deeply about how I can further my career and continue helping people succeed in the digital marketing space. It has been a fascinating journey so far, and I look forward to what's next!
Since launch, what has worked to attract more organic traffic?
Aspiring founders who are looking to start and grow their own business should not underestimate the importance of doing thorough research and validating their idea. By taking the time to understand the market, determine what services are in demand, and assess competition, you are setting yourself up for future success. Additionally, having a strong background in the relevant area can be a valuable asset and help you make informed decisions.
I am living proof of this concept. Before I acquired digital marketing agency, SEO.co, I had worked in the financial industry for several years. This gave me a unique perspective on how to merge quantitative analysis with marketing tactics, allowing me to better evaluate the potential of a given business opportunity.
When I discovered the digital marketing space, I immediately realized that there was an unmet need for quality services and this presented a huge opportunity for growth. Armed with my knowledge about the industry and past experience in finance, I was confident that this was an underserved niche with great potential for growth.
Sometimes the best growth is inorganic growth through acquisition. When I heard about the opportunity to acquire a digital marketing agency, I saw it as an amazing chance to enter the industry. I did my due diligence and made sure that the acquisition was a good fit for my goals and abilities. After confirming that this was the right move, I took the plunge and acquired SEO.co with confidence in our future.
At SEO.co, we understand the importance of customer retention and are committed to providing our customers with an exemplary level of service that will keep them coming back time and time again. We strive to continuously go the extra mile and exceed expectations in order to build long-term relationships with our clients.
We believe that the success of our clients should be a reflection of our own, which is why we prioritize the development of personalized digital marketing strategies. We use data-driven approaches to create campaigns that are tailored to the individual needs of each business, ensuring maximum exposure and ROI.
Our team is passionate about staying up to date on industry trends and best practices, allowing us to provide our customers with the most effective strategies for their business. We will continue to work hard to ensure that our clients are successful in their digital marketing goals.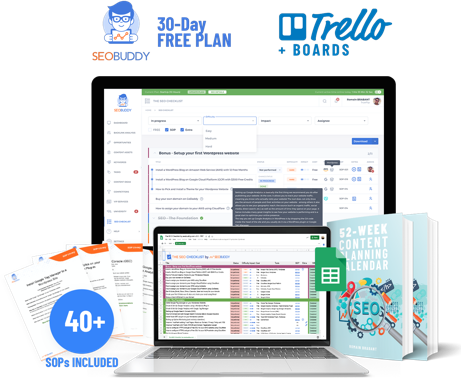 There's more…
Now it's time to discover the other 102 steps that will get more organic traffic flowing to your website. Get the SEO Checklist here.
Want to get a sneak peek of what it looks like?
Enter your email and get a free demo version of the SEO Checklist.
Have you learned anything particularly helpful in your SEO Journey?
The ability to write decent content has been one of the best kept tools for working in SEO. Content truly is king and when you have great content, people (and links) will flock to it. Having a great team that you can rely on and trust is also paramount to succeeding in digital marketing. They are the face of the company to the clients and if you want to grow, you have to have competent management to help you get there.
What SEO tools do you use for your business?
As part of our efforts to provide high quality digital marketing services, we utilize two of the most widely used SEO tools on the market: Ahrefs, SEMrush and Moz.
Ahrefs is a powerful tool that allows us to keep track of keyword rankings, backlinks and other important metrics that enable us to make data-driven decisions. We use this tool to monitor website health and track the progress of our SEO campaigns over time.
Moz is another great resource that helps us optimize websites for organic search visibility and ranking. With a wide range of features, we are able to identify keyword opportunities, analyze competitors' backlinks, assess overall website performance and more.
SEMrush is an all-in-one tool that helps us with keyword research, link building and competitor analysis. With SEMrush, we can locate the most profitable keywords for our clients' businesses, uncover opportunities to acquire high quality backlinks and gain insights into what our competitors are doing to stay ahead of the competition.
We have developed and implemented successful link building campaigns for multiple clients, resulting in a meaningful increase of website visibility and organic search engine rankings. We are building thousands of links for hundreds of clients each month, including a team for outreach and operations for writing and pitching the content to the various publishers.
What have been the most influential books, podcasts, or other resources?
As a Seattle native, I was a big fan and reader of Rand Fishkin before he was big. There are so many people saying many of the same things now. In truth, digital marketing, SEO and link building have not changed much in the last decade so at some point, much of it becomes repeated with many new players looking to say something that allows them to rise above the noise.
What's the next step in your SEO Journey?
We are scaling up several strategies in a major way. Once we find something that works, we double down. We rarely give away all our strategies on podcasts and videos. If we did, then we might lose a competitive edge for ourselves and our clients.
Where can we go to learn more?
Feel free to follow our blogs:

https://seo.co/blog/
https://ppc.co/blog/
https://link.build/blog
https://marketer.co/blog