My SEO Journey: Sam Davidson from batchusa.com – How to key in on current trends with custom landing pages to grow your organic traffic
My SEO Journey is a new series where entrepreneurs and Indie makers will share their honest SEO Journey filled with failure and success, and most importantly proven results. Episode #11 features Sam Davidson from Batch.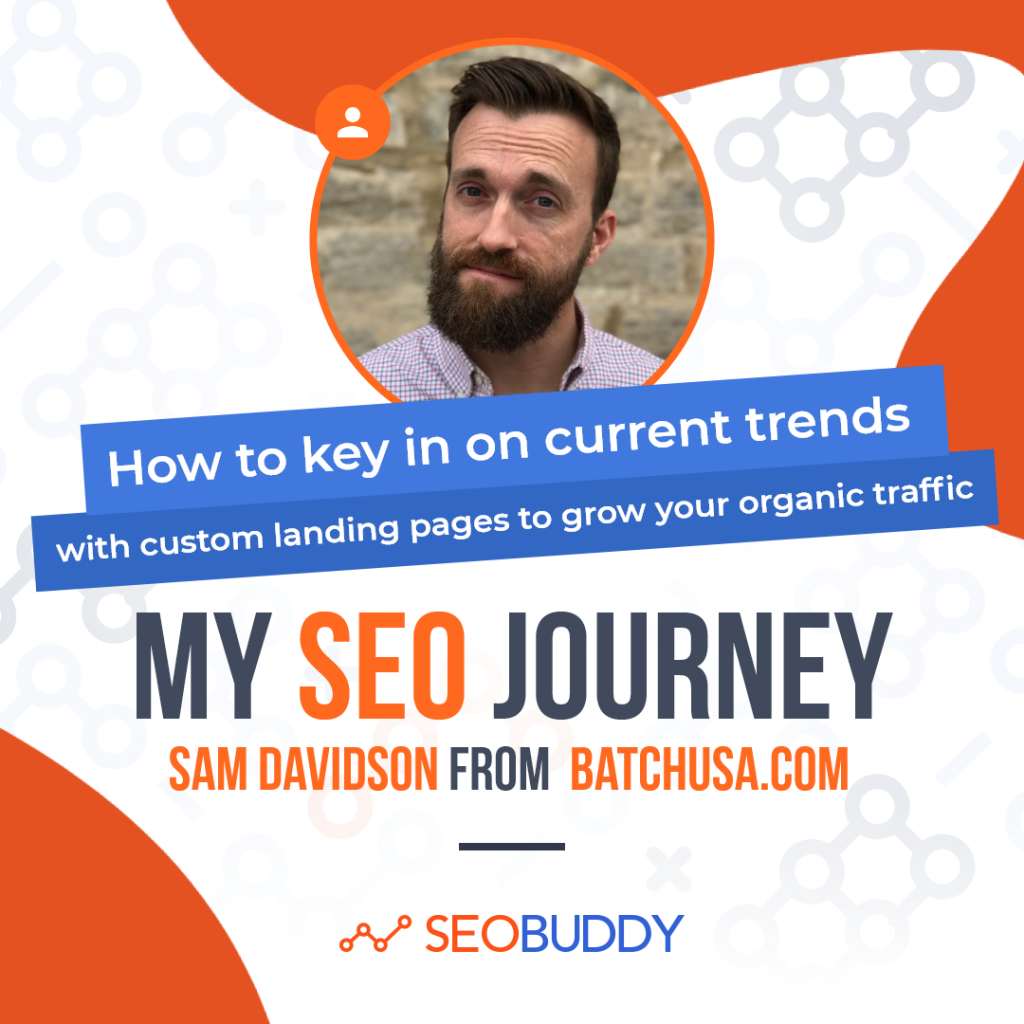 Batch began in 2013 exclusively as a subscription box company. Back then, we wanted to feature the best artisan-made products of our hometown (Nashville, TN).
Our hope – since this was still our side hustle – was to work our way up to 200 monthly subscribers by our third month. Due to a lot of hard work, we reach that within 30 days and had 1,000 subscribers by our third month.
Bigger than subscriptions, however, was the possibility to convert our small eCommerce company to a full-fledged gift business, focusing on artisan products that reflect a sense of place. To this end, we opened a brick-and-mortar retail store (since closed due to COVID-19) and line of corporate gifts.
I'm proud to say that while we're still based in Nashville, we source products from over 20 American cities and work with over 400 small business vendors (more on that later).
We are on a mission to save small businesses. So many have closed or been reduced in scope since the pandemic began and we've worked hard to feature their products to our customers and ship gifts all over the world.
Our hope is to continue to grow our eCommerce and corporate gift businesses to continue to support these hard-working entrepreneurs.
Admittedly, at Batch, we are just now (nearly 8 years into running this business) getting around to really focusing on our SEO game. Due to the pandemic, we were forced to shut down our physical retail store and focus entirely on our eCommerce and corporate gifting business. Even during COVID-19, we grew those lines of business by over 2.5x!
This was all done in-house, with no outside assistance. In fact, we stopped paying for Google Ads entirely when the pandemic started and still grew our organic search results!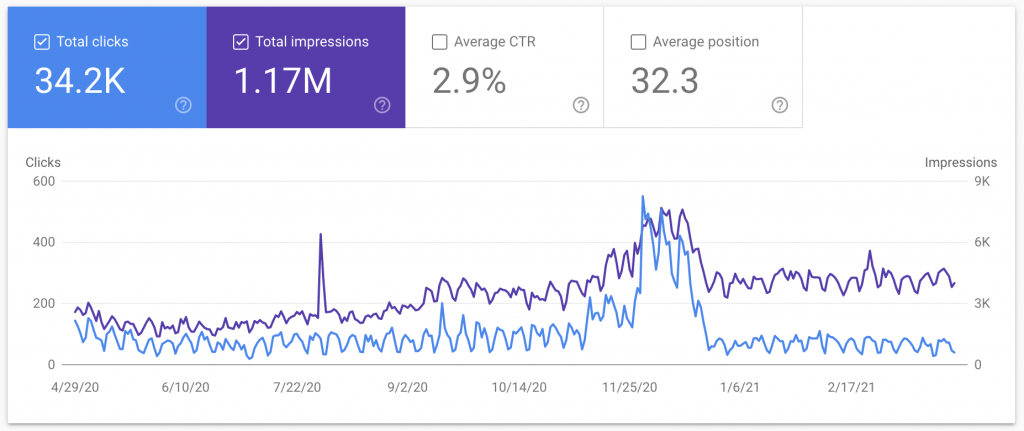 Why did you stop Google Ads?
We noticed that the small amount ($300 or so) we were spending on AdWords each month wasn't accomplishing much. It didn't seem to impact traffic, was not leading to direct sales and did not help us generate leads.
That data, plus budget tightening due to the pandemic, led us to cut back on that spending and work instead to drive traffic organically. In retrospect, this worked, but it did increase the manual labor needed to build and maintain so many landing pages.
Worth it? Yes. Easy? No.
Content Strategy

While we do plan to hire a professional in 2021, along with spending money on Google Ads, I'm happy to share what worked for us in 2020. It involved a lot of hard work, time spent focusing on content, and a team that was passionate about bringing our brand to more people. For us, every new customer that finds us via search is one step closer to accomplishing our mission to save small businesses.
Because we source products and sell themed gifts from several cities across the country, we wanted to build targeted landing pages with direct calls to action.
For example, we wanted to target corporate gift buyers who need gifts for:
Employee milestones
Canceled events
Client thank yous
Finally, with so many companies shifting to remote work, we saw an opportunity to provide companies with Work From Home gifts.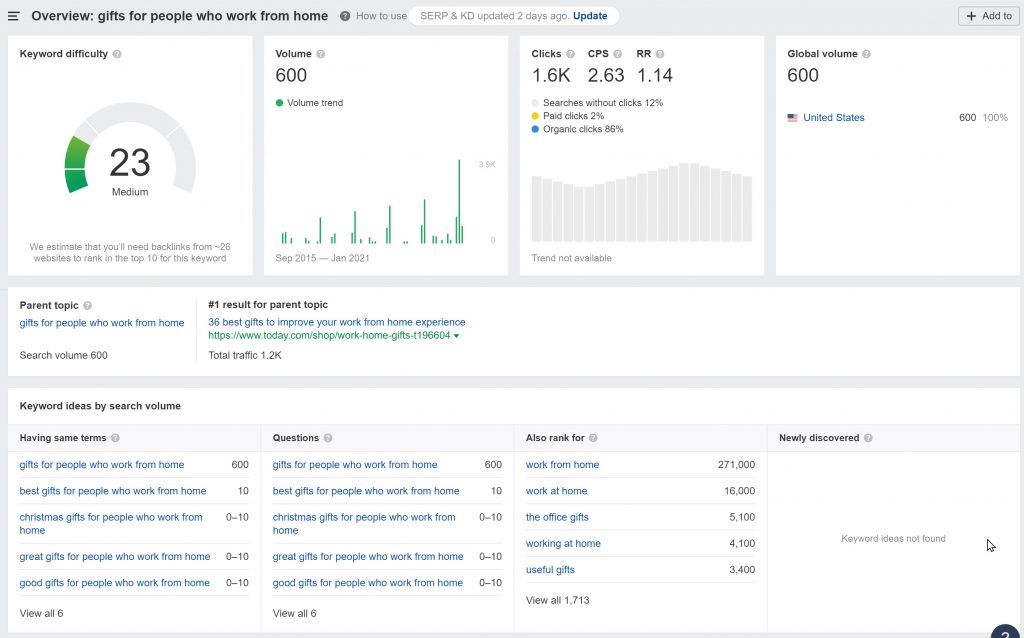 To accomplish that and showcase our ability to source products from any city, we build city-specific landing pages. Some of those include:
Atlanta: https://batchusa.com/pages/atlanta-work-from-home-care-package-program
Charlotte: https://batchusa.com/pages/charlotte-work-from-home-care-package-program
Seattle: https://batchusa.com/pages/seattle-work-from-home-care-package-program
Charleston: https://batchusa.com/pages/charleston-work-from-home-care-package-program
Brooklyn: https://batchusa.com/pages/brooklyn-work-from-home-care-package-program
This resulted in 50+ dedicated landing pages focused on finding the corporate buyer.
Directing an audience to any of them resulted in more people finding us and our sales team could follow up once they completed a simple form.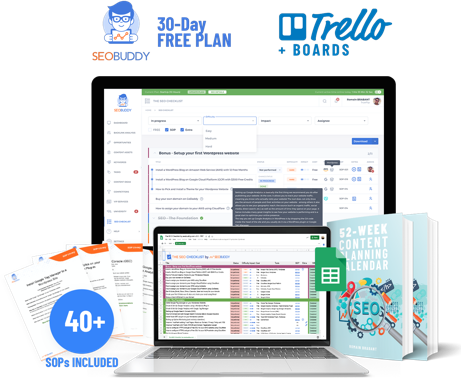 There's more…
Now it's time to discover the other 102 steps that will get more organic traffic flowing to your website. Get the SEO Checklist here.
Want to get a sneak peek of what it looks like?
Enter your email and get a free demo version of the SEO Checklist.
Did keyword research lead to this content?
No, not really. When we start using outside help, this will be more of a strategy.
On the online sales side, we began blogging more frequently on Batch Blog.
We covered topics related to our growing product line (over 1,000 products so far!), vendor interviews, case studies, and other timely and topical subjects (holidays, reasons to give gifts, how to give gifts during quarantine, etc.).
But perhaps most interesting of all is that since many of our vendors are very small businesses, they themselves don't employ a dedicated search strategy. Therefore, many times, when someone searches for our vendor, they end up on our site.
Every product we carry and every gift set we curate becomes another page, complete with product titles and descriptions (and meta descriptions) that can be found by anyone searching online.
This results in lots of ways people can find our site, as well as a very long tail strategy.
Finally, we keyed in on trends, chief among them:

– Working from home
– Virtual (Zoom) events
– Charity fundraisers
This allowed us to experience consistent organic growth of the number of referring domains, without any link-building effort:

The next step for us – in addition to dedicating more time and money to search – is to keep creating content, especially video content. We'd eventually like to have product videos, adding to the allure of each of those pages.
And, we'd like to keep ahead of things as society changes post-COVID (travels more, goes back to work in an office, the return of corporate conferences, etc.). That will be a key content focus for us.