My SEO Journey [Pro Edition]: Vlad Orlov from respona.com – Building our own link building tool to make the process easier
My SEO Journey [PRO Edition] is a series where professionals of the SEO Industry, Digital Marketing, or Web Design, share their honest SEO Journey filled with failure and success, and most importantly proven results. Episode #45 features Vlad Orlov from Respona.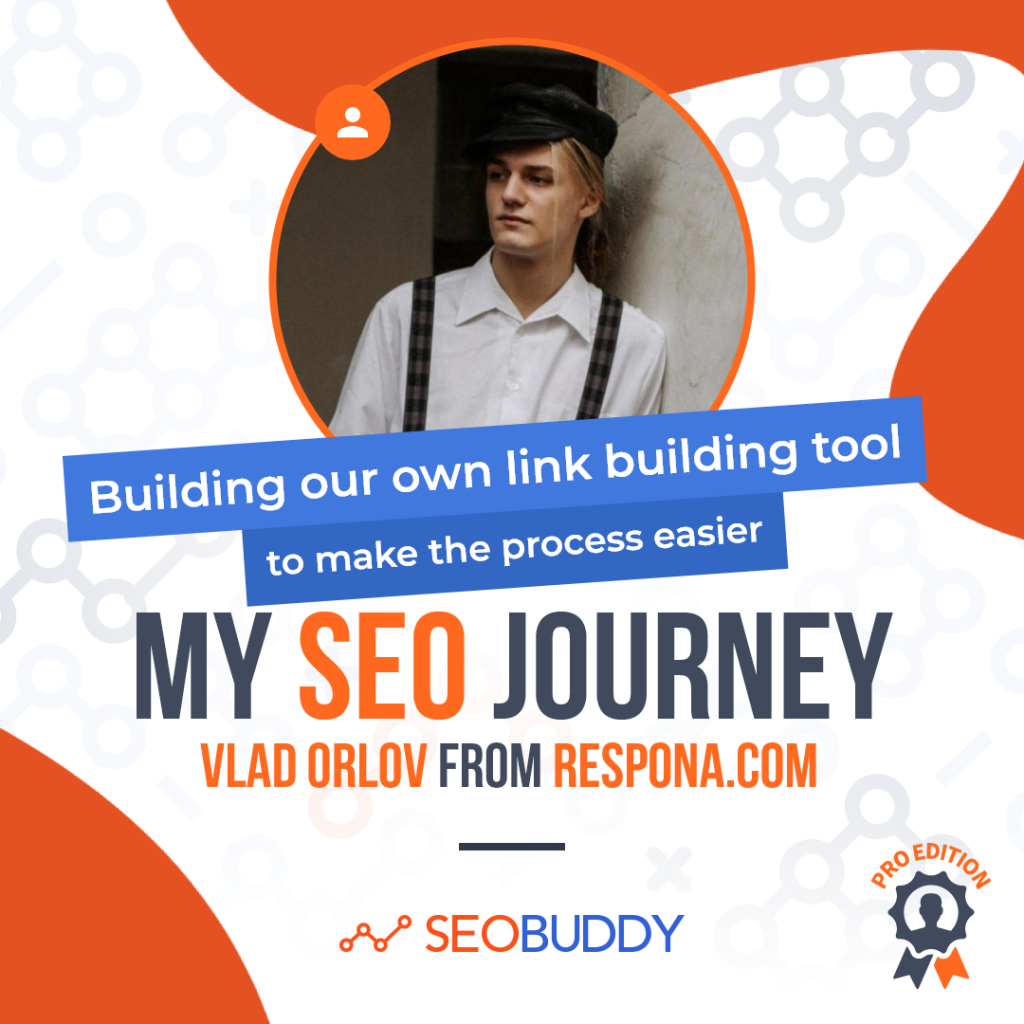 First of all, hello everyone and thank you for giving us this opportunity. I think it's also important to mention that I am just a brand partnership manager who is here to tell the story – I didn't actually take part in the development process of our tool.
Feel free to give all of the kudos to our co-founder, Farzad Rashidi 🙂
Our website is Respona, but I think it's important to give you a little bit of a backstory on how that resource came to be.
First, There Was Visme
Visme is a data visualization tool that launched a few years back. Farzad was (and still is) the head of marketing there.
So, as you can imagine, the task at hand was to get as much traction as possible. And how do you do that online? Precisely, by pumping out awesome content and building tons of links to it, so that your website shows up in the top results in Google.
Despite Google's efforts, link building is still going strong. We know the value of it really well – that's why we chose to rely on it for boosting our own rankings.
I think we can all agree that building backlinks is a huge pain. You can't do reciprocal links since Google completely devalues them, and paying for links is very shady. Besides, the price tags a lot of blogs put on links from them are extremely steep – and since you need A LOT of backlinks to rank high, you can go bankrupt quickly.
So, we came up with an ingenious solution – develop our own tool for link building.
And that's exactly what we did.
At First, Respona Was An "Inside-Only" Tool
We called our tool "Respona". It means "response" in Spanish – fitting for an email outreach tool. We started developing all of the aspects necessary to launch a link building outreach campaign:
A built-in search engine for prospecting;
An email sequence builder with handy variables that automatically populate for each opportunity in your campaigns;
An email finder that would remove the need to use any third-party software like Hunter or Voila Norbert.
Turns out, link building is actually very easy when all of the most tedious processes are automated for you! With an in-house team of six link builders, we were able to secure some pretty impressive numbers for Visme:

DR84 Domain Rating and 1.2M organic traffic according to Ahrefs! But if you look at Google Analytics data, you will notice a discrepancy – Ahrefs only shows an estimated traffic number. According to GA, it is actually more than 2M/month.

This is the organic traffic report from Google Analytics. We started using Respona near the end of 2018 – beginning of 2019, and, as you can see, it helped roughly quadruple Visme's traffic.
So, you could say that the "beta test" was a success.
Next, We Launched Respona As A Stand-Alone Product
Having tested the concept out, we decided to launch Respona as its own thing. So, we had to do the whole post a bunch of articles – build a bunch of links again.
And in less than two years, we managed to get our Domain Authority from 0 all the way up to 75 with 70,000 organic visitors coming to our blog each month as of the moment of writing this article.
For traffic, we do two things: publish awesome, regular content and build tons of links to it. 
Since launch, what has worked to attract more organic traffic?
Our content strategy is pretty simple – try to fill in as many keywords in our niche as possible with high-quality content and try to out-do our competition on length or by discussing some points that they've missed in their own article.
The main topics that we write about are:
Email Outreach;
Link Building;
Content Marketing;
Public Relations;
Influencer marketing.
Oh, and email templates – people love templates. In fact, our best-performing article is about 40 reminder email templates for various purposes, getting over half of our total monthly traffic.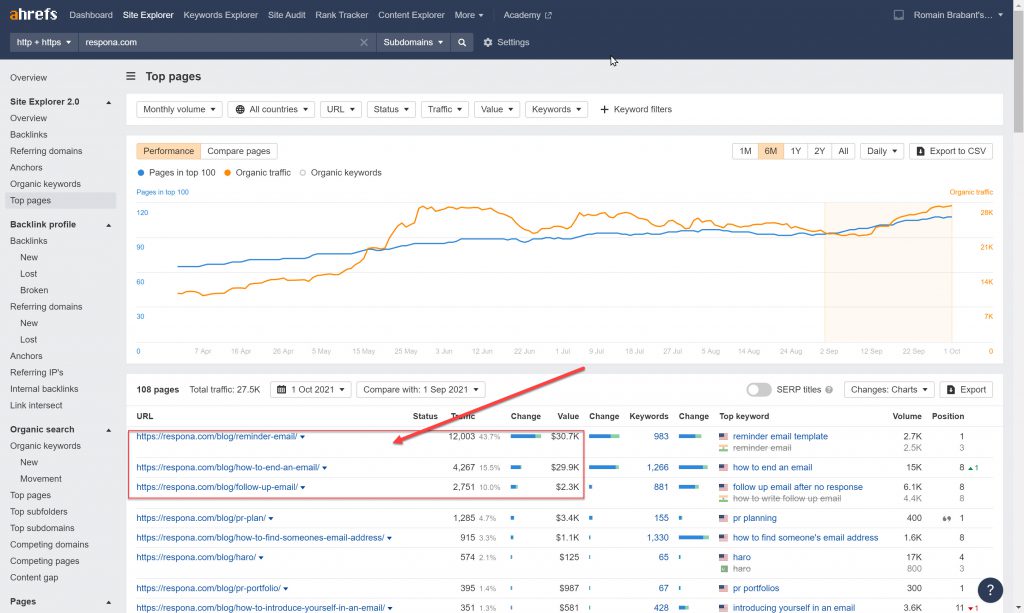 Our goal is 4-5 blog posts each month.
We also use Clearscope – a tool that helps us find the right keywords for our content. It's great since it compares all of the other articles on competing topics in length and takes note of which keywords are mentioned and how many times.
Once an article is published, we run 1-2 link building campaigns to help it get some of that sweet SEO juice.
How did you Dogfood your own solution to grow Respona from 0 to DR75?
We use Respona mainly for two purposes: link building and sales development.
It's great for link building because of its set of features that allow you to find prospects as well as their contact information, and then prepare your email sequence and customize it all in the same place.
Here are the three of our favorite link building tactics:
Anchor Text Strategy
This is pretty simple. Using Respona's search engine, we just find other non-competing articles that mention our target keyword somewhere in the body.
Then, we reach out to them telling them how great our content is and how they would benefit from linking to us. And, of course, we remember about the value proposition – usually it's an indirect link back, social share, or access to our tool free of cost (for a period of time).
Reverse Skyscraper Technique
You have definitely heard about the skyscraper technique. The reverse version is essentially the same thing, but instead of creating content that tries to out-do a specific article, we try and make the best possible content PERIOD, and then reach out to all people that are linking to our competitors' articles on the same topic.
It works wonders, and the actual prospecting takes mere minutes – making it our favorite strategy of all. Just paste in the competing articles in Ahrefs, export their backlinks, import them into Respona and reach out.
Guest Posting.
Everybody does guest posts, so I'm not going to go into too much detail with this.
What I am going to share with you is one simple trick on how to get upwards of 5-8 links from each guest post instead of just 1-2.
Write for blogs that allow multiple external links. Establish a network of partners, add their links if they fit in naturally and keep track of them. They will do the same for you. Profit!
HARO
Help A Reporter Out is a great way to get featured in other people's upcoming articles in a natural way. But the problem with HARO is that every day you receive tons of queries, and it can take absolute ages to go through them all.
In addition, most of them are going to be irrelevant to your area of expertise.
So, we solved this problem as well by integrating Respona with HARO. We have custom filters set up that keep track of only the queries that are relevant to us – saving us the pain of having to go through them all manually.
We answer these queries directly from Respona as well, and it has helped us get a few awesome placements on publications like Authority Magazine and Thrive Global.
We Also Use It For Sales Development
We have a separate SDR for this – they use Respona to reach out to potential sales prospects and record little videos about how exactly Respona could help them achieve their business goals.
Our ideal prospects are other SaaS businesses looking to get the word out about themselves.
With One In-House Link Builder, These Three Strategies Get Us ~20 DR 40+ Backlinks Each Week.
Yes, I am that link builder. Somebody's gotta do it! Despite Google's best efforts, link building is far from dead, and we have been relying on it for years – and it has served us extremely well.
Have you learned anything particularly helpful in your SEO Journey?
Content is king. With enough determination and links, you will be able to outrank even the biggest names in your industry. For example, it only took us 35 backlinks to outrank Hunter for the keyword "how to find someone's email" for a while.
Right now, they are ahead, but only by one position. In any case, we'll take our spot back.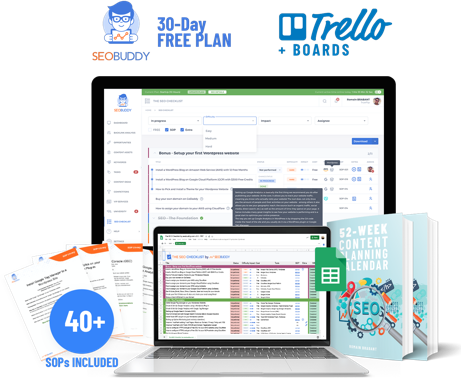 There's more…
Now it's time to discover the other 102 steps that will get more organic traffic flowing to your website. Get the SEO Checklist here.
Want to get a sneak peek of what it looks like?
Enter your email and get a free demo version of the SEO Checklist.
What SEO Tools do you use for your business?
We don't use a whole lot of tools. Here are all of them:
Intercom for customer support;
Google Analytics and Ahrefs for SEO monitoring;
Clearscope and Jarvis.ai for writing;
SalesQL for the rare cases when Respona is unable to find someone's email address.