My SEO Journey: Naman Sarawagi from refrens.com – Create content that really solves the user's problem to decrease bounce rate
My SEO Journey is a series where entrepreneurs and Indie makers share their honest SEO Journey filled with failure and success, and most importantly proven results. Episode #53 features Naman Sarawagi from Refrens.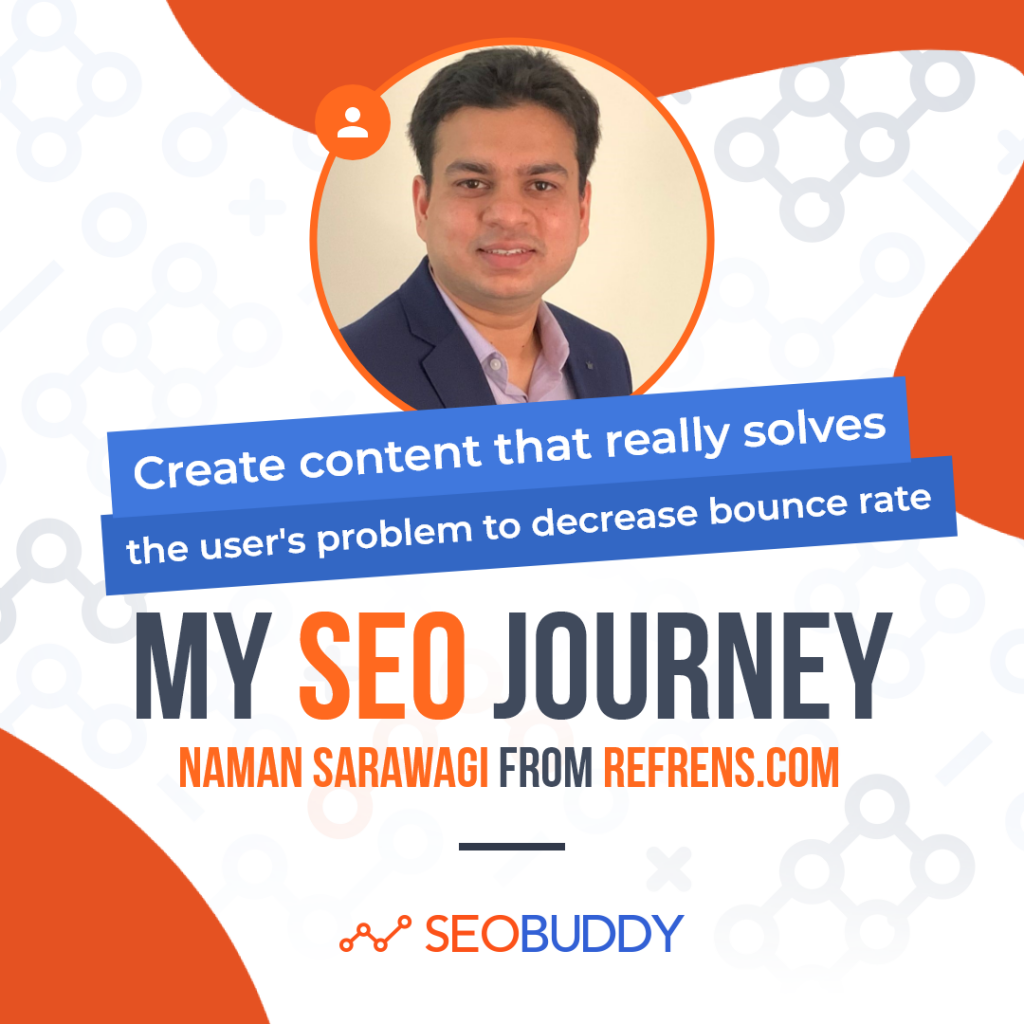 I am Naman Sarawagi, founder of Refrens.com.
We are building a market network for freelancers and agencies. We provide them a SaaS suite of tools to manage their business and showcase their work. This helps them attract more clients with less effort.
This is my second startup. I have sold my previous venture, which was a retail price intelligence product, to an ad-tech company. I have worked for some notable startups in India earlier. We are building for the global audience now.

Our core mission is to make it possible for knowledge worker freelancers to get more work.
Irrespective of where they are located Geographically, they should be able to get work that best suits their ability. We are building various tools to enable this, right from stuff like invoice management and quotation sharing, to escrow-based payments and feedback collection from clients.
What's your backstory and how did you come up with the idea?
After my previous startup, I freelanced for about two years helping various small to medium size companies build their marketing teams. In some cases, I also helped offline companies go online by building tech capabilities.
As part of my work, I used to meet various freelancers and agencies.
At times I was trying to connect them to these startups or helping the startup founder evaluate the agencies. Basically playing the middleman in all these cases. This is where I realized the pain points faced by freelancers and agencies.
We started evaluating multiple solutions to address those pain points.
The core of every tool and idea was to help them get more work.
Both me and my co-founder Mohit had some money from our previous exit so we were comfortable taking a long-term bet. After one year of starting this up and going full time, we raised funding from some very popular Angel investors in India. 
Since launch, what has worked to attract more organic traffic?

Social media and SEO is our most popular source of traffic.
SEO is slow initially but when it picks up, it is kind of magical that you start getting so many users for free.
For SEO, we started with creating a landing page with an exact match keyword for a high volume keyword. We were ranked at 40-50 in the initial days. We drove some inorganic traffic to measure the conversion and started optimizing the page.
The next step was to get some good backlinks. We reached to every friend who had a blog or site and asked for a backlink. Most of these were DA 10-30. By this time we were at rank 10-20.
We then looked at lesser-volume keywords and created separate landing pages for them. The new low-volume pages started ranking on ranks 3-5. This gave us organic traffic. And we got more cues for optimizing the pages.
One of the major problems was the loading speed of the landing page since we had a heavy form. We then optimized for speed. This was a costly process as this required re-writing a lot of our Web App.
Once the speed improved, our main page starting showing up on ranks 1-4.
We also tried paid marketing like SEM and running ads on social media channels but these haven't worked for us. A startup may want to try multiple marketing channels but ultimately 2 to 3 channels will work out for any product at a given stage.
One would be very lucky if the first channel that they tried itself gives you a sizeable audience very quickly.
That works as a stepping stone to try out other channels. If the first 2-3 channels don't work for you, you tend to get in a downward spiral. It is important to prioritize your channels of growth. All attempts require the same mental energy but an early success can do a lot of good for you.
We also invest heavily in email campaigns for retention and bringing back users. A good drip campaign can do wonders in terms of educating the user about the industry and the product.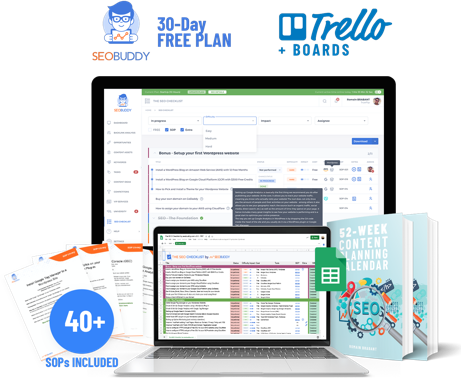 There's more…
Now it's time to discover the other 102 steps that will get more organic traffic flowing to your website. Get the SEO Checklist here.
Want to get a sneak peek of what it looks like?
Enter your email and get a free demo version of the SEO Checklist.
Have you learned anything particularly helpful in your SEO Journey?
SEO is a long-term game. It is also a game of concentrated efforts. Instead of trying to get multiple pages to rank on google, concentrate on getting 1 page to rank very well.

The link-building part of SEO is given a lot of importance. It is required to get you off the ground.
What is more important is that your landing page really solves the user's problem. If the user's problem is being solved, your bounce rates will be low and your rank will start rising organically.
Speed is one other thing that is becoming more important every day. It takes a serious effort from the engineering team to make the landing pages fast. This again is tied to the point above of making sure that the user's problem is solved, and quickly.
Measuring your metrics regularly helps in reacting fast to any problem.
A drop in speed or conversion rate has to be fixed immediately.
What's your SEO Tech Stack?
Google Search Console – For basic tracking and keyword research 
Google Analytics – For conversion rate changes.
Ahref – Crawling for audit, linkback tracking, competitor tracking, keyword 
Moz.com – MozRank tracking. Linkbacks tracking. 
Google Keyword planner. – Keyword research.  
BuzzSumo – Find sites for guest post. 
Keywordtool.io – keyword research. 
Spyfu – Keywords
Screaming frog – Audit.
Seo-extension.com – Chrome plugin for on-page audit.

We have mostly done guest posts for link building. It's a long and tedious process. We contact bloggers individually and write for their audience. We don't pay to get these articles published.
We got initial our initial backlinks from friends. About 20 links from DA 10-30 sites.
We then started guest posting.
There are 3 things that we are generally looking for when finding a blog to guest post.
Do they accept guest posts? Not every blog is welcoming of guest post. Selling them this idea is difficult so we focused on those who have a "Submit Guest Post" page on their site, Or have mentioned "Guest Post" in any of their tweets. 

Demography – We then look at whether the blog has an audience that we want.
This can be generally judged by Twitter followers.

Overlapping Content – The content that we share on guest posts is generally an overlap of what the blog has been writing about and what kind of page we are looking to promote. Generally one would write a pure contextual post for the backlink they want but we also look see if our content can resonate with something else that they have written and we make sure there is some internal link build immediately for the guest post. 
What have been the most influential books, podcasts, or other resources?
Books: Hooked, and Hard things about hard things.
Podcast: Founder Thesis.
Where can we go to learn more?
Site: https://www.refrens.com
Blog: grow.refrens.com
Twitter: https://twitter.com/RefrensApp
Instagram: https://www.instagram.com/refrens_App/