My SEO Journey: R.J. Weiss from thewaystowealth.com – On growing authority (DR55) in the YMYL space
What is YMYL?

Some types of pages or topics could potentially impact a person's future happiness, health, financial stability, or safety. We call such pages "Your Money or Your Life" pages, or YMYL.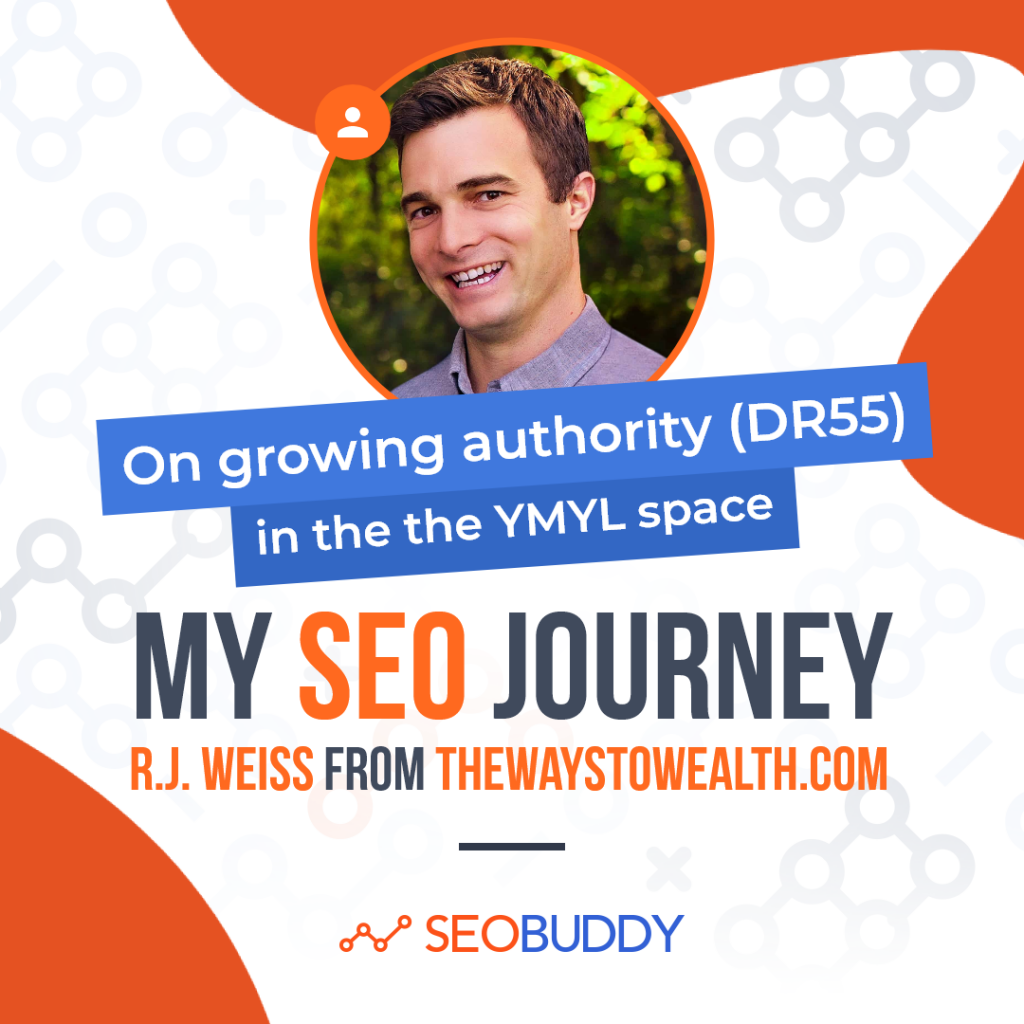 My name is R.J. Weiss. I'm the founder of the personal finance blog The Ways To Wealth.
Before running the blog full-time, I worked in financial services. I worked for a small firm, so there was no marketing department. That was back in 2009 and blogging, social media and local search were becoming more and more important by the day.
It was no longer viable for a small business to settle for a brochure website with a handful of pages, so I volunteered to take on the responsibility of expanding our digital presence.
And that's where I started to learn about SEO.
Fast forward to 2016: with some experience in SEO under my belt, I launched The Ways To Wealth.
I didn't have grand plans for the site. In fact, my original idea was to make it a small niche site consisting mostly of reading lists from famous investors. But the site did well early and I decided to double down, expanding beyond just reading lists.
Today, search is the site's second-biggest marketing channel, behind paid social.
Our search history has been a wild ride for sure.
At our peak, we brought in over 210,000 organic visitors per month.
Currently, we're bringing in about 70,000.

Your content strategy, best tips, or failure?
I'd summarize my content strategy as:
Test out different content verticals, looking to see what sticks
i.e., what Google actually ranks your site for.
When something does stick, go deep into that vertical.
For example, one of our pillar pages is an article on legit online jobs.

Once I saw Google ranking this article well, my aim was to create a lot of related content.
My approach is to think of the main problem someone is trying to solve when they search for a term, and then create content from every possible angle to help people solve that problem.
I like to think of it as, "If I were writing a book to help someone solve this problem, what information would I include?"
So while my process begins with keyword research, that becomes less important once I find a vertical that's ranking well. At that point, it's more about creating great content that helps people solve problems.
How you tackle long tail keywords before aiming for the kingmaker keyword?
I look for sub-intents within large seed keywords, which I feel I could get long-tail traffic from and possibly sneak onto Page 1 for the seed keyword.
No tool. It's examining the SERPS very closely.
I like to look for outliers, specifically low DA sites getting on page # 1 or lower DA sites or even low DA sites on page # 2, that get a lot of traffic (according to AHREFs) for a lot of long-tail keywords.
For example, I have a post on side income ideas.
There's some heavy competition from big-name sites for that seed keyword.
So, it's my goal to look at the sub-intents of that keyword and create a piece of content that can solve a different sub-intent than the top-ranking pages.
If you look at the SERPs for the keyword, a lot of the content is fairly similar: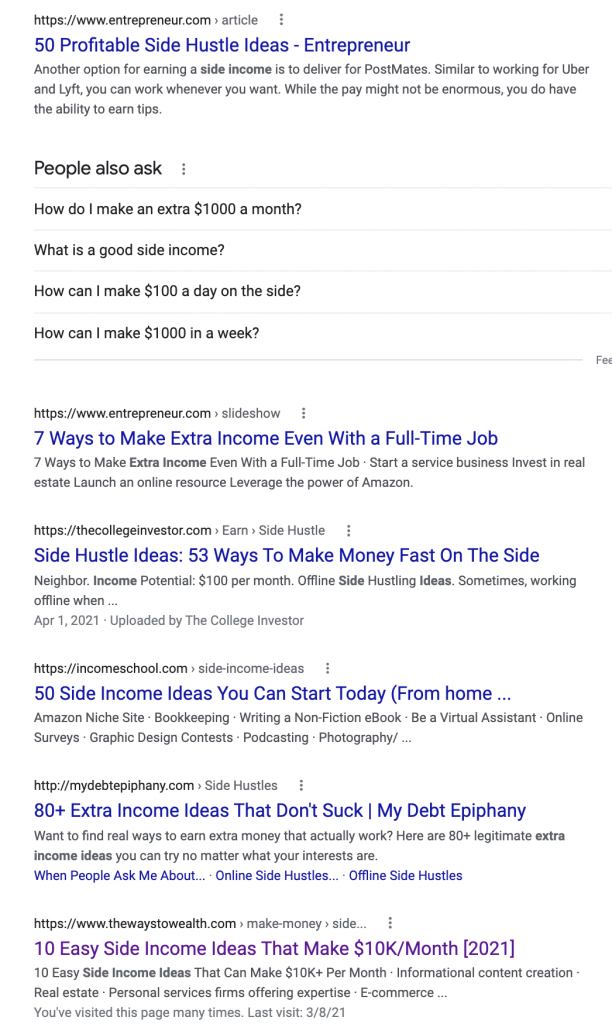 In this particular case, I took a different approach than the rest of the sites, writing about ideas that can make you more than $10K a month rather than covering the topic through a more general lens.
What's your favorite link building strategy?
My favorite link-building strategy is HARO. What helps, in my case, is that I'm a CFP®, which journalists often prefer to quote in articles — especially on the largest media sites.
This allows me to stand out from other respondents. I've been able to get referenced on some of the largest sites in the world, and even many of the largest personal finance sites.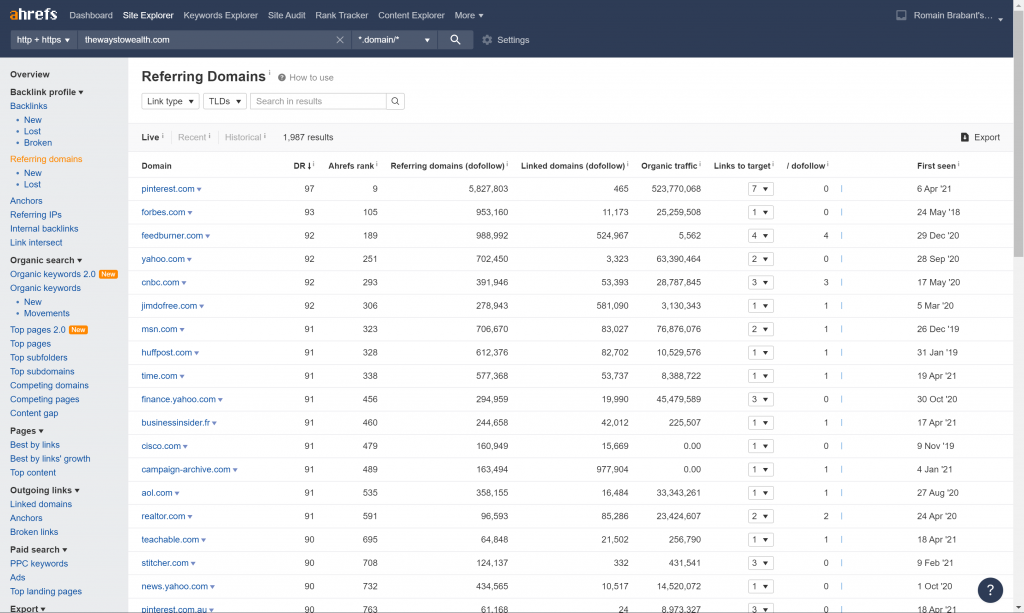 My second favorite link-building strategy is laser-targeted guest posting. With this strategy, I'm looking for very high-quality sites that are relevant to my niche where I could guest post or collaborate on an article.
One strategy I've used in the past is to reach out to companies whose products and services I use, and collaborate on an article that shows how I use these products.
For example, I worked with Trello on an article on how I manage a content team with their software.

Your experience (bad or good) working with agencies, freelancer, or building your own in-house SEO Team?
As the majority of our content is text, I've hired a number of writers over the years. Most often, I'm hiring freelancers from Problogger or Upwork.
It's very hard to judge a writer based on their application, and even based on their published content, as you don't know what type of editing process went on behind the scenes with the samples they submit.
My theory is to give anyone who looks like a fit a test.

Specifically, looking to see how they perform on an article we send over to them.
We've found that we can tell almost immediately when that draft is turned in whether they're a good long-term fit. As we provide detailed outlines, it's easy to tell if they followed directions and fact-checked their writing, or if — as is often the case in our niche — they just summarized what other people wrote in other outlets.
Tips on hiring SEO Specialists?
I've made a few SEO hires. I started working with a large link-building agency in 2019 when the site's traffic was at an all-time high. The thought was to reinvest the earnings into more growth, and at the time, I felt links were the number one way to do that.
The agency delivered on what it promised, for looking back at the cost, it wasn't the best use of funds.
I would have been much better off long-term focusing on best-in-class content.
At times, I've also hired a few link builders via Upwork but I've struck out here as well. They were small campaigns, where I was looking to test out someone's potential. Yet, just haven't found the right person.
The finance space is very hard to do good link building in and requires a completely different set of strategies than most niches.
But today I handle most SEO roles myself, such as content planning and link-building.
My thought is that the best monetary investment I can make is in actual content.
Your favorite resource to learn new SEO Tips?
And Ross Hudgens, who runs one of the largest and most respected SEO agencies, is one of my favorite follows on Twitter.
Disclose some challenges you're still facing today.
The hardest part about SEO is that you constantly need to think long-term.
So, as of right now, our traffic is in a dip. Since COVID hit, the trend in the finance space has been Google to prefer larger publishers. It's unfortunate for smaller sites in the space, but for now, it's the way it is.
With these changes, I've since have been focusing a lot more of my time on the PR/link acquisition site.
The long-term goal is to become one of these larger authority sites, but then again, nobody is protected from an algo update. It's for this reason why I've prioritized different traffic and revenue sources, the two other largest being Facebook Paid Traffic and Pinterest Organic.
I've also been doing more sponsored campaigns, that due to our larger social following, have worked well for us and advertisers.
It's hard to accept that there's nothing that's going to magically fix this overnight. The only thing I can do is to continue to improve the site while understanding that long-term, I'm headed in the right direction.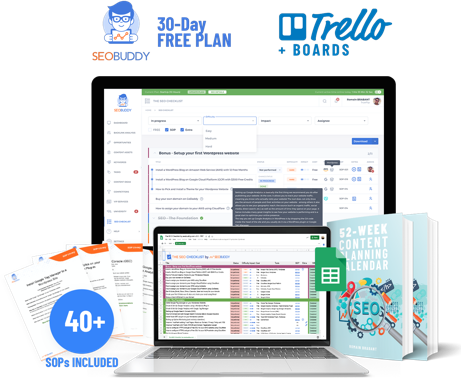 There's more…
Now it's time to discover the other 102 steps that will get more organic traffic flowing to your website. Get the SEO Checklist here.
Want to get a sneak peek of what it looks like?
Enter your email and get a free demo version of the SEO Checklist.
Your favorite SEO tools.
I'm inside Ahrefs every day. It's a must-have tool for me.
I use Mailshake for email outreach and Hunter.io for gathering email addresses.
I've found seobility.net a quality and affordable site audit tool, which provides very actionable reports.