My SEO Journey: Patrick Walsh from publishingpush.com – Before hiring an SEO Agency, make sure you understand SEO (or best build your SEO strategy in-house)
My SEO Journey is a series where entrepreneurs and Indie makers share their honest SEO Journey filled with failure and success, and most importantly proven results. Episode #56 features Patrick Walsh from PublishingPush.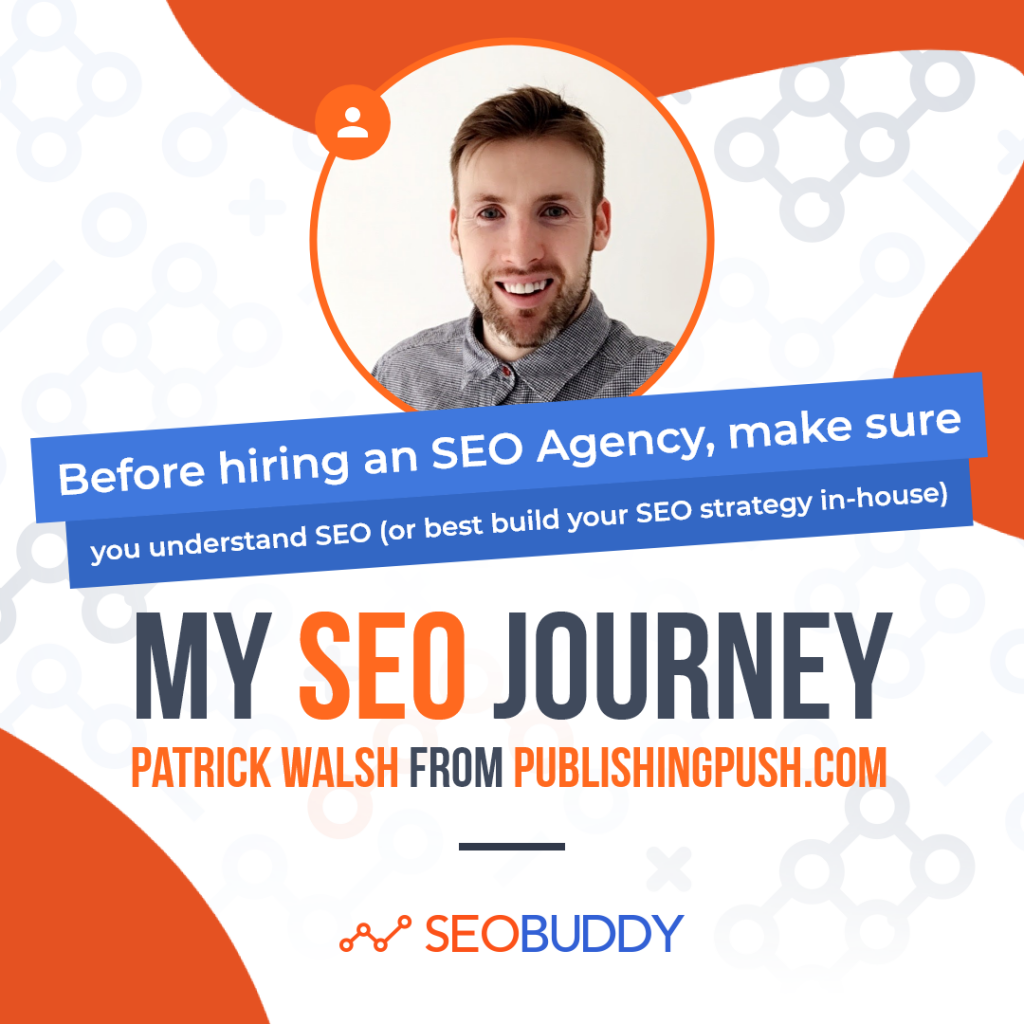 I am Patrick Walsh the owner and CMO at PublishingPush.com a UK-based self-publishing company.
We sell a complete end-to-end publishing package for first-time and experienced authors alike. We produce a professionally published and distributed book that is indistinguishable from a book published by the likes of Harper Collins or Penguin.
We believe in professional self-publishing without taking ownership over the author's work or taking their royalties.
What's your backstory and how did you come up with the idea?
I am a lawyer turned publisher. Completed my law degree at Surrey University and got a job at a local law firm but quickly realised this wasn't for me long term.
I dropped everything and jumped on a flight to Toronto to gain inspiration and a new perspective. Took the first job when I landed which happened to be at a rapidly growing digital publisher called TrendHunter. I took what I learned working here and when I came back to London started to consult for traditional publishing companies with the knowledge and experience I had gained.
Whilst consulting for these publishing companies I observed the shift from traditional publishing to more authors self-publishing. I saw how hard it was for authors to secure a traditional publishing contract. This often had nothing to do with the quality of their writing and more to do with agents and publishers being oversubscribed.
I tested the idea initially and we launched a marketing product for authors.
That was 8 years ago and we kept iterating on the product. The more authors we worked with to promote their books the more authors would ask us to publish their next book. The reason we couldn't help a lot of the authors that applied to have their books promoted with us was because the publishing process had been botched.
The cover, formatting, and distribution was rubbish! It wasn't the author's fault.
They had usually hired companies but had been let down or there wasn't adequate quality control.
We already had some income from the marketing services which helped us cover our costs during the pivot. Before changing our focus we were very small and it was just me and one other staff member.
Now we are 7 full-time and over 35 freelancers.
Since launch, what has worked to attract more organic traffic?
We had been using PPC for years as we put dollars in and got dollars out but when speaking with some business consultants they pointed out SEO was a big weakness of ours. They were of course 100% right. SEO had always been frustrating and plague with issues for me as I had hired a number of agencies with disappointing results.

I decided to take this upon myself. How could I hire an SEO agency or set up a process if I didn't understand SEO myself? I thought I knew what SEO was but I didn't until I really started to educate myself.
I started blogging about this on my personal site in my Diary of a CMO posts. The reason I started this was a journal to keep myself accountable, make sure I understood what I was learning, and share this journey with others to help them with SEO.
I visited a number of resources online but the book How To Get To The Top of Google by Tim Cameron-Kitchen was very useful. I would urge you to find experts and resources like SEO Buddy and learn as much as you can.
My previous mistake was to dive in before I really knew what I should be doing with SEO.
From my research, I realised that I was never going to compete on the main keyword I wanted, self-publishing, and knew I needed to dive deeper. I found the Keyword magic tool by SEMrush to be very helpful in this regard.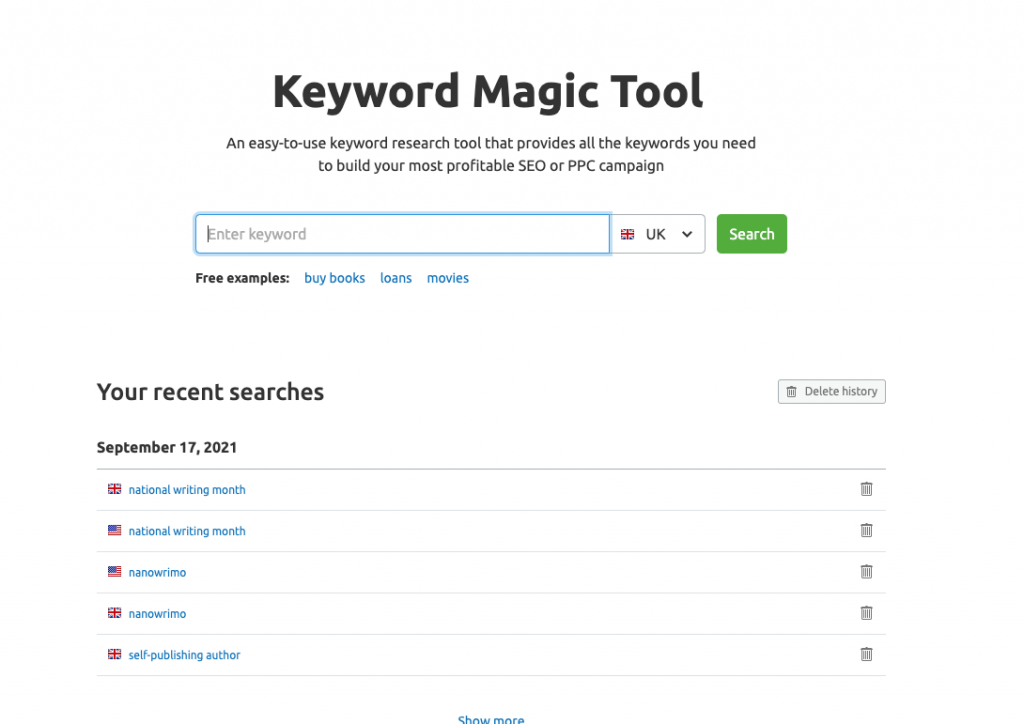 I started to go deep on long-tail keywords.
What I found was this wasn't enough to find keywords where I could be competitive. I needed to go deeper.
I looked over my own website and noticed we were getting a lot of traffic to a VERY old article we had written.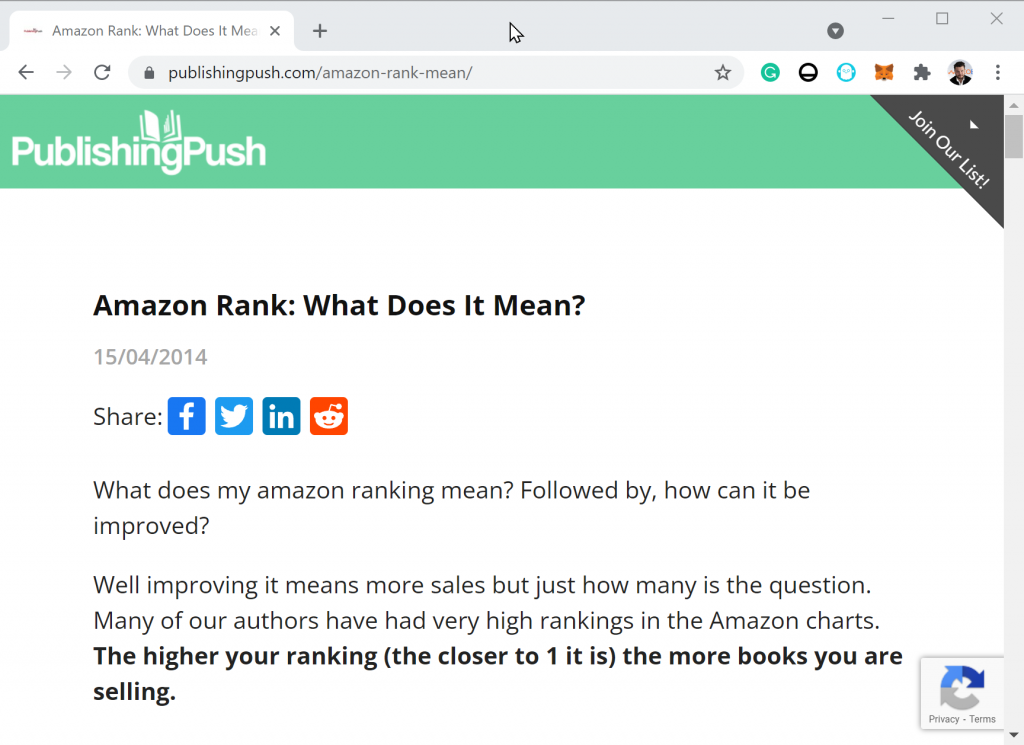 This article from 2014 still received a lot of traffic and has only just dropped on to the second page of Google but was on the first page for a long time. This was the a-ha moment!
We needed to focus on other topics or keywords our audience would be searching for but not necessarily directly.

What I mean by this is if you are a self-published author what else would you need to know?


These articles are relevant to our target audience but our competitors are trying to grab the customer head-on when they are searching for self-publishing as a service. We are more delicate with our approach. Once they find our website through this content we give them value in the articles but also with irresistibly valuable free guides on book marketing and publishing law if they drop their email in the pop-up box.
To make this strategy work you need to be using a tool like SEMrush or similar to find keywords where the competition is not as fierce.

I look at the keyword difficulty (how competitive that keyword is), the total volume of searches and finally I look at the trend. Using the example of typesetting at the keyword you can see below why I chose this as a target. Relatively low competition but a decent volume for that keyword.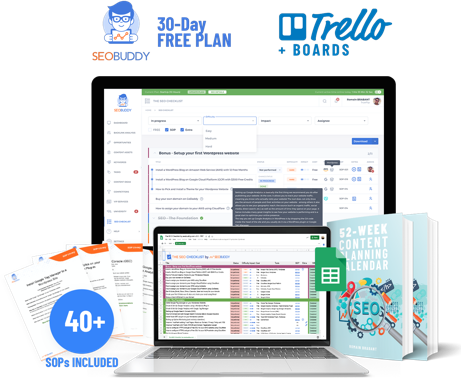 There's more…
Now it's time to discover the other 102 steps that will get more organic traffic flowing to your website. Get the SEO Checklist here.
Want to get a sneak peek of what it looks like?
Enter your email and get a free demo version of the SEO Checklist.
Have you learned anything particularly helpful in your SEO Journey?
I should have learnt more about SEO sooner.
I have probably spent £12K on agencies over the years that didn't have an impact. I believe it's best to build your SEO strategy in-house. You understand your customers intimately. An SEO agency won't understand your customers in the same way. Do I think you should do all the work in-house? Nope!

What is working for us now is to come up with the keywords and content in-house using our team. We look at questions from our customers, comments on social media, and feedback during our publishing process to work out what content we should be creating.
We then give as much detail as we can to our writers.
We have been using external writers but given the volume of articles, we want to create we have switched to hiring someone in-house. I will often dictate using the voice memo app on my phone for our writer so I can quickly get across the key elements I want to include in the article.
What SEO tools do you use for your business?
I love using Answer the Public for ideas and I will often look at competitor's YouTube videos and see their best-performing videos. Look to see the topics being discussed and see if we can do something similar or put a different spin on those topics.
SEMrush is also my go-to now for monitoring our success and looking for new keyword opportunities.

Link building has proved the most time-consuming element of this process.
We have decided to focus on websites with higher domain authority and go for quality over quantity. The top sites are of course oversubscribed so finding the balance can be tough. We have had good results with podcasts and getting appearances there. They always then post a link to your website and other outlets which is great for link building.
What have been the most influential books, podcasts, or other resources?
How to Get to The Top of Google by Tim Cameron-Kitchen has been really helpful and the Smash Digital Blog.
What's the next step in your SEO Journey?
I need to improve our link-building efforts and domain authority. That will help us rank for a wider variety of keywords and importantly some of the more competitive keywords we wish to target.

I also want to look into some free tools we can add to the website and offer as free giveaways for authors.
This will drive more organic searches.
Where can we go to learn more?