My SEO Journey: Adam Hoeksema from projectionhub.com – Stop trying to game the SEO system and just produce a bunch of helpful content
My SEO Journey is a series where entrepreneurs and Indie makers share their honest SEO Journey filled with failure and success, and most importantly proven results. Episode #70 features Adam Hoeksema from ProjectionHub.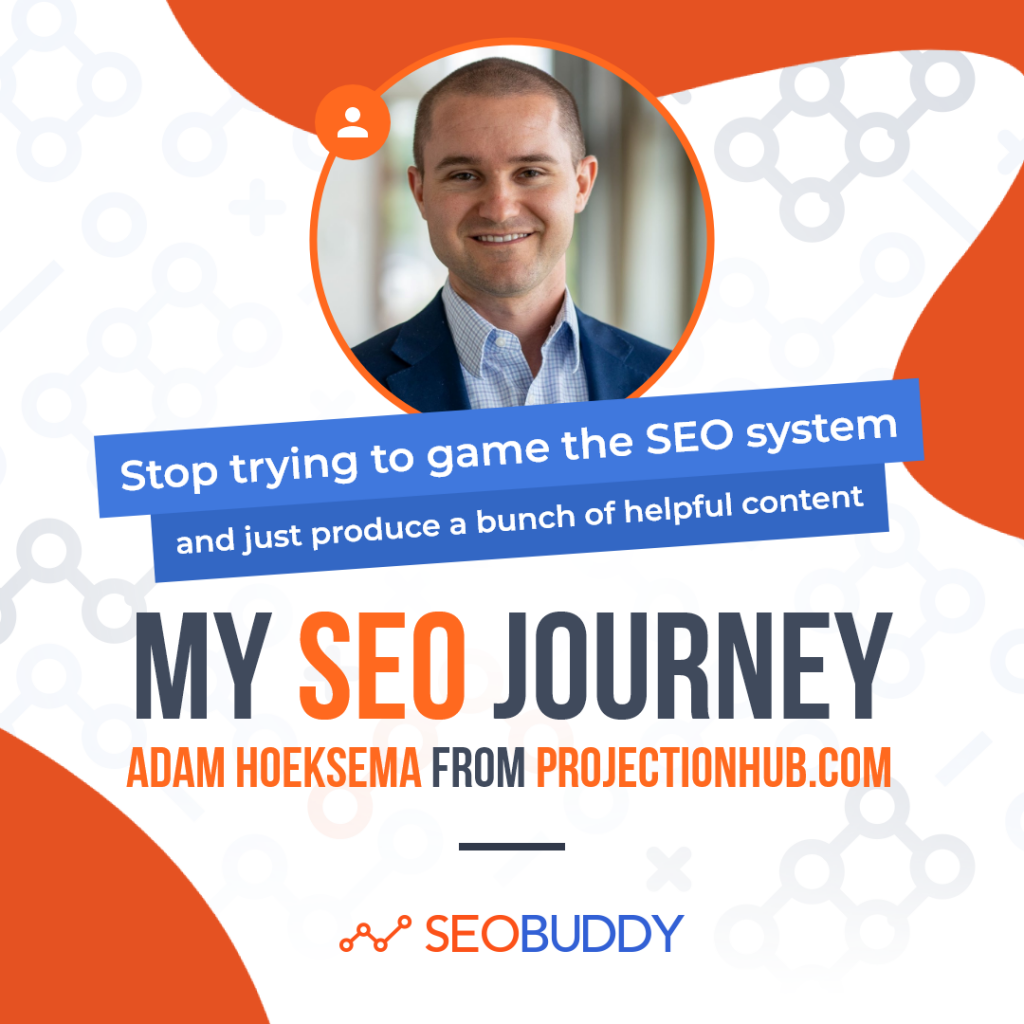 Hi! My name is Adam Hoeksema and I am the Co-Founder of ProjectionHub.
We help startups and small businesses create financial projections for investors, lenders, and business planning. Our primary product is our library of 50+ CPA-prepared financial projection spreadsheet templates. We also have a CPA on staff that will help our clients customize their financial models as well.
Our customers range from tech-related companies looking to raise investment for their pre-seed, seed, or series A round of investment to main street small businesses looking to get a Small Business Administration loan to launch or grow their business.
What's your backstory and how did you come up with the idea?
In 2012 I was the Executive Director of a small business lender in Indiana.
We made SBA loans to very small businesses and we often asked our startup clients for financial projections. Our clients always had trouble providing decent, realistic projections, so when I was working on my personal taxes using TurboTax it dawned on me that there should be a TurboTax-like software to help entrepreneurs create financial projections.
That was the "aha" moment.
I called my brother, who was actually still in high school at the time, and was a self-taught software developer, to see if he wanted to help me build a software solution for financial projections.
He agreed and ProjectionHub began!  
Since launch, what has worked to attract more organic traffic?
Since launch, our primary organic traffic strategy has been to simply produce helpful content for entrepreneurs that need financial projections. Prior to starting ProjectionHub I had actually started a website/blog that helped entrepreneurs write business plan executive summaries. I sold templates and ebooks.
I was just learning about SEO in the 2010 through 2012 time frame, and I learned that having backlinks with anchor text that I hoped to rank for was a great way to build up organic search traffic.
Since it was good to have 50 backlinks with keyword-rich anchor text I figured it would be even better to have 500 backlinks, so I went back through previous blog posts and microsites that I had created over the past couple of years and added a ton of backlinks all with the same keywords all on the same day.
Yes, I was that naive. Since this is an SEO-focused website I am sure you know what happened next.

Ouch!
That website got penalized by Google, never to return again.
So what I learned from that experience was to stop trying to game the SEO system and just produce a bunch of helpful content for humans and hope that the Google search algorithm would figure it out over time.
So that is what I did with ProjectionHub. I decided I would just write more about financial projections than anyone else in the world, and over the next several years I wrote hundreds of blog posts, and over time, it worked!
Here is our ProjectionHub Blog traffic from 2013 through mid-2017 when we hit nearly 10,000 new visitors per week.

It was about that time in 2017 when my wife and I had our second of 3 sons and my free time for writing blog posts was redirected to being a dad! After a few years of focusing on being a dad and letting the website traffic slowly decline, we began to refocus on SEO in 2021.
10 years after starting the business, the idea is still the same, we want to produce high-quality content for entrepreneurs that are trying to create financial projections, but nowadays we are trying to work a little bit smarter, not harder. We are seeing some early signs of success in 2021.
Here is a glimpse from our 2021 Google Search Console.

Today, our SEO strategy includes the following:
Now that we have a solid strategy in place, we look to scale our content production in 2022!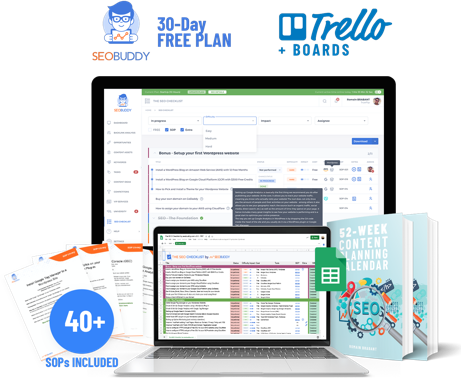 There's more…
Now it's time to discover the other 102 steps that will get more organic traffic flowing to your website. Get the SEO Checklist here.
Want to get a sneak peek of what it looks like?
Enter your email and get a free demo version of the SEO Checklist.
What SEO tools do you use for your business?
My favorite tools include:
Ahrefs for keyword research, competitive research and identifying issues on our site
SchemaApp for implementing schema markup
Webflow for building our website
We have not had the most strategic link-building efforts in the past, and I think most of that has to do with ignorance.
I just don't know how to do this well. Back in the 2012 through 2017 time frame when I was doing a lot of content writing on our own blog I also wrote a number of guest blog posts on other websites which helped build some links.
Currently, my focus is to produce good content that answers the questions that entrepreneurs are searching for and then trust in the long process that people will link to top-quality content over time.  That being said, if anyone reading this blog post has some magic link-building strategies for me to consider, please let me know!
What have been the most influential books, podcasts, or other resources?
I love the My First Million podcast for business ideas, marketing ideas, and lessons learned from other entrepreneurs.
The book Zero to One is a must-read for any entrepreneur trying to start a business.
What's the next step in your SEO Journey?
As we start 2022 I think we have a good SEO strategy that we just need to execute, but I always would love to learn more. Specifically, I hope to learn more about developing win-win partnerships with other websites that are also looking to improve their SEO efforts just like SEO Buddy!